These highlights chronicle the year 2012. Created incrementally as new photos were available, the year runs generally "backwards" on this page. The abbreviation "MTY" means "Monterey County" in the text below.
Text by Don Roberson
. Photos on this page are
copyrighted
by the photographers to whom they are attributed, and may
not
be reproduced in any form (
including other web sites
) without the express consent of the photographer.
Landbird migration was generally unspectacular this spring, with good weather causing many migrants to fly over the county enroute northward, but two good vireos were discovered along the Big Sur River mouth at Andrew Molera SP:

Rick Fournier found a singing Red-eyed Vireo on 9 May (photo below left © Rick Fournier)
John Garrett and Alex Rinkert found a singing Yellow-throated Vireo on 26 May, following a cold front with some thick fog (photo above left © John Garrett). This bird continued to sing in the campground the next day, but had departed by the sunny weekend.

There are now nearly 50 records of Red-eyed Vireo for MTY, but this is the earliest record in spring at Big Sur R. mouth, where all prior records have been in late May or later (and a couple birds have summered). There are now 8 or 9 records of Yellow-throated Vireo in MTY, about half in spring and half in fall. One did previously summer in Andrew Molera SP in 1999.
Western Bluebird nest found in Pacific Grove!
First P.G. nest in 96 years!

See separate page!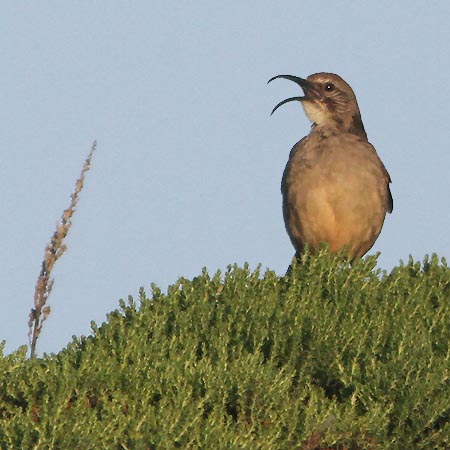 The Monterey Audubon annual Birdathon was held during the 24 hours from 4 p.m., 27 April, through 4 p.m., 28 April. This was followed by an award and countdown event outside the Wild Bird Haven in Del Monte Plaza, Monterey, and a dinner hosted by Whole Foods. Saturday, 28 April, was a lovely spring day, as can be gleaned from Chris Hartzell's photo that morning of a soaring Red-tailed Hawk against a waxing moon (above © C. Hartzell). It was maybe too nice of a day, as migrant birds seem to over-fly the county entirely. This, plus the lack of much sea-watching or an organized boat trip, and fewer participants conspired to bring this year's total to a record low 225 species.
Certainly birds were singing across the county that day (e.g., left, California Thrasher near Moss Landing © D. Roberson), but some late arrivals had not yet made an appearance, and numerous wintering birds had already departed. As always, though, there were highlights. Lingering waterfowl and waders included Greater White-fronted Goose at Moro Cojo (Rick Fournier) and Salinas Valley (Tim Amaral; he also had a Cackling Goose); Blue-winged Teal up Elkhorn Slough (R. Fournier) and Ft. Hunter-Liggett (Bob Tintle; also Wood Duck & Ring-necked Duck there); a continuing pair of Redhead at Bennett Slough (Don Roberson, Rita Carratello); four Bufflehead at Moonglow Dairy on 27 Apr (R. Fournier); a Red-necked Grebe off Seaside (Dan & Inga Lebeaune); two Cattle Egret at Moonglow Dairy on 28 Apr (D. Roberson, R. Carratello) plus a White-faced Ibis still there all weekend, and several Red Knot on Elkhorn Slough (R. Fournier et al.). Single Osprey were near Salinas (D. Roberson & R. Carratello) and over Monterey Harbor (Brian Weed). A Mew Gull at Moss Landing on 27 Apr (R. Fournier) was late.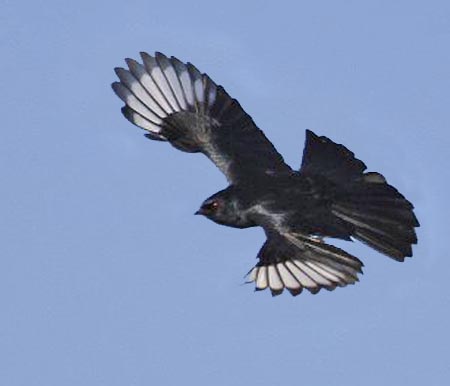 Birders in southern MTY had some good finds. Clay Kempf located not only a pair of Phainopepla (right, male in flight © C. Kempf), but a Lewis's Woodpecker in Priest Valley and singing Black-chinned Sparrows along Vineyard Road west of Parkfield. Bob Tintle had a Bald Eagle on a nest at Lake San Antonio. Both a singing male Blue Grosbeak and Lesser Nighthawks were back at their "usual" sites near King City (R.J. Adams, Don Glasco; the grosbeak was missed entirely last year). Mountain birds such as Red-breasted Nuthatch and Purple Martin had arrived, and several migrant Purple Martin was over Whitehorse Canyon (R.J. Adams). A migrant Bank Swallow was at Roberts Lake on 27 Apr (D. Roberson, R. Carratello), and these swallows were present at the county's only extant colony on Ft. Ord SB the next day (David & Jane Styer). Both Dipper and Golden-crowned Kinglet were recorded from the Big Sur coast (Steve Rovell). A few migrant Nashville & Hermit Warblers were in the high country (Chris Tenney, Blake Matheson). Up to 7 Yellow-headed Blackbirds were at Moonglow Dairy (R. Fournier et al.), and Lawrence's Goldfinches were surprisingly widespread (m.ob.).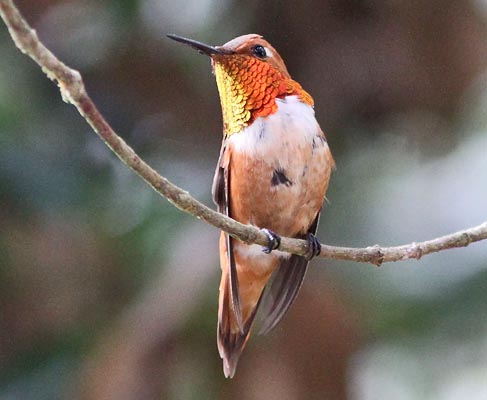 The best eastern vagrant was a lingering Palm Warbler at Laguna Grande Park, Seaside, present since Nov 2011 (Dan & Inga Lebeaune).
Perhaps the most impressive showing over the weekend were of hummingbirds. Migrant Rufous Hummingbirds were widely encountered, after a very good showing throughout April, including this male in Pacific Grove (photo'd 29 Apr © D. Roberson). A male Black-chinned Hummingbird was on territory in San Lorenzo Park, King City (R.J. Adams, D. Glasco), and another was at a feeder on York Rd., Monterey (C. & A. Hartzell). And voted "bird-of-the-birdathon" was a male Calliope Hummingbird at Chews Ridge, near the observatory, on 28 Apr (Blake Matheson).
The funds raised from the event provided scholarships to eco-scholars at the high school level who competed in an essay contest. The winners were Chandler Jennings of Monterey HS, Declan Harris of Carmel HS, and Anna Aiello of Marina HS. Two of the winners were able to attend the countdown event and be recognized for their efforts, and the parents of the third winner also attended.
The sponsor of the annual birdathon was Monterey Audubon Society (Blake Matheson, president). The Wild Bird Haven, through Jill Himonas and her team, organized the countdown. The wonderful countdown dinner was provided by Whole Foods Market, and Bette Meyer was invaluable. Jan Scott chaired a grant committee to review the applications, aided by Rita Carratello, Rosemary & Robert Tintle, and Brian Weed.
Stewart Janes, a visitor from Oregon, was driving past Pt. Sur on Hwy 1 when he spotted this Crested Caracara perched on a fence line on 30 March (below photo © Stewart Janes). It shortly took off and no one has seen it since. However, it seems likely that it is one of the caracaras that has been wandering along the central California for several years. An adult was at this same spot on 28 Mar 2006, moved to Carmel River mouth & Monterey Peninsula from Apr-Sep 2006, and was down here near Pt. Sur again Sep-Nov 2006. After that one (same one?) was around Pebble Beach & Pacific Grove from Dec 2006 into April 2007, and one was near Marina in July 2007. I'm not sure how many birds were involved.
On 21 Feb, "Lefty" Arnold, a visitor from Albuquerque, N.M., discovered a male Yellow-bellied Sapsucker behind the Glen Oaks Motel in Big Sur. It was still present on 25 Feb (left, photo © Don Roberson) and, given the number of sapsucker holes in the oak, it — and maybe other sapsuckers — have been there for some time.

Meanwhile, in Pacific Grove, the Green-tailed Towhee found during the Christmas count in Dec 2011, lingered in the vicinity of 906/911 Bayview (photo 25 Feb, below © D. Roberson).

Good weather in February was an excellent time to view California Condors along the Big Sur coast (below, 25 Feb, © D. Roberson). Check out my Condors in MTY page, recently updated (and it will be updated again soon!).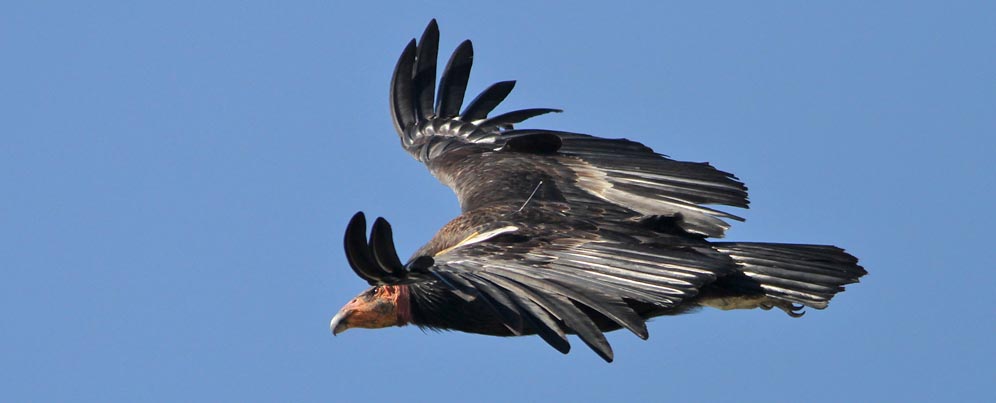 I don't know what Brian Weed was doing on Del Monte beach on 31 January.... Perhaps strolling the beach seeking inspiration on a lovely day? Perhaps just killing time while Jan went shopping? Perhaps taking his class on a field trip? [Mr. Weed was not available for comment as this was written.]

But I do know that he started a major Super–Bowl–week trend. Anyone who was anybody went to Del Monte beach over the following week, and into the next weekend, hoping to see the Yellow-billed Loon that Brian Weed had found on his walk. Sometimes it was close to shore, in the surf (e.g., above, photo 1 Feb © Brian L. Sullivan); at other times it was offshore and could be captured only with a huge lens (e.g., left, photo 1 Feb © Bill Hill). But it surely was an super–event.

I also know that by 3 Feb the juv-plumaged YBLO had moved to a new location — farther north along Del Monte beach — and on 4 Feb was rediscovered in the surf just off the Best Western/Beach Resort in Seaside (e.g., below, photo 4 Feb © Don Roberson).


What was also very impressive this first week of February was an unprecedented incursion of White-winged Scoters (above 3 Feb © D. Roberson). This winter and last winter saw larger than usual flocks back in Monterey Bay, where overall numbers of this northern migrant had dwindled to a handful in recent decades. But on 3 Feb up to 131 were counted off Seaside (D. Roberson), breaking all recent county records. White-winged Scoters were much more common in Monterey Bay back in the 1960s–1970s.

Surf Scoter flocks were also large, and there may be as many as 1000 between Del Monte Beach and Ft. Ord. Four Long-tailed Duck were also with the scoter flocks off Seaside 3-4 Feb (D. Roberson).

The star-turn by the Yellow-billed Loon also created a new style of bird photography for me — using those Carmel River wading boots to wade right out into the surf with the loons, grebes, and scoters (photo left 4 Feb © Mary Kenney). Both Sullivan & Roberson photo'd this Red-necked Grebe in the Del Monte beach surf that way (below 3 Feb © D. Roberson).

This technique permitted eye-to-eye views of the Yellow-billed Loon (below © D. Roberson).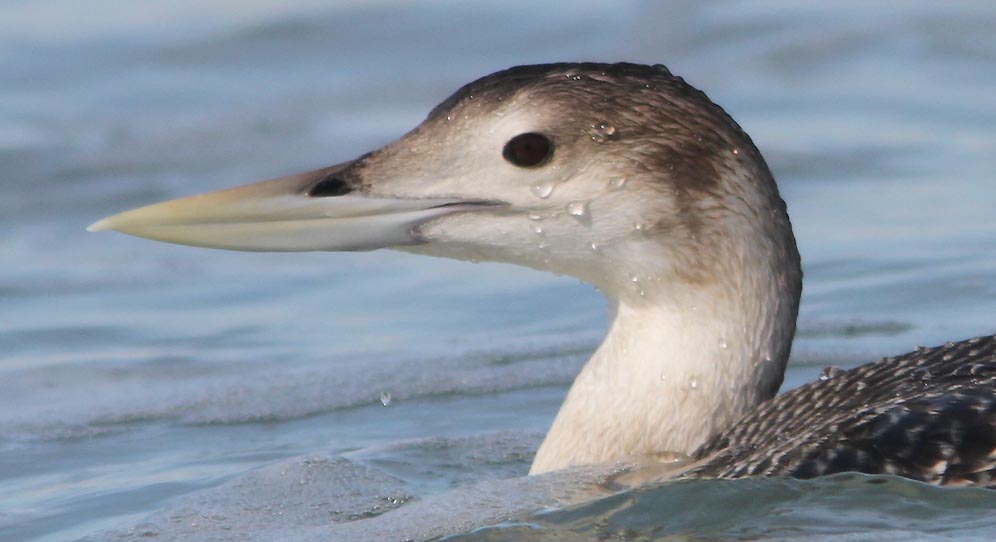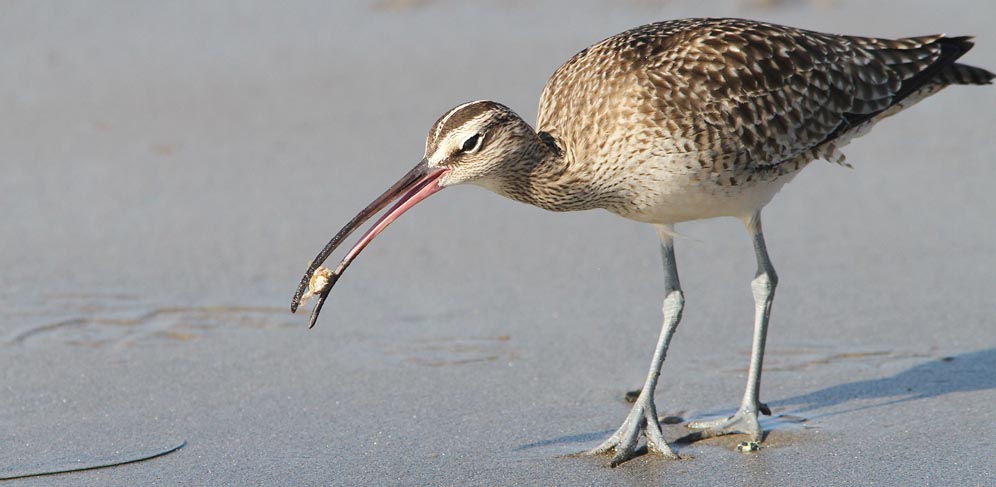 One final note about the sandy beaches with crashing surf during the first week of February. The Yellow-billed Loon was seen to catch and consume a couple of apparent shallow-water subtidal amphipods (see the loon with one in a shot above). These appeared to be the same amphipods sought by the larger waders, such as Willet and Whimbrel (above 3 Feb © D. Roberson) is that same area of surf.

The Loon seemed to enjoy his meals, but the Whimbrel (right © D. Roberson) seemed less enthusiastic as it swallowed his capture. Ecchh.

According to P.N. Slattery (1985) "Life histories of infaunal amphipods from subtidal sands of Monterey Bay," J. Crustacean Biol. 5: 636–649: "Phoxocephalid and haustoriid amphipods are small, mobile, efficient sand-burrowers. They are characteristic of low intertidal temperate sand beaches were one or both are often dominant.... In the well-developed crustacean zone of Monterey Bay, several species ... contribute to the dominant crustacean infauna of this shallow (less than 20 m) community. However, three species comprise the dominant element: Rhepoxnyius abronius, R. fatigans, and Eohaustorius sencillus. They total more than 5000 individuals per square-meter at 9 m depth during certain times of years."

I'm not sure whether Rhepoxnyius or Eohaustorius is tastier, but I can't imagine eating either one without a nice cheese sauce and a glass of Chardonnay.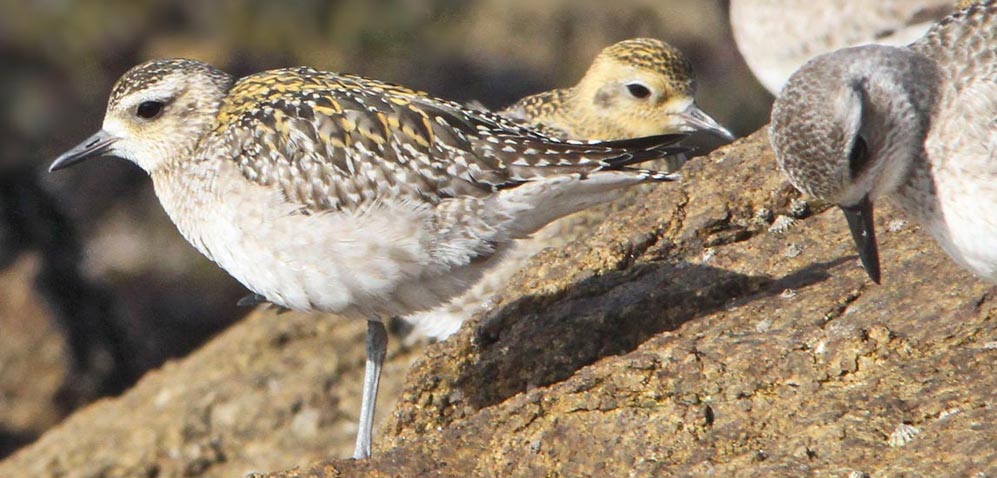 Several interesting waders were present in early 2012. Two Pacific Golden-Plover were with a large flock of Black-bellied Plovers at Asilomar SB, Pacific Grove, in mid-January. One had initially been discovered on 25 Dec 2011 (Bruce Barrett); these two (above) were photographed 15 Jan (© Don Roberson). Both are first-winter birds retaining various brightly-colored juvenal feathers on the back, scaps, and head. A Stilt Sandpiper was near Salinas on 5 Jan (below left © Kent Van Vuren); it represented only the 2nd record of this species in winter in Monterey County. A female Ruff in the lower Salinas Valley (below right) had been initially discovered 27 Nov (Blake Matheson) but was still present and happily wintering locally to at least 15 Jan 2012 (photo © D. Roberson). It is about the 9th Ruff to winter in MTY.