These highlights chronicle the year 2014. Created incrementally as new photos were available, the year runs generally "backwards" on this page. The abbreviation "MTY" means "Monterey County" in the text below. Text by Don Roberson. Photos on this page are copyrighted by the photographers to whom they are attributed, and may not be reproduced in any form (including other web sites) without the express consent of the photographer.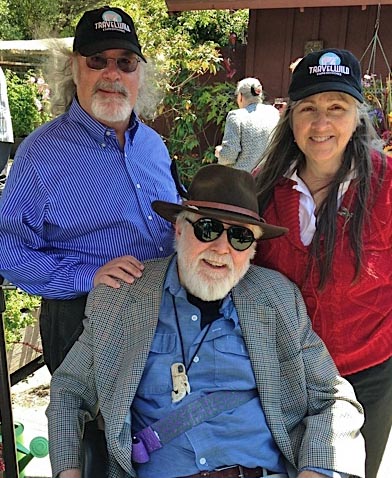 The month of May ended on a sad note with news of the passing of Alan Baldridge (we are with Alan on his 80th birthday last August, photo left). The obituary in the Monterey Herald captured some of his influence:
The birds and mammals of the Monterey Bay lost a loyal friend and protector with the passing of Alan Baldridge, 80, who died May 28, with his soulmate Sheila at his side. After moving to the Monterey Peninsula in 1966, Alan became an expert on the identification, ecology, biology and conservation of local marine mammals, seabirds, and land birds. His passion for, and careful observation of these animals was shared in writing, teaching, and organizing efforts on their behalf. . . . During nearly 30 years as librarian at Stanford University's Hopkins Marine Station, Alan was a tireless and life-long educator who was generally considered the "go-to" naturalist when government officials or news reporters wanted to know something about things that fly over, swim in or wash up on the shores of Monterey Bay. He inspired countless marine biologists, ornithologists and field birders with his passion for the ecology and conservation of the diversity of wildlife, which also took him on numerous travels throughout the world.
Alan is remembered for so much in the birding world. He was co-editor for the Northern California region (then called "Middle Pacific Coast Region) for Audubon Field Notes during the "glory years" of the discovery of the first major Monterey County vagrants in the 1960s-70s. He personally discovered our famous Swallow-tailed Gull — at Hopkins Marine Station, where he was the librarian. He led many pelagic trips and was the local authority of cetaceans, seabirds, and sea turtles. And he had a devilish sense of humor enlivened by his dry British wit. He is irreplaceable, and will be missed by all who knew him. More information about his impact on the life and times of birders in the '60s, '70s, and '80s is elsewhere on this website.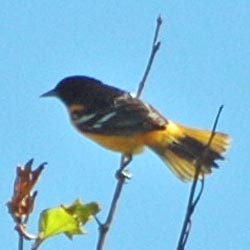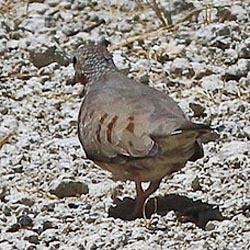 The last week of May has been traditionally very good for vagrants along the Big Sur River in Andrew Molera SP. This year's season began with a Prothonotary Warbler and the first of two Baltimore Orioles on 26 May (Tim Amaral, Steve Rovell; male Baltimore photo'd 31 May, far right © Michael Rieser). The very best bird of the week was a Common Ground-Dove, found on 29 May (near right; photo near right © Kent Van Vuren). The ground-dove proved to be a one-day-wonder. This was the 8th MTY record but only the second in spring/early summer; there is a "mid-June" 1913 specimen from Castroville. So this is the first spring record in 101 years! Five late 20th century records are from fall — the most recent an injured bird picked up in Monterey on 18 Oct 1999 and taken to SPCA where it expired. Like Van Vuren's bird this week, all of them were present on just one day.
There were other rare-but-regular vagrants during the last week of May at Big Sur R. mouth, including a singing male Indigo Bunting (present several weeks) and a female 31 May, a couple Willow Flycatchers, a White-faced Ibis (rare at this spot), and the first returning Black Swifts. No wonder this rich site attracts birders from far and wide. In the chance encounter below, Rita Carratello's photo from the north headlands patch shows (L to R) Michael Rieser, Bill Hill, Steve Howell (most recently famed as senior author of Rare Birds of North America), Cooper Scollan, Don Roberson, and Brian Sullivan (kneeling with big lens).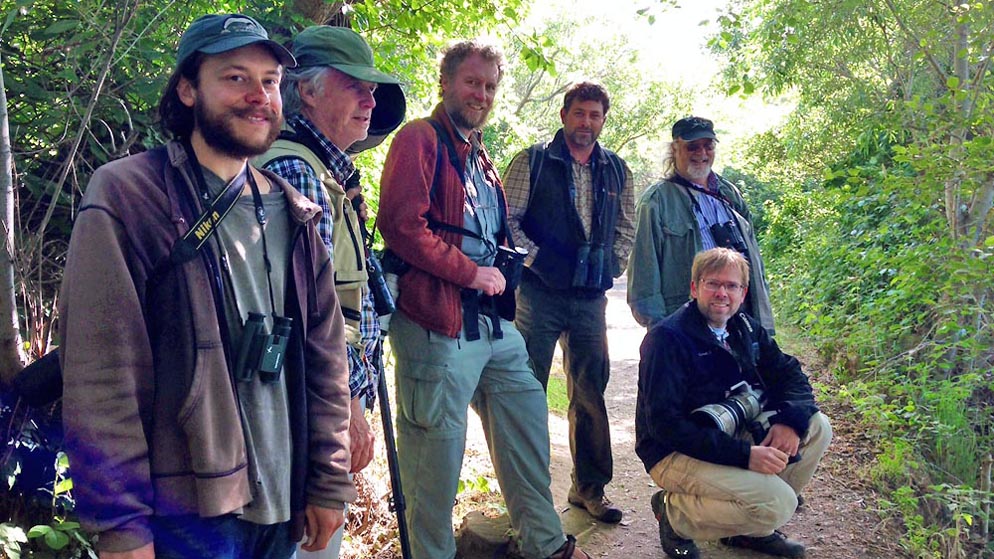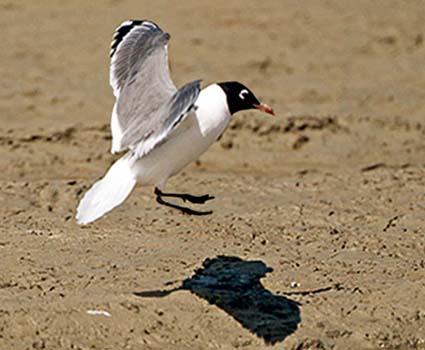 A lovely adult Franklin's Gull, discovered by Robert Horn near Salinas on 25 May, delighted local birders for days (these photos, left and below, taken 28 May © Bill Hill). This gull is rare locally but in recent years 1-2 have been found in spring migration from late March to mid-June. Also interesting in late May were the presence of Long-billed Dowitchers (e.g., one in alternate plumage 26 May, below © D. Roberson), including 6 on 28 May (C. Scollan). These were quite late — there is only one June record for MTY (see Monterey Birds, 2d ed.).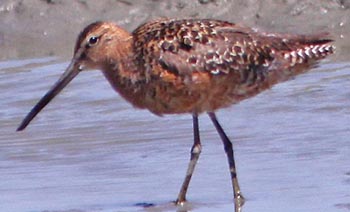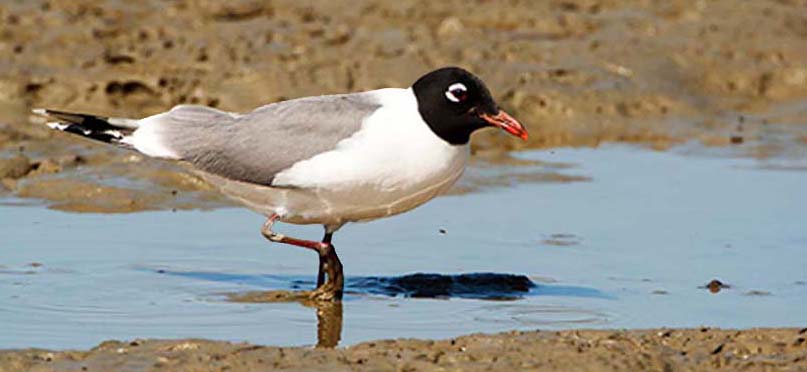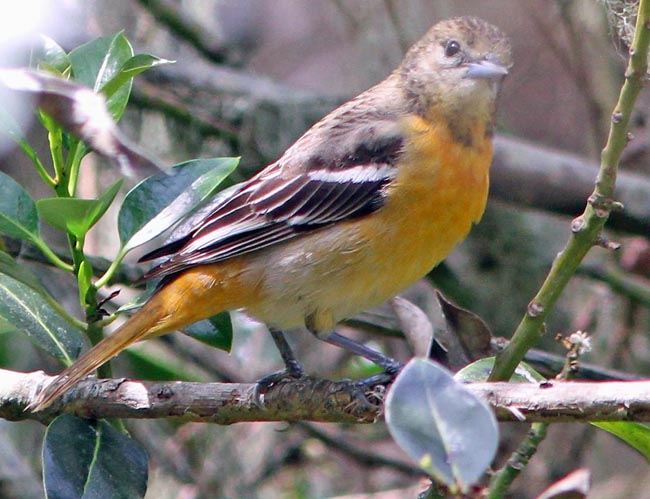 A very unexpected yard bird in Pacific Grove on 17 May was this first-spring female Baltimore Oriole (left & below © Don Roberson). It was apparently attracted to the backyard fountain but stayed less than 60 seconds — but enough time to get off a couple of shots!
We generally do expect 1-2 Baltimores each spring, but usually several weeks later than this, and most often they have occurred at the Big Sur R. mouth. This was a first record for this P.G. yard.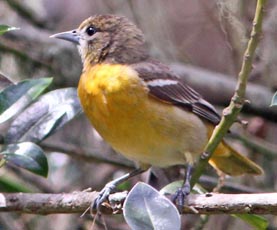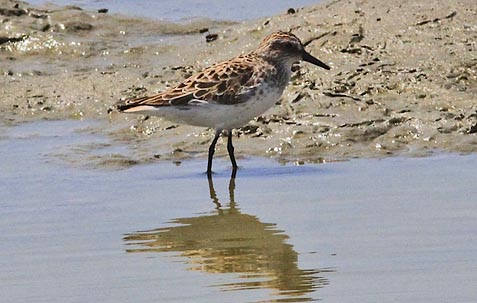 By mid May, most small shorebirds have left. At one spot near Salinas, only three small Calidris were present on 15 May — but one was a scarce Semipalmated Sandpiper (right © Kent Van Vuren). Locally we average perhaps a half-dozen juvs each fall, but spring birds are decidedly rarer.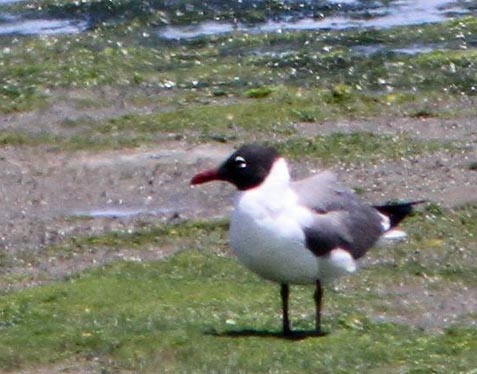 Yohn Gideon's Elkhorn Slough Safari trip observed an adult Laughing Gull along Elkhorn Slough on 8 May, and what was surely the same bird was along Jetty Rd., Moss Landing, on 9 May (Blake Matheson) and 10 May (Don Roberson/Rita Carratello, then m.ob., photo, right © D. Roberson) and later.
At the time Monterey Birds 2d ed. was published (2002), there were 11 MTY records of this southern gull, and 8 of those were spring overshoots (Apr-June). There have been at least 4 more since then (including this one), 3 of them in spring and most recently 6-13 Apr 2013 (a first-cycle individual). The most recent adult was one that moved up and down Elkhorn Slough from 3-28 Aug 2005.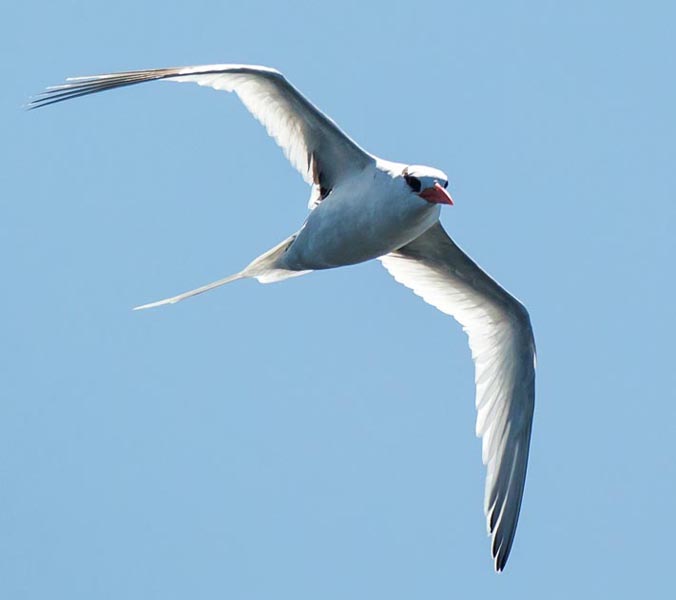 Between 29 Apr–8 May, a series of re-positioning cruises aboard Holland America cruise ships in the far offshore water of California and points north (San Diego to Seattle) had excellent sea-birding. These cruises often crossed MTY offshore waters in daylight, usually in heavy seas and during strong winds at distances (30-40 nmi offshore) that are well beyond range of any chartered fishing boat is such weather. Highlights within MTY included up to 240 Cook's Petrel in a day (8 May), up to 19 Murphy's Petrel a day (29 Apr), one Hawaiian Petrel (29 Apr, Ron Thorn), several Laysan Albatross, and a Red-billed Tropicbird about 34 nmi SW of Pt. Sur (fide Paul Lehman).
On 5 May, and much closer to shore — just 7 nmi off Pt. Lobos — a Monterey Whalewatch pelagic trip had another Red-billed Tropicbird right over the boat! (photo, left, © Chris Hartzell).
All of these excellent sightings have precedent in prior years going back to the 1990s, but rarely has there been such a fine variety within a single 10-day period.
On the 30 Apr passage offshore MTY, one of the Murphy's Petrel was photographed just 29 nmi WSW of Cypress Pt. (left © Steve Summers). Even more impressive was a Hawaiian Petrel scoped from Pt. Pinos of 11 May, after several days of near-gale winds (sketch right © Blake Matheson).

This is the first Hawaiian Petrel to be seen from shore in MTY, and the third Pterodroma petrel. All have been from Pt. Pinos during exceptionally high winds: a Mottled in Dec 1984 and several Cook's in Jan 2010.

This year's Audubon fundraiser went a different direction. It was more focused on fund-raising for the Society's scholarship fund, and less on setting birdathon records. It became a combo mini-convention — with a Friday night dinner and speaker (Alvaro Jaramillo) and a Monterey Bay pelagic trip — with a low-key birdathon, mostly on Saturday 3 May, with birdathoners scattered about the county. Those observers were treated to a lasagne dinner and countdown event on Saturday night. In the photo below, Brian Weed & Jan Scott announce the winners of this year's scholarships (photo © Rita Carratello).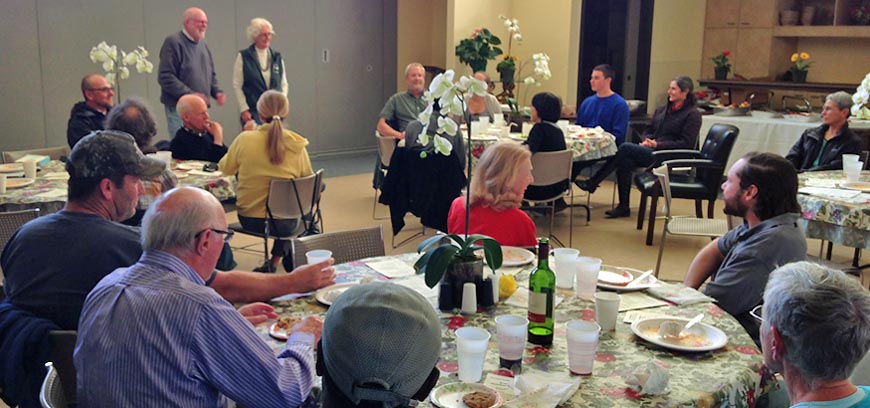 In past years, competitive 24-hour MTY birdathons have tallied as many as 252 species or as few as 225. This year not only was the focus different, but the date was a weekend later. This meant that lots of 'late' waterfowl and wintering species were missed entirely (drought conditions also didn't help ducks). Even such common resident birds as Bell's Sparrow and Belted Kingfisher (!!) were missed entirely. Thus the birdathon total was an all-time low of 208 species.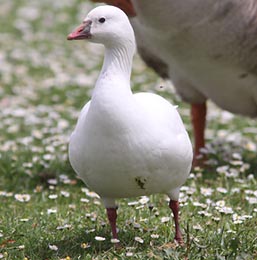 Nonetheless, some interesting and difficult birds were located. A Ross's Goose at Gonzales winery pond has been there since Dec 2013 (Rita Carratello, Don Roberson, photo, left). Two Redhead were at McCluskey Slough (Fred Hochstaedter, Catherine Webb). 39 White-faced Ibis were scattered along the coast: 33 over Stillwater Cover, Pebble Beach (Bob & Rose Tintle), 5 at Moonglow Dairy (Hochstaedter & Webb), and one at Big Sur R. mouth (Cooper Scollan, Hanako Wood, Brandt Bates). A Bald Eagle was at Ft. Hunter-Liggett (Carratello & Roberson).
[Kent Van Vuren had a Solitary Sandpiper near Salinas on the morning of 2 May, but it was missed on Saturday during the 'official' period.]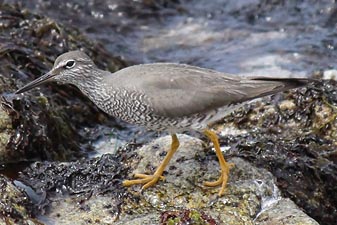 Scarce waders included up to 4 Wandering Tattler (photo of one at Pt. Pinos, right © Carole Rose) and a Red Knot at Moss Landing (Randy Wardle). A second-cycle Mew Gull at Moss Landing was quite late, and a Black Skimmer there a rarity at any time (Rick Fournier and colleagues). Locally scarce nightbirds included Burrowing Owl and Lesser Nighthawk in south MTY (Steve Rovell and Don Glasco, respectively). A Bank Swallow was one of a thousand swallows at Salinas WTP (D. Roberson, R. Carratello). A Dipper was along Salmon Creek on 2 May (Maggie Smith & Herb Elliott). Up to 20 Yellow-headed Blackbirds were at Moonglow Dairy (Tintles, et al.). A singing Indigo Bunting was at Big Sur R. mouth since the afternoon of 2 May (Paul Fenwick, et al.).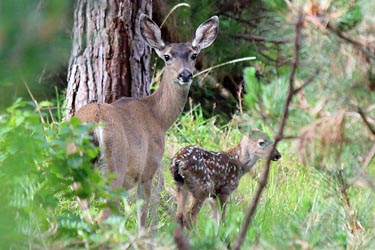 As always a lot of work goes into putting together a mini-bird-convention and birdathon. Major thanks this year go to Toni Kimple, Jill Himonas and the Wild Bird Haven, Whole Earth Foods, Monterey Audubon president Blake Matheson and the MAS Board, and Cooper Scollan. The May Gong Tenney Scholarship Fund awards committee was composed of Bob Tintle, Rose Tintle, Jan Scott, Brian Weed, and Rita Carratello. Tim Amaral and Monterey Bay Seabirds arranged the well-attended pelagic trip (but could do nothing about the morning fog or rough seas). Alvaro Jaramillo provided the Friday evening entertainment. Several dozen volunteers spread throughout the county, and some provided photos -- special thanks to Carole Rose (her shot of a doe and fawn from Pebble Beach during the birdathon is to the left).
Two iconic birds from this year's birdathon: Laysan Albatross (left © Jeff Poklen), on Monterey Bay pelagic trip, voted "best bird"

and

nesting pair of California Condor
(right © D. Roberson), Memorial Park area

From late March to early May, a number of MTY feeders hosted up to six species of hummingbirds. Beyond our resident Anna's, quite a few had Rufous (widespread) or Black-chinned (all were at least somewhat inland), and of course a lot of Allen's were along the coast (more limited inland). The Fenwick family feeder in Carmel Valley Village had all of these plus -- on 1 May -- two different Calliope Hummingbirds! The photo above, taken 1 May, shows (L to R) a male Allen's, a male Anna's, and a male Calliope (©Paul Fenwick). A female Calliope also made a brief appearance. These were the final two of at least nine (9) Calliopes located in Monterey County this spring — an all-time high!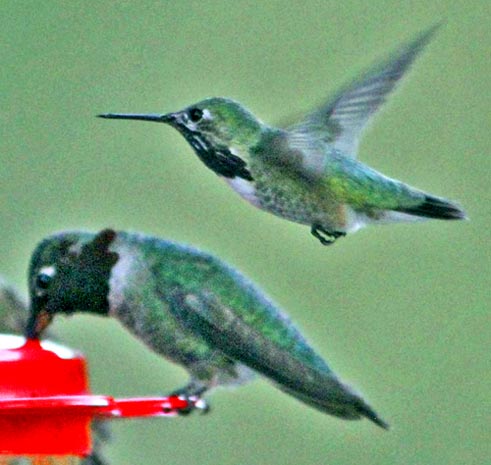 A private yard in the general vicinity of Jamesburg with its 9 feeders was extraordinary for hummers. Between 31 March-15 April the owners hosted multiple Rufous, at least two Black-chinned, one male Costa's, and at least four different Calliope Hummingbirds! [photo above shows 8 hummers: 5 Anna's and 3 female Selasphorus, likely all Rufous, on 14 Apr; © D. Roberson. The owners wish to remain anonymous.]. Here are two Calliope Hummingbirds present on 14 April (one male, below left and same bird with Anna's, right; and a female, below right; © D. Roberson).
The Carmel Valley and Jamesburg feeders accounted for six Calliopes; another male was at bottlebrush in a private yard near Jacks Peak 28-30 Apr (Blake Matheson). Two more were found "in the wild"
male at the edge of Tassajara Road at the old post office at Jamesburg (now another private residence) on 14 April (Rita Carratello, D. Roberson), and
a displaying male along Indians Road, west of Memorial Park, on 20 Apr (Brian L. Sullivan, Cooper Scollan)
As there were almost no photos of Calliope Hummingbirds in MTY before this spring, I go a little wild here with photos. Note the diagnostic facial pattern of female Calliope: a small dark crescent in front of the eye, then a white line between that crescent and the bill which dips down to below the eye. Males also show this character. Calliope also has a very short, black tail (when viewed from above).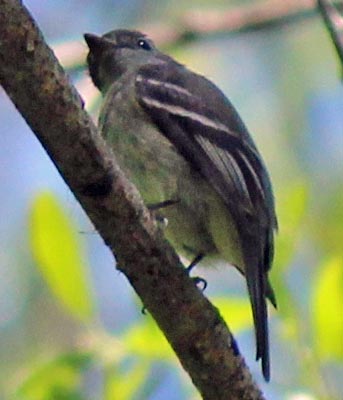 April is a month for spring migration, and many migrants arrived on their summer breeding grounds — quite a few of them rather early — while others continued northwards. A scarce migrant is Hammond's Flycatcher. This year one or two frequented riparian habitat along Conejo Creek along Tassajara Road 26-27 Apr (Blake Matheson, Carole & Larry Rose; photo right 27 Apr © Carole Rose). Spring Hammond's rarely reach the coast, but they can be expected inland during April.
During their visit to the site on 27 April, the Roses also had a Black-and-white Warbler.
In late March at Moonglow Dairy, a worn first-cycle Glaucous Gull
(photo 30 Mar © D. Roberson) frequented the cattle pens.

A flock of 22 'Aleutian' Cackling Goose wintered in Seaside. About half of them lacked neck rings when they arrived in January(=1st yr birds) but all had neck rings by April (3 Apr photo, below, © D. Roberson ). By then they also showed a range of variation in breast color. An imm male Red-breasted Merganser, rare at Laguna Grande, was present there most of March and into early April (2d photo below © D. Roberson).
January 2014 was a very nice month for a variety of local rarities. Some remained into February; the White-winged Dove discussed below remained to 4 April. January was an exceptionally dry month — there are concerns about a monumental drought if this continues — and local birders used the good weather to locate at least 237 species within MTY during a single month. Some rain fell in March, but not enough to break the drought.
| | |
| --- | --- |
| | Late in January, a Sage Thrasher made a rare appearance near the mouth of Shirttail Canyon, southeast of Soledad (photo left, 25 Jan © Cooper Scollan). This is a location that sometimes has Mountain Bluebirds in winter, including this year (below, 11 Jan © D. Roberson). This year up to 80/day were present, but were hit & miss to locate. However, those looking for bluebirds found the thrasher . . . |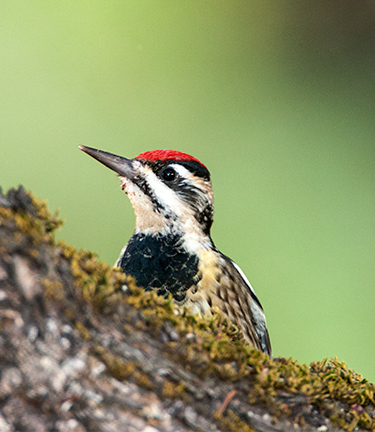 January 2014 was excellent for rare sapsuckers: at least three (3) Yellow-bellied Sapsuckers and one Red-naped Sapsucker (and yet another Yellow-bellied and another Red-naped were reported by others in late Dec 2013).
The first was an adult male Yellow-bellied discovered on 2 Jan at Quail Lodge, Carmel Valley, by Rita Carratello & Carole Rose (below left, photo 2 Jan © C. Rose). It was seen in the same small Brazilian pepper tree as two different Red-breasted Sapsuckers. While both Red-breasteds were repeatedly seen thereafter, this Yellow-bellied remained elusive.
The next was a juvenal-plumaged Yellow-bellied Sapsucker along Holman Rd., Carmel Valley Village, on 7 Jan, found by Paul Fenwick (below middle, photo 10 Jan © Bill Hill). Looking for it on 9 Jan, Brian Sullivan saw not only only the youngster, but also an adult female Yellow-bellied in the same Brazilian pepper tree! (right, photo 9 Jan © Bill Hill).
To round out the month, Fred Hochstaedter & Catherine Webb found a Red-naped Sapsucker (perhaps a male but see small spot of white on chin, making this uncertain) in Shirttail Canyon, enroute to Pinnacles NP, on 25 Jan (below right, photo 24 Jan © F. Hochstaedter). It remained into February.
Before January 2014, there was but a single record of a Northern Parula in winter in Monterey County (
26 Dec 2003 in south MTY
), and there are a mere handful of winter records in northern California. Bill Hill observed a male at Quail Lodge, Carmel Valley, on 11 Dec 2013. What was presumably the same
male
Northern Parula
was still present in January 2014 (below right, photo 5 Jan © Don Roberson), but a
female
was also in the same willow patch (below left, photo 2 Jan © Cooper Scollan), and on some days in sunny January both were present.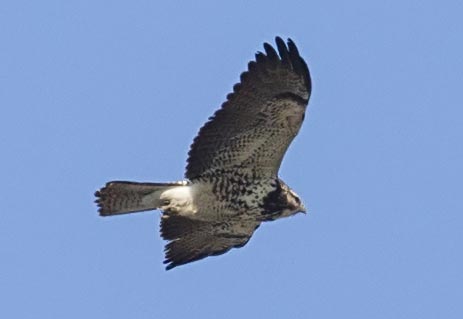 Two excellent rarities appeared in the Moss Landing area after the New Year's Day CBC. A White-winged Dove was discovered at or adjacent to the Moss Landing cemetery (nice flight shot below, taken 12 Jan © Kent Van Vuren). It would remain through the month and began frequenting the feeder in David & Jane Styer's backyard by then. It was last seen in early April.
The other was simply seen flying over the north end of Jetty Road on 13 Jan: a juvenal-plumaged Swainson's Hawk, spotted by John Fox (photo right © Beth Hamel). This is MTY's first record for January, but there are two records for December and two from November [one shown in 2005 highlights]. Clearly the status of this raptor is changing, with winter records accumulating along the coast where, in past decades, such claims would have been difficult to believe.
The Moss Landing CBC is always on 1 January. This year's effort — the first after the passing of John Warriner (who started this count decades ago) but graciously hosted by Ricky Warriner, as always — tallied over 200 species, one of the highest counts in the nation. Among the highlights was this first-cycle Glaucous Gull in the gull roost at Moss Landing (digiscoped photo below © Rita Carratello). MTY highlights on private land near Moss Landing included Vesper and Harris's Sparrow (Peter Metropulos).