These highlights chronicle the year 2015. Created incrementally as new photos were available, the year runs generally "backwards" on this page. The abbreviation "MTY" means "Monterey County" in the text below. Text by Don Roberson. Photos on this page are copyrighted by the photographers to whom they are attributed, and may not be reproduced in any form (including other web sites) without the express consent of the photographer.
Local birders didn't learn about the final highlight of May 2015 until August. At it turns out, Kate Spencer amd Don Baccus had an amazing Blue-winged Warbler land on their "fast raft" several miles offshore Moss Landing, in fog, on 24 May (photo below © Kate Spencer). It rode for a short time, even landed on Kate's shoe, and then took off for the coast . . .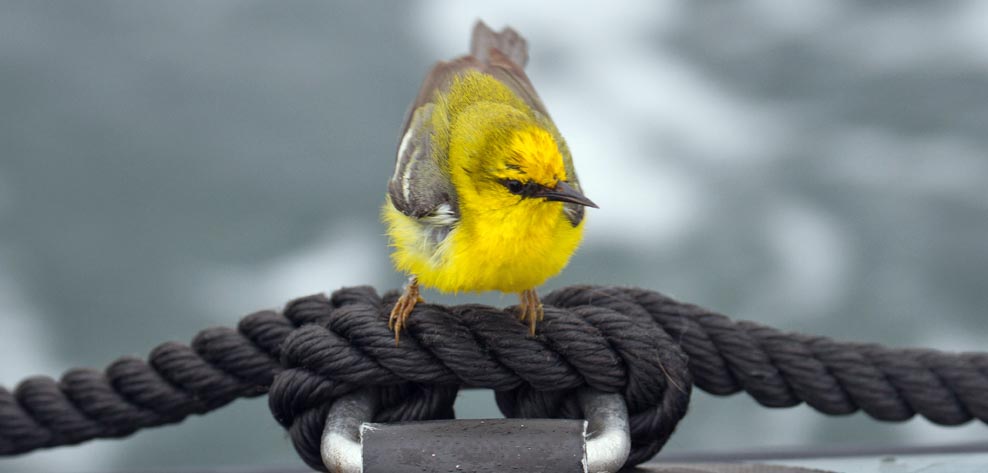 By the end of May, two lovely adult male Rose-breasted Grosbeaks were present: 29 May in Julia Pfeiffer-Burns SP (above left © Michael Rieser) and in Pacific Grove (above right © D. Roberson), coming to a feeder on Grove Acre but singing widely around the neighborhood 25-30 May.

Earlier in late April, a male Rose-breasted X Black-headed Grosbeak hybrid frequented a feeder at the mouth of Carmel Valley (Jeff Barnum, photo 26 Apr © D. Roberson).

There were the usual sprinkling of a few Indigo Buntings (and a hybrid or two) and at least one Baltimore Oriole in late May.
Speaking of back yard birds, Rita and Don's fountain & bird bath in Pacific Grove — just a block from the grosbeak feeder mentioned above—attracted 3 excellent birds in April-May (clockwise from right): male Magnolia Warbler 27 May (© Michael Rieser, seen by Michael & Rita), first-spring male American Redstart 25-29 May (© Rita Carratello, seen by various birders and heard singing), and a male Calliope Hummingbird 23 April (© Rita Carratello, the single observer on this great little bird).
The Magnolia is particularly impressive because spring records are so few — just a couple — and the Calliope because there are so few records from the Monterey Peninsula ever.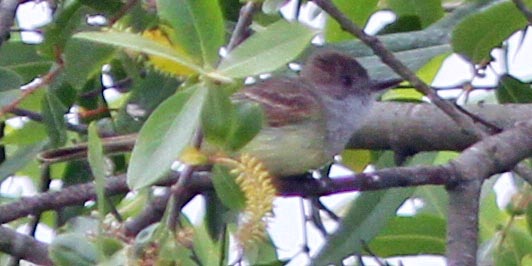 Also late in May (21 May), Rick Fournier observed this Dusky-capped Flycatcher (left © R. Fournier) in a restricted access revegetation progress in Moss Landing, and not far from Moonglow Dairy. Spring records in California are very few, with a couple migrants from April, but five the State's wintering Dusky-caps lingered into May, and one of them to 24 May. A wintering bird at Moonglow Dairy, found 27 Dec 1995, remained until 6 May 1996. This makes me wonder whether there was a wintering Dusky-capped this year along the central coast that went unnoticed until seen briefly by Rick Fournier on 21 May.
Certainly the major news of 2015 so far was the discovery of two first Monterey County records at opposite ends of the MTY coast in mid-May. First, on 14 May, Greg Smith (a longtime San Luis Obispo birder) had fine views of a Black Vulture circling with Turkey Vultures over Hwy 1, just a mile north of the little town of Pacific Valley. This is just 13 mi north of the MTY-SLO border. Details have been submitted to the CBRC, but Greg had seen the Black Vulture that has been present in the SLO-Santa Barbara area for some time, including as a yard bird at his home! There have been coastal Black Vultures as far north as Humboldt County, so it seemed only a matter of time before one was found here.
The second "first record" was right on the MTY-SCZ border at the Pajaro River mouth on 16 May, when John Garrett and Nicholas Kronick saw this Gull-billed Tern. It was first spotted flying along the beach on the Santa Cruz side, and landing there, but eventually flew farther south to roost for a time on the MTY side (photo below © John Garrett). This Gull-billed Tern provided a first record for both SCZ and for MTY counties. There have been only two prior records for northern California: in south San Francisco Bay (Santa Clara Co.) 3 May 2009and reappearing 18 May 2009 in nearby San Mateo Co., and this spring from 26 Apr-2 May 2015 (King Co.) in the San Joaquin Valley.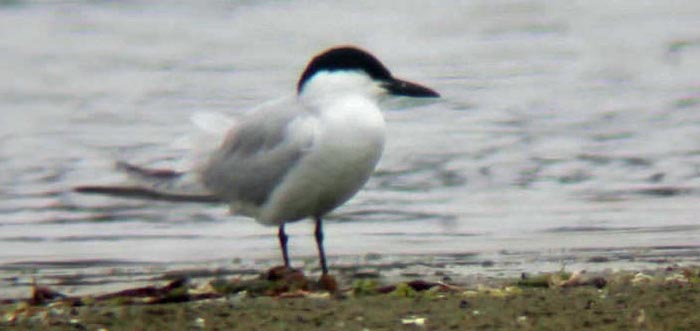 Hummingbirds staged unusually impressive migrations this spring. Good numbers of Rufous and Black-chinned were widely reported, including a male Black-chinned at a P.G. feeder, where it is quite rare, on 18 Apr (D. Roberson). The generally scarce Costa's Hummingbird made several appearances in Carmel Valley. A displaying male was along Lilac Lane in Carmel Valley at least 3-9 May (above left © Bill Hill), and then up to 3 Costa's per day visited Paul Fenwick's feeders above Carmel Valley town, including this young male (above right © Paul Fenwick) that lingered for weeks. Normally our MTY Costa's are in drier country in south county, so these so near the Peninsula were a real treat.
In last year's spring update I featured Calliope Hummingbird, since 9 were recorded that year. This spring we beat that record, with a minimum of ten Calliope Hummingbirds found in MTY (all of them males) between 14 April-17 May. Seven of the 10 were at feeders between the Monterey Peninsula and upper Carmel Valley. Perhaps this was an exceptional spring — the drought produced a shortage of wild forage? — or perhaps there are just more birders with feeders. Even the Monterey Peninsula got Calliopes — 3 in Monterey and one in Pacific Grove (that one is shown near the top of this page). Most were photographed but this was a favorite: a male Calliope waiting its turn while a pollen-sprinkled female Anna's sips at Paul Fenwick's feeders in Carmel Valley 4 May (photo below © Carole Rose).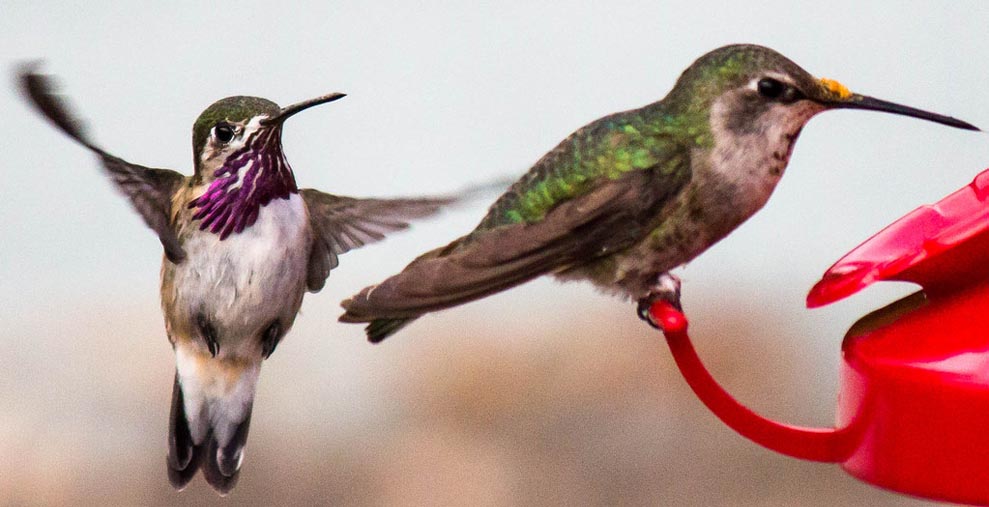 | | |
| --- | --- |
| | One encouraging bit of news this April-May involved the return of Blue Grosbeaks to a breeding area just west of the Salinas River near San Lucas. Up to 3 males (including this one on 10 May, left, photo © Carole Rose) were in the area, plus at last one female (various observers). None had been found despite substantial efforts in these locales in spring 2014. |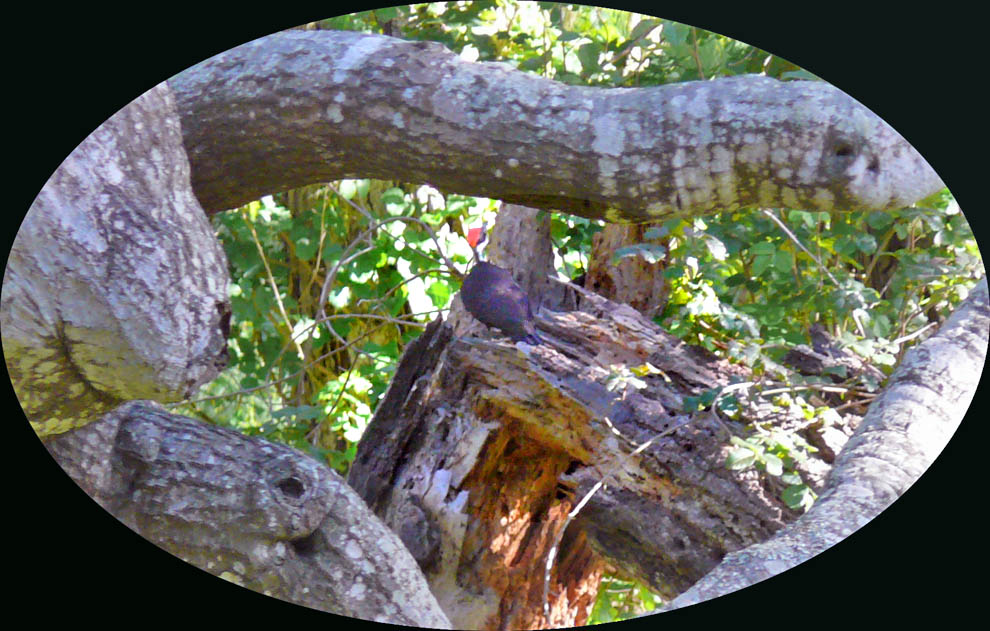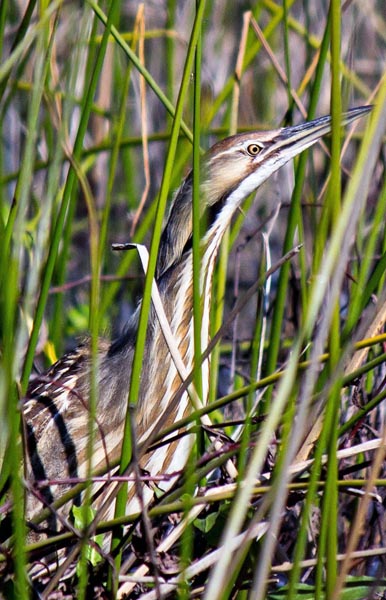 The most remarkable and unexpected rarity early this spring was in Pacific Grove. On 16 April, Emmy Reese was in her second-floor 'tree-house' room that overlooks Washington Park, and saw a huge dark bird fly by and start calling. It flew down to work on the stump of a broken tree. She called for her husband, Bill, but realized this was a Pileated Woodpecker and it needed documentation! She located a camera and got this one photo (above © Emmy Reese; vignette added by DR in production to simulate a view out the window). Bill Reese arrived in time to see it briefly before it flew off towards the east. Although promptly posted to the BirdBox, and the efforts of many local birders, it was not seen again. There are only about 10 records for MTY — none previous for the Peninsula — and it still remains elusive for most county birders. The Reeses think it appeared from the west — perhaps the coast? — and if so it flew over our house, or Blake's house, or even Fred's house enroute to Washington. Collectively we say aarrrggggg!
More expected but nonetheless welcome was the reappearance of American Bittern on the pond at Zmudowski SB. First noted by Paul Fenwick on 7 Feb, at least two have been present thereafter (photo left from 12 Apr © Carole Rose). This pond has been the only known breeding location for bittern for the last decade, but had been missed here entirely for two years (last report Feb 2013). Also welcome in this year of continuing drought was a Common Gallinule at nearby McCluskey Slough, first found 26 March (Rita Carratello; photo below © Michael Rieser). A pair presumably nested here last year.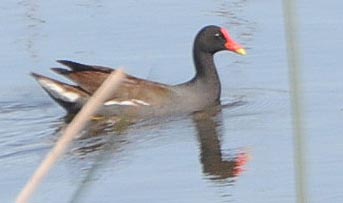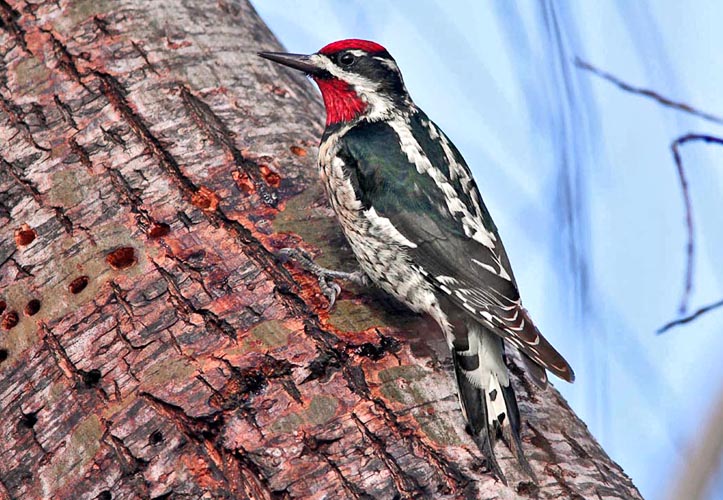 In late February most local birders came to see a male Red-naped Sapsucker at Lagunita Mirada Park, Monterey, first discovered by Rita Carratello on 17 Feb. Although first found in a large old willow at the NW corner of the pond, later in the day a male was frequenting the younger bare willow at the S end of the pond. It was at that latter location that a male sapsucker was found off-and-on every day thereafter. However, on 27 Feb, two male Red-naped Sapsuckers were briefly on that tree — and the dominant male immediately chased the other away. Review of photographs revealed the the dominant male (shown at right on 27 Feb © D. Roberson), with a restricted nape patch and a broken post-ocular white stripe, preferred this south-side willow and defended it vigorously (even if it was occasionally dislodged by a larger Acorn Woodpecker). It has now been photographed by many observers. The subordinate male, with an expansive red nape patch and an unbroken post-ocular stripe, had been the first bird discovered on 17 Feb, and was an infrequent visitor to the old willows along the west side of the pond. So far the only photos of it are iPhone digiscoped shots at the time of its discovery. Both males were actually found 17 Nov and were present through the end of the month. This is the first time that two Red-naped Sapsuckers have been present at the same place in MTY, even if their interactions were rare.
The "great Royal Tern" event of 2015 began on 31 January when Steve Summers, visiting the southernmost part of the Big Sur coast, saw Royal Terns foraging offshore Alder Creek mouth and off Cape San Martin. Michael Rieser and Scott & Linda Terrill, separately inspired by Summers' report, looked for terns off south MTY on 1 Feb. The Terrills saw 2 Royals just north of Alder Creek mouth, and Rieser saw at least 10 foraging offshore from the Willow Creek picnic area. Then Stephen Turner, a visitor from Montana, photographed a Royal Tern on Carmel SB, adjacent to the Carmel Lagoon, on 4 February (below © S. Turner). Some local birders chased and saw it that day or the next.
Elegant Terns are common along the central California coast from mid-summer through October, but all are gone by year's end [there is one record from 1 Jan]. In contrast, Royal Terns are most common along coastal southern California in winter, north to Morro Bay. It was anticipated that someday a winter Royal Tern might wander into MTY — but the presence of likely several dozen over a week's span was a surprise. Despite its rarity this far north, it is fair to say that Royal is the medium-sized tern most likely to occur in MTY in winter. Some 120 years ago, Royal Tern was considered "common" in Monterey Bay [for example, in Dec 1894-Jan 1895]. In those days, Royal Terns followed sardines while Elegant Terns foraged on anchovies. With the collapse of the Monterey Bay sardine stocks in the mid-20th century (and with them Monterey's sardine canneries on Cannery Row), Royal Terns became scarcer and scarcer, and basically disappeared from MTY after 1963. Now, with sardines growing in numbers and global warming affecting sea surface temperatures, it may be that Royal Terns will become more regular here. Time will tell.
Royal Tern is larger than Elegant Tern, and the bill is thicker, deep-based, and can be darker orange than the thinner, yellow-tipped, slim-based yellow-orange bill of Elegant Tern. Bill color does vary in both species with the age of the bird and time of year. Head pattern is often a better distinguishing feature in basic plumage, when both species have white forecrowns. Elegant Tern has a longer crest and the crest starts at the eye, so that the eye seems to 'touch' the black of the crest. In Royal Tern the crest is shorter and there is a pale break on the face behind the eye, so that the eye does not appear to touch the crest.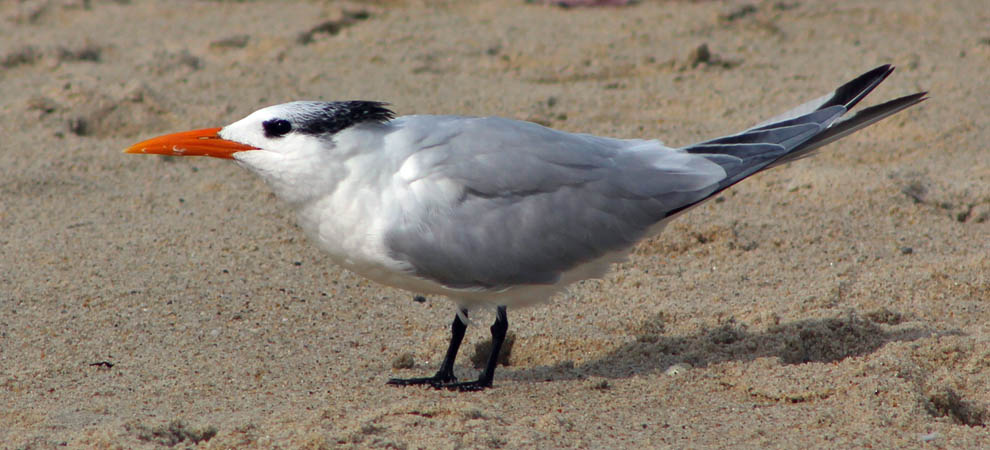 | | |
| --- | --- |
| On 5 Feb, Todd Wills found two at Pt. Pinos, sitting with gulls at what local birders call the "south gull roost" (by the next islet south of the Point). In the photo (right © Rita Carratello) these are seen near a Heermann's, a California, and a Western Gull. One of those took flight with the rising tide shortly thereafter (two photos below © D. Roberson), but more local birders got to see these. Royal Tern was a county bird for most locals, excepting Don Roberson & Rita Carratello, who had seen a single Royal flying with Elegants past Pt. Pinos back on 19 July 2014. These were the first Royal Terns on the outer Peninsula in over 30 years. | |
| | |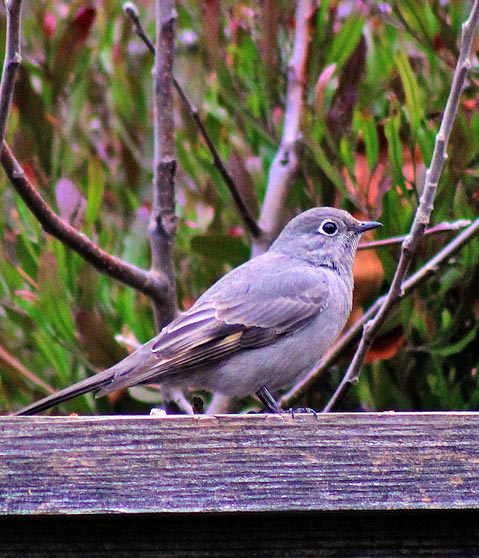 The influx of Townsend's Solitaire, first noted in the mountains (see farther down this page), encompassed the lowlands with one in Carmel Valley Village in January. First found on Holman Road 11 Jan (Don Glasco), it frequented Brian Sullivan's yard from 26-31 January (right, photo © Paul Fenwick).
Our other invading thrushes — Varied and robins — began dwindling with unseasonably hot weather, but not before Carole Rose photographed this startling partially-leucistic American Robin at Monterey's Presidio on 10 Feb (below © C. Rose).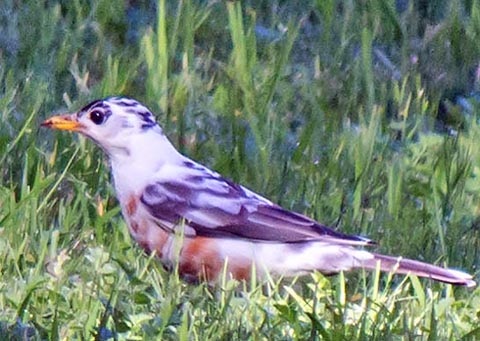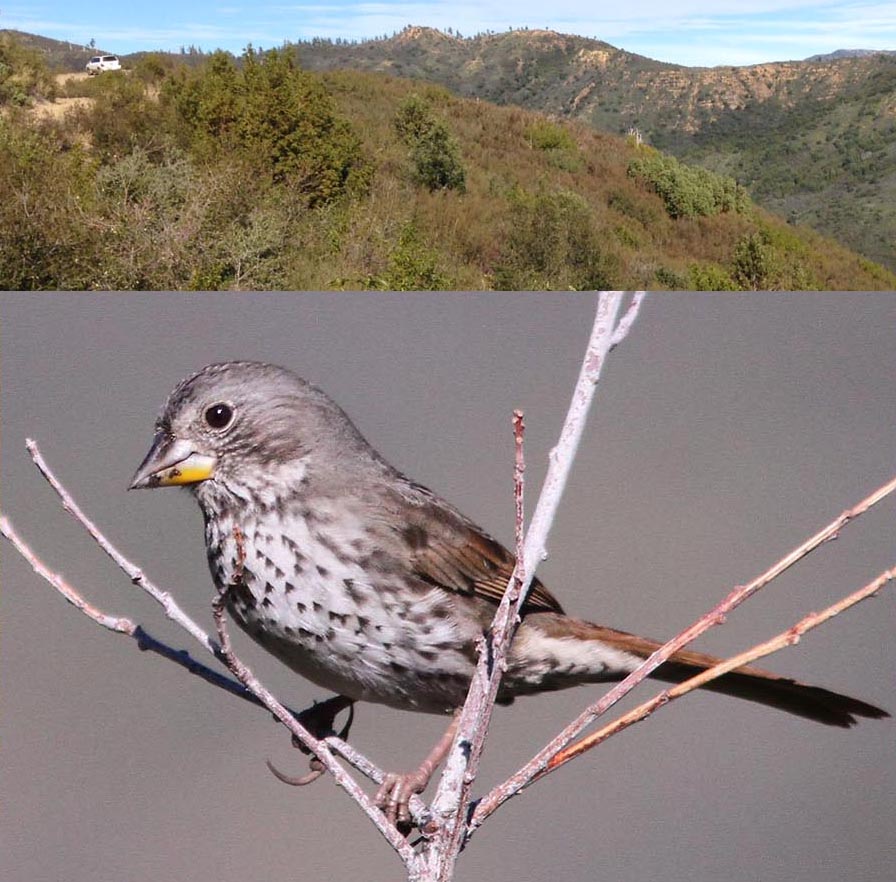 'Thick-billed' Fox Sparrow
at upper Cone
Peak Road,
17 Jan 2015
[habitat &
bird; ph ©
D. Roberson]
We may have taken a step forward in solving a local mystery. It all began in mid-November 2014 when Alex Rinkert reported a probable "Thick-billed" Fox Sparrow potentially wintering at Loma Prieta, Santa Cruz Co., and then obtained photos on 28 Dec. Meanwhile, on 27 Dec, a "Thick-billed" Fox Sparrow was heard and seen at Chews Ridge, MTY (Logan Kahle, Paul Fenwick, Cooper Scollan). And then on 8 Jan 2015, Justin Hite saw one in thick montane chaparral along upper Cone Peak Road. So on 17 January, Rita Carratello and I walked the 1.2 miles between the Cone Peak lookout trailhead (at 3700' elev) to the end of the road (the North Coast Ridge trailhead, at 4100' elev). This final 1.2 miles of road is on the sunny south slopes and passes through dense manzanita chaparral (habitat shot above). In this thick brushy habitat we had at least a half-dozen "Thick-billed" Fox Sparrows — based on their distinctive 'tink' calls, which recall California Towhee but are sharper and thinner (also no Cal. Towhees seen here) — and I was able to photograph one of them (above). Note the huge bill size (almost as thick at the base as it is long, recalling a grosbeak); the ivory bill color (becoming yellow at base of lower mandible); the plain and pale gray head and back contrasting with red tail and wings; and the unique 'chevron-shaped' spots on the breast. Until very recently it was not known if "Thick-billed" Fox Sparrows (of the megarhynchus Group in eBird) were regular in winter anywhere along the central coast. It now appears that they may be found in thick montane chaparral on sunny, steep slopes. This habitat is almost never visited in winter — in wet winters, the roads to these spots in MTY would be impassable.
I would also add — consistent with Rinker's experience in SCZ — that "Thick-billed" Fox Sparrows are incredibly shy. Of the 6+ we encountered, only this one perched up briefly for photos. The others responded to 'pishing' or playback of their 'tink' calls, but would not show themselves in the very thick brush, even when almost at your feet. In contrast, both "Sooty" and "Slate-colored" Fox Sparrows in that habitat — all giving typical Fox Sparrow "smak" calls — were much more responsive. [For more i.d. points, see my i.d. page on the four 'types' of Fox Sparrows in MTY.]
With the discovery of "Thick-billed" Fox Sparrows in MTY this January, we now have the complete set of the four "types" of Fox Sparrows wintering in our county. These four may be split as different species sometime in the future. These four are shown in the panel below (all photos © D. Roberson).
"Thick-billed" Fox Sparrow
17 Jan 2015 along upper Cone Peak Rd.
perhaps regular in dense high-elevation manzanita chaparral?

"Slate-colored" Fox Sparrow
17 Jan 2015 along upper Cone Peak Rd.
probably regular in montane chaparral in winter, rare migrant in lowlands

"Sooty" Fox Sparrow
3 Jan 2015 at Chews Ridge
our common wintering Fox Sparrow at all elevations

"Red" Fox Sparrow
30 Dec 2014 at Laguna Grande
rare vagrant in fall and winter in lowlands
Also at the end of the Cone Peak Road on 17 January, we took a short walk along the North Coast Ridge trail, along the eastern flank of Cone Peak itself and now in the shadows in early afternoon, and almost immediately discovered a Townsend's Solitaire perched among the Santa Lucia Fir! [inset photo, below © D. Roberson]. This could be the same bird found here by Michael Rieser back on 15 Nov 2014 [see item #11 among the "best birds of MTY in 2014"]. This was actually our second Townsend's Solitaire of the day, having heard one well down a canyon to the southeast from the "Thick-billed" Fox Sparrow spot at the upper end of Cone Peak Road. The photographed Townsend's Solitaire then flew up into the sun and actually began singing!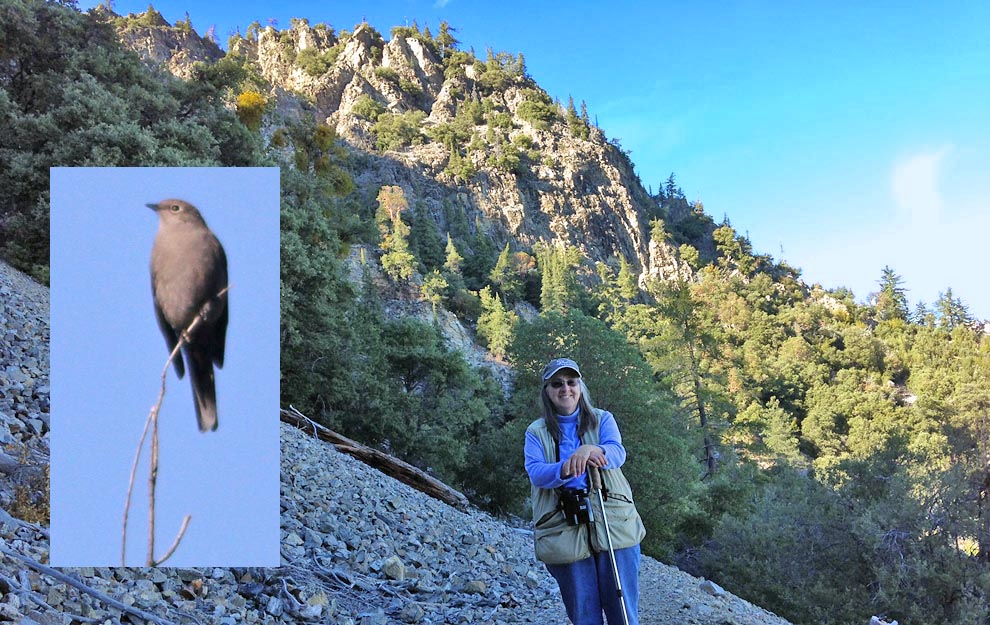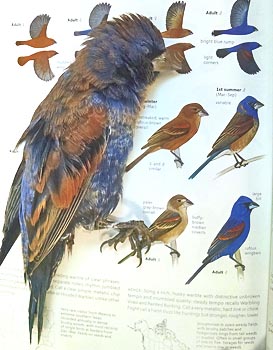 Another mid-winter surprise was this male Blue Grosbeak found injured somewhere on River Road on 6 Jan 2015. It was brought to the SPCA but expired there. They photographed the specimen against the backdrop of the Sibley field guide (ph © Jessica Shipman/SPCA). There are no prior winter records for MTY, so this is truly remarkable. The latest fall record was at the BSOL feeder at A. Molera SP on 31 Oct-7 Nov 1998. This winter is proving to be full of surprises!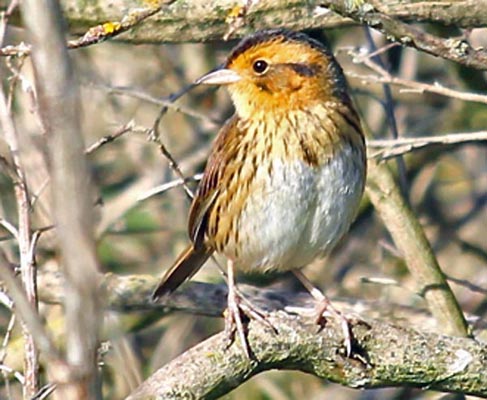 The first exciting find of 2015 was the discovery of one ... and then two .... Nelson's Sparrow at high tide along Elkhorn Slough near Moonglow Dairy (ph © Sarah Lane, above; © Rita Carratello, right; and following shots below). One was first discovered by Rick Fournier and his field trip on 3 January, with the second bird seen with the first by Sarah Lane & Jerry Stengel on 6 January. This very much recalls the situation in winter of 2012-2013, when one on 29 Nov 2012 became two together by Feb 2013, and both lingered to the end of March 2013. Yet, not a single one was located at the site in winter 2013-2014. Do we think the 2015 birds are new arrivals?
Nelson's Sparrow is usually very shy and secretive, so often photos give us better views to study than what is glimpsed in the field. As it happens, Rita & I had the opportunity to view another very rare and secretive sparrow — Le Conte's Sparrow at Abbotts Lagoon on Pt. Reyes, Marin Co. — within just 5 days of photographing the Nelson's in Monterey Co. Because identification between the two can be problematic, it is fun to share the side-by-side photos in the panel below, and to compare similarities and differences.
Nelson's at Elkhorn Slough, MTY, on 4 Jan

Le Conte's at Abbotts Lagoon, MRN, on 9 Jan

all photos in this panel © D. Roberson

Head pattern differences include the gray sides of neck of Nelson's; the pale gray face patch of LeConte's, with a dark spot at lower rear; the bolder white eye-ring of LeConte's, and the brighter orange tone of Nelson's. Also note quite different bill shapes between the two.

Both species have white stripes on a dark back, so crown and nape differences are more important. These include the gray central stripe of Nelson's (versus whitish stripe of LeConte's); the tricolored nape pattern of Nelson's (gray, brown, gray) that is unstreaked; and the purplish-toned nape of LeConte's with its fine streaks.

Both species have a well-defined white belly, buffy breast, and fine streaks on flanks, but the shots (below) show differences in the pattern and fineness of those streaks. On Nelson's the streaks go throughout the buffy breast. On LeConte's they are limited to the sides of the otherwise plan buffy breast.
| | | |
| --- | --- | --- |
| | | |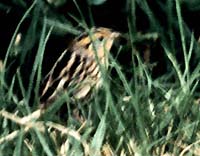 There is just one record for LeConte's Sparrow in MTY — at Crespi Pond on 19 Oct 1974 (ph © Ronald L. Branson, right). That is over 40 years ago! We are long overdue for another. Should you find one: take photos, post to the BirdBox [831-250-4550], and post to MBB and/or eBird immediately!
Nelson's Sparrow winters in very small numbers in tidal estuaries of coastal California, and thus is usually seen at high tide as it otherwise hides in dense salt-water pickleweed habitat. Le Conte's is a true vagrant that prefers wet short-grass locations adjacent to freshwater ponds, lagoons, or ditches.