These highlights chronicle the year 2015. Created incrementally as new photos were available, the year runs generally "backwards" on this page. The abbreviation "MTY" means "Monterey County" in the text below. Text by Don Roberson. Photos on this page are copyrighted by the photographers to whom they are attributed, and may not be reproduced in any form (including other web sites) without the express consent of the photographer.
| | |
| --- | --- |
| Well, it happened again. I planned to post this update after a boat trip on 12 Sep, but on return I learned that my wife, Rita Carratello, had discovered a female Painted Bunting in our yard! [photo below 12 Sep © Rita Carratello]. The rest of that day was taken up waiting for its return, and hosting other interested birders. The bunting was still present 13 Sep; I got a shot of the back and wings (right © D. Roberson) that shows extensive wear to coverts and tail. Peter Pyle has confirmed this is a worn adult female. It is possible it is the same bird that was in our yard on 22-23 Sep 2013 [see photo halfway down linked page], a bird Pyle also ages as an adult female, not an imm female as was then believed]. | |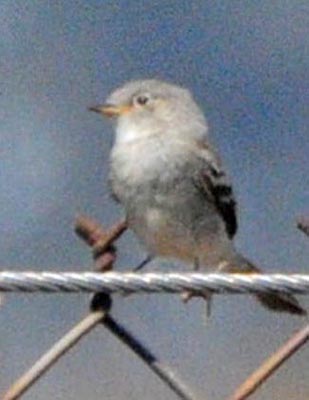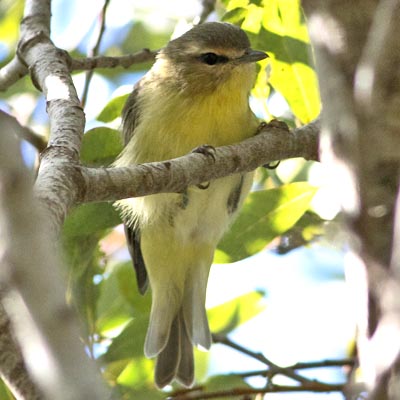 Earlier, just as this update was ready to launch on 9 Sep, visiting birder Doug Gochfeld discovered a bright Philadelphia Vireo at Big Sur R. mouth (near right © Doug Gochfeld). Locals Paul Fenwick and Michael Rieser chased it on 10 Sep and not only re-found the Philly but also the first fall record of Gray Flycatcher for MTY ! (far right © Michael Rieser). The vireo was still present through 12 Sep but the flycatcher disappeared soon after its discovery. Yet a second Gray Flycatcher was reported there 12 Sep (B.T. Matheson).
The Philly Vireo was in tail molt, giving rise to questions as to whether it might have summered locally. There has never been a Philly in California that summered for sure, but there are July records from Humboldt Co. (2004) and Mono Co. (2005) that suggest the possibility. Here in MTY, this new bird was the 10th county record — but it is the first since 2004, so a welcome appearance after an eleven year gap! All but one of MTY's Philadelphia Vireos have been in fall migration, and nearly all from 'vagrant traps' like Big Sur River mouth.
The bird that was supposed to top off this update on 9 Sep was this imm White-faced Ibis at Crespi Pond (below) — I'm a sucker for birds that pose with nice reflections, and this continues that trend (photo © D. Roberson). Apparently I was the only observer on this ibis, but it could have been the same young ibis found by Bill Hill at Roberts Lake on 8 Sep. But topping all that were a flock of 13 ibis over Big Sur R. mouth on 10 Sep (P. Fenwick, M. Rieser).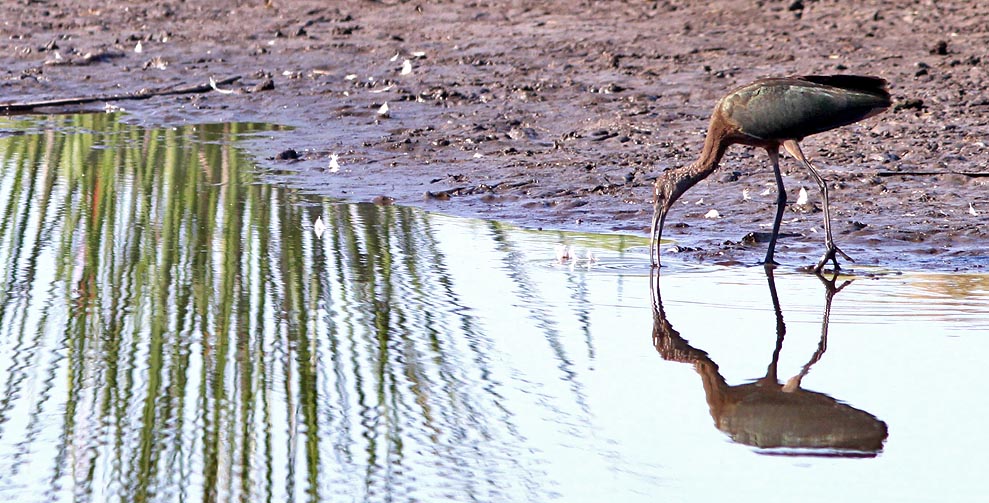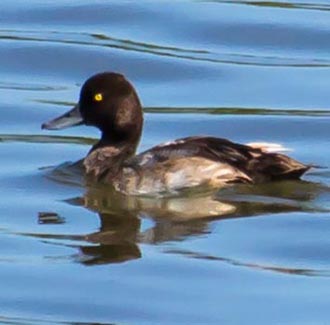 During the first week of September, attention turned to Laguna Grande Park, Seaside, which hosted an immature Blue Grosbeak, found by Michael Rieser on 5 Sep and successfully chased that day by many (photo below left © D. Roberson). The next day (6 Sep) a juv Common Merganser there (below right © D. Roberson) provided another first record for the Park. Female and young mergansers are among the "most misidentified" birds in MTY, so it was great to get photo documentation.
Also photo-documented in early September was a summering Lesser Scaup at Moonglow Dairy (photo right from 5 Sep © Carole Rose). While a handful of Greater Scaup often summer around Moss Landing, documented records of Lesser Scaup are exceedingly few. This male has been present at Moonglow since July, and went through a flightless period during its eclipse plumage.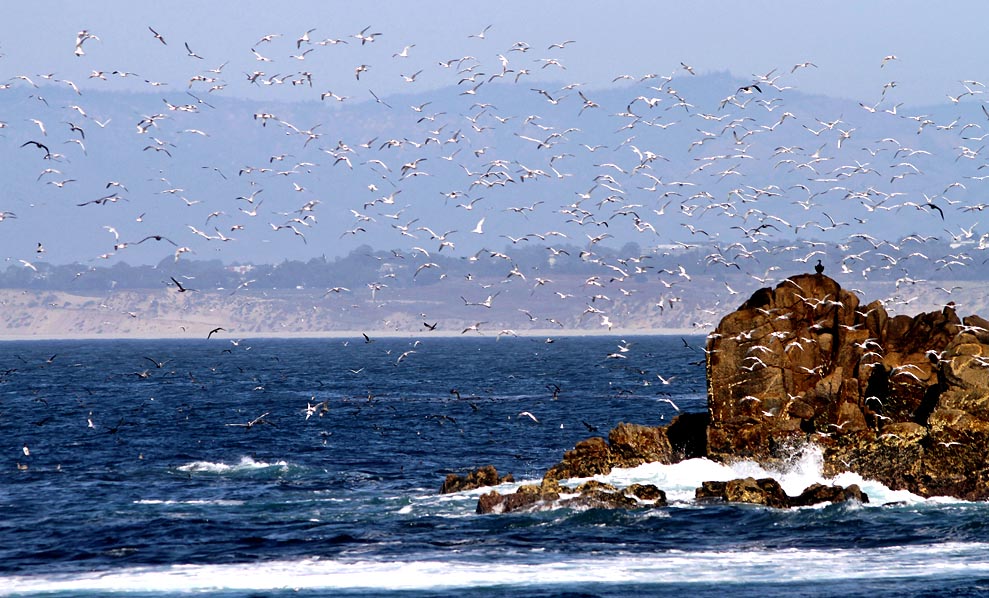 Spectacular sites continued on Monterey Bay. Huge numbers of anchovies brought lunge-feeding Humpbacks to thrill the tourists (and an international TV audience for the BBC's "Big Blue Live"); Blue Whales returned; and Great White Sharks appeared. A significant slice of the world's Elegant Terns feasted on those anchovies into early September. The photo (above) at Pt. Pinos on 9 Sep shows about 900 Elegant Terns.
Thousands of Elegant Terns flew west past Pt. Pinos that day, many with anchovies in beak (right). Among these tern flocks were a few Common Tern — mostly juvs but this one (lower right) on 9 Sep was an adult © D. Roberson) — and even more dramatically, both Arctic and Black Terns were photographed by sea-watchers. Sea-watching from Pt. Pinos in August–early September was phenomenal. Numerous long-standing records fell as these high counts were tallied:

1870 Sabine's Gull seen from shore in 1.75 hrs on 28 July [averages about 1070/hr]
2180 Pink-footed Shearwaters in 3 hrs on 30 Aug [725/hr]
1800 Black-vented Shearwaters in 3 hrs on 4 Sep [600/hr]
a Short-tailed Shearwater photographed from shore on 7 Sep (B.L. Sullivan), nearly surpassing the earliest ever fall arrival date
1295 Brandt's Cormorant in 3.25 hr on 7 Sep [400/hr], perhaps as our local population concentrated
59 Parasitic Jaeger in 1.5 hr on 7 Sep [40/hr]
7000 Elegant Tern in 1.5 hr on 9 Sep [4665/hr]

These are all likely the highest carefully documented counts ever recorded from shore in MTY. Those contributing to these counts included Brian Sullivan, Blake Matheson, Paul Fenwick, Cooper Scollan, Scott & Linda Terrill, Michael Rieser, Rita Carratello, and Don Roberson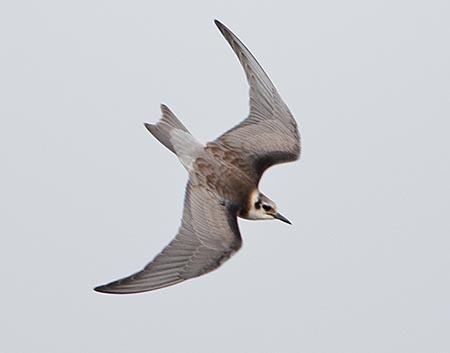 Speaking of Black Terns, an amazing 9 different individuals were documented around in coastal north MTY between 25 Aug–10 Sep. All but one were in juvenal plumage, including this bird (left) that visited both Roberts Lake and Laguna Grande in Seaside on 25 Aug (this photo 25 Aug at Laguna Grande, a lovely shot © Bill Hill). Up to 2 foraged over Roberts Lake through 8 Sep, one of which visited El Estero in Monterey on 3-4 Sep. Another was on a sandbar in the Salinas River just west of Hwy 101 on 4 Sep (David Bradford), and another was at the Pajaro River mouth on 9 Sep (both counties, Lois Goldfrank). Finally, at Pt. Pinos, three (3) different juvs flew west past sea-watchers on 25 Aug, another on 26 Aug, and a final bird on 10 Sep (an adult in body molt, Bill Hill).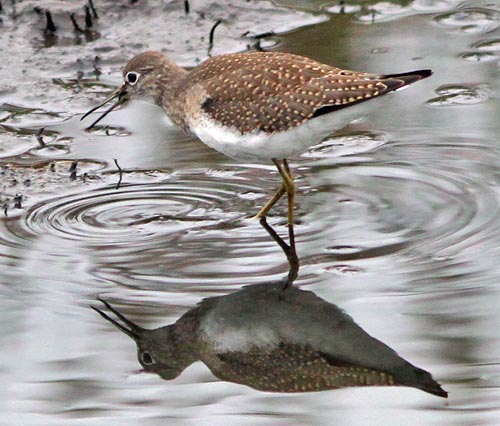 Crespi Pond had highlights in late August, including a juv Solitary Sandpiper 20-22 Aug (right © D. Roberson) and a young Purple Martin there on 21 Aug (below left © Carole Rose).
Just about the first of September, a couple of flamingo also suddenly appeared on Crespi (below right).
Birders are most interested, obviously, in birds. But some also enjoy odes — dragonflies and damselflies in the order Odonata — and summer/early fall was quite a remarkable years for vagrants and unusual odes. The first major phenomena of 2015 was an invasion of Red Rock Skimmer Paltothemis lineatipes throughout the Monterey Peninsula, extending from more than a dozen in downtown Monterey 21 March (photo of female, below left © D. Roberson) to Pacific Grove on 30 Aug (photo of male, below right in P.G. cemetery © D. Roberson). This is a very long ways from breeding habitat along rocky streams in the hot foothill of southern MTY.

Seeming a further sign of global warming, Kyle Weichert found a population of Desert Whitetail Libellula subornata on private land in extreme southeast MTY on 30 July, adding a new dragonfly to the county checklist (photo right © Kyle Weichert).

Black Saddlebags Tramea lacerata (left, a male at A. Molera SP © D. Roberson) — although a routine ode at some MTY locales — was found at many new spots. Much better, though, was an unprecedented incursion of Red Saddlebags Tramea onusta (below): from a male at Salinas River NWR on 5 July (below left © Rita Carratello) to a female in flight over Pacific Grove on 12 July (below right © DR), this southern species was widespread — and extended north in California to the Oregon border!

Finally, Don Roberson found this vividly-colored male Roseate Skimmer Orthemis ferruginea in the Pacific Grove cemetery 30 Aug for another first MTY record. This is a tropical species that is common down at the Salton Sea but this is only the second one ever to reach northern California. The drought, climate change, and the warm summer may all have contributed to bring it so far north.
| | |
| --- | --- |
| Peter Fonken, a ranger at Ft. Ord NM, spotted this Scissor-tailed Flycatcher during his rounds on 16 Aug 2015 (photo © Peter Fonken). It was in an area in the National Monument open to hikers but not vehicular traffic .... and Fonken did not see it again, although he checked the spot (near Mudhen Lake) several times over the ensuing days. | |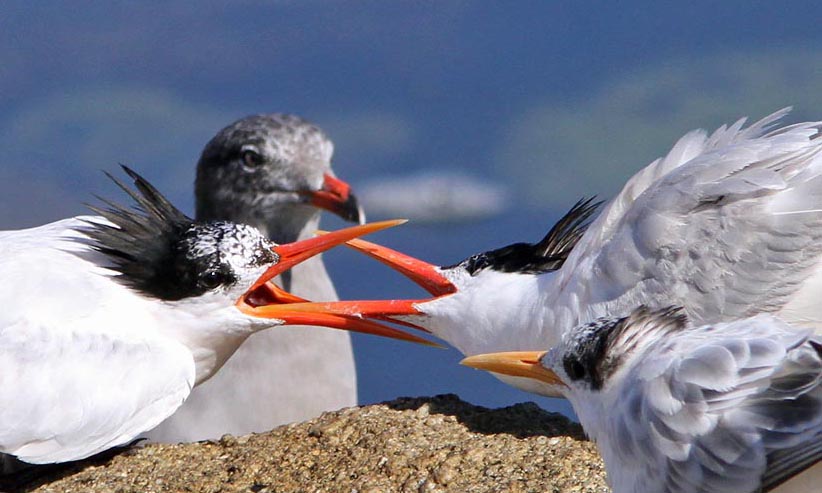 The shoreline was a very noisy place in August. Thousands of Elegant Terns have arrived to feast on anchovies around the rim of Monterey Bay, and they do love to squabble. In this interaction (right) two adults tussle while a Heermann's Gull acts as referee and a youngster looks on . . . Actually the loudest tern cries are begging babies. There are so many about right now (mid-August) that birders living on the Peninsula have been recording Elegants flying over their houses late at night — adding a quite unexpected species to yard lists! A good percentage of the world population is with us now, so take advantage of the opportunity. Compare the bill color (reddish in adult, yellow in the youngster) and plumage differences between adult and juvenal plumage (below; photos © D. Roberson). It can be fun to look at leg color also, as you will find yellow-footed and red-footed youngsters if you search long enough.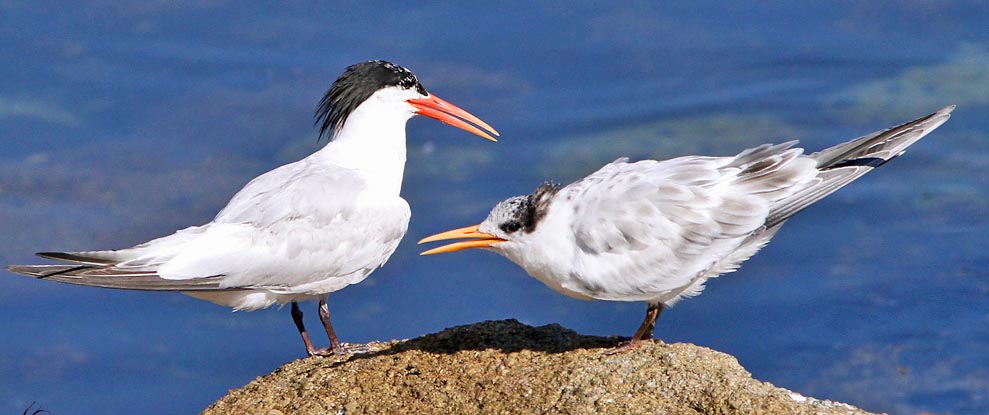 Lines of Sooty Shearwaters that stretch for miles have also arrived, also foraging near-shore and often with Humpback Whales, from Pt. Pinos to Moss Landing to Santa Cruz. On calm days these flocks sit on the sea. On August 7, Kate Spencer of Fast Raft Ocean Safaris found a Great Shearwater among a sitting flock of shearwaters about 3 miles west of Moss Landing (below © Kate Spencer). I believe this is the 7th record for MTY, and the 8th for Monterey Bay.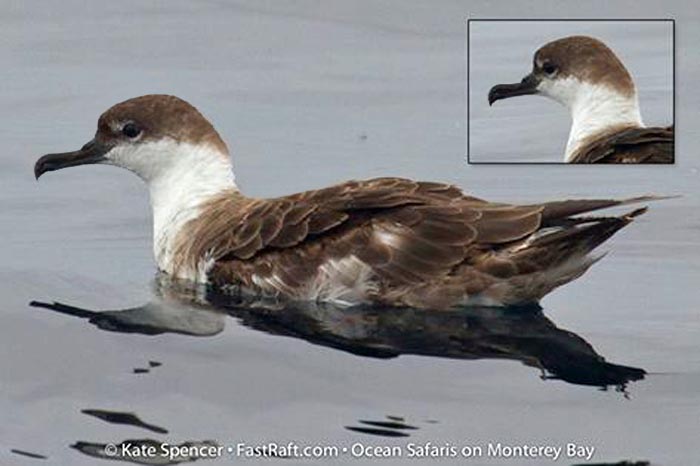 As it turns out, Kate Spencer had another major rarity on her boat in May . . . and it is now added to the top of the spring highlights page.
Embassy Suites towers over Roberts Lake in Seaside but on 22 July the focus was on a large white bird floating in the foreground. Sarah Lane discovered this American White Pelican, one of the very few to be found around the Monterey Peninsula. Although there may be 300+ white pelicans on Elkhorn Slough this summer, a Peninsula bird is exceptional. There are fewer than 10 Peninsula records but two of them were at Roberts Lake: 26 May–6 June 2002 and18 Nov–7 Dec 1975 [had been banded in Oregon]. This July 2015 pelican is still in juvenal plumage ( gingery feather-centers to mantle), and it obviously hatched a long ways from here! It acted just like a vagrant — within a couple hours it was gone.


photos (left) © D. Roberson, (above) © Rita Carratello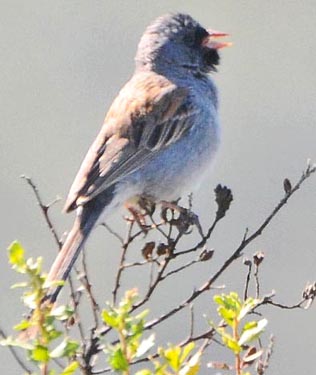 Much of the rest of June and July was routine, with the local drought continuing and Monterey Bay waters warming (El Niño coming?). For the first time in several years, Black-chinned Sparrows were back on territory along the Rocky ridge trail at Garrapata SP throughout June (singing male, right, © Michael Rieser). The year-to-year occurrence of this fine sparrow is unpredictable and although there are locations it tends to favor, they are not at those spots every year.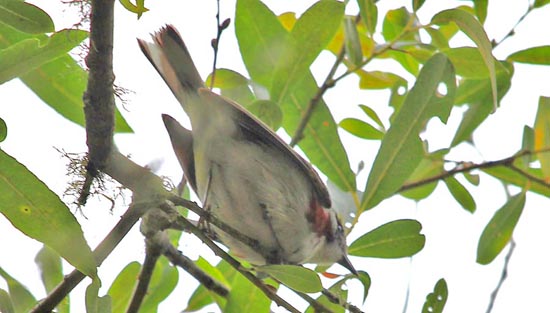 June was a very good month for Rita Carratello. On 3 June she found a singing Chestnut-sided Warbler near Asilomar, Pacific Grove (right © Rita Carratello). It did not stay long. Spring migrants can be like that.
Just a week later, Rita and Jeff Barnum discovered a singing Blue-winged Warbler high in a cottonwood along the South Bank Trail, lower Carmel Valley, on 10 June (below, both photos © R. Carratello). Unfortunately, although the word got out immediately and many chased this vagrant, it also remained only briefly and was never refound. This represents just the 7th record for MTY: two from fall 1993 and three from spring — a singing male at Big Sur R. mouth on 9 June 2001, 26 June 2003 (banded by BSOL), and the 24 May 2015 bird from the previous page. Another attempted to winter at Carmel R. mouth 27 Oct 2006–7 Jan 2007 until the really cold front hit.