These highlights chronicle the year 2015. Created incrementally as new photos were available, the year runs generally "backwards" on this page. The abbreviation "MTY" means "Monterey County" in the text below. Text by Don Roberson. Photos on this page are copyrighted by the photographers to whom they are attributed, and may not be reproduced in any form (including other web sites) without the express consent of the photographer.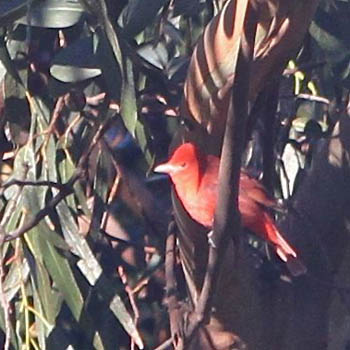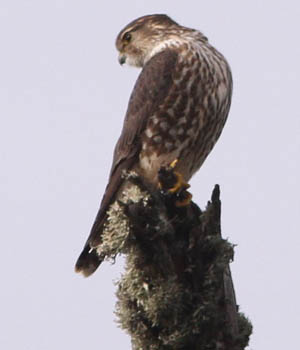 Traditionally the year ends with highlights from Christmas Bird Counts. Late December brought some El Niño rains but the Big Sur and Monterey Peninsula CBCs went on as scheduled (Moss Landing, as always, is 1 Jan, so that is in 2016). Here are a couple of CBC birds: a Merlin at Pt. Sur on the Big Sur CBC 20 Dec (near right) and an adult male Summer Tanager in Pacific Grove, a 'stake-out' highlight for the Monterey Peninsula CBC on 27 Dec (far right, photo 25 Dec; both photos D. Roberson). Alas, some of the rarities reported on CBCs were not photographed and thus are not highlighted here.
The Summer Tanager has apparently returned for its 3rd winter. It was found as a first-cycle male in winter 2013-2014 (2 Feb-5 Apr), returned as an adult in 2014-2015 (6 Oct-10 Apr), and returned again in 2015 on 7 Nov 15 and has remained into Jan 2016. In all 3 years it has had a wide range from the Pacific Grove ballpark on 17 Mile Drive to the Asilomar vicinity.
The real excitement in December remained seabirds at Pt. Pinos. After the finish of the MAS formal seawatch, Brian Sullivan photographed yet another Royal Tern at Pt. Pinos on 20 Dec (below left, © B.L. Sullivan), representing the 9th confirmed record of fall migration — unprecedented since the early 1900s. Christmas storms pushed Fork-tailed Storm-Petrels into Monterey Bay, where one was seen 24 Dec (B.L. Sullivan, Paul Fenwick) and at least 16 were seen from Pt. Pinos on 25 Dec (D. Roberson, Rita Carratello, Carole & Larry Rose; two photos right below © D. Roberson).
The final day of the MAS seawatch was 15 Dec, and after dusk participants and MAS board members celebrated Tony Leukering's last day with pizza at Gianni's. Those present included, more or less clockwise from lower left: Fred Hochstaedter, Cooper Scollan, Don Glasco, Blake Matheson, Brian Sullivan, Robert Horn, Rita Carratello, Tony Leukering (head of table, far end), Jan Scott, Robert Shields, Shawn Wagoner, Carole Rose, Larry Rose, and Chris Hartzell.

Hartzell brought a Leach's Storm-Petrel that John Meyer had found dead on a boat in the harbor, and all gathered around Tony as he explained storm-petrel i.d. and molt patterns (below).

The seawatch effort had drawn plenty of attention from locals, visitors, and the media. Many folks stopped by at the Point to inquire what was going on, and learn something about bird migration. Tony Leukering is shown at right in the photos above (© Gary Woods) and below (© Brian Sullivan). Among the locals who put in hours birding with Tony — or standing watch during his one day off a week — included (L to R) Rita Carratello, Don Roberson, Paul Fenwick, Brian Sullivan and (not shown) Cooper Scollan, Robert Shields, and Carole & Larry Rose. Many more visited for shorter periods.

Among the highlights of Tony's final days were Leach's Storm-Petrels off the Point in high winds on 13-14 Nov (4 on 13 Nov, 5 on 14 Nov; one of them photo'd, right, ©Tony Leukering). All but one were 'white-rumped' nominate Leach's (like the photo) but a 'dark-rumped' bird was seen on 14 Nov, likely assignable to 'Chapman's' Storm-Petrel' should the Pacific Ocean Leach's be split into four species in the future. There are prior offshore records from far offshore of 'Chapman's' but this is the first MTY record from a shore-based observer.

Among the half-million birds tallied during the six weeks of the seawatch were:

245,914 Pacific Loons
96,554 Black-vented Shearwaters, but presumably many were duplicates seen daily
50,936 Surf Scoters
22,454 Cassin's Auklets

and such unexpected numbers as

298 Short-tailed Shearwaters, plus another 186 'dark shearwater sp?' + 117 Sooties
57 Ring-billed Gulls, and
27 Black Scoters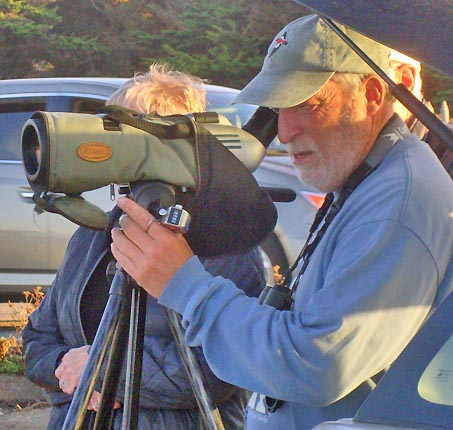 Certainly "the event" of the season was the dawn-to-dusk Pt. Pinos seawatch for six weeks, spanning 1 November to 15 December, sponsored by the Monterey Audubon Society. The designated expert was Tony Leukering (above and right), who has conducted many hawk-watches, seawatches, and bird-banding operations from coast to coast. Perhaps best known for his work at Cape May, New Jersey, or in Colorado, his expertise encompasses North America. The concept was proposed by eBird's Brian L. Sullivan — himself a famed sea-watcher and field identification author — to gather data that can be compared to all the major seawatches around the globe.
The activity could be frenetic at times — with hundreds of loons, scoters, and shearwaters all streaming by continuously — and many local birders have contributed their time to help the continuous survey, or taking watches on Tony's one-day-off each week. Tony has up to 9 hand-clickers going at a time, while calling out species noted, and chatting up visitors stopping by. All these efforts are posted as hour-long surveys throughout each day in eBird.
As of the half-way point through 21 Nov, Tony and crew have counted over 209,000 migrant seabirds, including
73,855 Pacific Loons,
39,084 Surf Scoters,
45,974 Black-vented Shearwaters
Excellent rarities include 5 Manx Shearwaters, 4 Long-tailed Ducks, and a Guadalupe Murrelet. Additional rarities and surprising totals are detailed with photos in the gallery below:





| | |
| --- | --- |
| Tundra Swan: 3 on 16 Nov were flying over (© Paul Fenwick). | |
| Black Scoter: 16 during the first 3 weeks of Nov, mostly females but including this male on 5 Nov (© Tony Leukering). Until this sea-watch, Black Scoter had been almost undetected in MTY this year. | |
| Short-tailed Shearwater: a total of 54 in the first 3 weeks of November (this one 6 Nov © Paul Fenwick). This contrasts with just 12 Sooties during the period (and another 13 'spuhs'). | |
| Brown Booby: a subadult on 4 Nov (© Brian L. Sullivan). | |
| Ring-billed Gull: 37 (!!) in the first 3 weeks of November. This adult (right © T. Leukering) was with a flock of 7 on 17 Nov that flew north over the Bay, and Tony had a total of 19 RBGUs that day. This is more Ring-bills at Pt. Pinos in one day than all prior dates put together! All were migrants flying by — none stopped at the Point. | |
| Royal Tern: single adults on 10 Nov and 20 Nov, this is the 10 Nov bird (photo © Tony Leukering). | |
| Lapland Longspur : single flying over the seawatch on 20 Nov (photo © Tony Leukering). | |
The seawatch goes on — dawn to dusk every day — whether the weather is fowl or fair, windy or calm, rain or shine. The collage below — created from photos taken during the seawatch or nearby this fall (all © D. Roberson) — is meant to convey the variety of conditions and bewildering variety of birds that were observed at the seawatch during the first three weeks of November. How many species can you identify? What are the numbers of each? These are the questions Tony encounters daily, so give it your best shot. Anyone was welcome to visit the seawatch, at Pt. Pinos in Pacific Grove at the northwestern tip of the Monterey Peninsula, through 15 December 2015.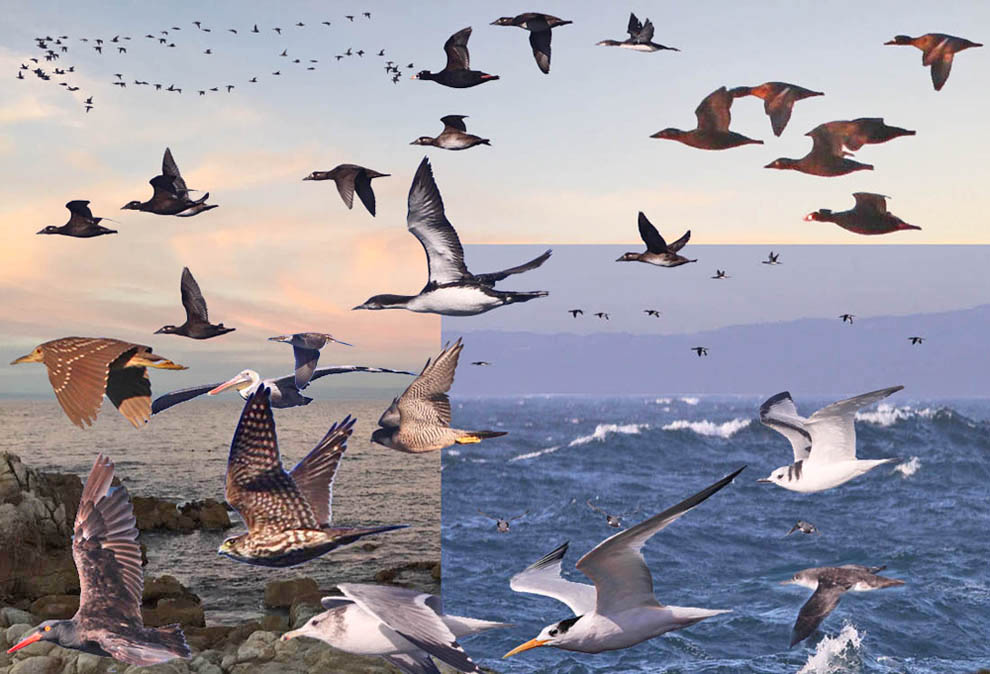 answers to the birds in the above collage are posted at bottom of this page
Meanwhile, on nearby Crespi Pond (below), two rare ducks appeared in mid-November: a juv Hooded Merganser, found by Rick Fournier, on 18-19 Nov (below right © D. Roberson) and a juv Long-tailed Duck that arrived 19 Nov and is still there as of this writing (below left © D. Roberson). In addition, a flock of 9 Snow Goose circled the pond on 21 Nov, and a youngster landed for the rest of the day (Larry & Carole Rose, et al.).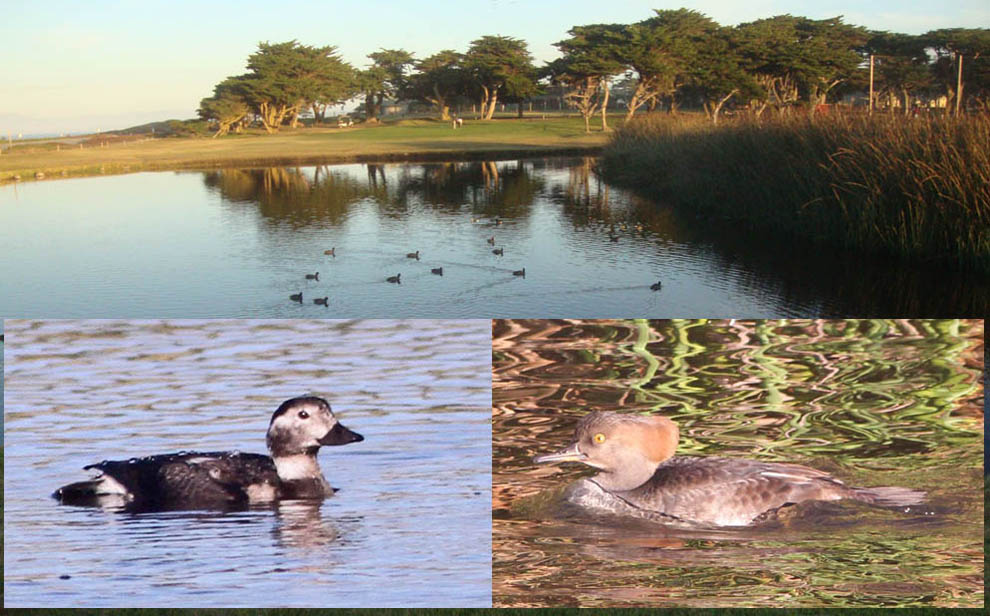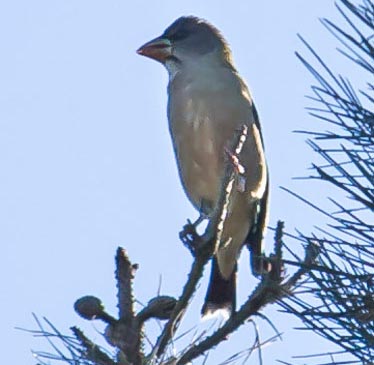 It looks like this might become a winter for finch incursions. A smattering of Red Crossbills appeared as early as 16 Sep at Pt. Pinos (Blake Matheson) and continued erratically into November. An amazing flock of 18 landed right on the beach at the tip of Pt. Pinos on 12 Nov (Tony Leukering, B.L. Sullivan). Observers reporting on their vocalizations suggest that those heard sounded like "type 3" Red Crossbills, sometimes called "Western Hemlock Crossbills."
We most typically get "type 2" [Ponderosa Pine] crossbills in MTY, but there was an incursion of "type 3" [Western Hemlock crossbills] in fall 2012; a lot more details, including identification, is on the fall 2012 highlight page.
By late October, a small number of Evening Grosbeaks also arrived, including this one on Jacks Peak (photo right, 29 Oct © Carole Rose).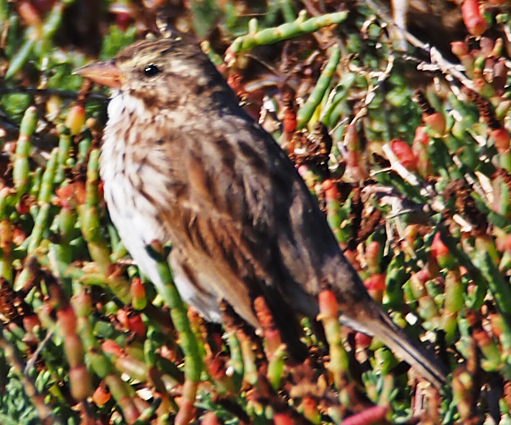 James Maughn photographed this sparrow (right © J. Maughn) in pickleweed at high tide along Jetty Road, Moss Landing, on 1 Nov. Posted to social media, there it was identified as a "Large-billed" Savannah Sparrow Passerculus sandwichensis rostratus. There have been suggestions for years that this should be elevated to a separate species, the Large-billed Sparrow. This split has not occurred but might happen in the future.
The core breeding range of P. s. rostratus is the delta of the Colorado River, such as Isla Montague, Baja California. In fall and winter, it disperses both westward and northward and occurs in small numbers in coastal southern California and at the Salton Sea. A few disperse north along the coast to San Luis Obispo Co., and there are recent records north of MTY in San Mateo Co. and around Bolinas Lagoon, Marin Co., where it may be regular. This was the first reported and documented record for MTY.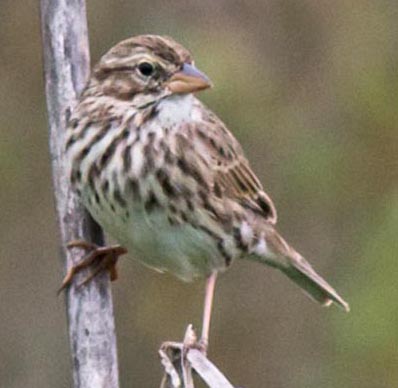 This fall's 'Large-billed Sparrow' was successfully chased at high tide on 7 Nov (photo below © D. Roberson), but it dropped into cover and could not be refound. Word of this sparrow spread, and two earlier records have appeared. Blake Matheson saw one exactly a year earlier in the pickleweed along Jetty Road, on 1 Nov 2014. Carole Rose photographed a 'Large-billed Sparrow' adjacent to Elkhorn Slough, near Moonglow Dairy during a high tide, on 21 Feb 2015 (right © C. Rose). That now becomes the first documented record in MTY.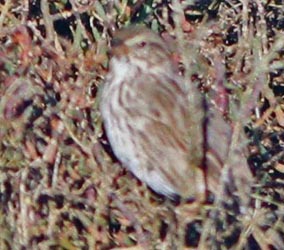 We may learn that 'Large-billed Sparrow' is a rare but regular late fall and winter visitor in coastal MTY, but it certainly is usually a very elusive one.
Answers to the seawatch collage (above): There are 87 Surf Scoters and 11 Pacific Loons among 14 species, and 115 birds in all. There is a Pacific Loon in the center, led and followed by single female Surf Scoters, and a scattering of 9 distant loons against the distant hills to the right. Using those birds to separate the collage into two parts, all the birds above the center set are Surf Scoters of varying ages and sexes, but for one Pacific Loon top center, and two female Lesser Scaup as the uppermost right-hand birds. All these birds are flying left (west) past Pt. Pinos, and so is everything else except for a Wilson's Snipe flying right (east, returning to Crespi) just left of the center Pacific Loon, and 3 tiny Ancient Murrelets flying straight away against the choppy seas in lower right quadrant. The remaining species are flying left (west) and they are, counter-clockwise from lower left through the lower half of the collage: Black Oystercatcher, California Gull, Elegant Tern, Black-vented Shearwater, juv Black-legged Kittiwake, distant Peregrine, close dark Merlin, distant Brown Pelican, close first-cycle Black-crowned Night-Heron.