These highlights chronicle the year 2015. Created incrementally as new photos were available, the year runs generally "backwards" on this page. The abbreviation "MTY" means "Monterey County" in the text below. Text by Don Roberson. Photos on this page are copyrighted by the photographers to whom they are attributed, and may not be reproduced in any form (including other web sites) without the express consent of the photographer.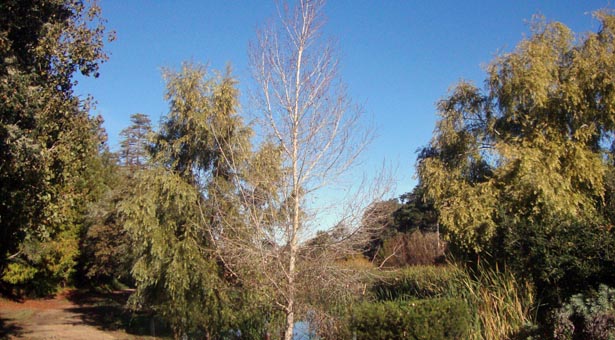 October 2015 concluded with a little flurry of activity at Lagunita Mirada Park in Monterey – the same postage-stamp-sized park that hosted the Red-naped Sapsucker back in February (photo right: the weeping willow on right side of the shot was the "sapsucker tree," while the cottonwood to the far left would become the "warbler tree," with pond between). On 30 Oct, Rita Carratello found a late Blackpoll Warbler here (below right, photo 31 Oct © Sarah Lane), and then the next day a young female Chestnut-sided Warbler was present with it (below left, photo 31 Oct © Don Roberson). Both warblers lingered to 5 Nov, to the delight of many. For Blackpoll, 5 Nov ties the latest date that this species has ever been present in MTY.
Two other late October highlights are shown above. The first was this Sage Thrasher, found by Rita Carratello on 16 Oct at the limited-access Palo Corona Regional Park (access permit available on-line; photo above left © R. Carratello). The other was an interesting sapsucker at Laguna Grande Park in Seaside, found by Paul Fenwick and present 20-21 Oct. With the help of research, expert commentary, and photos graciously provided by Dr. Van Remsen from the LSU collection, it proved to be a hatch-year male Yellow-bellied Sapsucker in post-juvenal molt (photo above right from 20 Oct © Bill Hill). Alas it did not linger and we never saw its full winter plumage.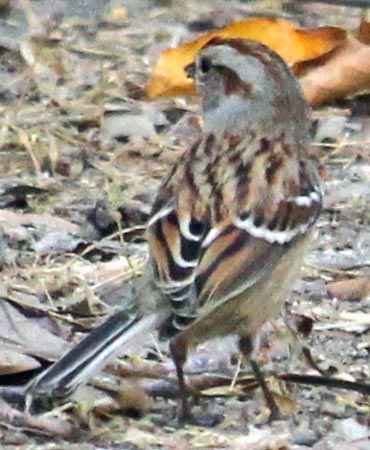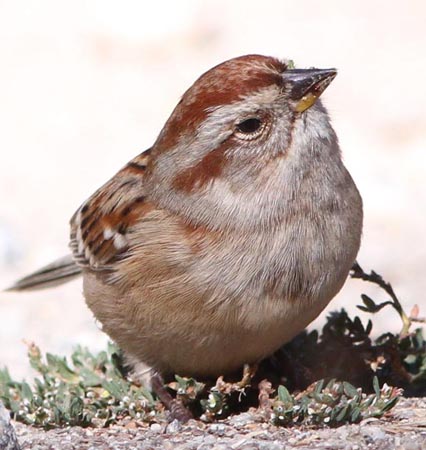 Perhaps as exciting as any landbird this fall was an
American Tree Sparrow
near the old BSOL lab in Andrew Molera SP (left & below). Discovered on 10 Oct by Michael Rieser and Rita Carratello (Rita's photo far left), it was seen by many (D. Roberson shot near left). As it turned out, Paul Fenwick had seen it briefly on 9 Oct; he also photo'd it 11 Oct (below © Paul Fenwick). It stayed to 12 Oct and was a 'county bird' for many. Yet another
Am. Tree Sparrow
was seen at Carmel River SB on 16 Oct (Blake Matheson).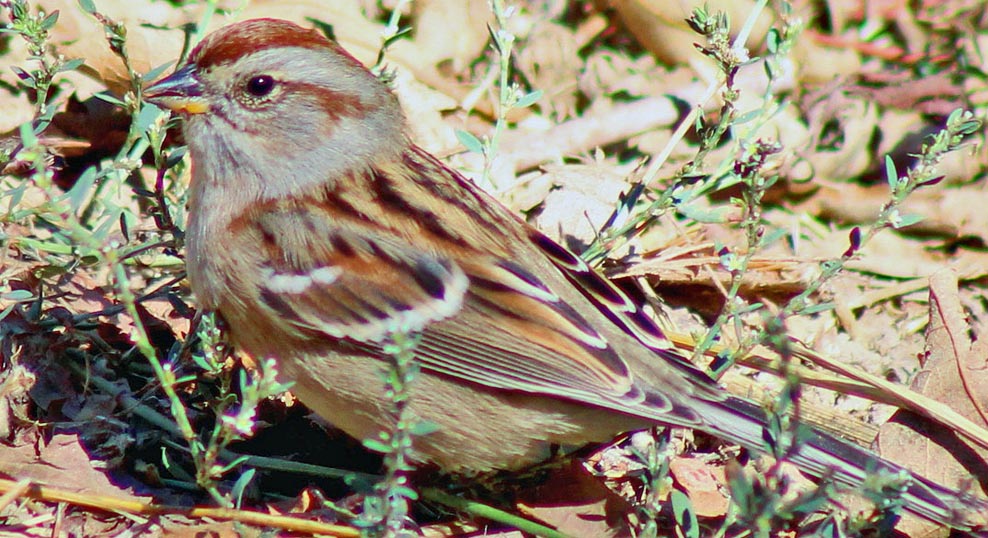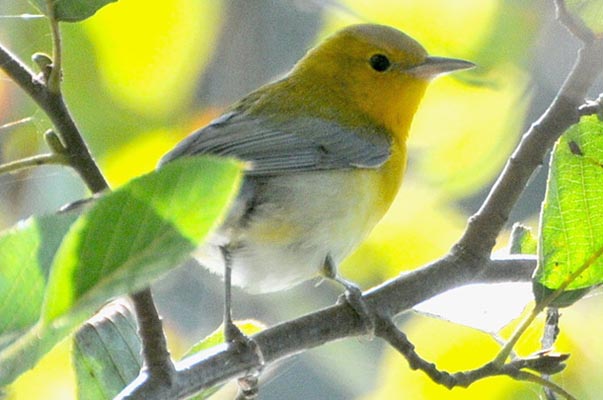 On 8 October, Michael Rieser photographed this lovely HY female Prothonotary Warbler at Big Sur R. mouth, in vegetation hanging just over the river (left © M. Rieser). Many searched without success in the following days but on 15 October Lois Goldfrank saw a Prothonotary — maybe this same one? — at the exact same location. Assuming this was the same individual, there have been at least 28 Prothonotaries that have been documented in MTY, but most occurred several decades ago. We've had only four in the last five years — an average of fewer than one a year.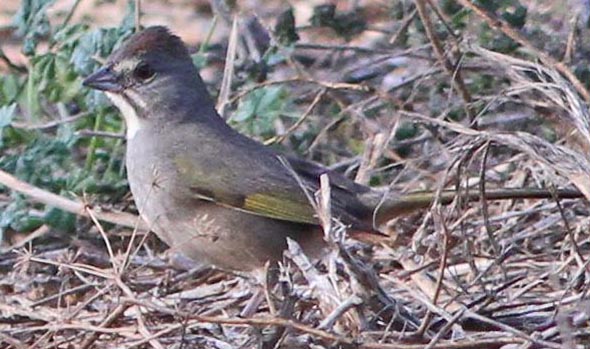 On 7 October, Blake Matheson discovered this Green-tailed Towhee on a dike at Moonglow Dairy (right, photo © D. Roberson). As we average only about one of these each year, it drew a crowd of locals over its 2-day stay.
Just west of this same dike at Moonglow is a patch of tidal mudflat, which had held a juv Semipalmated Sandpiper in late August (below left, photo 24 Aug © D. Roberson). Remarkably, Blake also had a late Semipalmated Sandpiper on that mudflat on 7 Oct, and presumably that same individual lingered as late as 26 October (below right, discovered by R.J. Adams, photo © Kent Van Vuren). This is the latest date ever for a Semipalmated Sandpiper to be present in MTY. Note that this individual had molted in fresh first-basic [=formative] back and outer scapular feathers.
Gary Woods and friends [Chris Hiatt, Rick Saxton] came over from Fresno on 29 Sep and discovered this Yellow-green Vireo (left © Gary Woods) at Laguna Grande, just the 11th MTY record but the second one this fall! It was cooperative until at least 4 Oct. On 30 Sep, Rita Carratello found a HY male Blackburnian Warbler on the opposite of the lake (below © Rita Carratello); it, too, proved to be cooperative for most of two days.

Also at the park that weekend were more expected warblers — Blackpoll, Hermit, Nashville, and Black-throated Gray — and a Bank Swallow (Sarah Lane et al.).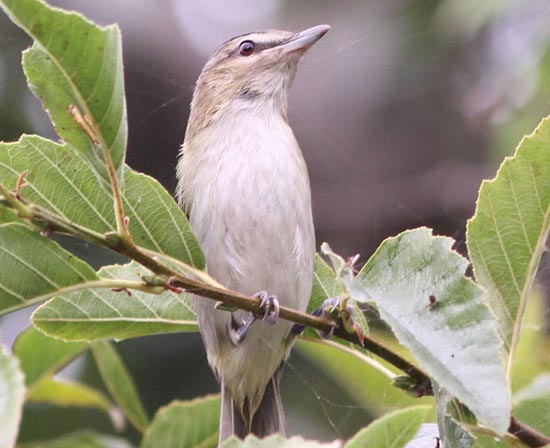 And while searching for the first vireo on 29 Sep, Don Roberson identified an adult Red-eyed Vireo (right © D. Roberson), the first time anyone remembers the two vagrant vireos being at the same place at the same time. Bill Hill was able to photograph both rare vireos on 29 Sep, and he created this head to head stare-down in the collage (below: Red-eyed on the left, Yellow-green on the right; © Bill Hill). As we will see farther down this page, there had been another Red-eyed, and another Yellow-green, at different sites the previous weeks. Also the Philadelphia Vireo discovered on 9 Sep, when it was molting its tail, lingered to at least 27 Sep.

Among the more colorful denizens at Laguna Grande during the rush of vagrants 28 Sep-2 Oct was this Tropical Kingbird, initially discovered by Sasha Munters (below; all photos © D. Roberson). Its amazing acrobatic flights after insects over the east of the lake were a delight; the right-hand photo (below) is a collage of flight shots from 1 Oct). It was one of at least 6 Tropical Kingbirds in MTY in late September-early October.
| | | |
| --- | --- | --- |
| | Remarkably, as noted above, there had already been a Yellow-green Vireo and a Red-eyed Vireo in MTY earlier in September. The Yellow-green Vireo was at Big Sur R. mouth 20 Sep (Todd Easterla, photo left © John Sterling) and the Red-eyed Vireo was found by the Roses at Carmel R. mouth 27 Sep (photo © Carole Rose). Both of these appeared to be HY (=hatch-year) birds during their first migrations. | |
Chestnut-sided Warbler has becoming increasing reliable in recent autumns — there's already been four of them this fall — but I was taken by Scott Terrill's photo of this perky HY individual at Pt. Pinos, present just on 4 Oct (received just as this update goes to press, as it were; photo © Scott & Linda Terrill).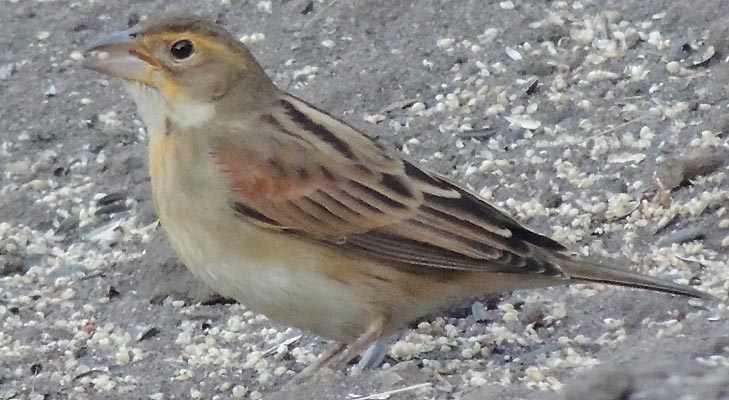 Finds by out-of-town visitors are an important component of any MTY birding year, like the Chestnut-sided just above. On 21 Sep a visitor photographed this young Dickcissel (right, photo © John Dobson) in Carmel, at a neighborhood feeder near Carmel SB, but word of its appearance was delayed, and efforts to refind it later were too late.
Shortly thereafter, on 24 Sep, Virginia Chomat saw an imm Painted Bunting at the Frog Pond Nature Reserve in Del Rey Oaks. She had seen the Monterey cemetery bird last year and was ready. We featured another Painted Bunting from earlier in September on the previous update page.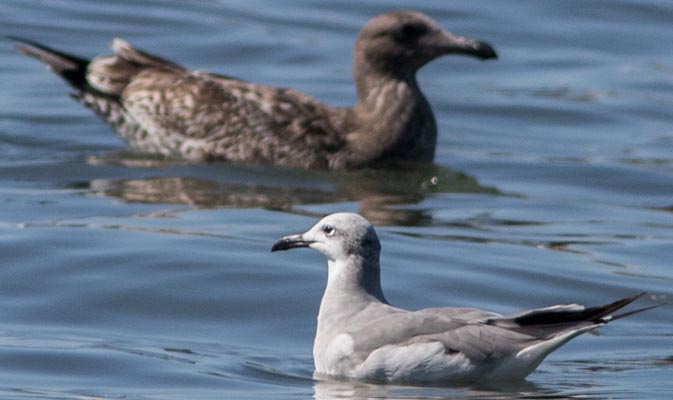 Another great bird found at Big Sur River mouth this fall was a basic-plumaged
Laughing Gull
just outside the lagoon on 20 Sep (foreground gull, Todd Easterla, John Sterling, Steve Rovell, photo left © John Sterling).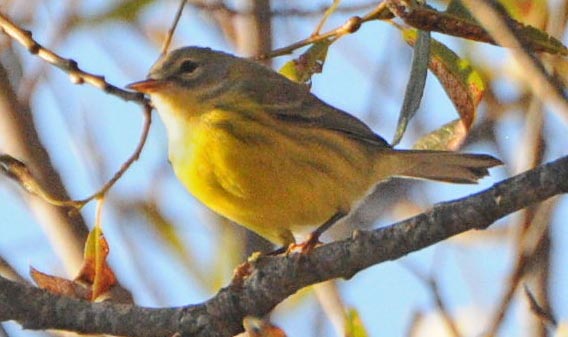 Many of the hot birds this fall were seen by many observers over multiple days. A nice example was this bright fall
Prairie Warbler
at Laguna Grande, found by Blake Matheson, and present the 3 days between 18-20 Sep (photo right © Michael Rieser). [That didn't help those of us traveling elsewhere at the time, ahem ....]
On 12 Sep, John Luther saw 1-2 Chimney Swifts with the large flock of Vaux's Swift at the Big Sur R. mouth. There had been a few previous records here – all of them swifts compared to Vaux's in the field, and some of which had been calling – but that most recent occurrence was back in Aug-Sep 2006. This fall at least one Chimney Swift was identified by its decidedly larger size, all dark rump and throat, and shape differences off and on into early October; one was photographed on 13 Sep (below, right-hand two photos © Carole Rose). This collage (below) compares that swift to a known, vocalizing Vaux's the same day (left-hand swift © D. Roberson). Birders were able to compare the shape of the known Vaux's (left) and a Chimney Swift at a similar angle (far right, below), with wing shape characters proposed by David Sibley on his blog. Note the apparently longer and more sickle-shaped lower wing of Chimney, but also see how the proposed shape characters change at a different angle (middle photo, below). Perhaps the small-headed look of Chimney — producing the classic 'cigar with wings' shape — might be a more useful character in comparison with the 'big, puffy-headed' shape of Vaux's?