These highlights chronicle the year 2017. Created incrementally as new photos were available, the year runs generally "backwards" on this page.
The abbreviation "MTY" means "Monterey County" in the text below. Text by Don Roberson. Photos on this page are copyrighted by the photographers to whom they are attributed, and may not be reproduced in any form (including other web sites) without the express consent of the photographer.
There were two major MTY highlights in late July and August 2017 from the Order Suliformes. The first was a large booby, clearly in the category of a Masked or Nazca Booby [Sula dactylatra / S. granti], discovered by Mark Kudrav at Pt. Pinos on 18 July. It roosted at the Point off-and-on through 21 July (photo right 21 July, © Beth Hamel). As field i.d. of subadult boobies in this class is not worked out, we nicknamed it "Slash," for Masked / Nazca Booby [read "/" as "slash"].

VIEW A SEPARATE PAGE ON THIS BOOBY
WITH DISCUSSION & PHOTOS

As it turned out, after "Slash" disappeared there were additional subadult and adult boobies of this type from San Diego to San Francisco. Most — and maybe even all of these — appear to be Nazca Boobies. More comments on that topic have been added at the separate page linked above. There is a pretty good chance that "Slash" was also a Nazca Booby, but I suspect its i.d. will remain controversial.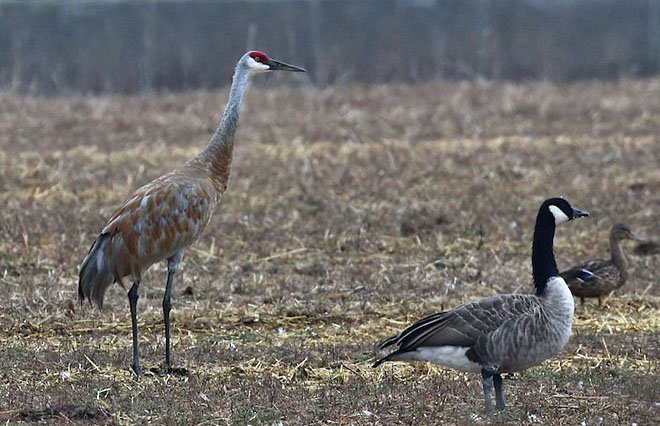 The story of the second highlight began with the appearance of another summering Sandhill Crane in the Moss Landing vicinity in July (Louis Calcagno, Rick Fournier et al.). You may recall that the first Sandhill Crane to summer in MTY was in 2014 [see those highlights, bottom of page]. Now, in July-August 2017, another such wayward crane (or the same one?) was summering locally. This year's bird had a routine of being at Moonglow Dairy in the morning (photo right from 12 Aug, © Kent Van Vuren) and then flying south across Dolan Road to Moro Cojo Slough towards mid-day. It was present from at least 9 July–2 Sep.
A group of birders looking for the crane. including Brian Sullivan, were viewing Moro Cojo Slough on the morning of 13 August from the edge of Dolan Road. Brian spotted a smaller cormorant in a flight of Double-crested Cormorants, and took a series of flight shots (one of them below, © B.L. Sullivan).

This smaller cormorant, the left-hand bird in the photo above (© B.L. Sullivan), was identified from the series of photos as a Neotropical Cormorant [Phalacrocorax brasilianus]. Various experts have agreed. Note that this cormorant is in primary molt, and thus cannot be a young cormorant of any species. This is the first record of this species in MTY and, indeed, all of northern California.
At the time of the California Bird Records Committee's book (2007), summarizing all rarity records through 2005, there were just 13 records of Neotropical Cormorant, all in southern California, and most along the Colorado River and around the Salton Sea. Since then more of these cormorants have appeared in the south, some of them returning for multiple years. Because of this influx, the species has been removed from the CBRC review list. There are now records as far north as Port Hueneme, Ventura Co., in June 2015, and near Bakersfield, Kern Co., in May 2015.
At the very bottom of this web page you'll find the story of Rick Fournier's discovery of the first nesting Eared Grebes in MTY. By mid-May, Rick counted at least 28 precocial young among the 103 grebes tallied.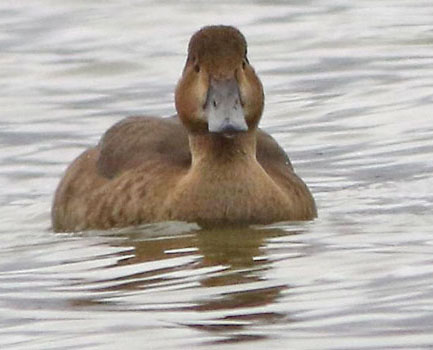 On 1 July, Rita Carratello and I found the first breeding evidence for Redhead in MTY in 102 years. A group of 4 fresh juvenile Redheads, apparently still flightless, were among a crèche of 40 Gadwalls of varying ages (most of them also flightless) on Bennett Slough near Moss Landing (photo below shows 4 Redheads among 7 Gadwalls, D. Roberson). We had initially thought it might be an adult female with 3 juvs but review of photos showed that each bill was all-dark, lacking any subterminal band, which is a character of juvenal plumage (e.g., frontal view of one Redhead at left). Mike Rogers (in litt.) believes that all four are in juvenal plumage and notes that "egg-dumping" is common in the breeding biology of Redhead. Redhead exhibits brood parasitism more than any other North American duck species (Weller 1959). Females choose 1 of 3 alternative laying options that will maximize their fecundity. Females with "normal" laying deposit all their eggs in a nest of their own construction. Semiparasitic females will parasitize nests of other ducks first before they build their nests. Completely parasitic females deposit eggs in nests of other ducks but do not initiate their own clutches. Females may adopt different options in different years (Weller 1959). There have been quite a few sightings of pairs of Redhead in the Bennett/McCluskey Slough complex this spring, and it seems likely that our brood of 4 young Redhead were from eggs "dumped" in a nest of Gadwall somewhere in that vicinity.
The only prior evidence of Redhead nesting in MTY was a clutch of 9 eggs (now at MVZ, U.C. Berkeley) collected near Castroville on 16 June 1915.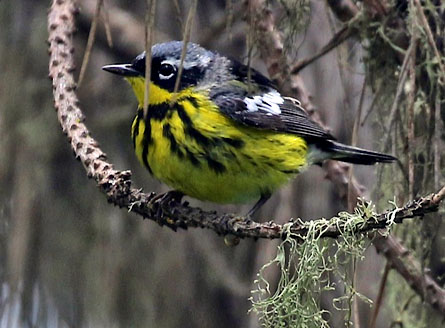 Major vagrant highlights at the end of May included this stunning male Magnolia Warbler at Pt. Lobos State Reserve on 30 May (right © Kent Van Vuren) and the discovery of two — count 'em, two — singing Yellow-throated Vireos along the Carmel River, upstream of the river mouth, at the recently abandoned Rancho Cañada golf course. Michael Rieser found the first Yellow-throated Vireo on 28 May along the river in the eastern end of the old golf course (near the public South Bank Trail), and he found the second one on 29 May at the western end of the old golf course when following up on a report of an unknown singing vireo there. Both Yellow-throated Vireos continued in their respective locales through 6 June, and one could sometimes stand between sites and hear both at the same time (photo below left is vireo #1, taken 30 May, © Michael Rieser). Vireo #2 lingered through 13 June.
A part of the old Rancho Cañada golf course is planned for development, but a good chunk will be turned over to the Regional Park District and eventually opened to the public. Currently the habitat includes giant cottonwoods set in open fields (below right). Both Yellow-throated Vireos spent much of their time singing from the very tops of these trees, making them a real challenge to see and/or photograph.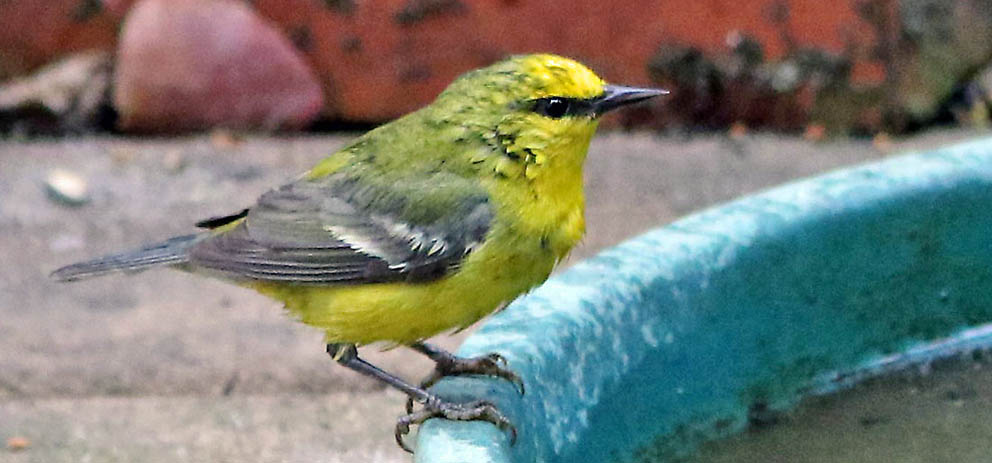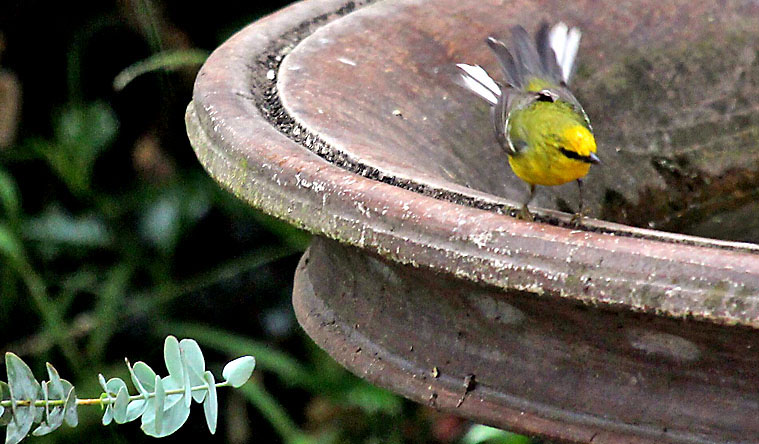 On 24 May, a male Blue-winged Warbler appeared briefly in our Pacific Grove yard. By the time a camera was located, it was gone. Fortunately, two days later on 26 May, the Blue-winged Warbler reappeared and took a bath, permitting photography (above © Don Roberson, left © Rita Carratello). Alas, by the time other birders arrived, it had finished the bath and was gone. For us, though, this concluded a string of May rarities in our yard (see below). As Dorothy Gale famously said: "If I ever go looking for my heart's desire again, I won't look any further than my own backyard."
The other eastern vagrants in our Pacific Grove backyard this May were a Black-throated Green Warbler on 19 May (near right © Rita Carratello; it stayed only for a bath and was gone), and a second-calendar-year male Rose-breasted Grosbeak from 24-25 May (far right, D. Roberson).

Elsewhere, a male and female Rose-breasted were along the north bank of the Carmel River mouth that same week, as was a singing Northern Parula (Blake Matheson, Michael Rieser et al.).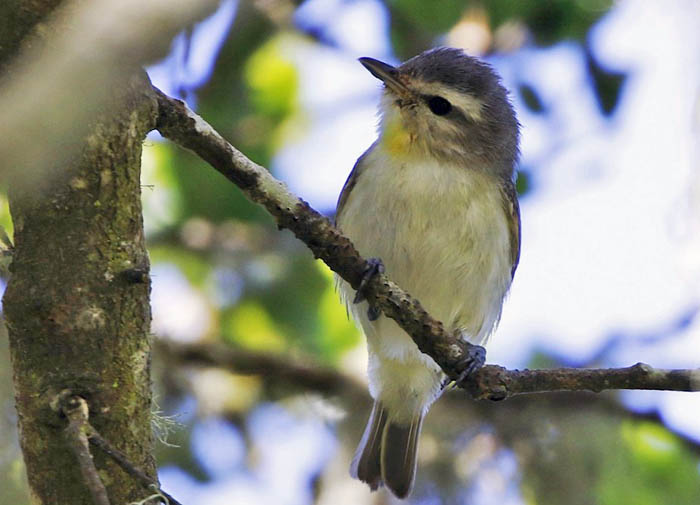 A visitor attending a conference at Asilomar Conference Grounds discovered this Philadelphia Vireo along the nearby Pacific Grove hiking trail on 19 May (left © Mark Sawyer). It was seen again by a few locals the next foggy morning. This is the first May record for MTY, and just the second in spring for the county. The first was at Big Sur R. mouth on 15 June 2004 (Rob Fowler, Matt Brady). The plumage of this spring bird — with rather little bright yellow below beyond the throat — was of concern to some westerners until expert comments and photos in the Macaulay library were obtained (helpful comments provided by Tony Leukering, Rob Fowler, Brian Sullivan).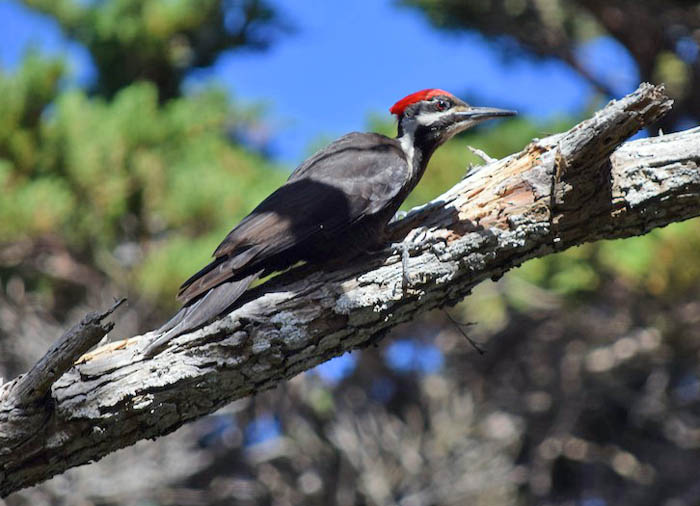 There are resident Pileated Woodpecker in the Dougas-fir forests of upland Santa Cruz Co., the next county north of Monterey. That population is expanding. Since 1994 there have been at least 8 Pileated that moved south into MTY, primarily to wilderness in the Santa Lucia Mts. There is a prior record for Pt. Lobos (Sep 2000), and two recent vagrants on the Monterey Peninsula, including one in Washington Park, Pacific Grove, on 16 Apr 2015 [photo in
spring 2015 highlights
, halfway down page]. A female was videotaped at Bottchers Gap in Nov 2013 [photo in
fall 2013 highlights
] and was present off-and-on there for several months. This last summer the Soberanes fire burned over Bottchers Gap and much of the Ventana Wilderness. Could that be a reason a Pileated Woodpecker visited Pt. Lobos this spring? Corey Utter took this very nice photo of a female in Cypress Grove, Pt. Lobos, on 13 May (right © C. Utter). Based on reported vocalizations it may still be there, but more photographic evidence has not yet been obtained.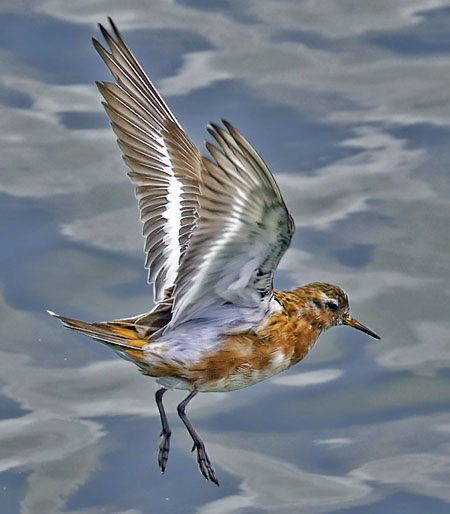 Near-gale northwest winds at 30-35 knots for 2 days made for spectacular seawatching from shore on Saturday, 6 May. Some impressive flights continued in lesser numbers for several days thereafter. In sheer numbers, phalaropes led the pelagic parade. Brian Sullivan and Paul Fenwick spent 12 hours at Pt. Pinos on 6 May, and other locals joined them for varying shorter periods. Sullivan & Fenwick tallied 169,000 Red-necked Phalaropes and 1927 Red Phalaropes over the daylight hours. The vast majority were in full breeding plumage (i.e., alternate plumage); this lovely example of Red Phalarope was photographed by Bill Hill in the Monterey Harbor that date (left, © B. Hill).
Perhaps more impressive than the magnitude of the numbers was that many phalaropes, especially Red Phalaropes, were scattered to on-shore freshwater ponds over the next several days. Many coastal freshwater ponds had some; six Reds were on Lower Stoney Reservoir in Ft. Hunter Liggett on 7 May; and perhaps the most inland ever Red Phalaropes in MTY were on a small marsh on Argyle Road, south of King City, on 7 May (Don Roberson & Rita Carratello, photo below © D. Roberson).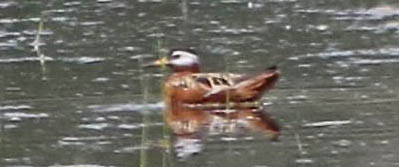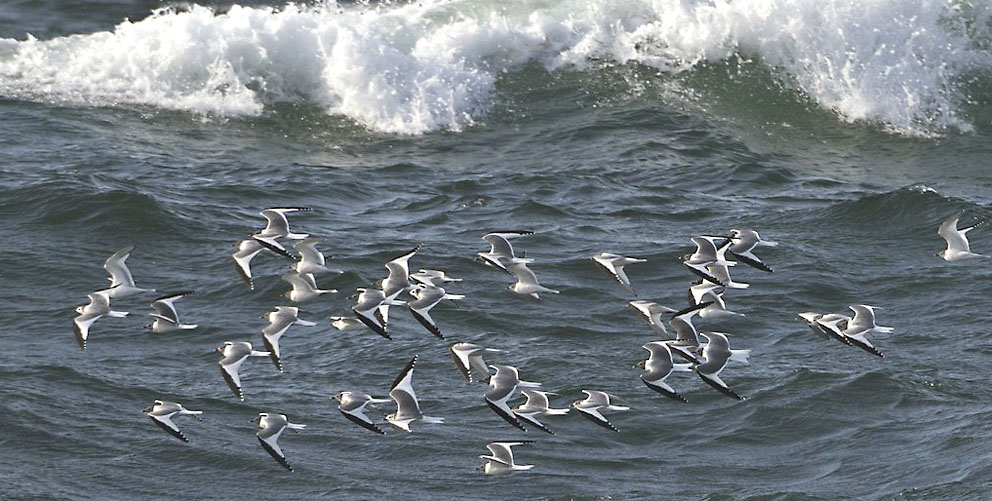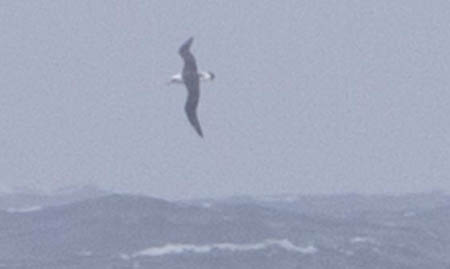 Back to Pt. Pinos on 6 May — perhaps much unexpected, given the date, was the spectacle of 2335 Sabine's Gulls passing the Point during that day (38 of them in the photo above, © Brian L. Sullivan). We've had impressive near-shore flights in the fall before, but for the spring this is unprecedented. Brian Sullivan also took the first photo ever of a Laysan Albatross from shore in MTY on 6 May (right, way out beyond the red buoy © B.L. Sullivan). And then there were the storm-petrels: 2 Ashy, 2 Leach's, and 195 Fork-taileds! The winds pushed them so close that Brian, Paul, and others photographed a good many of those from shore.
A good many Fork-tailed Storm-Petrels were pushed well inside Monterey Bay and even into Monterey Harbor, where 60-70 were present on 6 May, and a handful continued later into the week. The harbor storm-petrels would often forage right off the end of the two wharves: Fishermans Wharf [=Wharf #1] and the Commercial Wharf [=Wharf #2]. The upper shot, below left, shows Fred Hochstaedter (in purple) and Don Glasco (in red) looking right down on the storm-petrels foraging below. That shot is taken from Wharf #2, where I also managed photos looking down at foraging Fork-tailed Storm-Petrels (bottom, below left, and below right, all © D. Roberson).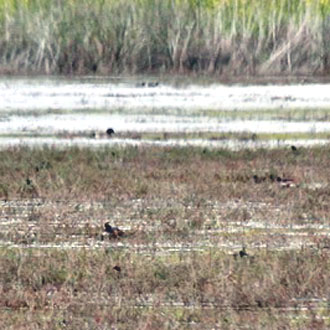 There have been spectacular numbers of Fork-tailed Storm-Petrels inshore previously. Impressive spring incursions occurred in March or April in 1971, 1985, and (most recently) 1995, when up to 300 Fork-taileds were in the harbor and one was pushed as far inland as Hastings NHR!
However, what is entirely new this year is the first breeding of Eared Grebes in MTY. On 5 May Rick Fournier counted 43 active nests and saw pairs with precocial young from private conservation land adjacent to Moro Cojo Slough, between Castroville and Moss Landing. There is no public access here, but Fournier has done surveys under permits for years. For the first time in years, the water levels were high enough to create a shallow marsh in places. Several nests can be seen in this long-distance photo of the site (5 May © R. Fournier). In the photos below, a parent feeds three precocial young (below left, 5 May © R. Fournier) or a youngster rides on a parent's back while another trails behind (below right, 6 May © D. Roberson).
At the time of Grinnell & Miller (1944), Eared Grebes bred the length of California, south to San Diego Co., but mostly east of the Sierra Nevada. Nesting in central California was very sporadic — as water conditions permitted — at Los Banos, Merced Co., and nearby Fresno Co. Later they bred irregularly in south San Francisco Bay (Small 1994) and continue to do so now in southwestern Alameda Co. (Steve Rottenborn, in litt.). While Roberson (2002) suggested that local breeding might occur if conditions permitted, this 2017 event is the first evidence ever for our county.
Literature cited:
Grinnell, J., and A.H. Miller. 1944 The Distribution of the Bird of California. Pacific Coast Avifauna 27.
Roberson, D. 2002. Monterey Birds. 2d ed. Monterey Pen. Aud. Soc., Carmel.
Small, A. 1994. California Birds: their Status and Distribution. Ibis Publ. Co., Vista, CA.
Weller, M.W. 1959. Parasitic egg laying in Redhead (Aythya americana) and other North American Anatidae. Ecol. Monogr. 29: 333-365.
More highlights will be posted as they arise and are documented with photos.

TO HIGHLIGHTS from JANUARY-APRIL 2017

Page created 7 May 2017, last updated 10 Oct 2017