These highlights chronicle the year 2017. Created incrementally as new photos were available, the year runs generally "backwards" on this page.
The abbreviation "MTY" means "Monterey County" in the text below. Text by Don Roberson. Photos on this page are copyrighted by the photographers to whom they are attributed, and may not be reproduced in any form (including other web sites) without the express consent of the photographer.
September The two best birds for September 2017 occurred early in the month. The first enjoyed the backyard birdbath of Maryann and Richard Wilson in Pebble Beach on 7-8 Sep (below, photo by a neighbor, fide R.F. Tintle). It was a gorgeous Kentucky Warbler — just the 6th for MTY. This is only the second one to occur in fall migration. The other also frequented a backyard bird-bath — at the home of Alan & Sheila Baldridge in Oct 1990.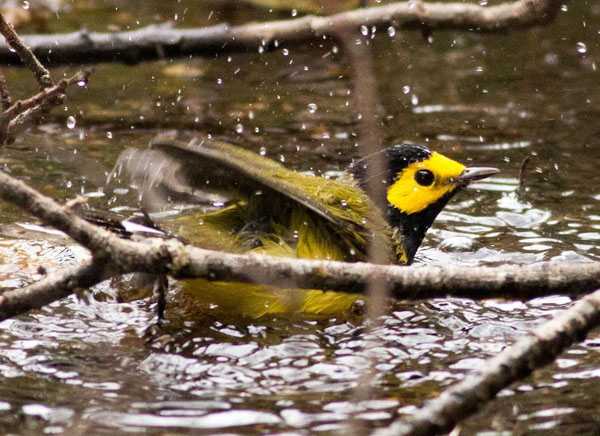 Another bathing beauty within the week was this male Hooded Warbler splashing in the Carmel River shallows on 14 Sep (photo right © Paul Fenwick). Both Kentucky and Hooded Warblers are birds of southeastern U.S., but Hoodeds sometimes appear in unexpected numbers in spring, and MTY has over 40 records. Fall vagrants, like this one, are decidedly scarcer.
The other major rarity in September was on the tidal mudflat at Jetty Road, Moss Landing, when discovered by Blake Matheson on 16 Sep: a Little Stint (below © B.T. Matheson). It was in fresh basic plumage. [It was photographed again on 19 Sep by Ryan Sanderson]. It represents the 4th MTY record, unless it is this spring's bird from the same spot returning, as some suggest. That bird was in breeding plumage [photo here, near top of page]. The first two Little Stints in MTY were in juvenal plumage at Moonglow Dairy: 14–22 Sep 1985 [details here] and 14 Sep 2008 [details here].
A Little Stint in basic plumage suggests that it could winter in the vicinity. Two prior Little Stints may have been attempting to winter in California.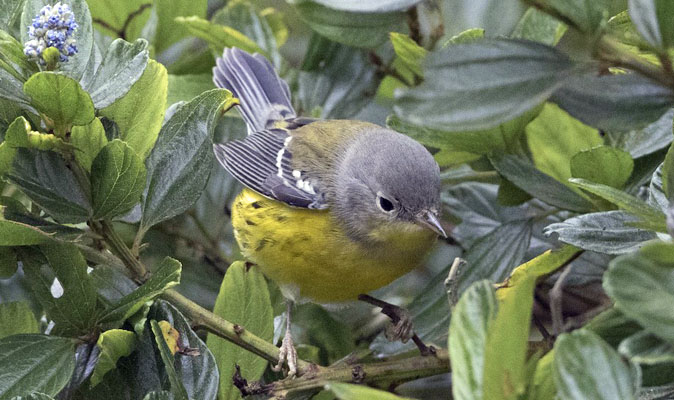 Back to warblers in early September — on 3 Sep, Rita Carratello and Larry & Carole Rose discovered an Ovenbird walking through "the thicket" at El Carmelo cemetery in Pacific Grove (above © Rita Carratello). This is the exact spot frequented by another Ovenbird in fall 2014 [see details here, halfway down page] and the finders were just talking about that bird when this individual appeared! Ovenbird remains quite a rare eastern vagrant locally; this was perhaps the 24th county record but we average fewer than one a year.
Later the same day, Brian Sullivan found a hatch-year Magnolia Warbler in "the thicket" (right © B.L. Sullivan). Both the Ovenbird and the Magnolia were present through 4 Sep. We are now averaging about 2-4 Magnolias each fall (Roberson 2002).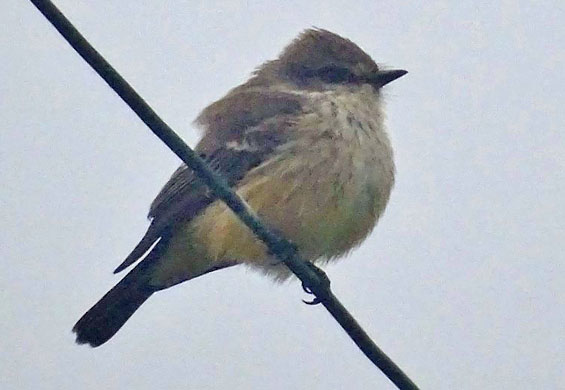 A female Vermilion Flycatcher, found at Pt. Pinos on 14 Sep by Mark Kudrov, was another exceptional vagrant (left © Mark Kudrov). It was the 8th MTY record but only stayed a short time. Ironically, the most recent county record had been a female that was present very close to the location of this year's individual, and remained from Oct 2012 into Jan 2013. Before that, one has to go back to 2004 [details of MTY's first six records are here].
Back in the summer a Sandhill Crane summered in the Moro Cojo / Moonglow Dairy vicinity, but was gone after 2 Sep. On 26 Sep a crane flew over Moonglow Dairy (P. Fenwick). Assuming the same bird was involved, where had it been in the interim?
Most unexpectedly, an adult Sandhill Crane appeared at the Odello Lagoon adjacent to the Carmel River mouth for just a few hours on 24 Sep, where it was beautifully photographed (below © Paul Fenwick). This appears to be the first record for the entire Monterey Peninsula!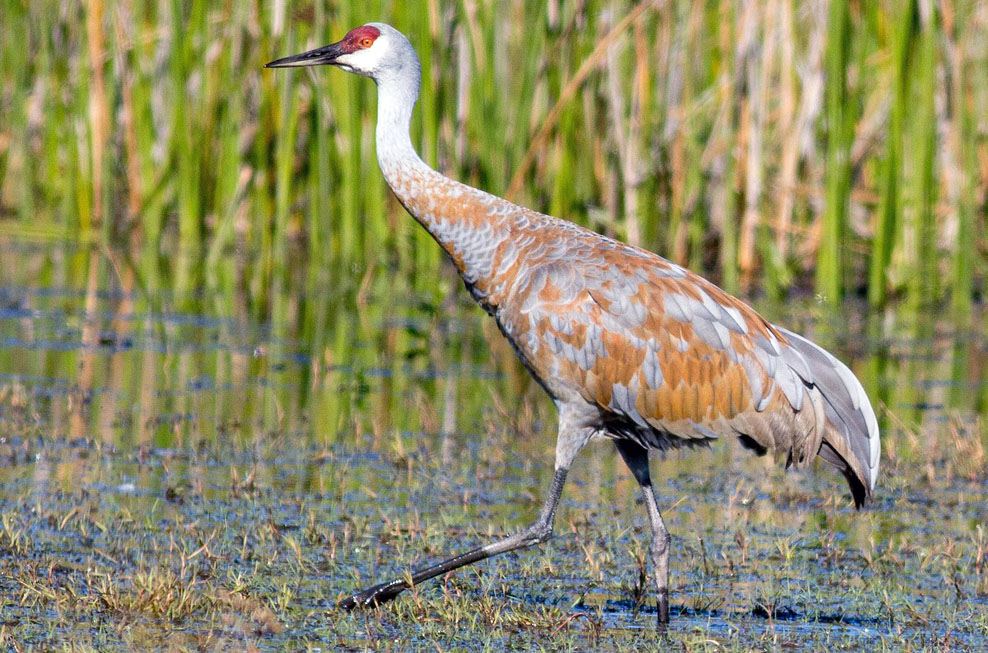 The riparian habitat along the lower Carmel River, in the vicinity of the Hwy1 bridge, was very good for eastern vagrant passerines in late September. Unlike the "old days," when one birded on a dry riverbed at this location in autumn, now the river is running year-round, and waders are needed. Yet, a fine selection of warblers, flycatchers, and sparrows were observed.

The rarest was Philadelphia Vireo. Initially found by Paul Fenwick on 21 Sep downstream of the bridge (upper right © P. Fenwick), one was found most days through 30 Sep (lower right © Michael Rieser), but often upstream of the bridge. Some who saw a Philly on different dates suggested that there were two different birds: a bright one (the first bird) and a paler one (a second bird). These photos, even though of different sides of each vireo, do suggest differences in intensity of yellow, extent of white on belly or flanks, and details of facial pattern. In all, one or more Philly Vireos were present 10 days in this stretch of river-edge willows and cottonwoods.

Based on a review of photos and details in eBird, and the general rule of thumb used at the Farallon Islands that most vagrants remain only 3-5 days, I am attributing the observations this fall to two different Philadelphia Vireos: the first present 21-23 Sep and the second from 22-30 Sep. That's my best guess.
September included a nice smattering of our more regular eastern or southern vagrants — Blackpoll, Tennessee, Black-and-white, Chestnut-sided, and the somewhat rarer Blackburnian Warbler — plus Northern Parula, Northern Waterthrush, Tropical Kingbird, White-winged Dove, Broad-winged Hawk, Bobolink, and Clay-colored and Vesper Sparrows. What was particularly impressive this September was higher than usual numbers of Brewer's Sparrow, e.g., this hatch-year Brewer's, nicely photographed at the Salinas River NWR on 16 Sep (left © Blake T. Matheson). In the 16 days between 16 Sep and 1 Oct, locals reported six different Brewer's Sparrows at five different locations.

At the time Roberson's (2002) book was published on MTY status and distribution, there were only 16 records for the county, and never more than two for any particular fall migration. The trend in Brewer's has been upward locally since that book, but never before in these numbers.
Finally, as to Monterey Bay offshore, it was a pretty nice September in some respects — good numbers of Buller's Shearwater, a smattering of Scripps's Murrelet, a Brown Booby on 11 Sep (Mark Kudrov +) — but no major rarities were recorded within MTY waters. One improvement is that maps and new details about county borders offshore in Monterey Bay is now available.
Late in September, Ryan Sanderson took this remarkable photo (below © Ryan Sanderson). It shows a Short-tailed Shearwater — upper left in the photo — in good comparison and focus with a Sooty Shearwater. Note subtle differences in shape between the two dark shearwaters, and even the shorter tail of the Short-tailed Shearwater (feet extend farther out). Two critical i.d. characters show very well. First, Sooty Shearwater has a prominent "silver flash" on the underwings concentrated in the greater underwing coverts and bases of the remiges. Short-tailed Shearwater has darker underwings and when pale areas are present, they are patchy and diffuse rather than concentrated. Second is the feature I use the most in the field: look at the bill. Sooty Shearwater has a larger and more 'ordinary' bill while that of Short-tailed is decidedly shorter and thinner. In early fall (Sep-Oct) when there are still masses of Sooty Shearwaters on Monterey Bay, it can be very hard to review claims of Short-tailed Shearwater. Many claims are undocumented and most likely wrong, as the larger numbers come later in the autumn. It is really nice to have such a photo to confirm the first Short-tailed Shearwater of the season.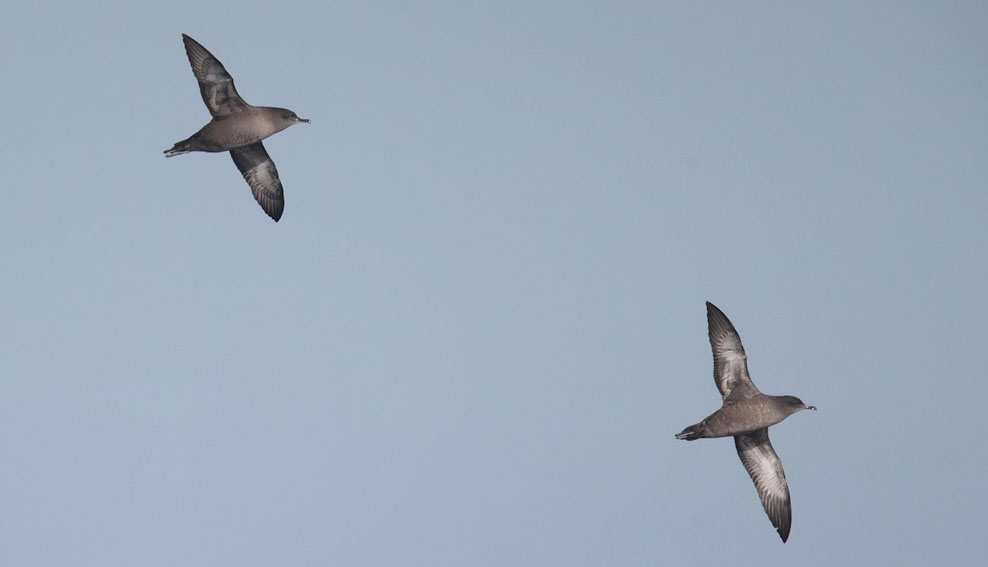 Literature cited:
Roberson, D. 2002. Monterey Birds. 2d ed. Monterey Pen. Aud. Soc., Carmel.
More highlights will be posted as they arise and are documented with photos.

TO HIGHLIGHTS from JANUARY-APRIL 2017

TO HIGHLIGHTS from MAY-AUGUST 2017

Page created 10 Oct 2017, last updated 11 Oct 2017