These highlights chronicle the year 2021. The year runs generally "backwards" on this page. In crediting records of vagrant or unusual birds, I always try to credit the finder(s) of the rarity. There will be times when complications arise with credit, e.g., one or more observers find a bird but others are the ones to actually identify it. There are times when a bird is properly identified only days later after photo review.
The abbreviation "MTY" means "Monterey County" in the text below. Text by Don Roberson. Photos on this page are copyrighted by the photographers to whom they are attributed, and may not be reproduced in any form (including other web sites) without the express consent of the photographer.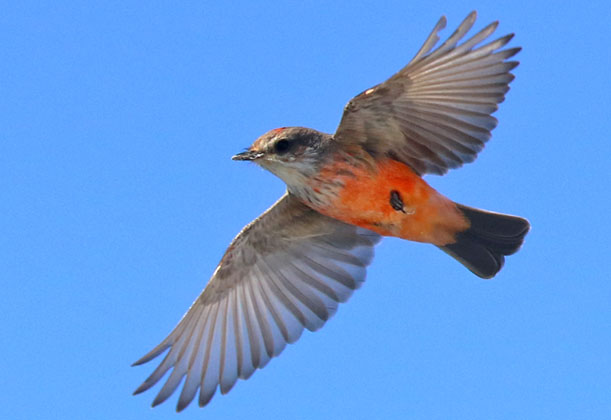 An amazing record of a migrant landbird seen offshore in the middle of Monterey Bay was this young male Vermilion Flycatcher, photographed from a Monterey Whale Watch boat on 16 Oct (left, © Alisa Schulman-Janiger). Over decades of "wrong-way" migration, multiple landbirds have been seen from boats offshore, or have landed on the Farallon Island off San Francisco. However, only one Vermilion Flycatcher has made it to the Farallones, so this southwestern desert species is truly unusual in flight over Monterey Bay.
MTY has had 13 prior records of Vermilion Flycatcher on land; this represents our 14th record.
Northwest winds of 21-25 knots, with seas with waves 8-12 feet high, battered Pt. Pinos on 11 Oct. These winds pushed pelagic birds into the Bay. Many of these flew west past Pt. Pinos throughout the day, heading for the open ocean again. Among them were at least 12 South Polar Skua — rarely seen from shore — several of which were photographed by Brian Sullivan that afternoon (e.g., left, © B.L. Sullivan).

Other excellent birds in October included a juv Ruff at Estrada Marsh, along Elkhorn Slough, on 23 Oct (Rick Fournier); a Philadelphia Vireo near Yankee Pt. on 15 Oct (B.L. Sullivan, Paul Fenwick); and an Orchard Oriole at Moonglow Dairy on 9 Oct (B.L. Sullivan, P. Fenwick). There were also scattered reports of Broad-winged Hawks and Tropical Kingbirds.

The September summary included 11 species of vagrant eastern warblers. Multiples of some of those species (e.g., Blackpoll) were found in October, but perhaps the best warblers in October were these:

Ovenbird at a private home near Hurricane Point on 6 Oct (below left, photo © Cooper Scollan). It seemed to be dazed and may have hit a window;
Magnolia Warblers on 10 Oct in Monterey's cemetery (B.L. Sullivan) and on 17 Oct near Yankee Point (photo right, © Michael Rieser); and
Canada Warbler, found on 16 Oct by Mark Kudrav at Carmel River mouth (photo below right, © Andrew Kenny).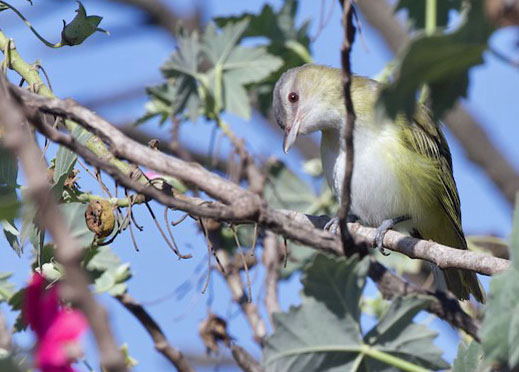 Among the best landbird rarities in September were two Yellow-green Vireos, vagrants from the Neotropics, present 23-26 Sep (see below). Everyone was surprised when two more Yellow-green Vireos appeared thereafter. One was near the Carmel River in the State Park's restricted-access "Odello" unit - found and photographed by Paul Fenwick 8 Oct. Our fourth Yellow-green for autumn was found by Brian Sullivan & Paul Fenwick at Moonglow Dairy on 9 Oct, and lingered through 11 Oct (photo right 11 Oct, © Terence Degan.) All were dark-eyed hatch-year immatures. With the addition of these four, MTY now has 17 total records.
Our four Yellow-green Vireos in fall 2021 were part of an unprecedented incursion in California, where there were at least 18 documented records of this species in Sep-Oct, stretching from Humboldt County to San Diego, and even inland to Lake County.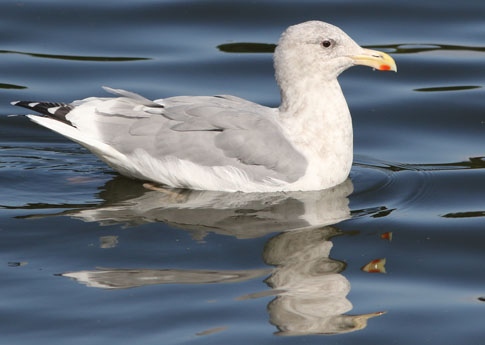 We pay comparatively little attention to the comings and goings of hybrid/introgressive birds, but eBird now has enough data that we can discuss "George" (left, photo 4 Nov 2017 © D. Roberson), an adult introgressant Glaucous-winged X Western Gull. "George" has returned to Laguna Grande lake for at least 10 consecutive winters, and possibly more. eBird has winter reports back to 2010, but details of its age go back only to winter 2012-13.
"George" is misidentified many times each winter as a "Herring Gull" [which is a rarity on fresh-water Laguna Grande], presumably because of its pale gray back and pink legs, but note dark eye, bill shape, head smudging, and (in flight) wing-tip pattern.
We now have arrival and departure information for "George" for 9 consecutive years. Arrival dates range from 25 Sep to 3 Nov (median date 17 Oct, which was also its first date this winter). Departure dates are less certain, but range from at least from 4 Mar to 13 April. "George" presumably summers in the Puget Sound/Olympic Peninsula vicinity. Its timing at Laguna Grande may suggest typical timing of the population of "Olympic"-type hybrids that winter here annually along our coast.
In the preceding update that included September 2021, it was noted that amazing numbers of Greater White-fronted Geese flew over MTY — at least 650 in just a few days — and I opined that "widespread fog and overcast may have disoriented these arriving geese during their migration, and hundreds either "overshot" their destination or were scattered west of their intended route." These migrating geese continued through month's end (e.g., below, 5 juvs of a group of 20 on Crespi Pond 30 Sep, © D. Roberson) and into early October. Bill Hubick found an even better hypothesis for this event, documented by Overton et al (2021). A similar migration disruption of Alaska-breeding White-fronts, documented by the routes of four radio-collared individuals, occurred when the flocks encountered dense smoke from wildfires off British Columbia and Washington in fall 2020. Their "normal" migration of a 4-days-flight was extended to 9 days, and added 470 miles to the distance flown in "normal" years. In autumn 2021, northern California had widespread smoke from multiple wildfires, which could account for this year's migratory disruption.

Acknowledgments: I thank Rita Carratello for editorial review that improved on an earlier draft.
Literature cited:
Overton, C.T., et al. 2021. Megafires and thick smoke portend big problems for migratory birds. Scientific Naturalist, doi:10.1002/ecy.3552.
Roberson, D. 2002. Monterey Birds, 2d ed. Monterey Audubon Soc., Carmel, CA.