These highlights chronicle the year 2021. The year runs generally "backwards" on this page. In crediting records of vagrant or unusual birds, I always try to credit the finder(s) of the rarity. There will be times when complications arise with credit, e.g., one or more observers find a bird but others are the ones to actually identify it. There are times when a bird is properly identified only days later after photo review.
The abbreviation "MTY" means "Monterey County" in the text below. Text by Don Roberson. Photos on this page are copyrighted by the photographers to whom they are attributed, and may not be reproduced in any form (including other web sites) without the express consent of the photographer.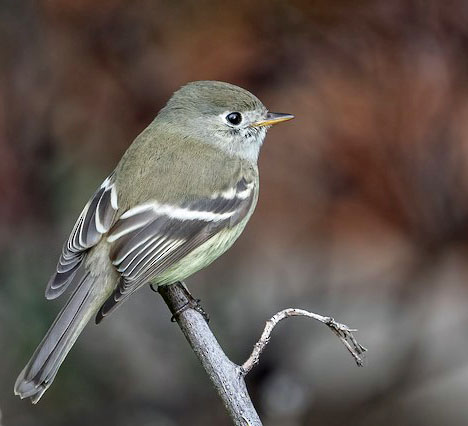 The end of December is both the Holiday season and the Christmas Bird Count (CBC) period. Cold, wintry weather affected avian diversity during our first two local counts: Big Sur CBC on 19 Dec and Monterey Peninsula CBC on 28 Dec. The latter CBC was even moved back a day, from 27 to 28 Dec, to avoid the heaviest of rains and wind. Big Sur totals did not reach 100 species and the Monterey Peninsula tentative count was in the low 160s. Still, avoiding the peak of the storms permitted counters to discover several interesting passerines on 28 Dec: the continuing Tropical Kingbird, back for another winter, at Laguna Grande Park (Bill Hubick); the continuing Prairie Warbler along Cannery Row (see below); an adult Yellow-bellied Sapsucker and a Black-and-white Warbler in the "Short Street" vicinity of Pacific Grove (Francis Toldi); and the "bird of the count," this Hammond's Flycatcher along Hartnell Gulch behind the Monterey library, found by Carole & Larry Rose (photo right 28 Dec © Carole Rose).
This looks to be the 5th winter record of Hammond's for MTY, all in Dec-Jan, except for one that was calling in Feb 1996, and then returned to the same spot along the Big Sur River where it was recaptured several times by Big Sur Ornithology Lab from 16 Dec 1996–6 Mar 1997 the following winter. This year's Hammond's in downtown Monterey was the second for the Monterey Peninsula CBC. The Roses found and Carole photographed the first on 27 Dec 2015 in Santa Lucia Preserve. Hammond's is a tiny Empid that looks "big-headed and short-tailed" and flicks its tail up; has a very short, thin bill and a very long primary projection; has a grayish-white throat and black legs; and is in fresh plumage in winter (as shown by the photo). It appears to be in tail molt (new central rectrices growing), so it should linger for a time. Although most adult Hammond's show a mostly dark bill below, hatch-year birds may "average more orange, through Nov, possibly later;" Pyle (1997). The amount of orange on this bird's lower mandible may suggest its age.
On 10 Dec, Samuel Rawlins was staying at the Spindrift Inn on Monterey's Cannery Row. He spotted a warbler "actively flitting about on the railing to the balcony," and photographed this striking Prairie Warbler (above left, photo 10 Dec © S. Rawlins)! Fortunately for all of us, he posted to eBird. On 11 Dec, Sarah Lane re-found the Prairie just east of Spindrift, in a vacant lot next to El Torito Restaurant, and the Prairie continued in that area into late December (and made the CBC). Some of its time was foraging among the beer cans and rubble in the vacant lot (above right, photo 11 Dec © Don Roberson). There is now an amazing gallery in eBird as most local photographers have framed it with their newest lens.
Only two Prairie Warblers have previously wintered in MTY: 13 Oct 1982–5 Feb 1983 at Hopkins Marine Station (Alan Baldridge), and 4 Oct 1995–27 Feb 1996 at Moonglow Dairy (Bruce Gerow, Doug George et al.).
Meanwhile, in Estrada Marsh along Elkhorn Road in Moss Landing, a Ruff that Rick Fournier had discovered on 23 Oct seems to be attempting to winter locally. It was still present on 19 Dec (photo left, 19 Dec © R. Fournier).
Monterey Audubon's 6th annual Pt. Pinos Seawatch, with Liam Waters as primary observer (see below), wrapped up on 15 December. There were a couple of more highlights during its last week. First, on 9 Dec, a gusty day with WNW winds up to 25 knots, and lots waves and spray, Pacific Loons migrated past Pt. Pinos in huge numbers. During 8-9 a.m. hour survey, the counters tallied 49,855 Pacific Loons — the highest count ever during the Seawatch years. The day's total topped just over 100,000 loons!
Then, on 14 Dec, after an early morning squall passed and the winds picked up to 20 knots, a dark-morph Red-footed Booby flew leisurely past the Point (below, photo © Liam Waters), heading south. This major rarity providing an exceptional ending to this year's survey!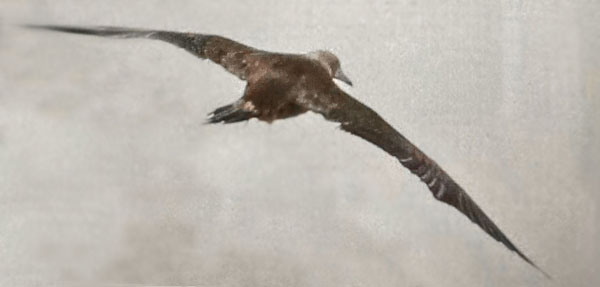 Late November and December are good dates to head to the southern half of MTY, hoping for "south county" specialty birds that can include hawks, eagles, Mountain Bluebird, and Lewis's Woodpecker. All were present in late 2021. Lewis's Woodpeckers put on a dazzling display in oaks along Jolon Road. Counts of up to 23 were a-twittering and turning barrel-rolls in the sky as they sought to catch swarms of flying ants or termites (photos above 4 Dec © Carole Rose, photo right 13 Nov © Don Roberson).

Ferruginous Hawks were in good number as well, and a Rough-legged Hawk was in Peachtree Valley on 19-20 Nov, probably a returning adult (B.L. Sullivan, P. Fenwick). In this century, Rough-legs have become scarce in MTY at any date. In mid-Nov, Blake Matheson found a Rough-legged Hawk at Salinas River NWR that delighted locals for two days (below left, photo 14 Dec © C. Rose).

A visit by Brian Sullivan & Paul Fenwick on 19 Nov to Little Peachtree Valley turned up an exciting find in a row of tamarisk trees: a pale-billed Warbling Vireo that showed characters of the eastern nominate race "Eastern Warbling-Vireo" (below right, photo 19 Nov © B.L. Sullivan); see Brian's checklist [ebird.org/checklist/S97804606] for details. By late Nov, the vireo was molting two tail feathers, and it remained to at least 4 Dec. Recent research suggests that the eastern and western populations of Warbling Vireo warrant being split into two species. If a split occurs, and CBRC accepts this record, it would be a first MTY record.
| | | |
| --- | --- | --- |
| | | Blake Matheson discovered a bright Blackburnian Warbler at the Crespi Pond restrooms on Pt. Pinos on 23 Nov, and it remained through 26 Nov. Not only was it about as colorful as a fall vagrant Blackburnian might be, but it spent a lot of time foraging on the golf-course grass and edges to the 17th tee — making it one of the very few Blackburnians that you could view by looking down, rather than craning your neck to search the canopy of a tree! I rather like these two photos (left, taken 23 Nov © Carole Rose). |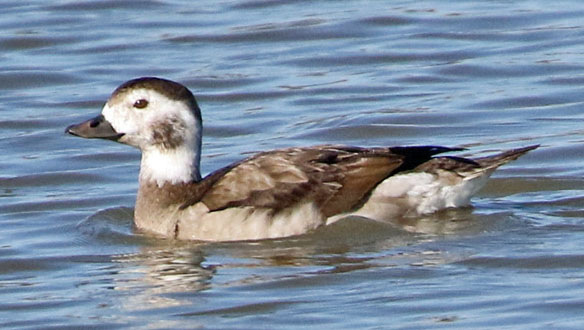 At least 5 Long-tailed Ducks and 3 Harlequin Ducks arrived or flew past coastal MTY from fall into early December (including both species at the MAS Seawatch) but all were on or over salt-water, as we expect.
It is thus always a treat when a Long-tailed Duck appears on fresh water. Steve Tucker found this juv Long-tailed Duck at the pond at Zmudowski SB on 20 Nov, but within a couple hours Rita & I saw it take off and fly southwards in steady flight, as far as the eye could see (photo of the duck, right, 20 Nov © D. Roberson). Steve Tucker also had all five of our regular Aythya ducks on Zmudowski Pond that day [both scaup, Ring-necked Duck, Redhead, Canvasback] for an unusual bit of trivia.

The Monterey Audubon Society's 6th annual Pt. Pinos Seawatch began 1 November and continues, dawn to dusk, through 15 December (photo above from 4 Nov, when a half-dozen observers with scopes were staring out to sea © D. Roberson; recall that the 2020 Seawatch was canceled due to Covid). The primary professional sea-watcher for 2021 was Liam Waters from Massachusetts (below left), with Eli Gross filling in on weekends. There were some windy days with good birds, but also many days of either easterly winds (poor sea-watching) or dense fog. Liam did record a variety of rarities, including 15 Black Scoters and several Long-tailed Ducks with Surf Scoter flocks, multiple geese, five Royal Terns, a Flesh-footed and a couple Manx Shearwaters, good numbers of Marbled Murrelets and Tufted Puffins, and two Brown Boobies. He also had two great birds: Liam managed to digiscope a Black Skimmer passing the Point and flying into the Bay on 8 Dec (just below right, © L. Waters). This is just the 3rd record for skimmer at Pt. Pinos — and the first was 50 years ago, when Bill Reese saw one heading north past the Point on 26 Aug 1971; the 2d was at the Seawatch on 18 Oct 2018 (Karl Bardon). Perhaps the best bird was an adult Nazca Booby that Liam spotted near dusk on 18 Nov. Several local birders rushed out to see it before the sun set. The booby itself was often silhouetted against the setting sun as it actively dived among a feeding flock of gulls and cormorants. You can get a feeling of the scene by combining Bill Hubick's booby photo (second row below) with the sunset shot of local birders still scanning to see where it went (right column below).

A nice mix of vagrant "eastern warblers" appeared locally in Sep-Oct [some of them shown farther down this page] but the rarest was found by Michael Rieser near Yankee Point, on 8-9 Nov: a Mourning Warbler (left, photo 8 Nov © M. Rieser). This was MTY's 16th record for this undergrowth skulker, nearly all from autumn. Rieser not only photographed this individual, but also recorded its call-note.

Blake Matheson discovered a male Costa's Hummingbird at Pt. Pinos on 11 Nov, and it remained through 13 Nov (right, photo 11 Nov © B.T. Matheson). While there have been a half-dozen records of Costa's in Pacific Grove and the Monterey Peninsula over the years — mostly of young birds — this was a first record for the well-worked Pt. Pinos hot spot. In eBird that brings the Pt. Pinos count to 344 species. However, all birds recorded on the Pt. Pinos seawatch — a sublocation for stationary seawatches in the Pt. Pinos hot spot — are actually part of the Pt. Pinos total. I find at least 10 species currently mapped only to the seawatch and not at Pt. Pinos (general), so at a minimum the Pt. Pinos hot spot total is now at least 354 species!
| | | |
| --- | --- | --- |
| Although most rarities tend to be found in coastal "vagrants traps," watching your own back yard at the tip of the Monterey Peninsula can be rewarding. American Redstart, usually a rare but regular fall vagrant along our coast, was in low numbers this fall — yet two different birds were in just one Pacific Grove yard (this one, near right, was on 12 Oct, photo © Rita Carratello). Just one block away on that same Pacific Grove street, a Short-eared Owl, mobbed by crows, was photographed over another private yard (far right, 5 Nov, photo © Sara Courtneidge). | | |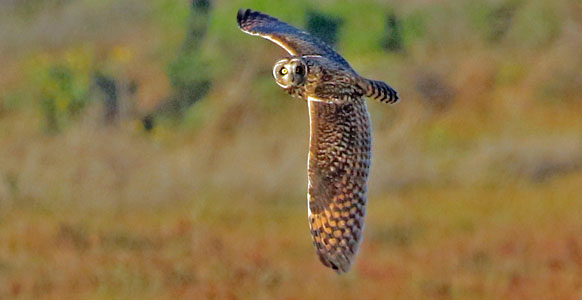 Speaking of Short-eared Owl, migrants appeared not only over a Pacific Grove yard, but also two were seen at Pt. Pinos, flying in from over the ocean, at the Seawatch on 11 Nov, and over the golf course on 19 Nov (both Liam Waters). Another foraged over the pickleweed marsh at Salinas River NWR for 4 days (Rita Carratello; 13-16 Nov; photo left, 13 Nov © D. Roberson). This is the first one to be reported here in ten years, although it was a traditional spot to look for them at dusk in past decades. A pair of Short-eared Owl even nested in this marsh in most years between 1974-1981 (Roberson 2008).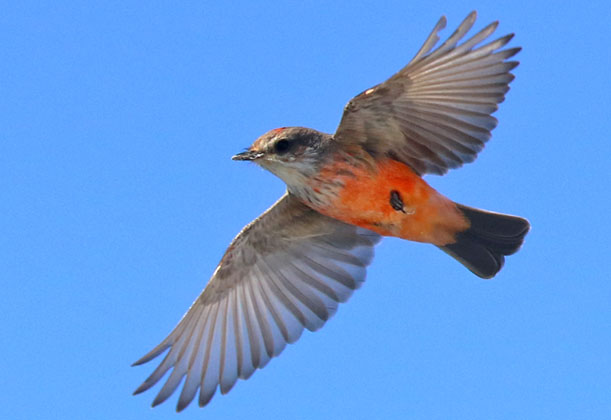 An amazing record of a migrant landbird seen offshore in the middle of Monterey Bay was this young male Vermilion Flycatcher, photographed from a Monterey Whale Watch boat on 16 Oct (right, © Alisa Schulman-Janiger). Over decades of "wrong-way" migration, multiple landbirds have been seen from boats offshore, or have landed on the Farallon Islands off San Francisco. However, only one Vermilion Flycatcher has made it to the Farallones, so this southwestern desert species is truly unusual in flight over Monterey Bay.
MTY has had 13 prior records of Vermilion Flycatcher on land; this represents our 14th record.
Northwest winds of 21-25 knots, with seas with waves 8-12 feet high, battered Pt. Pinos on 11 Oct. These winds pushed pelagic birds into the Bay. Many of these flew west past Pt. Pinos throughout the day, heading for the open ocean again. Among them were at least 12 South Polar Skua — rarely seen from shore — several of which were photographed by Brian Sullivan that afternoon (e.g., left, © B.L. Sullivan).

Other excellent birds in October included a juv Ruff at Estrada Marsh, along Elkhorn Slough, on 23 Oct (Rick Fournier); a Philadelphia Vireo near Yankee Pt. on 15 Oct (B.L. Sullivan, Paul Fenwick); and an Orchard Oriole at Moonglow Dairy on 9 Oct (B.L. Sullivan, P. Fenwick). There were also scattered reports of Broad-winged Hawks and Tropical Kingbirds.

The September summary included 11 species of vagrant eastern warblers. Multiples of some of those species (e.g., Blackpoll) were found in October, but perhaps the best warblers in October were these:

Ovenbird at a private home near Hurricane Point on 6 Oct (below left, photo © Cooper Scollan). It seemed to be dazed and may have hit a window;
Magnolia Warblers on 10 Oct in Monterey's cemetery (B.L. Sullivan) and on 17 Oct near Yankee Point (photo right, © Michael Rieser); and
Canada Warbler, found on 16 Oct by Mark Kudrav at Carmel River mouth (photo below right, © Andrew Kenny).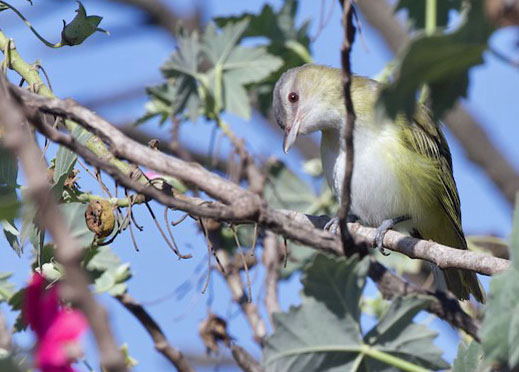 Among the best landbird rarities in September were two Yellow-green Vireos, vagrants from the Neotropics, present 23-26 Sep (see below). Everyone was surprised when two more Yellow-green Vireos appeared thereafter. One was near the Carmel River in the State Park's restricted-access "Odello" unit - found and photographed by Paul Fenwick 8 Oct. Our fourth Yellow-green for autumn was found by Brian Sullivan & Paul Fenwick at Moonglow Dairy on 9 Oct, and lingered through 11 Oct (photo right 11 Oct, © Terence Degan.) All were dark-eyed hatch-year immatures. With the addition of these four, MTY now has 17 total records.
Our four Yellow-green Vireos in fall 2021 were part of an unprecedented incursion in California, where there were at least 18 documented records of this species in Sep-Oct, stretching from Humboldt County to San Diego, and even inland to Lake County.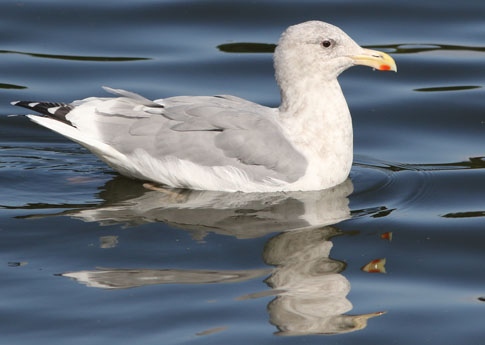 We pay comparatively little attention to the comings and goings of hybrid/introgressive birds, but eBird now has enough data that we can discuss "George" (left, photo 4 Nov 2017 © D. Roberson), an adult introgressant Glaucous-winged X Western Gull. "George" has returned to Laguna Grande lake for at least 10 consecutive winters, and possibly more. eBird has winter reports back to 2010, but details of its age go back only to winter 2012-13.
"George" is misidentified many times each winter as a "Herring Gull" [which is a rarity on fresh-water Laguna Grande], presumably because of its pale gray back and pink legs, but note dark eye, bill shape, head smudging, and (in flight) wing-tip pattern.
We now have arrival and departure information for "George" for 9 consecutive years. Arrival dates range from 25 Sep to 3 Nov (median date 17 Oct, which was also its first date this winter). Departure dates are less certain, but range from at least from 4 Mar to 13 April. "George" presumably summers in the Puget Sound/Olympic Peninsula vicinity. Its timing at Laguna Grande may suggest typical timing of the population of "Olympic"-type hybrids that winter here annually along our coast.
In the preceding update that included September 2021, it was noted that amazing numbers of Greater White-fronted Geese flew over MTY — at least 650 in just a few days — and I opined that "widespread fog and overcast may have disoriented these arriving geese during their migration, and hundreds either "overshot" their destination or were scattered west of their intended route." These migrating geese continued through month's end (e.g., below, 5 juvs of a group of 20 on Crespi Pond 30 Sep, © D. Roberson) and into early October. Bill Hubick found an even better hypothesis for this event, documented by Overton et al (2021). A similar migration disruption of Alaska-breeding White-fronts, documented by the routes of four radio-collared individuals, occurred when the flocks encountered dense smoke from wildfires off British Columbia and Washington in fall 2020. Their "normal" migration of a 4-days-flight was extended to 9 days, and added 470 miles to the distance flown in "normal" years. In autumn 2021, northern California had widespread smoke from multiple wildfires, which could account for this year's migratory disruption.

Acknowledgments: I thank Rita Carratello for editorial review that improved on an earlier draft.
Literature cited:
Overton, C.T., et al. 2021. Megafires and thick smoke portend big problems for migratory birds. Scientific Naturalist, doi:10.1002/ecy.3552.
Pyle, P. 1997. Identification Guide to North American Bird. Part I. Slate Creek Press, Bolinas, CA.
Roberson, D. 2002. Monterey Birds, 2d ed. Monterey Audubon Soc., Carmel, CA.
Roberson, D. 2008. "Short-eared Owl," pp. 242–284 in California Bird Species of Special Concern (W.D. Shuford and T. Gardali, eds.). Studies of Western Birds 1. Western Field Ornith., Camarillo, California, and Calif. Dept. Fish & Game, Sacramento.