These highlights chronicle the year 2022. The year runs generally "backwards" on this page. In crediting records of vagrant or unusual birds, I always try to credit the finder(s) of the rarity. There will be times when complications arise with credit, e.g., one or more observers find a bird but others are the ones to actually identify it. There are times when a bird is properly identified only days later after photo review.
The abbreviation "MTY" means "Monterey County" in the text below. Text by Don Roberson. Photos on this page are copyrighted by the photographers to whom they are attributed, and may not be reproduced in any form (including other web sites) without the express consent of the photographer.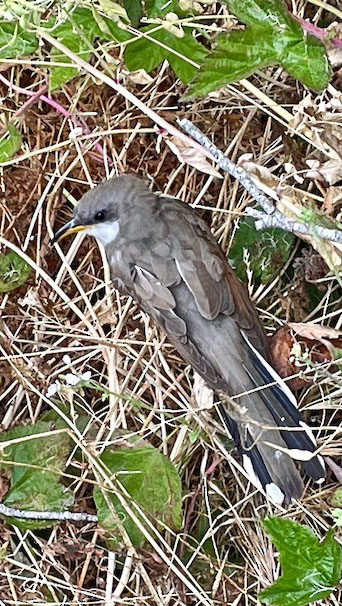 The Yellow-billed Cuckoo is a graceful, exotic, and secretive bird, most often located by its vocalizations. While widespread in eastern North America and in the humid lowlands of southeastern Arizona, the species may have even nested in MTY's Salinas Valley a century ago (see Roberson 2002, Laymon & Halterman 1987). Alas, "the future of the Yellow-billed Cuckoo is uncertain. Populations are declining precipitously throughout its distribution. Western populations have suffered severe range contractions during the twentieth century, and are already extirpated from British Columbia, Washington, and Oregon. In California, this cuckoo once numbered more than 15,000 pairs, but the population has been reduced to about 40 pairs in less than 100 years, owing primarily to the destruction and degradation of preferred riparian habitat;" Hughes (2020). The California population was formally listed as federally Endangered in 2014.
With California breeding populations tumbling towards extinction (Gaines & Laymon 1984, Laymon & Halterman 1989), Yellow-billed Cuckoo has become a rare vagrant in MTY, with just six records in the last 50 years: five from June-July and one in September. All have been in riparian habitat at river mouths: Pajaro River (3 records but only 1 known to cross into MTY), Salinas River (1), and Big Sur River (4, including the fall bird). This June we added two more records:
on 19 June, Brian Sullivan heard repeated calls in tall riparian along the Carmel River in Palo Corona Reg. Park, but the cuckoo was not seen, despite multiple efforts; and
on 30 June, Rick Fournier found a cuckoo in the middle of the road in foothills near Elkhorn Slough, and stopped to help. He assumed it had been hit by a car but the bird did not seem badly injured, so he held it to see if it would recover. When he tried to release it on the site, it flopped on the ground (photo right, © Rick Fournier), so he drove it to the SPCA. Several days later the SPCA advised it had not been hit by a car, but was emaciated. Last we heard they were feeding it and the cuckoo was gaining weight.
The entire North American breeding population winters in South America after a long migration. Presumably our spring birds are wrong-way overshoots from the East or from Arizona, as the California population is so tiny.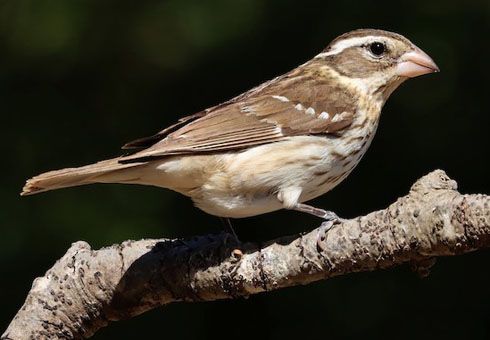 Except for Rose-breasted Grosbeaks, this year's late May/early June migration was almost a complete bust for "eastern vagrants." The exceptions were at the Big Sur R. mouth: an Eastern Kingbird on 2 June (Rick Fournier) and a Summer Tanager 22 June (Francis Toldi). However, at least 7 Rose-breasted Grosbeaks were documented between 20 May–28 June — including at Big Sur R. mouth (Karen Kreiger) — but with the majority at feeders in private yards, such as this female in northern MTY on 20 June (photo right, © Steve Tucker).
Absolutely unexpected was a female Yellow-bellied Sapsucker in a private yard in the Skyline Forest area of Monterey on 27-28 May 2022 (photo, left, 28 May © Frank Verga). This is more than two months later than MTY's latest ever wintering or spring migrant of this species. Several wintering Yellow-bellies have lingered to mid-March. The prior spring migrants were 24 Mar 2021 at Laguna Grande (Elle Heiser, Bill Hill +) and 29 Mar 2014 at Conejo Creek, along Tassajara Road (Richard Norton).

In fact, this year's Memorial Day weekend Yellow-bellied Sapsucker was almost the latest ever for the entire State of California! There was a female in Golden Gate Park, San Francisco, on 21 May 2003 — and this MTY female beats that record — leaving only a male seen on San Nicolas Is., in the Channel Islands off southern California on 13 June 1976 (Lee Jones) as the State's only later record. [A mummified YBSA found dead in Pasadena in July 1950 "probably died the previous winter"; Garrett & Dunn 1981.]
On 12 April 2012, biologist Sophie Webb, working on Southeast Farallon I. — 27 miles west of San Francisco — spotted an adult Northern Gannet Morus bassanus. A bird of the Atlantic Ocean, this was the first ever for the entire Pacific Ocean (Webb's photo was featured on the cover of Western Birds, Vol. 44, No. 1, in 2013). It was theorized that global climate warming opened an open-water channel through the Arctic that permitted this huge seabird to reach the North Pacific, and then move south to central California. The Gannet hung around the Farallones off-and-on for months, then appeared on Alcatraz I. in San Francisco, and along the California coast-line from Pt. Reyes, Marin Co., to Año Nuevo SB, San Mateo Co. [I first saw it from a boat to SE Farallon, where it was of personal interest, and later Rita & I saw it on Alcatraz.] By April 2022, it had lived in California waters for 10 years. Northern Gannet is a long-lived species, with Atlantic birds known to reach at least 21 years old, so we wondered if it would ever get to Monterey Bay.
On 22 May 2022, Amanda Urena was a little more than a mile northwest of Pt. Pinos, on a Discovery whale-watching trip, when this adult Northern Gannet flew past (below, photo © Amanda Urena, courtesy of Discovery Whale Watch). This is almost surely the same gannet that first arrived in 2012. It now represents a first record for Monterey County: #501 on our county list. While Amanda, the skipper, and the naturalist were all part of Discovery's staff, and interested in birds along with whales, there was not a single focused birder on this trip. Let's hope that this Northern Gannet will visit Monterey Bay for some time, and perhaps even roost somewhere that can be seen from shore!
It has been almost 3 years since Rick Fournier found #500 — a Sulphur-bellied Flycatcher at Pt. Lobos SR — some 979 days to be exact. The longest dry spell this century without a new species in MTY was the almost 6-year span between #488 [Golden-winged Warbler] in April 2007 and #489 [Arctic Loon] in January 2013.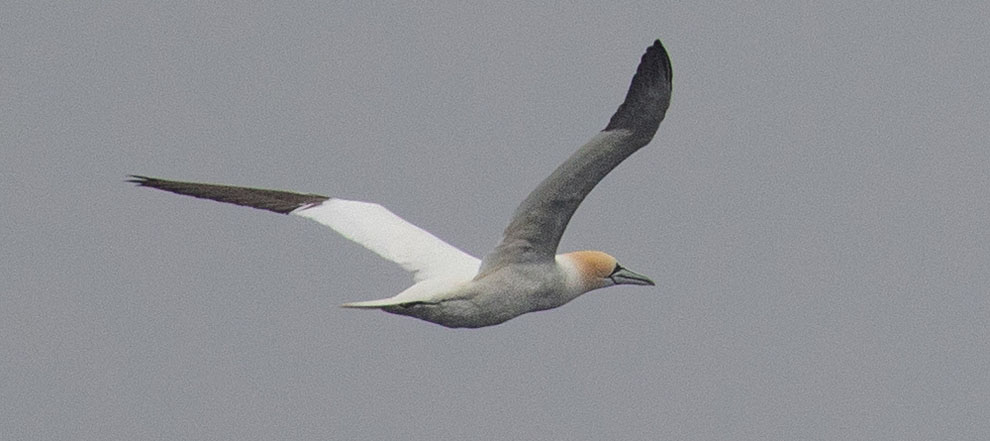 The same Sunday that a Northern Gannet was in Monterey Bay, Steve Tucker discovered two adult Royal Terns in Moss Landing harbor [right, photo 22 May © Bill Hubick; both Royals with Caspian Tern at right]. A few birders who were chasing a breeding-plumaged Pacific Golden-Plover at Zmudowski SB, found by Bill Hubick et al., also got to see the Moss Landing terns before the rising tide covered their sandbar. Late May is an unusual date for Royal Tern. Nearly all records over the last 50 years have been between mid-July and early March, but there are NAB-published records from the Santa Cruz Co. side of nearby Pajaro R. mouth on 23 May 1979, and another at Zmudowski SB on 26 June 1989.
A Franklin's Gull was on the MTY side of the Pajaro River mouth 19 May (Karen Kreiger), and another was seen from Pt. Pinos during a sea-watch on 2 May (Alvaro Jaramillo, Brian L. Sullivan). That 2nd-of-May sea-watch was during gale-force winds, pushing over 364,000 Red-necked Phalaropes towards shore, along with a flight of 45,000 Common Murres, and 8 Sabine's Gulls (estimates by B.L. Sullivan). Rarities included a distant Cook's Petrel (B.L. Sullivan) and a Manx Shearwater (A. Jaramillo). Other seawatchers at Pt. Pinos saw an adult Brown Booby at least 5 times between 20 Feb and 19 May (Bill Hubick, Mark Kudrav, et al.) and an imm Brown Booby on 3 May (D. Roberson). Birders aboard repositioning cruises on huge cruise ships in April-May encountered dozens of Cook's Petrels well offshore, many Murphy's Petrels, and at least two Hawaiian Petrels in MTY waters. These species are now to be expected in spring well offshore.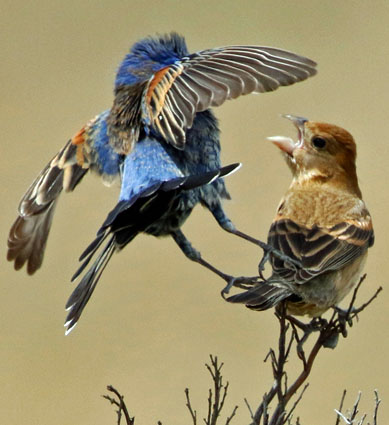 Turning to landbirds, our off-and-on Vermilion Flycatcher at Rancho Cañada, Palo Corona RP, was not seen after 8 April, but a pair of Western Kingbird may have attempted to nest there again from 20 April into May. [A pair nested at the same spot in 2020, and hatched 3 young, but none of them fledged.] This location in lower Carmel Valley is a range extension.
This spring Blue Grosbeaks returned to the nesting location on Fort Ord NM, with the first arrival 3 May, and two pairs by 12 May (left, photo 12 May © Don Roberson of an interacting pair). One pair summered through the breeding seasons of both 2020 and 2021, but no confirmed fledglings were documented. This location on Fort Ord NM is far to the northwest of other breeding Blue Grosbeaks in MTY.
Savannah Sparrow is another species that breeds opportunistically beyond its very restricted usual range in coastal estuaries around Elkhorn Slough. Grasshopper Sparrow breeds widely in short-grass habitats throughout MTY, so it is a bit of a mystery as to why we typically have breeding Savannah only of resident birds in salt marshes. From 30 May-8 June 2014, a pair was confirmed breeding on coastal grazed grasslands just south of Pt. Sur (M. Rieser, D. Roberson, R. Carratello). From 16-22 June 2018, up to 11 were located in the same vicinity (B.L. Sullivan). This year, on 21 May, a singing Savannah was at the same site (along with 9 Grasshopper Sparrows; R. Carratello +). These occasional breeders, far from our resident populations, are interesting and perhaps overlooked. Why are they present some years and not in other years?
As to rare migrant landbirds, perhaps the rarest discovered this year were two different Gray Flycatchers: one at Moss Landing SB on 27 April (photo below left, © Jeff Sexton) and the second at the other end of the county along Lonoak Road, east of King City, on 15 May (photo below right, © Karen Kreiger). Prior to this year there were 20 MTY records, 19 of them in spring migration and just one in fall migration. The date span for our spring records has been 16 Apr–16 May, and our two new records this spring were near the center and near the end of that month-long "open window" span, and bring us to a county total of 22 Gray Flycatchers. Being a bird of more open habitats than most migrant flycatchers, they can occur at unexpected places instead of in coastal "vagrant traps." There is a small, disjunct breeding population on San Benito Mt. to the east of MTY (Johnson & Cicero 1985), and is found more often inland in San Benito Co. than in MTY. Three of our records, including the mid-May bird this year, were along the eastern edge of interior MTY.
After two Lesser Black-backed Gulls appeared in winter (see below), the best gull of 2022 to date was a very late second-cycle Slaty-backed Gull at Moss Landing, found by Steve Tucker on 24 April (both photos below, © Steve Tucker). Unlike the earlier rare larids, this one was "chasable" for some birders who got there in time to see it join a gull flock on the ocean just off the north jetty. In this plumage the upperwing coverts are worn almost to white, and contrast starkly with the dark gray mantle. By second-spring the eye color is bright pale yellow, and along with size, bill shape, and structure, aids in identification. There are now 9 records of Slaty-backed Gull in MTY. The prior records have all been between mid-November and late March, with one at Pt. Pinos as late as 27 March. This year's gull is almost a month later, and provides the all-time late date for MTY.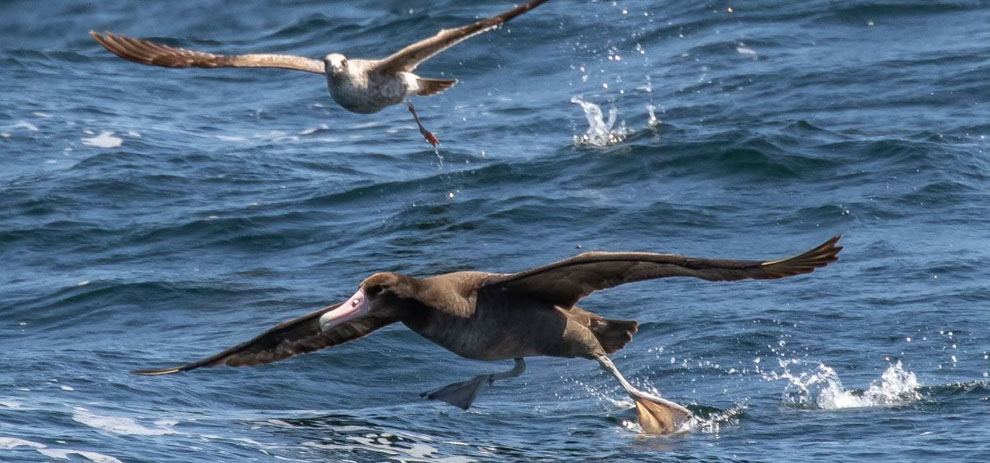 We have the good fortune to be seeing an Endangered species slowly recover from near-extinction. Sightings of Short-tailed Albatross on Monterey Bay continue to occur with greater frequency — this youngster (above) was present 5 miles NW of Pt. Pinos on 18 Apr (photo by Morgan Quimby, courtesy of Monterey Bay Whalewatch). This is a healthy young individual, and a different bird than was present back in July and September 2021, and again mid-Feb and 5 Apr 2022. That bird has an injured wing, has developed a white semi-circle below its eye (it is no longer in juv plumage), and appears to have lost its left foot (February photos). More on that prior individual is on last summer's update. Later, on 27-28 May and again on 10-11 June, an imm. Short-tailed Albatross was seen from Discovery Whalewatch trips — photos suggest that it was likely last summer's individual that had lost a foot by winter 2021-22 (Isaiah Foulks). Yet another young Short-tailed Albatross was photographed far offshore at the Davidson Seamount on 24 Apr 2022 (Michael Force). All this suggests that three different individuals visited MTY during the first half of 2022.
Two interesting spring migrants were photographed by Jeff Barnum in April. A young dark-morph Swainson's Hawk was a migrant over Moonglow Dairy on 7 Apr (below left © Jeff Barnum), and a dark-morph adult over Carmel Valley Village on 3 May (B.L. Sullivan). Swainson's Hawk is another species that is recovering from prior declines, with recent breeding documented in San Luis Obispo Co., just south of MTY, and in San Benito & Santa Clara counties to the east (Klein et al. 2022). The species once nested in southeastern MTY until heavy agricultural use began in the 1960s (Roberson & Tenney 1993). When will someone discover the first 21st century nest in MTY?
Tricolored Blackbird is a Species of Special Concern in California; it is almost a California endemic. Most of the world's breeding population is in the state's Central Valley, but we have breeding populations in MTY. Some are even near the Monterey Peninsula — typically at Laguna Seca ponds and a thistle patch on Fort Ord NM — but where and when they nest is erratic in drought conditions (like this year). We know that thousands pile into Moonglow Dairy, Moss Landing, each fall and winter. Yet migrants are rarely seen. On 17 April, Barnum noted a flock of blackbirds flying north over Laguna Grande Park in Seaside (a portion of that flock is shown below right, © Jeff Barnum). Surprisingly, it was a flock of 16 Tricolored Blackbirds! This is an exceptionally rare bird at Laguna Grande. While "Trikes" once wintered there in the 1980s, the only records there in the last 35 years have been three migrant flocks: 65 heading west on 11 Sep 2017 (B.T. Matheson), a flock of ~20 heading south on 27 Dec 2018 (D. Roberson), and the 16 heading north over the lake on 17 April 2022 (these birds). Our local "Bicolored" Red-winged Blackbirds breed at Laguna Grande every year.
Every spring we enjoy the migrations of passerine heading northwards. Of particular interest are our "Neotropical migrants;" those species whose entire population winters south of the USA — somewhere from Mexico to Argentina, depending on the species — and then return to MTY either to nest locally, or these are passing through to more northerly breeding grounds. Each of these migrants has a well-known pattern in their timing. The first Allen's Hummingbird arrives in January; several species of swallows arrive in February; Orange-crowned Warbler, House Wren, Purple Martin, and a few others first arrive in March; but most of our Neotropical migrants first arrive in April.
It is actually much more specific than that. We can anticipate — often to the exact week of the exact month — when the bulk of of each species will be seen on our home patch. A nice example is Western Wood-Pewee. I expect that the first one in all of MTY will be in the 3rd week of April, and that I am likely to see my first for the year in the last week of April (or sometimes not until May). Every Neotropical passerine migrants has a "bell curve" pattern like that. If 30 April is the "peak" of pewee arrivals here, the earliest each year would tend to be about 15 April and the latest arrival on territory here might be 15 May.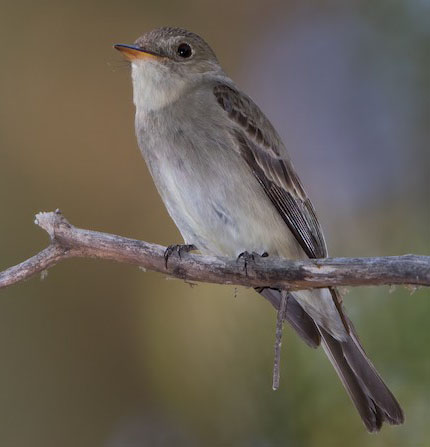 Each spring is different, and long-time observers will notice when spring is "early" and when it is "late." Often we can estimate whether spring migration is "early" or "late" by the timing of first arrivals. Sometimes the usual "bell curve" will shift a few days to the "early" side, and sometimes the first arrivals will be later than typical. Yet the pattern of each species is generally so predictable that active birders will all agree that spring is "late" or "early" just based on their own birding. Personally, my earliest pewee in any year was 17 April: in 1986 and in 1994. My book Monterey Birds (Roberson 2002) lists the two earliest records as 2 Apr 1986 Toro Creek and 15 Apr 1942 (Hastings NHR). Unfortunately the 2 Apr 1986 observation is not documented by details or photo, and probably should not be cited — except that my personal earliest was also in 1986, so maybe it was an "early spring" in 1986, and maybe the report from 2 Apr 1986 by an experienced birder was correct?
We tend to think that weather is responsible for early or late arrivals, but this could be weather in the tropics or weather north of us. Still, the timing of spring migrants is very predictable. In California as a whole, most birders anywhere in the State will not expect a pewee until after mid-April. The earliest documented record was one banded at Pt. Loma, San Diego Co., on 4 April 1969 (Unitt 1984, 2004).
With climate change, it is reasonable to expect that our Neotropical passerine migrants might be arriving earlier now than in prior decades. And, in fact, a Western Wood-Pewee was photographed in Orange County this year on 4 Apr 2022, tying the early arrival date for southern California documented back in 1969.
Most surprising of all, though, was this well-documented photo of a vocalizing Western Wood-Pewee in Pebble Beach, MTY, on 25 March 2022! (photo right © Mark Chappell). This appears to be the earliest Western Wood-Pewee in the United States by 10 days. That's dramatically early. However, as discussed in the chart below, 2022 seems to be an unusually "early" spring in MTY, probably breaking all records on that topic.
With eBird, more data are entered on common migrants, and early records are documented by details, photos, and audio — accepted by local editors.
It is now easier to access local arrival dates, as shown in this chart comparing historic early dates to migration in 2022:
| | | | |
| --- | --- | --- | --- |
| Species | Prior earliest dates in MTY | Early date in 2022 in MTY | Comment |
| Cassin's Vireo | 18 Mar, 22 Mar, 23 Mar | 6 arrivals on 31 Mar | 4th earliest |
| Black-throated Gray Warbler | 23 Mar, 23 Mar, 24 Mar | 4 arrivals 21-23 Mar | earliest ever |
| Yellow Warbler | 1 Apr, 3 Apr, 3 Apr | 24 Mar, 27 Mar | earliest ever |
| Olive-sided Flycatcher | 4 Apr, 7 Apr, 14 Apr | 3 Apr, 4 Apr, 9 Apr | earliest ever |
| Western Wood-Pewee | 2 Apr (no details), 15 Apr, 15 Apr | 25 Mar, early Apr in SCZ | earliest ever |
| Lazuli Bunting | 7 Apr, 8 Apr, 9 Apr | 7 Apr | tied earliest ever |
| MacGillivray's Warbler | 6 Apr, 10 Apr, 12 Apr, | 1 Apr | earliest ever |
| Swainson's Thrush | 3 Apr, 6 Apr, 7 Apr | 10 Apr | 4th earliest |
Although these data suggest that "earliest" arrivals were exceedingly early in 2022, rainy weather in mid-April could have delayed the bulk
of migration for all of these species later in the month.
The best bird anywhere in California during the first three months of 2022 was an Oriental Turtle-Dove Streptopelia orientalis in Palo Alto, Santa Clara Co., from 2 Feb–22 Mar — a 3rd State record and the first seen by hundreds of birders (including a fair showing by MTY observers).

Nothing nearly so dramatic was found locally in MTY. The rarest birds were two different different Lesser Black-backed Gull — a third-cycle fly-by at Pt. Pinos on 27 Jan (photo upper left © Blake Matheson), and an adult at Moss Landing on 5 Mar by Daniel Hasegawa & Ruth Bennett (photo lower left © Ruth Bennett).

Gale-force winds in late March and early April pushed thousands of Black-legged Kittiwakes into Monterey Bay and along the shores from Moss Landing to the Monterey Peninsula (and a few on ponds just inland). Sea-watchers at Pt. Pinos tallied huge numbers of Common Murre, plus a few Ashy, Fork-tailed, and Leach's Storm-Petrels.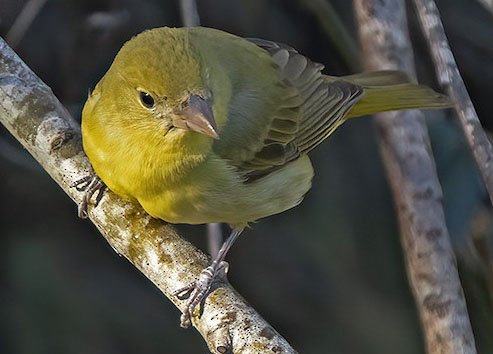 All the early 2022 highlights of landbirds were wintering individuals that arrived in 2021. Four Yellow-bellied Sapsuckers were scattered across MTY in January, and some lingered into March. The dramatic incursion of Lewis's Woodpeckers in the Jolon Valley in southeast MTY continued into spring, they were gone by mid-May.
A crisply-plumaged hatch-year female Summer Tanager at Laguna Grande park in Seaside, first found 19 Nov 2021 (Andrew Kenny), lingered around a bee-hive in a live oak tree until 2 Jan 2002 (right, photo 2 Jan 2022 © Bill Hill). Alas, the adult male Summer Tanager, variously known as "Verano" or "Old Red," which had returned to Pacific Grove for 8 consecutive winters, did not appear this winter. Rita Carratello and I missed hearing its calls at dusk as it settled down to roost below our back yard in most of those winters; photos are in previous highlights here and here.
A bright red passerine that did return was the male Vermilion Flycatcher at Palo Corona Reg. Park, featured here and in last spring's update. This year the adult male returned 17 Feb 2022 and is still present.
A selection of passerine vagrants that actually wintered locally are featured in the 3-species gallery below.
Clockwise from upper left:

Black-and-white Warbler at Laguna Grande: found 14 Nov 2021 (R. Carratello) and still present 10 Apr (photo 4 Apr © Karen Kreiger). During the winter this wide-ranging bird within the park molted from hatch-year plumage to first-spring male plumage.
Prairie Warbler at Cannery Row, Monterey: found by Samuel Rawlins on 10 Dec 2021, it was last seen on 10 March (photo 7 Feb 2002 © Bill Hubick). It sometimes was seen bathing in street puddles; the bird looks wet in this shot.
Tropical Kingbird at Laguna Grande and around Seaside City Hall. This is surely last year's wintering individual, and thus returned for a third winter. Its prior dates of occurrence are 27 Oct 2019–29 Apr 2020 and 13 Oct 2020–9 Apr 2021. This year it arrived 18 Oct 2021 and was still present on 18 Apr 2022 (photo, left, 10 Apr 2022 © Terence Degan). In addition, another Tropical Kingbird at Carr Lake, Salinas, present on 6 Apr 2022 (Daniel Hasegawa, Ruth Bennett), could be a bird present for its second winter. One was a Carr Lake in January and in early May 2021, and this area is not nearly as heavily birded as Laguna Grande.
Literature cited:
Gaines, D., and S.A. Laymon. 1984. Decline, status, and preservation of the Yellow-billed Cuckoo in California. West. Birds 15: 49–80.
Garrett, K., and J. Dunn. 1981. Birds of Southern California. Los Angeles Audubon Soc.
Hughes, J.M. 2020. Yellow-billed Cuckoo (Coccyzus americanus), version 1.0. in Birds of the World (P.G. Rodewald, ed.). Cornell Lab Ornith., Ithaca, NY, USA. https://doi.org/10.2173/bow.yebcuc.01
Johnson, N.K., and C. Cicero. 1985. The breeding avifauna of San Benito Mountain, California: evidence for change over a half-century. West. Birds 16: 1–23.
Klein, S.. L. Baer, and R.A. Phillips. 2022. Breeding Swainson's Hawks in the Central Coast Range of California. West. Birds 53: 19–29.
Laymon, S.A., and M.D. Halterman. 1987. Can the western subspecies of Yellow-billed Cuckoo be saved from extinction? West. Birds 18: 19–25.
Laymon, S.A., and M.D. Halterman. 1989. A proposed habitat management plan for Yellow-billed Cuckoos in California. USDA For. Serv. Gen. Tech. Rep. PSW 110: 272–277.
Nelson, J.B. 1978. The Gannet. Buteo Books, Vermillion, SD.
Roberson, D. 2002. Monterey Birds, 2d ed. Monterey Audubon Soc., Carmel, CA.
Roberson, D., and C. Tenney, ed. 1993. Atlas of the Breeding Birds of Monterey County, California. Monterey Audubon Soc., Carmel, CA.
Unitt, P. 1984. The Birds of San Diego County. Memoir 13. San Diego Soc. Nat. Hist., San Diego, CA.
Unitt, P. 2004. San Diego County Bird Atlas. No. 39. Proceedings of San Diego Soc. Nat. Hist., San Diego, CA.
I thank Rita Carratello and Michael Rieser for editorial comments on an earlier draft of this page.

Page created 16 April 2022, updated 10 July 2022