These highlights chronicle the year 2021. The year runs generally "backwards" on this page. In crediting records of vagrant or unusual birds, I always try to credit the finder(s) of the rarity. There will be times when complications arise with credit, e.g., one or more observers find a bird but others are the ones to actually identify it. There are times when a bird is properly identified only days later after photo review.
The abbreviation "MTY" means "Monterey County" in the text below. Text by Don Roberson. Photos on this page are copyrighted by the photographers to whom they are attributed, and may not be reproduced in any form (including other web sites) without the express consent of the photographer.
Alas, neither of the best birds during the last week of September stayed very long. On 26 Sep, in El Carmelo cemetery, Pacific Grove, Steve Tucker was surprised to find that the "pip" or "pwip" calls he was hearing were given by a brownish pewee with a strikingly white throat and a pale breast (photo left © Steve Tucker). It looked very like the Eastern Wood-Pewee present at Laguna Grande Park, Seaside, from 3-10 Nov 2017, and accepted by the California Bird Records Committee. Both birds had a white throat and the basal half of the bills were yellow. The 2017 bird was seen by many, and calls were recorded, including "pip" calls (see fall 2017 highlights). I would accept the 2021 bird as the 4th MTY record (see Roberson 2002 for details of 20th century records).
On 24 Sep, a surprise in a Pacific Grove birdbath was this hatch-year Painted Bunting (photo right © Sara Courtneidge). This is now the 17th MTY record, all of them green or gray imms or adult females. It was just a block away from Rita's and my yard, where we've had Painted Bunting twice (22-25 Sep 2013, 12-15 Sep 2015). The latter was an adult female (see 2015 mid-year highlights).
MTY's autumnal landbird migration is famed for the rarities found among our more common western migrants. The créme de la créme that were documented with photos are highlighted on this page. September migrants also included such interesting birds as a White-winged Dove near Pt. Lobos 21 Sep (John Hiles); single Broad-winged Hawks at Moss Landing cemetery 11 Sep (Chris Wood) and Carmel R. mouth 20 Sep (Michael Rieser); a Red-naped Sapsucker near the South Bank Trail, Carmel Valley, 27 Sep (Rita Carratello); a Tropical Kingbird at Laguna Grande Park, Seaside, on 24 Sep and continuing (D. Roberson); a Gray Catbird at La Mirada 17 Sep (Paul Fenwick); and a Philadelphia Vireo at Laguna Grade Park on 19-20 Sep (Bill Hubick). Plus one or more of these "eastern" warblers have been located in September: Black-and-white, Tennessee (at least 4), Magnolia, Blackburnian, Chestnut-sided (at least 2), Blackpoll, Palm, and Prairie, plus Northern Parula, American Redstart (at least 4), and perhaps a half-dozen or more Northern Waterthrush.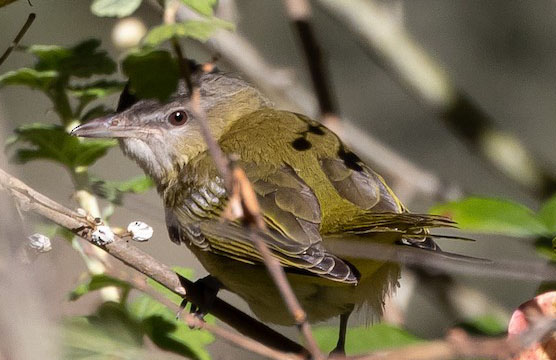 Among the best landbird rarities in September were two Yellow-green Vireo, vagrants from the Neotropics. The first was found by Jeff Barnum in the Rancho Cañada unit of Palo Corona Regional Park, Carmel Valley, on 23 Sep (photo left, 23 Sep © J. Barnum). This hatch-year individual was still present at the same spot the following morning.
Another hatch-year Yellow-green Vireo was in the riparian canopy of Carmel River mouth on 26 Sep (Brian L. Sullivan, Paul Fenwick). This is 2 days and 1.5 miles downstream from Rancho Cañada. Given the time and distance, and the fact at the first one stayed in the same trees for 2 days, I'm inclined to consider the 26 Sep bird to be a different individual. These would thus become the 14th & 15th MTY records. There were three seen in fall 1996 and two each in the autumns of 2018 and 2015. All have been dark-eyed, first-year individuals except for a worn adult in late Aug-early Sep 2018 (see fall 2018 highlights).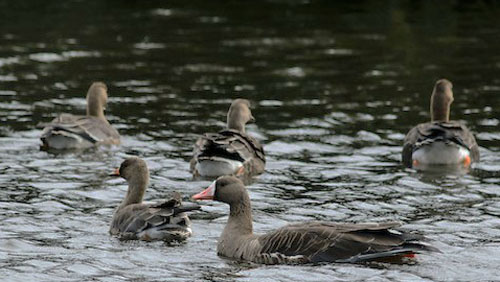 The coastal weather during the third full week of September was dominated by an extensive marine layer. Those conditions brought a phenomenal flight of Greater White-fronted Geese to MTY — and these geese were all heading north or northeast! The migrant populations of the Alaska-breeding "Western" Greater White-fronted Goose typically begin to arrive at wildfowl refuges in California's Central Valley in late September. I suspect that widespread fog and overcast disoriented these arriving geese during their migration, and hundreds either "overshot" their destination or were scattered west of their intended route. These flocks apparently reoriented to fly northwards and eastwards to get back on track. In MTY, flocks were first noted on 19 Sep (up to 55/flock) at the Big Sur R. mouth. By 20 Sep, flocks were seen or heard (including after dark) over the Monterey Peninsula. The peak of the event was 23 Sep, when 75 were flying over Dan Richard's home near the San Luis Obispo border, to a group of 14 that landed on Crespi Pond at Pt. Pinos (photo right, 5 of 14 birds on 23 Sep © Bill Hubick), to fully 345 counted overhead at El Estero (Cooper Scollan). Adding up the eBird reports that week, and trying to avoid obvious "same flock" over-counts, at least 650 geese passed over the Peninsula and the Big Sur coast that week. All must have turned eastwards at that point, since just a handful were reported from Elkhorn Slough or the northern MTY coast. We've witnessed similar phenomena in the past (e.g., flock of 65 over a boat in the middle of Monterey Bay on 22 Sep 2018), but never this many flocks nor in these numbers.

This is the story of MTY's first "chasable" Neotropic Cormorant. The species is the most widespread cormorant in the New World, common from Mexico to Tierra del Fuego. In the U.S., it is most common on the Texas coast. The first Neotropic Cormorants reached California at West Pond, near Imperial Dam on the Colorado River in April 1971, and the State's second appeared at that same spot on 7 Sep 1981. I heard about that adult on 8 Sep, flew to Los Angeles on 9 Sep where friends picked me up, and 4 of us drove to West Pond, getting there before dark. That was 40 years ago. By the end of the 20th century, there were only 13 state records (CBRC 2007). In this century, though, numbers in southern California increased dramatically, and it was dropped from CBRC review. In adjacent Arizona, nesting was first confirmed in 2004 (Radamaker & Corman 2008). Then birds began appearing in the Central Valley and northwards coastally in California.
The first three records for MTY were documented by Brian L. Sullivan as photographed fly-overs in the Moro Cojo/Moonglow Dairy vicinity on 13 Aug 2017 and 2 May 2018, and he discovered an immature briefly swimming on a pond at Palo Corona Regional Park in lower Carmel Valley on 10 Aug 2020. None of these birds was refound. That status finally changed in Sep 2021.
On 16 Sep 2021, Alex Lamoreaux, the senior guide for Wildside Nature Tours (of Florida), was heading for the airport for his next tour when he stopped at Jetty Road, Moss Landing, near high tide and discovered MTY's 4th Neotropic Cormorant at the gull/tern/cormorant roost (photo above, 16 Sep © Alex Lamoreaux). The photo shows well the small size, shorter bill, and proportionately longer tail of Neotropic (on the right) versus Double-crested Cormorant — our standard freshwater cormorant (at left). Alex alerted local birders, and some were on their way to Moss Landing, when he advised that it had flown south towards Moss Landing marina.
Four of these chasers ended up at the south jetty (Don Roberson, Rita Carratello, Carole & Larry Rose), and joined forces in the search for cormorant roosts. Don had spotted a distant roost on an islet in the old Salinas River channel, now flooded at high tide, so they tried Potrero Road and eventually Moss Landing Marine Lab, where the Neotropic was re-discovered (photo just below; 16 Sep © D. Roberson; the head of the Neotropic is visible, looking right, behind two Double-crests looking left, in the right-hand bunch of roosting cormorants). Again, locals were alerted and those who arrived within the hour got to see it, but then it flew, heading south. As luck would have it, Jeff Barnum was at Potrero Road as the bird flew by, and he got a fine flight shot (photo second row below, left; 16 Sep © J. Barnum).
Over the next 3 days, the Neotropic moved around, never staying too long in one place. But its most regular roost was on a metal structure in the northern part of Moss Landing's south harbor (opposite the power plant), a location independently found by Sarah Lane and Gerry McChesney, the latter from a boat. Even more observers photographed the rarity — this roost afforded closer photos (e.g., photo second row below, right, taken 19 Sep, © Fred Hochstaedter).
All the photos show the triangular shape of the Neotropic's gular pouch, which comes to a sharp apex to the gape. The supra-loral area between the eye and the bill is bright orange bare skin in Double-crested while in Neotropic that area is feathered brown. The fact that the short bill is dark grayish and the eye is emerald green suggests that our Neotropic was an adult or near-adult. It has a thin line of whitish feathers adjacent to the lower edge of the bare gular pouch (similar to many young Double-crested), but in full breeding plumage the entire gular area of Neotropic is bordered with white. This bird was clearly in active wing molt, with gaps in the flight feathers and older outer primaries worn and brown compared to newer inner primaries that are shiny and glossy-green.

Two landbird vagrants were also mid-September surprises:

Eastern Kingbird (photo left © D. Roberson): discovered by Rita Carratello, Don Roberson, Carole Rose & Larry Rose — yes, all four at once! — on 16 Sep in the parking lot of Moss Landing Marine Lab while searching for the Neotropic Cormorant (which they found from there shortly after the kingbird). By days end, it had moved to the Moss Landing cemetery; and
Plumbeous Vireo (photo right, 16 Sep © C. Rose): discovered by Rita Carratello on 15 Sep at the Pacific Grove cemetery as a very shy & elusive "Solitary Vireo" whose identity was uncertain for several days until photos and expert opinion were obtained. It lingered to 20 Sep.
Short-tailed Albatross is the largest and most impressive albatross in the Northern Hemisphere. It had bred on volcanic islets off Japan but foraged widely in the North Pacific. In the 1890s, Short-tailed Albatross was "common" in Monterey Bay, and the most likely albatross to be seen from shore (Roberson 2002, quoting Loomis). Shooting for feather collecting on the breeding islands, starting in 1896, plus volcanic eruptions and World War II, led to a disastrous decline. There was no known nesting during 1940s; the species was thought to be extinct. A few birds returned to Torishima in 1950 and made first modern nesting attempt in 1954.
Short-tailed Albatross has become among the most endangered and iconic seabirds in the world. Adults don't typically nest until they are are 8-9 years old, but with protection and time, the world population has steadily grown. There are breeding populations on two sets of Japanese islets, and a nesting attempt has been made at Midway (Carboneras et al. 2020). Recent population estimates for adults are in the 1700 range, and with younger ones included, the global total was estimated by USWS at 7365 birds of all ages now at sea.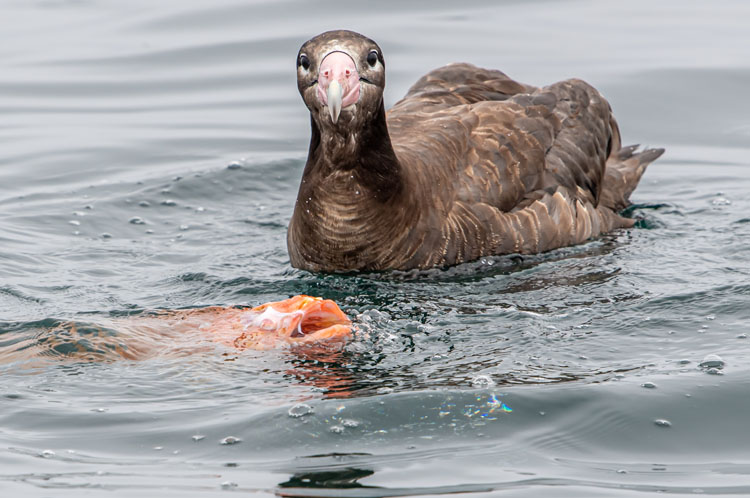 With global numbers gradually expanding, the species was again seen in MTY, starting in 1983. By the 21st century, there were 5 records, including one from shore (Roberson 2002). Two in 2007 (including from shore) plus another in 2020 brought our "modern" total in MTY to 8 records. All have been brown, pink-billed youngsters. Still, with nearly 40 years of local records, the average here is just one Short-tailed every five years.
For a few days in mid-September 2021 (14-17 Sep), a young Short-tailed Albatross was again within both the Monterey and Santa Cruz county portions of the Bay (photo right 15 Sep, © Brad R. Lewis; he has an extensive gallery of superb photos of this albatross in both MTY & SCZ). Although this individual had an injured wing, compelling US agencies to issue a "do not chum" order to avoid intentionally close encounters, this young albatross could fly well, and over the period was seen from boats off Davenport and Sunset SB (both SCZ), just a couple of miles off Moss Landing (photos above and below), and from off Pt. Pinos to near Monterey harbor. It located food as well, like this dead rockfish (above). Further, review of photos from offshore Los Angeles/Orange counties on 6 June 2021 and from offshore Santa Cruz County on 23-24 July 2021 revealed that is was the same young albatross, with its injured wing, foraging off the California coast all summer!
Among the most exciting circumstances was the fact it was also seen from shore! There are a couple of records of Short-tails being seen by sea-watchers scoping at Pt. Pinos to Pt. Joe some years ago, but this one was seen by nearly a dozen birders from Monterey's Coast Guard pier and westward from viewpoints along Cannery Row. Jan Loomis learned of a boat-based sighting the morning of 14 Sep, passed that intel to Terence Degan, who took his scope to try from the Coast Guard pier. And, on this flat calm day, he found it sitting on the sea at about 11 a.m. For the next hour, observers with scopes could follow it both on the sea and in flight as it gradually worked its way westward until lost in low fog at about noon. Below is a shot from a boat the next day (15 Sep, © Alex Lamoreaux), but the shore-based views were similar to this — a huge dark albatross with a long and very pink bill on the sea, often near Western Gulls — but of course a lot most distant that this photo! At close range, the photo shows a pale-blue tip to the bubblegum-pink bill.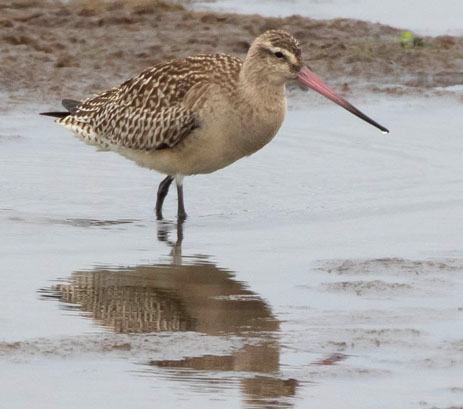 In recent years, Alex Lamoreaux, senior guide for Wildside Nature Tours, has brought a tour to MTY in September. Those tours have turned up several interesting birds, but none so rare as this juv Bar-tailed Godwit (left and above, with Marbled Godwit, 9 Sep © Alex Lamoreaux) that he found along Jetty Rd., Moss Landing at 5:10 pm. on 9 Sep 2021. He posted word and a few fast arriving local observers saw it that day before the sun set; others arrived too late and could not refind it as it moved farther out in the marsh.
This is just the 3rd MTY record: the others were also juvs in Sep 1988 (S.F. Bailey at Salinas R. mouth) and Sep 1994 (D. Roberson & R. Carratello at Moonglow Dairy).
Yet the story continues. A juvenile Bar-tailed Godwit was discovered in SCZ, on various beaches, between at least 13 Sep to at least 25 Sep. Was this the same bird or a new vagrant? My preliminary review of photos finds some similarities in plumage, but to me the distribution of pink and black on the bill differs a bit, so for the moment I'm inclined to think these are two different Bar-tailed Godwits, of the Siberian race baueri.
The vast majority of our vagrants in fall migration are "hatch-year" birds ['HY" birds in banding lingo, meaning hatched on the nesting grounds this year] in either juvenal or formative plumage [e.g., with waders nearly all are juveniles, but virtually all warblers molt out of juvenal plumage on the breeding grounds and migrate in formative plumage; we typically call these "imms" or HY birds as they are not juveniles.] "Juveniles" are wearing the first plumage they attain when they can fly. Once they molt out of that plumage — as many warblers and sparrows do within just a few weeks on the breeding grounds — they cannot be called "juveniles" [nor "juvs" for short]. Learning the names, definitions, and sequences of plumages is a key part of becoming a better birder. Whatever the plumage in which such "hatch-year" bird should appear, it is bright and crisp, often with broad white or buff edgings to the wing coverts and tertials, like this HY Blue Grosbeak (photo below right) found by Jeff Barnum at Laguna Grande on 26 Aug [one of two present 26 Aug © J. Barnum; one of them lingered to 2 Sep].
| | |
| --- | --- |
| Rather few adult vagrants occur — as most migrational errors occur during the first migratory effort — but adults are notable when they do. This year an adult Least Flycatcher, was present 8-10 Sep in an access-restricted area near Yankee Point, found by Michael Rieser (photo below, 10 Sep © D. Roberson). Unlike many Empidonax flycatchers, such as Hammond's (scarce local migrant), an adult Least does not molt out of its summer plumage until the wintering grounds are reached. Such adults in migration are worn and exceedingly drab. This tiny Least was giving distinctive "whit" calls (audio by Karen Kreiger), in addition to a short bill, yellow lower mandible, and short primary projection. This was the 11th MTY record. | |
All three scoters summered just off Moss Landing, including two White-wings and two Blacks among many Surf Scoters. Scoters are winter visitors but White-winged and Black are now scarce. The female Black Scoter moved into Moss Landing harbor in Aug-Sep to undergo wing molt (photo left upper, 10 Sep © Jeff Barnum). An oddly patterned, partially leucistic male Surf Scoter was also in the harbor (photo left lower, 15 Aug © D. Roberson) — sometimes reported as White-winged Scoter! Other interesting birds in August included:

Laughing Gull: an adult in alt plumage 7 Aug, found by Steve Tucker, in Moss Landing harbor (photo right upper © D. Roberson). Adrian Smith photo'd a different, basic-plumaged Laughing there on 27 July.
Least Tern: a first-summer bird at Salinas River NWR, found by Karen Kreiger & Rita Carratello 19 Aug (photo right middle © Carole Rose). An adult with begging young was there on 2 Sep (Steve Tucker)
Black Tern: a juv near Salinas on 22 Aug, found by Terence Degan (photo right lower © T. Degan)
Fall wader migration scattered 3 different adult Pacific Golden-Plovers, in varying states of body molt, from lower Salinas Valley and Elkhorn Slough to the Pacific Grove rocky shoreline [8 Aug-17 Sep]. Shorebirds like Baird's and Pectoral Sandpipers, regular migrants in small numbers, were in only fair to poor numbers, but at least 8 Semipalmated Sandpipers were documented. That's a good total for this rarity, and the count included two adults among the juveniles. A juv Franklin's Gull was on Elkhorn Slough 16 Sep (B.L. Sullivan, Chris Wood +).
Offshore, on 16 July, an adult Nazca Booby was photographed by boat captain Tim Zoliniak in the middle of Monterey Bay. Tongues of warmer water offshore carried a couple Guadalupe Murrelets into Monterey Bay on boat trips from 29 Aug-2 Sep.
The highlight of June was a singing Northern Parula, found by Terence Degan and present 17-18 June, in Oak Newton Park, Monterey. This little neighborhood park, full of oaks draped with lace lichen, had not previously hosted any reported rarities. But the Parula seemed quite at home there, singing up a storm — perhaps finding that our local lace lichen (Ramalina menzieslii) drapery recalled the Spanish moss (Tillandsia usneoides) on its breeding grounds in the southeastern United States. Docents at Pt. Lobos most often explain to tourists the lace lichen is, in fact, a non-parasitic lichen, while Spanish moss is an epiphytic, parasitic flowering moss.

This Parula was photographed and its song audio-recorded by many observers. Photos here are from 17 June (left © Don Roberson) and 18 June (right © Bill Hill).
Acknowledgements: I thank Rita Carratello for editorial review that improved on an earlier draft, and am grateful to Brian L. Sullivan and J. Van Remsen for their expert identification review of some photos included here.
Literature cited:
California Bird Records Committee (R.A. Hamilton, M.A. Patten, and R.A. Erickson, eds). 2007. Rare Birds of California. West. Field Ornith., Camarillo, CA.
Carboneras, C., F. Jutglar, and G.M. Kirwan (2020). Short-tailed Albatross (Phoebastria albatrus), version 1.0, in Birds of the World (J. del Hoyo, A. Elliott, J. Sargatal, D. A. Christie, and E. de Juana, eds). Cornell Lab of Ornithology, Ithaca, NY, USA. https://doi.org/10.2173/bow.shtalb.01
Radamaker, K., and T. Corman. 2008. Status of Neotropic Cormorant in Arizona with notes on identification and ageing. Arizona Field Ornith. journal, on-line
Roberson, D. 2002. Monterey Birds, 2d ed. Monterey Audubon Soc., Carmel, CA.