THE MONTEREY COUNTY LIST
Annotated checklist and data resource

text © Don Roberson
photos copyrighted by photographer(s) credited
all photos taken in Monterey County, California

Black Oystercatcher Haematopus bachmani
with comments on American Oystercatcher Haematopus palliatus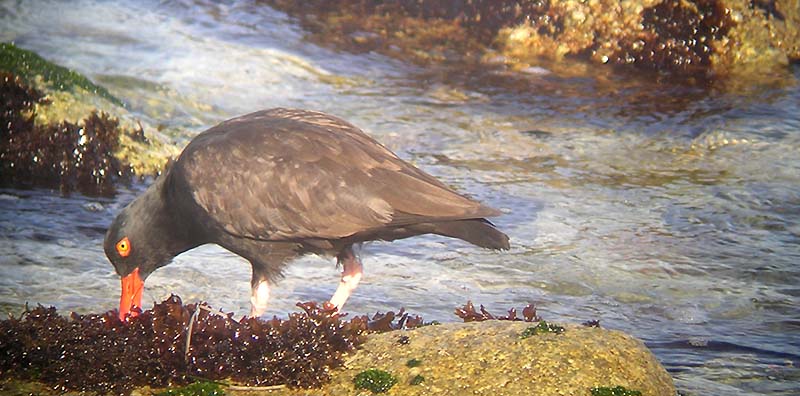 Black Oystercatcher is a resident along the rocky coastline of Monterey County from the Monterey Peninsula south down the Big Sur coast to San Luis Obispo County. They forage in the intertidal zone (above). As they never leave the habitat, the oystercatchers are usually easy to find although overall numbers are not large. The Breeding Bird Atlas (Roberson & Tenney 1193) estimated the MTY population at 77 pairs.

Except for a variable amount of white tipping to belly and flank feathers in fresh basic plumage, Black Oystercatchers show little variation. Fresh basic plumage (right; a Nov photo) is a soft, glossy black. As winter progresses into spring, the back and wings can fade to dark brown (above; a March photo). The white tips on the flank and belly feathers wear and become less noticeable by mid-winter (below, right-hand photo of bowing bird; a January shot). In adults there is a partial molt in Apr-May (extent varies by latitude) and a complete molt July-September (Webster 1942).

Where to locate a Black Oystercatcher in MTY? Pairs are usually readily found in the intertidal zone at Pt. Pinos, Asilomar SB, Pebble Beach from Pt. Joe to Bird Rock, and at Pt. Lobos along the westernmost shores. They are also regular along the rocky beach just south of Carmel R. mouth and around the headlands at Big Sur R. mouth, not to mention the entire stretch of the Big Sur coast. A pair or two also nest at Hopkins Marine Station just west of Monterey Aquarium. Pairs are more vocal and chasing each other about in spring (below; flight shot). But at high tide they are often asleep and roosting with heads tucked or, when briefly awakened by squabbling gulls (below, bottom), statuesque on one leg.

photos: top 10 Mar 2004 Pt. Pinos © Don Roberson
just above: Nov 1979 Pebble Beach © Ronald L. Branson

below: upper left 15 Oct 1994 Pt. Pinos © Don Roberson
lower left: 27 Dec 2003 Pt. Pinos © Don Roberson
below right-hand: 11 Jan 2004 Pebble Beach © Don Roberson
The sexes look essentially alike; I'm only able to confidently sex the individuals in the photo below ; -) [yes, Agnes, the male is on top..... ]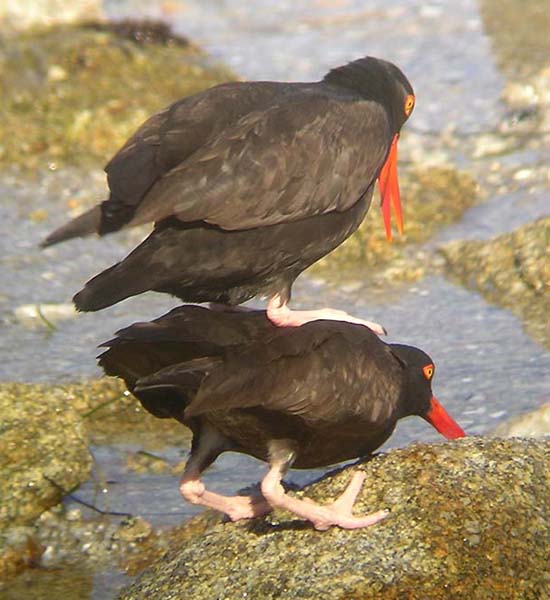 Hayman et al. (1986) state that "females have noticeably longer bills (average 71.6 mm against 63.2 mm for males)." Youngsters have much shorter bills than adults, and it takes about two months for the bill to grow to full length (Webster 1942).

The mating shot (above) was taken 10 March 2004 at Pt. Pinos [© Don Roberson]. Our Atlas data noted eggs by early May and fledglings from mid-June to mid-August. This phenology is consistent with that on the Farallones, where egg-laying is in May, hatching in June-August, and fledglings mid-July to early October (Sowls et al. 1980).

Although most of our local oystercatchers seem to maintain territories much of the year, in winter or after storms unusual concentrations can be encountered. My single high count for a roosting group was 19 at Pt. Pinos on 23 Dec 2000. MTY oystercatchers are considered resident, but a banded bird at Pt. Pinos 23 Nov 1975 may have been ringed on the Farallones since no banding was known to have occurred locally. There clearly is some limited movement: a small flock of 12 was seen flying south past the Pajaro R. mouth 6 Oct 2002 (Kumaran Arulanantham) is the only report along the sandy shores of north MTY.
---
There has never been an acceptable MTY record of American Oystercatcher. There are three claims:

3 Apr 1954 Pt. Lobos
2-6 Apr 1955 Pebble Beach [maybe same bird as reported the prior spring?]
7 Jan 2003 Pt. Lobos

None of the claims is supported by photos or convincing written details, but there is an accepted record from San Luis Obispo Co. [Oct 1964-Mar 1965 Avila Beach], just south of MTY, so this species could occur here. Any future claim would need to be carefully documented, and observers must consider the possibility of hybrids between Black and American oystercatchers, which have occurred in southern California.

photo above of American Oystercatchers © Jeri M. Langham
24 Aug 1977 Corvina Beach, Salton Sea, Riverside Co., CA
All California records of American Oystercatcher are of the west Mexican subspecies H. p. frazari, which differs from Atlantic populations in various ways, including spotting below the black-white demarcation between chest and neck. Jehl (1985) published an index that is useful in separating hybrids from the frazari race of American Oystercatcher. The index scores 10 characters and is intended for museum research, but many of the characters (e.g., presence or absence of white in upper tail coverts, under tail coverts, thighs, wingstripe, axillaries, etc.) can be evaluated in the field. An on-line copy of the Jehl index is on Joe Morlan's web site.

Bibliography:
Hayman, P., J. Marchant, and T. Prater. 1986. Shorebirds: An Identification Guide to the Waders of the World. Croom Helm, London.
Jehl, J.R., Jr. 1985. Hybridization and evolution of oystercatchers on the Pacific Coast of Baja California. Neotropical Ornithology, A.O.U. monograph 36:484-504.
Roberson, D., and C. Tenney, eds. 1993. Atlas of the Breeding Birds of Monterey County, California. Monterey Pen. Audubon Soc., Carmel CA.
Sowls, A.L., A.R. DeGange, G.S. Lester, and J.W. Nelson. 1980. Catalog of California seabird colonies. U.S. Dept. of Interior, Fish & Wildlife Serv., Prog. FWS/OBS 37/80.
Webster, J.D. 1942. Notes on the growth and plumage of the Black Oystercatcher. Condor 44:205-211. [This paper has 6 black-and-white photos of a youngster's growth from newly hatched to about-to-fledge juvenal; also shows variation in bill length in youngsters.]
Use these links to reach other portions of the Monterey County list:
Part 1: Waterfowl through Grebes
Part 2: Albatrosses through Frigatebirds
Part 3: Herons through Cranes
Part 4: Plovers through Sandpipers
Part 5: Jaegers through Alcids
Part 6: Doves through Woodpeckers
Part 7: Flycatchers through Larks
Part 8: Swallows through Pipits
Part 9: Waxwings through Warblers
Part 10: Tanagers through Sparrows
Part 11: Grosbeaks through Finches
or just the plain Checklist (no annotations)
Readers may use this material for their own private enjoyment, study, or research but none of the photos or text herein may be used commercially nor may they be reposted on other web sites without written permission. All material is copyrighted. The posting of photos and text on this private web site is not a submission to review organizations.

TO HOME PAGE

TO MONTEREY COUNTY LIST PORTAL PAGE

Page created 12-28 Mar 2004