THE MONTEREY COUNTY LIST
Annotated checklist and data resource
text © Don Roberson
photos copyrighted by photographer(s) credited
all photos taken in Monterey County, California
Clark's Grebe
Aechmophorus clarkii
| | |
| --- | --- |
| Clark's Grebe is a regularly located large grebe in Monterey County (MTY). It is found widely on both freshwater lakes inland and on saltwater inshore, especially in sheltered bays and estuaries. In years when water levels are right, hundreds nest at Lake San Antonio. In any year, fair numbers arrive in winter along the coast, starting in October and remaining into March. Their numbers are fewer than Western Grebe, and most Clark's are found in flocks of Westersn. | |
Clark's Grebes are large gray and white grebes with long dagger-like bills. They have bright red eyes. Bill color ranges from dull yellow-orange (below left) to a much brighter yellow-orange, often as spring approaches (above or below right). There changes in basic plumage when dusky smudging around the eye darkens the otherwise white face and makes it much more difficult to separate between Clark's and Western Grebes. Bill color usually remains helpful.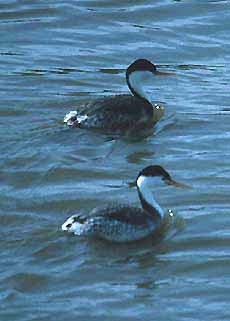 As noted, separating Western and Clark's Grebes is not always easy. They usually occur together in the same flocks, and Clark's is generally identified by its orange-yellow bill, but the fact that the eye is in the white part of the face, by paler flanks, and by a narrower black stripe connecting the crown with the back. These differences are easily seen on the birds shown at left. There is still much to be worked out between the two sibling species when in an ambiguous plumage. For more information see Ratti (1979), Nuechterlein (1981), Storer & Nuechterlein (1992), and Eckert (1995).

All photos © D. Roberson except that attributed to Bob Tintle. Top 6 Mar 2004 Elkhorn Slough; above left 5 Apr 1991 Moss Landing; above right 1 Oct 1994 Moss Landing © R.F. Tintle; left (both species) 5 Apr 1991 Moss Landing harbor. Below, both shots 6 Mar 2004 Elkhorn Slough.
But for most of the year and under most circumstances, it is easy to pick out Clark's among flocks of Western Grebes by bill color, face pattern, flanks and neck color. Below are two rather typical examples of Clark's Grebes.
Where to find a Clark's Grebe in MTY: This large grebe can be reasonably common and widespread in migration and winter, and some will remain through the summer. When nesting, hundreds of pairs can be seen around the north end of Lake San Antonio. Favored winter locales are:
Elkhorn Slough and Elkhorn Slough Estuarine Research Reserve, and Moss Landing Harbor
Monterey harbor, sometimes in the harbor but more often just offshore the Coast Guard pier or off the tip of the Commercial Wharf (Wharf #2, the one you can drive on and park in the metered slots).
Just offshore the sandy beaches from Ft. Ord south to Del Monte Beach, Seaside; scope from the "Cross" just south of Monterey Beach Hotel or from the roads that dead-end at the ocean north of the hotel
Sheltered covers like that between Lovers Pt. and Otter Pt. in Pacific Grove, or Stillwater Cover in Pebble Beach
Just off the beach at the Big Sur R. mouth or the Pajaro R. mouth
Fair numbers are found on the local Christmas Bird Counts (CBC), almost always in much larger flocks of Western Grebes. While the nesting colonies on Lake San Antonio seem to have about equal numbers, wintering flocks are almost always weighted heavily to Western Grebes. The recent average* for the Monterey Peninsula CBC is 11 Clark's Grebes, and on the Moss Landing CBC it is 117 grebes (but some of those are in adjacent Santa Cruz County). There have been years when runs of small fish concentrate larger numbers just offshore; some 787 Clark's were reported on the Moss Landing CBC on 1 Jan 2001, at the same time when over 12,000 Westerns were totaled.

* = "recent averages" for Christmas Bird Counts are found by compiling the totals reported for last dozen counts, throwing out the high and low counts that may be biased by observer error or bad weather, and averaging the remaining ten counts.

Literature cited:
Eckert, K. R. 1995. Photo note: Western and Clark's Grebes. Birding 27: 54-55.
Nuechterlein, G. L. 1981. Courtship behavior and reproductive isolation between Western Grebe color morphs. Auk 98: 335-349.
Ratti, J. T. 1979. Reproductive separation and isolating mechanisms between sympatric dark- and light-phase Western Grebes. Auk 96: 573-586.
Storer, R. W. and G. L. Nuechterlein. 1992. Western and Clark's Grebe in The Birds of North America, No. 26 (A. Poole, P. Stettenheim, and F. Gill, eds.). Academy Natural Sci., Philadelphia, and Amer. Ornith. Union, Washington, D.C.
Use the following links to other portions of the MTY checklist:
Part 1: Waterfowl through Grebes
Part 2: Albatrosses through Frigatebirds
Part 3: Herons through Cranes
Part 4: Plovers through Sandpipers
Part 5: Jaegers through Alcids
Part 6: Doves through Woodpeckers
Part 7: Flycatchers through Larks
Part 8: Swallows through Pipits
Part 9: Waxwings through Warblers
Part 10: Tanagers through Sparrows
Part 11: Grosbeaks through Finches
or just the plain Checklist (no annotations)
Readers may use this material for their own private enjoyment, study, or research but none of the photos or text herein may be used commercially nor may they be reposted on other web sites without written permission. All material is copyrighted. The posting of photos and text on this private web site is not a submission to review organizations.

TO HOME PAGE

TO MONTEREY COUNTY LIST PORTAL PAGE

Page created 23 Nov 2004