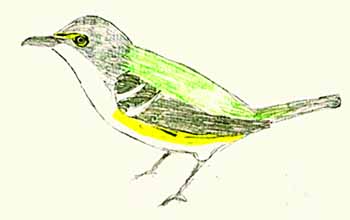 WHITE-EYED VIREO Vireo griseus
24 May 2000 at Big Sur River mouth, MTY, California

Today Jim Booker and BSOL interns Eddie Price, Stacy Scott, and Jason Scott discovered this vireo singing at the Big Sur R. mouth in Andrew Molera State Park. It was frequenting a large & dense patch of willows with thick poison oak understory west of the outhouse where one enters the "headlands patch" on the north side of the river mouth itself. It was usually by itself although occasionally it interacted with a family of Wrentits in that same patch. The afternoon was unusually calm for spring, and there was a dense fog layer on the coast.
Jim called me at 2:30 p.m. and (after alerting others, mostly by leaving a host of messages on answering machines) I arrived at 3:30 pm. Jim and the interns were still with the bird which was singing in the dense thickets as I walked up. They then left, and I spent an hour with the bird, seeing it well (but briefly) twice during the next hour. It sang much of the time between 5-10 minute intervals without singing. It gave a wide variety of vocalizations, including a fairly standard staccato "chip-per-wee-o-check!" song, then switched to a loud "pic! - ker-chee" song, a "ker-chee, ker-chee, chick!" song, various versions of the loud sharp "pic!" note (like a very sharp Hairy Woodpecker) followed by a antshrike fast "hahahahaha" trill, a "Ker!" note followed by a downscale dry flat trill (Jim thought "spadebill-like"), a rising & falling "wheeer" note (copied vocally by one of the wrentits), and a fairly standard vireo chatter.

Description: a small, very active, bright & contrasty gray-headed yellow-flanked little bird. Smaller than adjacent Wrentits (and much shorter-tailed) and more lithe than a fledgling Song Sparrow nearby. It was always restless and moved substantial distances unexpectedly (and out of ear-shot) over a several hundred yard area. I had excellent (but brief) views with 8X binoculars as it came close to the trail and worked up into the 8-10 canopy of trail edge willows, or nervously bounced about a more open poison-oak patch, sitting up on bare twigs several times. It was a small vireo, sometimes cocking a comparatively short tail, with comparatively heavy bill (with a distinct hook --vireo-like -- at the tip). My eye was immediately drawn to a medium-gray head that set off yellow "spectacles" (eye-ring and loral stripe that seems to meet over the bill) and a white throat, giving a "colorful" look to the head. I could see a white eye with dark pupil. The gray extended across the crown and nape, and contrasted with greenish back. Underparts white except for bright yellow flanks, which are themselves nicely set off from black wings. Two reasonably broad white wingbars cross the black upperwing coverts (tips of greater & median coverts). Didn't note the color of rump, tail (non-contrasting color -- either greenish or dark), or legs.
I saw the bird sing a couple times but mostly I just listened to it giving the variations detailed in the opening paragraphs. A pair of Wrentits were nearby for part of the time, and they seemed to be vocally copying the "wheeer" notes (and maybe others... Price told me he thought the Wrentits were doing some of the song.... but I never felt they did).

This is the 2nd record for MTY; the first was banded by BSOL here at the Big Sur R. mouth 4 June 1994 but never seen again.

— Don Roberson, Pacific Grove CA


Addenda: we learned later that Nancy McMahon had a bird singing in this exact spot on 20 May that she could not identify; she returned the next weekend and confirmed that what she had heard was the song of this White-eyed Vireo. Thus it has been here since 20 May but not identified until 23 May. The bird remained in this exact same patch through 17 June; I saw or heard it several more times. It had a well defined territory within the patch and could be heard singing at its various song posts along the boundary.
On 12 June, Booker caught a White-eyed Vireo in the BSOL nets a mile upstream and banded and released it. It was sexed in-hand as a female [no cloacal protuberance]. The next time Booker was down at the "headlands" he paid special attention to see the legs of this singing White-eyed Vireo — it was unbanded. Therefore we have two separate reasons to be sure that the 12 June bird was a different individual than this territorial male.