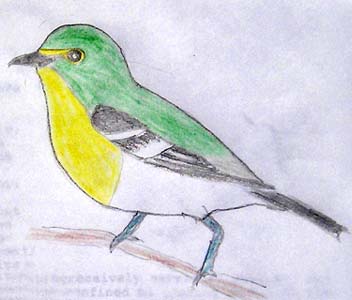 YELLOW-THROATED VIREO Vireo flavifrons
15 Oct 1999 at Carmel River mouth, MTY, California

Rita Carratello and I decided to meet late in the afternoon of this Friday to bird the Carmel River; shortly after arriving we ran into Bill Hill and Jeff Barnum. The four of us decided to look at the 'Odello Lagoon' so we took the rough trail up from the riverbed to the 'Odello parking lot' which leads to the open fields south of the sewage treatment plant. As we crossed this old parking lot next to the treatment plant, we came upon a flock of chickadees. I went to the west end of the lot to look through them. Very shortly thereafter I spotted a bird with wingbars and a very bright yellow breast in a live oak. I called out to the group that I had a "Blackpoll or better" and then said "in fact, it's so bright it might be a Yellow-throated Vireo." Bill Hill then refound the bird higher in the crown of the oak and stated "yes, I've got it, it's a vireo" and we were soon all have long & leisurely views of a very bright, crisp Yellow-throated Vireo. The flock was working toward the willows along the edge of the river and the vireo followed. We later had even closely and more nearly eye-level views in a willow. The flock included several Yellow-rumped & Townsend's warblers, and bright Tennessee Warbler, along with the Chestnut-backed Chickadees. The vireo did not vocalize.

Description: A big-headed, short-tailed, medium-sized vireo -- this shape is really quite different from our usual vireos. The bird had a heavy, hook-tipped, vireo bill; black in color. Legs were rather thick and in good lighting were obviously blue-gray in color. A big blackish eye dominated the face, and it was encircled with a yellow eyering with continued over the lores as a yellow line to create prominent yellow "spectacles."
The vireo was rich green throughout the head and back, contrasting with a very bright yellow throat and breast. This yellow breast then sharply contrasted with clean white belly and undertail coverts. In good light we had great views of the rich green back that gave way to a sharply set-off soft gray rump. Upperwing coverts, remiges, and rectrices black. The median and greater wing coverts had sharply-defined white tips creating two white wingbars. The lower wingbar was very broad -- almost twice as broad as the upper -- and therefore very obvious; the upper edge was a bit "ragged" sending "teeth" of white upward along the edge of each feather (recalling White Wagtail on this feature, but less pronounced that the wagtail pattern). All tertials & secondaries & outer rectrices were edged white; edgings on tertials broader than on the remiges/rectrices.
This is the brightest Yellow-throated Vireo I've ever seen, so crisp and colorful. While the Yellow-throated Vireo that summered on the Big Sur River molted into a brighter plumage, it still did not look to me (and I saw it in September near the end of its molt) nearly as bright as this Carmel River individual. I suspect this bird is a first-year bird.

Status: This is now the third record for Monterey County. The prior two were adults that summered (or, in the case of the one found dead in August 1981, likely summered).

— Don Roberson, Pacific Grove CA


Addenda: this Yellow-throated Vireo was seen the next day (16 Oct) by Bill Hill, Jim Booker, and others, and on 17 Oct by Alan Eisner et al. It was thereafter seen daily to 23 Oct (last seen by Craig Hohenberger et al.).