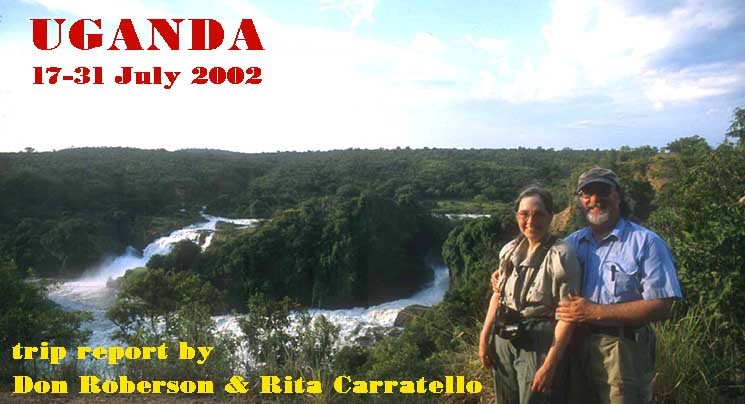 This is a report of a bird & mammal watching trip to Uganda, now a safe and splendid destination for tourists. Highlights included:

10 primates, including fine experiences with Gorilla and Chimpanzee
16 of 24 birds endemic to the Albertine Rift
Shoebill, Pel's Fishing-Owl & Pennant-winged Nightjar at Murchison Falls
Lesser Jaçana at Lake Bisina
Brown-chested Lapwing & African Finfoot at Lake Mburo
Giant Forest Hog, African Civet, and ~390 birds in 15 days
Uganda has been through troubled times in past decades with Idi Amin, Milton Obote, and the murder of 8 gorilla tourists by Rwandan rebels at Bwindi in March 1999. Today, however, it is a rebounding country. The economy is booming while that in adjacent Kenya is in decay. The Ugandan army has sealed the borders around Bwindi and armed escorts protect every tourist going into the forest there. Insurgency near the Sudanese border in the north (the Lord's Resistance Army) changed some of our routes in 2002, but presented no dangers. The people throughout were friendly and helpful, and prices were much less expensive than the well-traveled tourist routes in Kenya and Tanzania. We had mostly pleasant accommodations (sometimes luxurious) and good food throughout, although the road system (rough, bumpy dirt in many places) left much to be desired. The parks were brimming with birdlife. With a birdlist of over 1000 species in a country the size of Great Britain, it is said to be the birdiest country in Africa.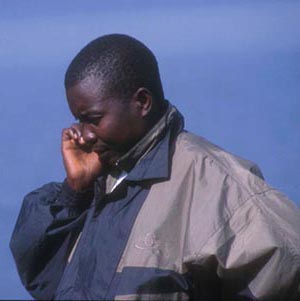 Upon the recommendation of Jon Hornbuckle, Rita & I engaged Hassan Mutebi (right) as our guide/driver throughout. His company Access Uganda Tours, run jointly with his fiancée Jaria, handled all our arrangements splendidly. [Hassan's brother was leading another group of birders for the company at the same time, and we overlapped briefly with them at Queen Elizabeth II park.] Hassan is an active member of the Uganda Bird Guides Club, and currently has the 3rd highest bird list for the country. As he was confirming arrangements for us and other groups, he seemed constantly on his cell phone (as in this shot) -- we were amazed at the cellular phone coverage throughout the county (we don't have that good of coverage in Monterey Co., U.S.A.!). He was a good driver and companion, and knew the important bird sites. We also did some brief exploring of thornscrub east of Masindi with good results. By hiring Hassan directly as our driver/guide and having him make arrangements, the cost of the land portion of our visit was less than half that charged by most bird tours for similar length trips.
Our 15-day Uganda visit was part of a month-long honeymoon adventure that was followed by almost two weeks in the game reserves of northern Tanzania (with our friends John & Elaine Sorensen) and a brief transition stop at Mountain Lodge, Kenya. [Our United & British Air connections required that we fly out of Nairobi if we wanted to fly directly into Entebbe, Uganda.] With Hassan's help, we designed an itinerary that maximized our chances to see Shoebill, Gorilla, and Chimpanzee while making a clockwise circuit of much of western and central Uganda. I really wanted to go for Uganda's only endemic bird — Fox's Weaver — and that required a full day (8 hours drive to and from Jinja). [We were taken to weaver colony and told they were Fox's; we only learned a decade later that they were not.] We also wanted two days at higher elevations in the Bwindi-Impenetrable Forest to search for Albertine Rift endemics, and we wanted to visit Lake Mburo in hopes of the finfoot and other specialties. Hitting all these hot spots in just 15 days meant a lot of driving, and comparatively little time at each locale. We could easily have used more days at Bwindi, Queen Elizabeth, and Murchison Falls parks. We also had to cut out the Budongo Forest entirely (it is on the "usual" route of most bird tours) to accommodate a Fox's Weaver attempt. As Rita & I had birded Gabon [see our Gabon trip report], and many lowland forest species of the Congo Basin are shared between Budongo and Gabon, this seemed the site most easily deleted (but we did thus miss a number of birds oft-found by tours, such as Puvel's Illadopsis).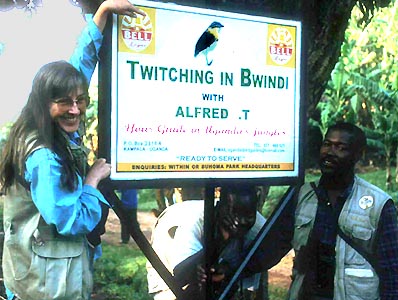 At the prime spots, Hassan hired local experts as our birding guides. The best bird guide in Uganda is Alfred Twinomujuni, a former school teacher who now is a professional bird-leader fulltime (left is Alfred's sign at his house at Buhoma, with Rita, Hassan, and Alfred, left to right). He particularly specializes in birding at Bwind-Impenetrable Forest. He knows all the calls and has tapes of the endemics and more to call in the many secretive undergrowth or canopy species. Because he is often pre-booked by organized bird tours, we sought to book him long in advance. We had to change our itinerary to book him for our 4 days in Bwindi, thus retracing our steps to Mburo rather than stopping there enroute from Entebbe (the international airport) and Bwindi. Even at that, he was unaccountably double-booked our final day and did not have him as our guide at Buhoma — this was a costly loss for us in terms of birds missed. At Kibale Forest we had the excellent Ronald, at Mabira forest Ibraham, at Bigodi Swamp it was Jose, and the fill-in for Alfred at Buhoma was Levi.
One must also book the gorilla trekking long in advance to get the day of your choice. It costs $275 per person for the gorilla tracking day with guides, guards, and trackers, plus another $10 or so if you want a porter for your gear. We had hoped a third birder might join us so pre-paid for 3 spots for gorilla tracking; unfortunately, we were unable to resell our extra permit. In fact, although the park takes groups of six to the gorillas daily, the four other tourists who happened to reserve spots on our day didn't show up, leaving just Rita & I do go tracking the Mubare group. This was fabulous for us as we could go at our own pace and enjoy our hour with the gorillas without competing for viewing spots with anyone else!
A brief list of our itinery follows, and a map with a key to the overnight stays on each of our 15 days:
Day 1: arrive Entebbe, change $ in Kampala, drive to Kabale (6 hours drive) with brief stop Kaaku Swamp
Day 2: all day at Ruhiza in Bwindi highlands; Alfred & I hiked into Mubwindi Swamp
Day 3: morning at Ruhiza, drive to "The Neck" for midday, reaching Buhoma in late afternoon
Day 4: gorilla tracking most of day; late afternoon birding around Buhoma
Day 5: morning and mid-day inside forest at Buhoma; late afternoon in overgrown cultivation outside park
Day 6: early morning in cultivation at Buhoma (outside park), all-day drive to Lake Mburo Nat'l Park with stops
Day 7: all day L. Mburo, including boat ride on lake; transfer to Mbarara in late afternoon
Day 8: travel from Mbarara to Queen Elizabeth II National Park, boat ride on Kazinga Channel in afternoon
Day 9: morning in Queen Elizabeth II National Park, mid-day drive to Ft. Portal, afternoon at Bigodi Swamp
Day 10: morning chimpanzee tracking & birding Kibale Forest, late afternoon at Bigodi Swamp again
Day 11: all day drive Ft. Portal to Murchison Falls National Park, stopping at Butiaba Escarpment enroute
Day 12: morning game drive north of Nile, afternoon boat to Murchison Falls, stay until dusk for bats, etc.
Day 13: very long drive Murchison Falls park to Jinja via Kampala, with 3 half-hr stops in scrub SE of Masindi
Day 14: all day roundtrip Jinja to Lake Bisina and return
Day 15: morning in Mabira Forest (rained for awhile), drive to Entebbe via Kampala and tourist shopping
fly to Nairobi early next morning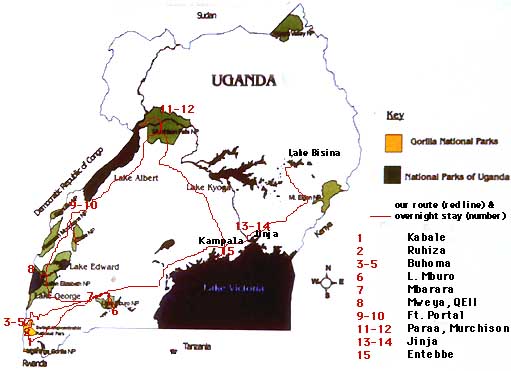 Rita & I had previously been to Gabon and South Africa (and I had been to Kenya), so we focused our efforts on specific birds and families, rather than attempt a big number with lots of common and widespread species. It would have been nice to share the experience with one or two others of similar temperament, but we had a great time. Other world birders (and certainly those visiting Africa for the first time) may wish to set a more hectic pace and get a higher species total. For those, bird tours are good (Rockjumper Tours out of South Africa or Birdquest out of England are good) or you can spend more time and visit more places. Jon Hornbuckle's 17-day trip in July 2001 was excellent. They added Budongo Forest and Mgahinga National Park that we did not do; see his trip report on-line on Worldtwitch. Others add a visit to Semliki Forest.
As this was a trip undertaken by just Rita and me, we were able to structure each day as we wished. This generally meant very early breakfast (almost every place we stayed was accommodating to this request — a real contrast to more touristy places!), serious morning and afternoon birding or game drives, but a nice lunch and an early (e.g., 6 or 7 pm) dinner most days. We almost always got a nice 8 hours sleep — another key difference from a the more hectic pace of a serious bird tour. We had time to photograph when we wished, and time to concentrate on the species we wanted. On the other hand, our ~390 species in 15 days is about 100 species less than a hardcore bird tour with a professional leader; e.g., the 12-day Birdquest tour that our friend Steve Bailey took in August 2002 — Steve personally saw 488 birds). [And bird tours get even more species in the northern winter when Eurasian migrants are in abundance.] Yet in comparing our bird list to Steve's list, we saw about the same number of "critical lifers" (species for which a Uganda trip is crucial) and even more Albertine Rift endemics than did his trip. We got Brown-chested Lapwing, and Toro Olive Greenbul; he got Kivu Ground-Thrush, Red-chested Owlet, and Hartlaub's Marsh Widowbird. We both tried for and missed African Green Broadbill, Green-breasted Pitta. and Fox's Weaver; only the very fortunate find these specialties. I was particularly pleased, however, with my photographic opportunities during our quick-paced trip. With the help of Alfred, or Rita, or Hassan playing tapes, I was able to photograph, for example, these four usually secretive bush-shrikes:

These are Luhder's Bush-Shrike Laniarius luehderi (Ruhiza, upper left), Doherty's Bush-Shrike Malaconotus dohertyi (Ruhiza, upper right), Black-headed Gonolek Laniarius erythrogaster (Queen Eliz. II park, lower left), and Papyrus Gonolek L. mufumbiri (Kazinga Channel, lower right).

We went in July to avoid the rainy season (mostly Nov-Apr, but sometimes into June and as early as Sept), but Alfred tells us that this choice handicapped us in terms of birdsong and responsiveness. We had to work hard with tapes for almost every Albertine Rift specialty — in April-June and again Sept-Oct, these birds are much more responsive and readily seen. We missed all the crimsonwings (4 species in the Rwenzoris); Alfred says all 4 had been rather easily found in May. The African Green Broadbill is nesting then. We had some afternoon showers in the mountains and a morning of rain at Mabira — even in the "dry" season — so our concerns about rain in other months may have been overdone. Indeed, my Swedish friend Stefan Lagerblad led a trip (with Hassan as his driver) in January 2002 that recorded 579 species in 20 days. One good thing about July, however, is that most weavers and widowbirds were still in breeding dress. By the time we got to Tanzania in August, most weavers there had molted into basic plumage. My prior trip to Kenya in November, and Lagerblad's trip to Uganda in January, were all at times when one struggles with non-breeding-plumaged weavers.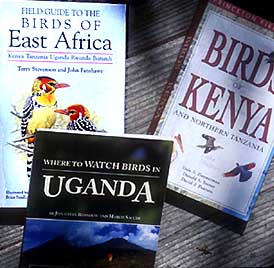 Birders are very fortunate these days to have an outstanding bird-finding guide to Uganda (Rossouw & Sacchi 1998) and two fabulous field guides (Stevenson & Fanshawe 2002, Zimmerman et al. 1996). The Birds of East Africa by Terry Stevenson & John Fanshawe is the guide of choice for Uganda. It includes all the birds of that country; it has good maps and text facing each page of plates; and the 3 artists did an excellent job of capturing most species accurately. It is one of the best field guides in the world. The Zimmerman et al. Guide to Kenya and Northern Tanzania covers 85% of Uganda's birds but does not have the Albertine Rift endemics or northern Uganda specialties, so one does not use it much in the west or north. But it is very good for the Kampala area; its maps are better as they show seasonality (although the maps are inconveniently located in the text in the back of the book); the text is more extensive; and some of the plates (e.g., raptors) were a bit better. Jonathan Rossouw and Marco Sacchi"s Where to Watch Birds in Uganda — absolutely filled with gorgeous photos, maps, and complete lists for every bird site — is one of the best bird-finding efforts in the whole world. Finally, for problems with specific birds, I reviewed the text and art in the Birds of Africa series, especially for greenbuls (Keith et al. 1992) and sunbirds (Fry et al. 2000). And I enjoyed Harris (2000) on bush-shrikes and batises.
Tapes are very important in the Uganda forests. Alfred had his own set that we used extensively at Ruhiza. I had bought a new mini-disc recorder and a high-end Sennheiser shotgun microphone. These proved invaluable in seeing papyrus specialties and in forest birding, although I was not yet proficient in the use of this new equipment. We had Jonathan Rossouw's Bird Calls of the Uganda Forest with its 83 species, almost all specialty birds of the forest and including almost all the endemics; it is a highly recommended tape available through Rockjumper Tours. I had also transcribed some recordings from Keith & Gunn's (1971) Birds Sounds of the African Rain Forest phonograph record. Despite these resources, many birds were simply not responsive in July. This is just after the breeding season for many of them.
Adding to these resources, we found very helpful trip reports on-line. I've mentioned Jon Hornbuckle's and Stefan Lagerblad's trips above, but also useful were Henk Hendriks' and Alan Wilkinson's reports from the early 1990s; Giles Mulholland's report from June-July 2001; and notes from Richard Thomas who had visited in June 2002. Hornbuckle, Thomas, Mulholland, and Rossouw all answered pre-trip questions via email, and we are very grateful for all that assistance.
The links below go to pages with a detailed daily log and a complete trip list. Each page includes many photographs.
PHOTOS: All photos on this page are © 2002 Don Roberson; all rights reserved. Many other shots from this trip are scattered about the web site. Check particularly bird families, mammals, and herps listings.
Literature cited:
Fry, C., S. Keith, and E.M. Urban. 2000. The Birds of Africa. Vol. VI. Academic Press, London.

Harris, T. 2000. Shrikes and Bush-Shrikes. Princeton Univ. Press, Princeton, N.J.

Keith, S., E.M. Urban, and C. Fry. 1992. The Birds of Africa. Vol. IV. Academic Press, London.

Rossouw, J., and M. Sacchi. 1998. Where to Watch Birds in Uganda. Uganda Tourist Board, Kampala.

Stevenson, T., and J. Fanshawe. 2002. Field Guide to the Birds of East Africa. T. & A.D. Poyser, London.

Zimmerman, D.A., D.A. Turner, and D.J. Pearson. 1996. Birds of Kenya and Northern Tanzania. Christopher Helm, London.
TOP
GO TO TRIP REPORT PORTAL
Page created 1-2 Sep 2002, slightly updated 10 Sep 2011