OCEANIC ISLANDS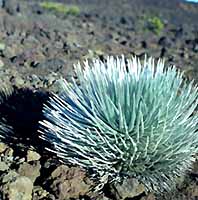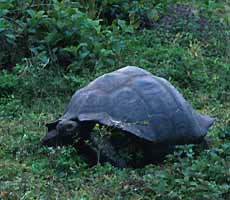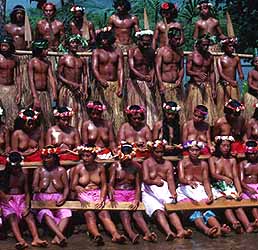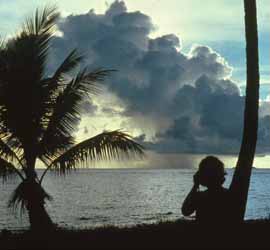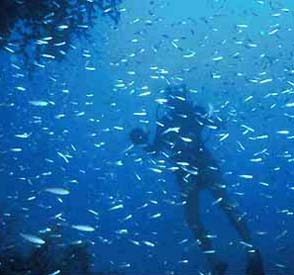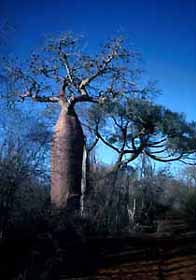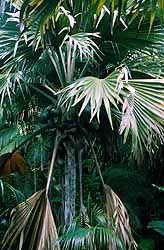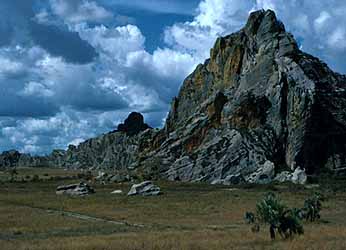 My concept for this realm is all those offshore oceanic islands -- well separated from the major continents -- which host birds other than strictly pelagic species. My concept of "Oceanic Islands Realm" are those islands so far from the continents that they have developed their own own distinctive avifauna. The vast majority of these islands are tropical, and the most prominent from the perspective of unique birds are Madagascar, New Zealand, and New Caledonia. In addition, this realm includes many island chains that are far offshore. Prominent among them from a birding perspective are Hawaii, the Galapagos, the Marianas, Micronesia, Melanesia, Polynesia and other Pacific islands, and in the Indian Ocean, the Seychelles, Réunion, and Mauritius. The few landbirds on Gough and Tristan da Cunha in the south Atlantic would also qualify. My collage of images are:
(top) Highlands heath in bloom in Tongariro Nat'l Park, North Island, New Zealand, 27 Dec 1997.
(next to top) Rainbow over Lake Yaté, Parc de la Riviére Bleue, New Caledonia, 8 Jan 1998.
(3d row left) Silversword on Haleakala crater, Maui, Hawaii, in Sep 1989.
(3d row right) Galapagos Tortoise in the hills of Santa Cruz I., Galapagos, 25 Sep 1989.
(4th row left) Cultural show on Ponape, Micronesia, in Sep 1978.
(4th row right) Approaching storm at Truk Lagoon, Micronesia (that's me watching; photo by B. B. Roberson).
(5th row left) SCUBA-diving in Truk Lagoon, Micronesia (me & fish; photo by B. B. Roberson).
(5th row right) Row of baobabs, Ishfay (north of Tulear), southwestern Madagascar, 20 Nov 1992.
(bottom left) Coco de Mar Palm (largest palmnut in the world), Praslin I., Seychelles, 12 Nov 1992.
(bottom right) Isalo Masif, south-central Madagascar (country that surprisingly reminded me of Utah), 22 Nov 1992. All photos © D. Roberson, except those attributed to my dad, B. B. Roberson.
These Oceanic Islands have many endemic landbird species, and some of them have the most endangered species on earth. Habitat loss and introduced competitors, predators and diseases threaten all small-island avifaunas. Virtually all of the native birds of Guam have been lost, many Hawaiian species have gone extinct and others are on the edge, and the famous Dodo was exterminated by the first men to reach Mauritius. To me, these threatened islands are very special places, deserving of attention in their own right. [Of course, there are many great islands that are considered part of a continental shelf and share much of their avifauna with the continent. Many of these are considered part of Asia (Japan, the Philippines, Taiwan, Borneo, Sumatra, Java, Sulawesi, and the Sunda chain) but others are considered part of the Nearctic (the Caribbean islands), or the Neotropics (like Trinidad), or the Western Palearctic (Great Britain, Ireland, Cypress, etc.), or Africa (Sao Tomé, etc.)].

FAMILIES

Ten families are entirely endemic to the Oceanic Island realm, some of them among the most wonderful birds on earth:
AVAILABLE REFERENCES
Handbook: New Zealand is the only large oceanic island with a handbook series underway; it is included with Australia and the Antarctic in Marchant & Higgins (1991) and following volumes. They are reviewed on the Australasia page. The Hawaiian Islands are included within the Birds of North America project (Poole et al. 1990 and on-going) and fascicles of some Hawaiian species are available (e.g., 'Akepa by Lepson & Freed 1997); this series is reviewed on the Nearctic page. A lot of information about native Hawaiian birds is in Scott et al. (1986).
Field Guides: The only major field guide that covers a big chunk of this realm is Pratt et al's (1987) A Field Guide to the Birds of Hawaii and the Tropical Pacific. This is a superb modern guide with outstanding plates and the most recent taxonomy. It covers Hawaii and a huge area of the Pacific -- west to the Marianas (Guam et al.) and Palau; south to Fiji, Samoa, and Tonga; and southeast as far as the Marquesas, Pitcairn, and Ducie I. (but not Easter I.). Basically one can think of it as Hawaii, Micronesia, and Polynesia. It does not, however, cover Melanesia (Solomons or Vanuatu). For the remainder of the realm, the guides are:
For New Zealand, a very good new guide & mini-handbook by Heather & Robertson (1996). It far surpasses the guides previously available. Its only drawback is its expense in the U.S. -- I tried to order the hardcover from a bookseller here and was quoted $90. I found a hardcover copy in the Auckland airport bookshop for under $25.
For the Galapagos, there is a new guide that I've not seen (Castro & Phillips 1997) that likely surpasses the old standard Harris (1974) which was adequate but unreliable in separating out the ground-finches and for anything challenging, like seabirds.
For the northern Solomons, Hadden (1981) has descriptions of all species and photos of some, but must be a hard book to locate. Frankly, I have no idea what one does for the rest of the Melanesia except to use Pratt et al. (1987) for the widespread species and research all the endemics in family books. [A new guide is in press.]
For New Caledonia, there is a two-volume set in French (Hannecart & Letocart 1980, 1983) which is very inadequate, even if you can read French. The books are aimed at a general non-birding audience and are there organized by habitats; the i.d. stuff is very brief (in fact, all text is short); and the illustrations are all photos of varying quality (no field guide plates at all). The translated English names are a joke. But one can get by quite adequately because there aren't that many species involved. [I just had my local library obtain them via inter-library loan and then made xeroxes of important pages]. A new field guide in English will apparently be out soon, and will surely be a major improvement.
For Madagascar, the standard field guide & mini-handbook is the rather heavy Langrand (1990), an okay guide for native birds (hopeless for shorebirds, accipiters, etc.), but now one is well-advised to supplement it with the reasonably lightweight photographic guide by Morris & Hawkins (1998). This has an outstanding collection of photos of all species (a few in-the-hand, but most in-the-wild).
For the other Indian Ocean islands -- Mauritius, Réunion, Seychelles, Comoros -- there is a new (1998) guide by Ian Sinclair & Olivier Langrand (who have done guides to South Africa and Madagascar, respectively) that I have not seen, but I suspect will be a major improvement over what I used during my visit: Michel (1992) for Mauritius (mostly just a collection of average photos), Barré & Barau (1982) for Réunion (the best field guide of the previous lot, but only in French), and the outdated Penny (1974) for the Seychelles.
For the south Atlantic islands of Tristan da Cunha and Gough, Watson (1975) has color plates of the species.
If one is only visiting Hawaii, in addition to the Pratt et al. (1987) field guide described above, the Hawaii Audubon's pocket guide (Shallenberger 1986 or later reincarnation) is user-friendly, and is well worth obtaining just to marvel at Doug Pratt's paintings of the endangered forest birds (the original paintings, as I understand it, hang in the Hawaii State Capitol).
Journals: There is no journal covering these areas which is of more than local interest. The 'Eleipao is a fine paperback journal for Hawaii (with peer-reviewed articles), and there are local bird-club newsletters in New Zealand and presumably elsewhere.

Non-bird Book [nature / exploration / science]: An exceptional book that all birders should read -- if only to understand the process of evolution better -- is Jonathan Weiner's (1994) The Beak of the Finch. It is the story of Peter & Rosemary Grant's research in the Galapagos on Darwin's finches (on the deserted island called Daphne Major). This Pulitzer prize winning book details not only some most unexpected research results, but reads like a novel in telling the human story of grinding out scientific study on a lonely, isolated and yet lovely place.

BEST BIRDS [see my explanation for choosing "best birds" here]

My choices for the 7 "best birds" in the Oceanic Island realm follow. The first few surely would be universal choices, but after that it gets difficult to choose between so many fine birds. Left out are any mesites or asities in Madagascar (not to mention such endangered species as the White-winged Ibis Lophotibis crestata and Madagascar Red Owl Tyto soumagnei), the Pink Pigeon Columba mayeri of Mauritius, the Saddleback Creadion carunculatus and Takahe Porphyrio mantelii of New Zealand, the Golden Dove Ptilinopus lueovirens of Fiji, and many Hawaiian honeycreepers (but see a brief discussion of an "extra" pick following the 7 which made it into the "top 50" list:
Kagu Rhynochetos jubatus rare, exotic, unusual & strange -- everything one could ever want in a bird is found in the Kagu, a ground-dwelling near-mythical species endemic to New Caledonia. I'll have much more about it on my Kagu page, but suffice it to say that, until recently, it was entirely misunderstood. It is a diurnal species that lives in extended family groups, not the nocturnal species all the older books say it is. It has come back from the brink of extinction due to a tremendous effort at predator control and much research into its biology. Among birds, it is creme de la creme.
Kakapo Strigops habroptilus The largest and perhaps strangest parrot in the world, this flightless, nocturnal beast with lekking behavior (the males "boom" from a bowl on the ground) is almost extinct. It was extirpated by introduced predators throughout its native range in New Zealand; the last truly wild birds were on Stewart Island. All 37 Kakapo known to exisit in 1987-1992 were translocated to predator-free Little Barrier Island (Collar et al. 1994) where the world population hovers around 50 birds. Little Barrier Island may only be reached via permit and boat arrangements, but even that won't help one see this bird. Only researchers are allowed into the protected area where these few survive. There are hopes for further translocations in the future if the population expands.
Long-tailed Ground-Roller Uratelornis chimaera I'm not sure how this wraith got the name chimaera, but it is a good choice. It is a quiet and shy species of the spiny desert in southwestern Madagascar. Laying eggs in burrows in the ground, it combines the look of a roadrunner with the metallic-blue wing-coverts of pittas. Stuart Keith (1974) included it with the Congo Peafowl and Great Argus pheasant as among the world's most impressive and yet elusive birds in the world. Since then seeing one has been high on my lists of desires; you can read the story of an eventual success on the Ground-Roller page.
any Kiwi Apteryx sp. there are three kiwis endemic to New Zealand, all nocturnal and difficult to observe. Any is an incredible treat: Brown Kiwi A. australis, Great Spotted Kiwi A. haastii, and Little Spotted Kiwi A. ownii. All are vulnerable to predator by dogs and other introduced predators; the latter is particularly endangered and has been introduced on some predator-free offshore islets in hopes of saving it from extinction.
Kokako Callaeas cinerea one of three endemic Wattlebirds in New Zealand, one (Huia Heteralocha acutirostris) is extinct and the other (Saddleback Creadion carunculatus) exists only where reintroduced on predator-free offshore islets. The Kokako still exists in native forests on North Island but is very rare and hard to find. Rita & I hiked many miles in search of it, without success, and will have to return. It has an incredible vocal repertoire.
Helmeted Vanga Euryceros prevostii by far the most difficult of the vangas to locate, this strange bird is restricted to dense rainforests of northeastern Madagascar. Until recently it could be located only by undertaking a major expedition, but new locales have recently been discovered that have permitted tours to reach the spot (but still not without significant effort -- sadly, it was returning from this difficult site that the van accident occurred which took the life of Phoebe Snetsinger, the world's top-ranked lister and a wonderful person). The Helmeted Vanga (sometimes just called "Helmetbird") remains one of Madagascar's great exotics.
Mauritius Kestrel Falco punctatus endemic to Mauritius, this species went through an evolutional bottle-neck and survived. When I first read much about it in the late 1960s/early 1970s, it was considered just about the rarest bird in the world. It had been reduced to just 6 birds by 1974 (and just two known breeding pairs) -- seemingly without enough genetic diversity to endure for long -- but an aggressive captive-breeding program has brought it back from the grave. By the time I saw several birds in the wild in 1992, there were 250 kestrels already back in the wild (many hatched from wild nests) and still expanding, with more in the captive-breeding program. Habitat loss is what endangered it, and there still is little native habitat on this cut-over island (once home to the Dodo). But this one just might make it. What a treat it was to see an actual success story!
plus, if I could have another choice in this category, I might chose one of Hawaiian honeycreepers such as:
Ou Psittirostra psittacea once widespread on most of the major Hawaiian islands, it is now almost gone. Birders I know who live there know of no reports in the last few years. This yellow-headed, green-bodied, parrotbilled species could stand for any of the endangered Hawaiian honeycreepers which have been lost one-by-one over the span of my lifetime. Kauai Akialoa Hemignathus procerus, with its unbelievably long decurved bill, was last seen in 1964; the Nukupu'u H. lucidus, virtually unheard-of in the last decade; the Maui Parrotbill Psudonestor xanthophrys and even rarer Po'ouli Melamprosops phaeosoma, just discovered in 1973 and perhaps now down to the last handful. It is a depressing topic. The most obvious culprit is avian malaria, carried by mosquitos and unknown to native species (which have no natural resistance built up by co-evolution over time). The disease has a reservoir in all the introduced species which plague the Hawaiian lowlands, and the mosquito has been found higher and higher upslope in recent years. It has reached the elevational level at which the Ou lived, but is still lower than the Palila Loxiodies bailleui and the top of Haleakala on Maui.
FAVORITE PHOTOS: This link goes to a page with the three favorite Oceanic Island bird photos that I have taken so far.

Literature cited:
Barré, N., and A. Barau. 1982. Oiseaux de la Réunion. Imprimerie Arts Graphiques Modernes, St. Denis, Réunion.

Castro, J., and A. Phillips. 1997. A Guide to the Birds of the Galapagos Islands. Princeton Univ. Press, Princeton, N. J.

Collar, N. J., M. J. Crosby, and A. J. Stattersfield. 1994. Birds to Watch 2: The World List of Threatened Birds. BirdLife International, Norwich, U.K.

Hadden, D. 1981. Birds of the North Solomons. Wau Ecology Institute No. 8, Wau, Papua New Guinea.

Hannecart, F., and Y. Letocart. 1980, 1983. Oiseaux de Nouvelle Caledonie et des Loyautes. 2 vols. Les Editions Cardinalis, Noumea, New Caledonia.

Harris, M. 1974. A Field Guide to the Birds of Galapagos. Collins, London.

Heather, B., and H. Robertson. 1996. The Field Guide to the Birds of New Zealand. Viking, Aukland, N. Z.

Keith, G. S. 1974. Birding planet Earth -- a world overview. Birding 6: 203-216.

Langrand, O. 1990. Guide to the Birds of Madagascar. Yale Univ. Press, New Haven.

Lepson, J. K., and L. A. Freed. 1997. 'Akepa (Loxops coccineus) in The Birds of North America, No. 294 (A. Poole and F. Gill, eds.). The Academy of Natural Sci., Philadelphia and A.O.U., Washington, D. C.

Marchant, S., and P. J. Higgins. 1991. Handbook of Australian, New Zealand, and Antarctic Birds. Vol. 1 (in two Parts). Oxford Univ. Press.

Michel, C. 1992. Birds of Mauritius. 3d ed. Editions de L'Ocean Indien, Stanley, Mauritius.

Morris, P., and F. Hawkins. 1998. Birds of Madagascar: a Photographic Guide. Yale Univ. Press, New Haven.

Penny, M. 1974. The Birds of Seychelles and the Outlying Islands. Collins, London.

Poole, A. F., P. Stettenheim, and F. B. Gill, eds. 1990-ongoing. Birds of North America: Life Histories for the 21st century. Published individually in fascicles, Acad. of Sciences, Philadelphia, Amer. Ornithol. Union, Washington, D.C., and Cornell Lab. of Ornith., Ithaca, New York.

Pratt, H. D., P. L. Bruner, and D. G. Berrett. 1987. A Field Guide to the Birds of Hawaii and the Tropical Pacific. Princeton Univ. Press, Princeton, N. J.

Scott, J. M., S. Mountainspring, F. L. Ramsey, and C. B. Keplar. 1986. Forest Bird Communities of the Hawaiian Islands: Their Dynamics, Ecology, and Conservation. Studies in Avian Biol. 9, Cooper Ornith. Soc.

Shallenberger, R. J. 1986. Hawaii's Birds. 3d ed., 2d revision. Hawaii Audubon Soc., Honolulu.

Watson, G. E. 1975. Birds of the Antarctic and Sub-Antarctic. Amer. Geophysical Union, Washington, D. C.

Weiner, J. 1994. The Beak of the Finch. Knopf, New York.
TOP
BACK TO HOME PAGE
BACK TO LIST OF BIRD FAMILIES OF THE WORLD
page created Feb 1999, updated 23 Apr 2000