Daily Journal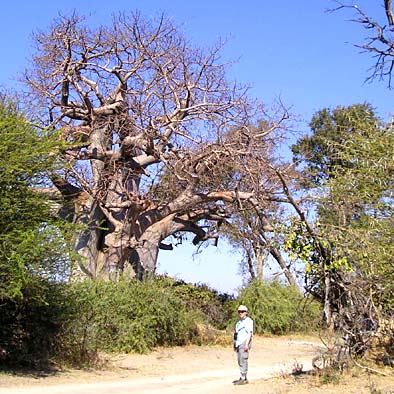 Day 24 (23 July): Our accommodations near Rundu at the entrance to the Caprivi Strip was Nkwazi Camp, a small establishment right on the banks of the Kavango River (which is called the Okavango River in Botswana). We looked directly across into Angola. War-torn Angola is now open for visitors again, but we ran into several folks who had been there recently (including one who did U.N. refugee work), and learned the country is dysfunctional; bribery is rampant and required to accomplish anything; and that land mines present a major problem. Nonetheless it was interesting to look across and, as it turned out, we saw one lifer — Coppery-tailed Coucal — in Angola before it was seen elsewhere. I actually have an 'Angola list' for about a dozen species, without ever stepping foot inside the country. There were a few new birds around camp (Swamp Boubou, Hartlaub's Babbler) but mostly there were German tourists camping. It is very popular for campers and backpackers to go on bus tours of this part of Africa. This is a cheap way to see Africa, and dozens had arrived the night before to put up little pup tents everywhere throughout the bit of woods around the resort.
While driving out the sandy roads from Nkwazi we came upon a small rain puddle that held a juvenal Painted Snipe! We stopped in bits of Brachystegia woods and roadside scrub during our drive through the Caprivi Strip, netting new trip birds such as Meve's Long-tailed Starling and Cut-throat Finch. Violet-backed Starling in pairs was a surprise in mid-winter. A mid-day stop at Mahunga Reserve — the last spot in Namibia before one crosses the Botswana border — was very productive. This is one of very few reserves that permits one to leave your car, so we were very aware that a Lion or Elephant could be around the next bush. The best spot was at the Giant Baobab (right) which edges a huge swampy plain that is full of wildlife (Red Lechwe especially) and waterfowl (flocks of White-faced Whistling-Duck and Spur-winged Geese, herons, jaçanas). Here we found our only pair of Wattled Crane of the trip. And the drive through the reserve was entertaining with herds of Sable Antelope and a pair of Roan Antelope.
After the brief formalities at the border, we drove into Botswana and almost immediately had a mysterious falcon perched next to the road. We stopped for a look, it soared up and over our heads and off, and proved to be a vagrant Gray Kestrel (see annotated list for details). Past the ramshackle town of Shakawe we found the signs to Drotsky's Cabins. We were booked here on the banks of the Okavango River for two nights, but learned that another busload of campers had also just arrived. We were offered the option of staying at Xaro Camp, about 5 miles downriver, where only 4 American birders were in residence, and spot reachable only by boat. We jumped at that option. I knew (from Jeri Langham) that our friends Ed Harper & Susan Scott were somewhere in southern Africa, so on the long-shot asked if the Americans included an "Ed and Sue"? "Yes," we were advised. And as our boat pulled into Xaro Camp late that afternoon, there were Ed & Susan (with their newly wed friends Michael & Deborah), sitting on the banks of the Okavango, beneath the tall trees, enjoying an alcoholic beverage. I took this shot (below) from the boat as we pulled up. Susan & Ed (to the left) still haven't figured out who we are (they had no idea we were in Africa) while Michael (who had never met us) waves a friendly hand. Ed and Sue were completely surprised by our arrival (a more proper group photo is further down this page):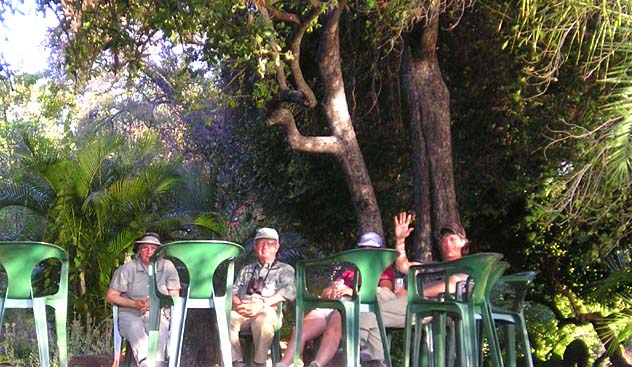 Day 25 (24 July): A full day on the Okavango River by boat, cruising both downstream and upstream of camp. We got to see the difficult papyrus bird (e.g., Chirping Cisticola, Little Bittern); sandbars with African Skimmers; isolated clumps of riverine thickets that served as day roosts for White-backed Night-Heron; flooded backwaters with glimpses of Sitatunga and African Pygmy-Geese; and great experiences with otters.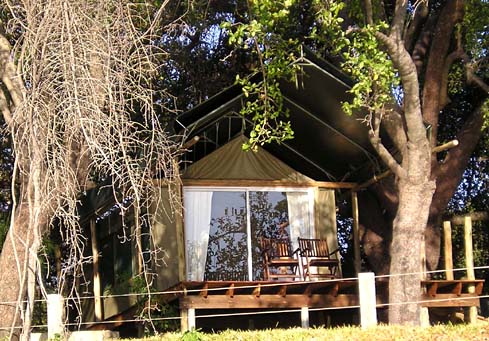 Xaro Camp (pronounced "Karo Kamp") was lovely. We had glass-fronted chalets (right) fronting the river. White-fronted Bee-eaters perch on the hanging vines in front of our cabin (and in summer, swarms of Carmine Bee-eaters will also be in, but they were entirely gone in winter). The only negatives were how cold it got at night and the fact that one had to leave the chalet to visit the restroom/shower bungalows. But meals were very good, and the alcoholic selection excellent.
The woods around camp were good for many new trip birds, some of them lifers. We were taken to a Pel's Fishing-Owl roost at mid-day, being very careful not to disturb them. At dusk the evening before, Richard had called in an African Barred-Owlet for Ed and me. Other woodland highlights included Western Banded Snake-Eagle and Retz's Helmet-Shrike.
Day 26 (25 July): We had a long way to go today, so we reluctantly left Xaro Camp after breakfast for Drotsky's (picked up Arrow-marked Babbler, Terrestrial Brownbul, and Yellow-fronted Tinkerbird there) and headed back north into Namibia. We stopped at Mahunga Reserve again. No cranes today but an African Barred-Owlet was calling mid-morning and Richard brought him in for Rita's lifer. There were fresh Lion tracks (so were cautious when outside the vehicle) and more Roan Antelope.
We drove back through the Caprivi Strip (lunch in Rundu) and into the main part of northern Namibia. As Roy's Camp was full, we had booked the only alternative nearby as a convenient stopping point for the night: Dornhugel's Game Farm. This proved to be a small family-run farm in ranch land (not good for birds) but interesting because it was now operated as a bed-and-breakfast by a German couple, and all the guests were German tourists. We had interesting discussions about Europe, Namibia (and its Germanic heritage), and American politics over an abundant dinner table and while drinking 'sun-downers' at the outdoor fire pit. It was not a shock to find that all the Europeans agreed with us that Bush is a disastrous President. It was a shock to learn that even the folks living on remote ranches in Namibia had watched and knew everything about the TV show Desperate Housewives!