Daily Journal

Day 1 (30 June): We left home in Monterey, California, at 11 am for flights to Los Angeles, on to London, and then on to Cape Town, arriving at 8 am on the morning of Thursday, 30 June. Richard White, our Rockjumper guide & driver, met up with Adam Riley's personal Honda which was intended to be our vehicle for the trip (but this would change later). We knew from Internet postings before we left that there was a sheathbill somewhere in Cape Town harbor, so Richard made phone calls for local information (reaching no one but leaving messages) as he drove us to the penguin colony at Boulders Beach in Simonstown. A couple of lifers were seen enroute which meant that Jackass Penguin would prove to be Don's 5000th world bird [see a special page on this event].
During lunch the local information came in, so we drove back to Cape Town harbor and had a search for the sheathbill from the port's main jetty. It was blowing a gale and we had no luck. After the long plane flights (21 hours in the air) we were exhausted, so crashed at the City Lodge hotel by 4 pm.

Day 2 (1 July): This day was our Great White Shark trip. A photo page will be up in due course. The van picked us up at 6:15 am and, after picking up 10 other passengers, we drove two hours to Gansbaai. After breakfast there we climbed aboard a small modified dive-boat for the half-hour trip to Dyer Island. Again, the wind was howling offshore but we anchored on the lee side where the seas were calm. We anchored here for 5 hours (as had 6 other small boats) and put out bait in hopes for sharks. It took a couple hours, but then the sharks got interested and we ended up seeing five huge Great White Sharks (2 male, 3 female). While waiting we enjoyed an assortment of seabirds, including both species of Giant Petrel that came to pick at the bait. Enroute back to Cape Town we got distant views of Southern Right Whales in Walker Bay. We didn't get back to the hotel until 7:30 pm (after dark) but we learned via phone that Richard had seen a sheathbill today, and that tomorrow's planned pelagic trip was canceled due to high winds.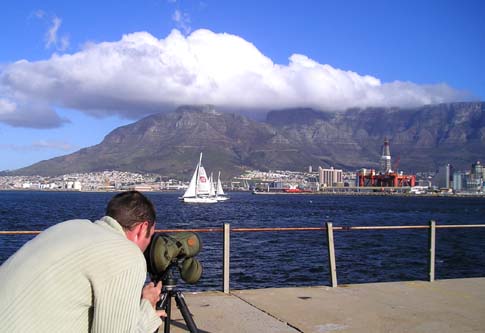 Day 3 (2 July): We spent all morning chasing after sheathbills in the Cape Town harbor in high winds. We scoped two birds early on from a long distance but they disappeared, and by the time other birders had gathered, we could not show them to others (I'm sure our credibility took a dive). If nothing else, the view of Cape Town & Table Mt. (right; Richard is scoping the distant jetties on which we had the sheathbills) was good. Fortunately, local birder Eugene Fourie turned up and as he worked out at the loading docks, he took us through locked gates to the spots we had scoped. They weren't there either, but I scoped one on another distant jetty, and after more back streets, we found it for photos before it took off to the far end of the harbor. We then transferred from City Lodge, which is downtown by the harbor, to the Afton Grove guesthouse in Noordhoek, a pretty little bed-and-breakfast much closer to Simonstown (port for the boat trip) and the Cape of Good Hope. Afton Grove is also run by birders so there were bird magazines of interest in our room!
The wind was now blowing very hard and we learned that even tomorrow's back-up day for the boat was canceled (but they would try to reschedule for Monday). In the afternoon we drove a couple hours east of Cape Town along the coast, visiting sites along Walker Bay (e.g., Hermaness, Rooiels) and through Richard's local knowledge picked up much-wanted birds: Victorin's Warbler, Cape Sugarbird, and Cape Rockjumper! It was a 3-new-family day for me. Late in the afternoon we stopped briefly at Strandfontein, a major waterbird site south of Cape Town.
Day 4 (3 July): We began this gloomy overcast day at Jonker Dam, a spot the locals call "Black Hill," west of Noordhoek. Walking trails here through fynbos habitat proved to be excellent, especially as the day warmed up. Fynbos is a low, scrubby, succulent habitat — vaguely recalling chaparral — but composed of native plants such as Protea. It is the linchpin habitat of the Cape Floral Kingdom. As I understand it, there are only six Floral Kingdoms on earth (e.g., all of North America and Eurasia is in one Floral Kingdom), and the Cape Floral Kingdom is limited to a small part of one country: South Africa. Over 8700 species of plants are endemic to this tiny Kingdom. Bird highlights included Cape Grassbird, Orange-breasted & Southern Double-collared Sunbird, Red-headed (Gray-backed) Cisticola, and Cape Siskin.
At midday we visited the Cape of Good Hope Nat'l Park — lovely scenario and a nice lunch, with re-introduced Eland and Blesbok thrown in — and then a late afternoon visit to Kirstenbosch Gardens on the lower slopes of Table Mountain. Here we ticked, among others, Cape Batis, Forest Buzzard (a lucky coup), and a feeding flock of dainty Swee Waxbill (another coup). At dinner we learned that they make decent pizza in South Africa, enjoyed with an '04 Beyerskloof Pinotage.
Day 5 (4 July): This was the day of Don's pelagic trip (see that link for full details). Rita chose not to do the pelagic but, instead, was able to arrange a ride to Cape Town and then a visit by ferry to Robben Island, where Nelson Mandela was imprisoned during the apartheid years. We celebrated all our successes with a superb dinner at the Southern Right Hotel in Glen Cairn, washed down with an excellent Fat Bastard Chardonnay.
Day 6 (5 June): An early morning visit to a local spot in the Constancia greenbelt eventually netted outstanding (almost unbelievable) views of the very secretive Knysna Warbler. We then headed north up the coast toward Lamberts Bay, stopping to bird the Tienie Versveld Wildflower Reserve (Cloud Cisticola in display, Thick-billed Lark) and West Coast Nat'l Park. The latter is a vast expanse of dunes with fynbos scrub in the inter dune valleys, and a huge lagoon with flamingos. A small pond off a side road yielded good views of African Rail and Karoo Lark, plus the first of a dozen Angulate Tortoises. We got only a distant view of Black Harrier, but at the north entrance gate area had startling close encounters with Black Bustard.
A long detour inland in hopes of Protea Canary failed on that species, but near Wittewater we enjoyed a graceful pair of Blue Crane (below). We didn't actually make it to Lamberts Bay until after dark. We would see the famed Cape Gannet colony (below) until the next morning.