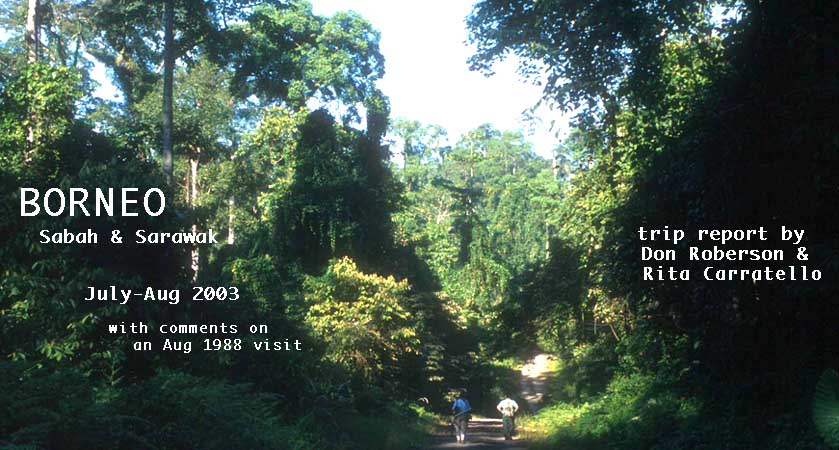 above: spectacular lowland dipterocarp forest along the access road to Borneo Rainforest Lodge, Danum Valley
This is a report of a month-long bird & mammal watching trip in Borneo, visiting the Malaysian states of Sabah & Sarawak. Highlights included:

24 of 36 possible Bornean endemics, including Bornean Bristlehead (an endemic family), among 240 birds recorded
good views of 5 broadbills, 4 pittas, and male Great Argus
multiple experiences with wild Orangutans (plus the semi-wild apes at Sepilok; right)
~33 species of mammals, including 8 primates, 4 civets, 3 flying-squirrels & a flying-lemur (Colugo)
huge monitor lizards, 5 species of snake, cool lizards
spectacular scenery in lowland forest (above) and on Mt. Kinabalu (left)
scrubfowl, snorkeling & sea-snakes at Pulau Tiga
great eco-lodges & excellent guides
Between 17 July-13 August 2003, we spent nearly a month (25 days) on Borneo. A brief list of our itinerary follows, and a map with a key to the primary locales of our visit. Some of these are quite well known to birders and naturalists: Mt. Kinabalu (the highest mountain between the Himalayas and New Guinea), Sepilok orangutan rehabilitation reserve near Sandakan, and Danum Valley. Don had visited Mt. Kinabalu and Danum Valley during ten days in August 1988. Other spots are just now beginning to be well-known, such as Sukau and its lodges on the Kinabatangan River, or the offshore islet of Pulau Tiga (famous recently as the filming locale for the first "Survivor" TV series). Mulu National Park in Sarawak is well off the usual birder trek, and therefore somewhat of an unknown adventure. Our visit was arranged by Kingfisher Tours who worked with us to create the itinerary we wanted. They arranged all the lodging and transportation (mostly by Borneo Ecotours) so our trip was essentially hassle free, yet it cost less than half of what a bird tour would cost. We flew from California to Singapore on United Airlines (both of us had enough free mileage for this round-trip!) and thereafter on Malaysian Airlines. Excluding our overnights in Singapore, the itinerary was:
Day 1: arrive in Kota Kinabalu from Singapore late in afternoon
Day 2: flights to Miri, Sarawak, and then small plane to Mulu. Birded next to Miri airport during long layover
Days 3-4: Birded Mulu Nat'l Park from our base at Royal Mulu Resort
Day 5: a travel day — fly Mulu to Miri to Kota Kinabalu; picked up at airport for 2 hr drive to Mt. Kinabalu
Days 6-9: four full days birding Mt. Kinabalu (Gunung Kinabalu in Malay, so "GK" on list) at 5300-7300' elevation
Days 10-11: visit to Poring Hot Springs, on the flank of Mt. Kinabalu and within the nat'l park, at 1500' elevation
Day 12: mostly a travel day — drive to Kota Kinabalu, fly to Sandakan; late afternoon at Sepilok reserve at Orangutan feeding time
Day 13: morning in Sepilok Forest Reserve; drive to Sukau with afternoon visit to Gomantong Cave
Days 14-15: one full day & one morning on Kinabatangan River from base at Sukau Rainforest Lodge; 2 hr late morning drive to Lahad Datu and afternoon 2.5 hr drive to Borneo Rainforest Lodge
Days 16-21: seven full days at Borneo Rainforest Lodge (BRL) in Danum Valley, including a day visit to Danum Valley Field Centre
Day 22: travel day — after morning at BRL, mid-day 3 hr drive from BRL to Lahad Datu for late afternoon flight to Kota Kinabalu
Days 23-24: visit to Pulau Tiga, including 2 hr drive to & from Kota Kinabalu to boat at Kuala Penyu, and half-hr boat rides to & from island. Overnight P. Tiga with afternoon & morning snorkels and visit to Pulau Ular by small boat
Day 25: early morning departure for Singapore
| | |
| --- | --- |
| Borneo is the largest island in the Greater Sundas. It is divided among three countries: Malaysia, which we visited, has two states (Sabah & Sarawak); Indonesia (southern two-thirds of island, known as Kalimantan); and the small sultanate of Brunei. On the closer map (right) the locales we visited are shown by red arrows. | |
Looking at trip reports on the web, it seems that most birders have visited Sabah in the spring, February-May. We printed out and took these trip reports with us:
Rik Addison, James Gilroy, Mark Baynes & Simon Mahood in March-April 2002 [we loved the enthusiasm and British wit in this detailed daily log; we called them "the boys" in our daily conversation, like, "did you read how 'the boys' got up predawn to hike this trail? How silly!"
Vladimir Dinets in Oct-Nov 2002 [these pages are unique, full of stories and thumbnail photos of a wide range of natural history. Vladimir is a mammalogist first and a birder somewhere down the line, but he does have a complete bird & mammal list of his trip on-line, although you must translate all of it from the Latin names]
David Massie in May-June 2001 [good site details]
Moira & Graeme Wallace in April-May 2001 [very useful & detailed site information]
Sam Woods & Tim Marlow in Feb-Mar 2001 [must have bought this one somewhere; its a printed, published report]
Jon Hornbuckle in March-April 2000 [very solid information]
Susan Myers in Feb-March 2000 [nice breezy account of a comparatively short trip]
John Penhallurick in April 2000 [quick reading bird list with subspecies]
and we also had a 1989 trip report from Hans Beste of Australian fame [his hand-drawn maps of sites were the best we found, and still reasonably accurate today].
A new resource, not available during our planning, is the directory of on-line trip reports at Euro-birding (don't be put off by the name; they cover the world). We enjoyed comparing the trip reports mentioned above, finding similarities and differences between them both serious and amusing. Just what IS the common flocking babbler in Danum Valley? The reports disagree (see my linked bird list for discussion). And most of the observers were traveling "on the cheap" compared to our trip. We stayed in pricey eco-lodges and had drivers between sites, rather than grubbing it in the cheapest motel and taking buses. Most birders in the above reports stayed at the hostel at Danum Valley Field Centre (as I had done in 1988) rather than the "outrageously expensive" Borneo Rainforest Lodge (to quote one reporter). Well, BRL does cost RM450/day (about US$120 at the time of our visit), but all the remote and spectacular lodges in the Amazon cost at least US$100/day. It is well worth the price — includes all meals; very comfortable room with private bath, hot water, and 24-hr electricity and fan; unlimited drinking water; well-maintained trails; your personal guide (a value of US$40/day or more right there); and hour-or-more-long night drives available almost every night. The birding is better and easier than the Field Centre, and I have had direct comparison. And your ecotourism money helps support the rainforest preserve and shows that the forest has value beyond the price of cut timber. My view is that if you are going to travel halfway 'round the world to get to Borneo, just bite the bullet and pay for the best eco-lodges available. We realize not everyone can do that but if you can manage it, that's our recommendation.

We chose to visit Borneo in July-August because (a) it is easier for Rita, a teacher, to get time off in the summer and (b) it is the dry season so one is less likely to be hampered by the weather. We did not lose any days to the weather, but it clouded up and rained for several hours on most afternoons at Mt. Kinabalu, and also rained in the afternoon on several days in Danum Valley.
| | | |
| --- | --- | --- |
| | Don visited Borneo on his own in 1988 but this was Rita's first trip. The bridge over the Segama River at Danum Valley Field Centre is unchanged in the last 15 years (above). And, as these shots show, Don also remains (mostly) unchanged: photo from 1988 (left; taken in Sumatra a week after Borneo) and photo from 2003 (right; Borneo Rainforest Lodge). | |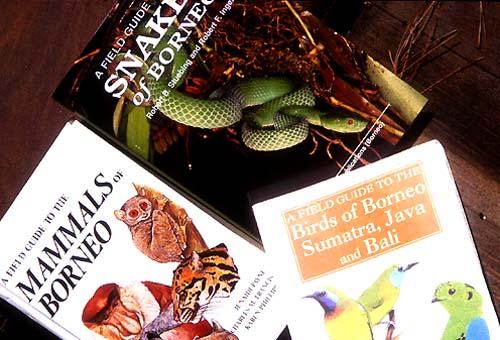 One thing that has very much changed since 1988 is the literature available. Now there are good field guides for birds, mammals, and many herps. For birds, MacKinnon & Phillipps (1993; shown in the photo) is perfectly adequate and a major improvement over the Smythies' pocket guide (Francis 1984) that I used in 1988. This new field guide does not match the level of detail or the current expertise shown in other recent field guides to tropical countries (e.g., the new guides for Uganda, Ecuador, Venezuela, etc.), and was little help for female sunbirds and other difficult problems, but is just fine for the wide majority of birds encountered. For mammals, the field guide by Payne, Francis & Phillipps (1985) had come out just in time for the 1988 trip and remains the standard today. For herps, I acquired Stuebing & Inger (1999) which was quite good and has spectacular color photos of many (but not all) snakes on the island, and Inger & Lian (1996) for an overview of the common reptiles & amphibians, again with good color photos of many species. All of these books can be acquired at a book store in the shopping center next door to the Hyatt hotel in downtown Kota Kinabalu, and we saw many of them for sale elsewhere, including the airport. I presume they can all be acquired via the Internet as well. I was also interested in the pitcher plants on Mt. Kinabalu, and bought the last copy of Kurata (1976) at the bookshop at Mt. Kinabalu headquarters.

We also profited from reviewing specialized texts on pittas and broadbills (Lambert & Woodcock 1996) and swiftlets (Chantler 2000), and papers on bulbuls and babblers (Dutson et al. 1991), Kinabalu Friendly Warbler (Harrap 1994), and Bristlehead (Colenutt 2002). Besides the on-line trip reports, good overviews of the birding locales are in Bransbury (1993) and Wheatley (1996), and the Oriental Bird Club published a pamphlet in 1994 on birding sites in Malaysia that was very useful. Showler (1992) published a good summary of birding opportunities at Danum Valley Field Centre. We enjoyed reading John MacKinnon's (1974) account of his initial research on Orangutans in Danum Valley (before it was a reserve), including his accounts of the natural history there.

In addition to the literature, I had a Sony Minidisc recorder with a Senheiser shotgun mike, allowing "trolling" for birds with the disc or tape-record & playback for unknown vocalizations. I had created my own custom disc of Bornean specialties from cassette tapes by Steve Whitehouse (2000), another by Frogmouth Publ. out of U.K. (1994), and some southeast Asia tapes put out by the British Library of Sounds (I'm told they now have a newer, upgraded CD). In any event, I had a custom tape with all the broadbills together, all the pittas together, etc. We really did not do that much taping but it was invaluable (a) in Mulu when trying to learn the birds on the first few days and (b) to tape in selected species. We would have missed some important birds without the tape (e.g., Whitehead's Broadbill & Kinabalu Friendly Warbler on Mt. Kinabalu; Banded Broadbill at Sukau; Blue-headed Pitta at Borneo Rainforest Lodge. At the latter site, however, our guide (Wangkong Intal) whistled in the other pittas for us without use of tapes.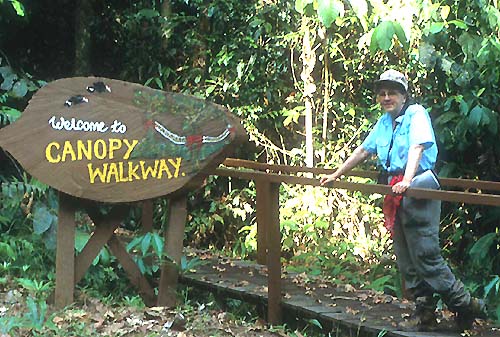 Other things that have changed recently are the amenities offered. There are now canopy walkways at Borneo Rainforest Lodge (right) and at Poring Hot Springs. The BRL walkway is excellent and feels reasonably safe, and it can be birdy at times. The one at Poring Hot Springs is much less sturdy; is often full of noisy tourists; and we saw zero (0) birds from it. It also costs $5 each and is thus a complete waste of money. There are also new observation towers at Danum Valley Field Centre and Sepilok Forest Reserve. We spent two hours on the latter one without seeing much but others have had some success. All these walkways and towers do give a different perspective as one is well up in the canopy.

Something that hasn't changed is the presence of leeches in the Sabah lowlands, particularly at Sepilok and Danum Valley. Note the stylish leech socks that Rita is wearing. They were effective for her and she got zero (0) bites. Don was less lucky and was bitten thrice, twice on his arms by Tiger Leech Haemadipsa picta. Unlike the painless bite of Brown Leech H. zeylandica, the bite of picta is painful and can (and did) become infected. Tiger Leeches are up in the low trees and bushes and drop onto the victim as he or she brushes by, unlike Brown Leeches which are on the forest floor and quickly inch-worm their way to feet and ankles. Rita made her own leech socks before the trip, but commercial ones are available for purchase ($12) at Borneo Rainforest Lodge.
Fifteen years ago the rutted road to Danum Valley went through hour after hour of clearcut tropical forest, a moonscape of utter devastation. Now, secondary forest has filled in much of the roadside but the logging continues out-of-view. On the 2.5 to 3 hour drives in and out of Danum Valley, one either passes or is stuck behind huge logging trucks full of huge trunks of tropical trees. The trucks stir up clouds of dust on the winding road and make the drives miserable; they also tear up the roads badly. Between Sandakan and Lahad Datu, one travels on nice paved roads through miles and miles of planted monoculture oil palms. When you turn off to go to Gomantong Cave and Sukau, the road become very badly rutted dirt and must be nearly impassable in wet weather. It is a bone-jarring experience. So much of lowland Borneo has been lost (see range maps for Bornean pittas, for example, in Lambert & Woodcock 1996; they map habitat for each species, and so much is gone). Yet, when you finally reach Danum Valley or the Kinabatangan River, the habitat is gorgeous. What is left of Borneo is very impressive. Support ecotourism to keep what remains pristine!
The links below go to pages with a detailed daily log and a complete trip list. Each page includes many photographs.
PHOTOS: All photos on this page are © 2003 Don Roberson; all rights reserved. Many other shots from this trip are scattered about this web site. Check particularly bird families, mammals, and herps listings.
Literature cited:
Bransbury, J. 1993. A Birdwatcher's Guide to Malaysia. Waymark Publ., Adelaide, Australia.

Chantler, P. 2000. Swifts: A Guide to the Swifts and Treeswifts of the World. 2d ed. Yale Univ. Press, New Haven, CT.

Colenutt, S. 2002. Little-known Oriental bird: Bornean Bristlehead. Oriental Bird Club Bull. 35:75-77.

Dutson, G., R. Wilkinson, and B. Sheldon. 1991. Hook-billed Bulbul Setornis criniger and Grey-breasted Babbler Malacopteron albogulare at Barita Ulu, Kalimantan. Forktail 6:78-82.

Francis, C.M., ed. 1984. Pocket Guide to the Birds of Borneo, from plates in B.E. Smythies, Birds of Borneo, 3d ed. The Sabah Society, Kota Kinabalu.

Harrap, S. 1994. Little-known Oriental bird: Kinabalu Friendly Warbler. Oriental Bird Club Bull. 20:24-27.

Inger, R.F., and T.F. Lian. 1996. The Natural History of Amphibians and Reptiles in Sabah. Natural Hist. Publ. (Borneo) Sdn. Bhd., Kota Kinabalu.

Kurata, S. 1976. Nepenthes of Mount Kinabalu. Sabah National Parks publ. 2, Kota Kinabalu.

Lambert, F., and M. Woodcock. 1996. Pittas, Broadbills, and Asities. Pica Press, East Sussex, U.K.

MacKinnon, J. 1974. In Search of the Red Ape. Holt, Rinehart & Winston, New York.

MacKinnon, J., and K. Phillipps. 1993. A Field Guide to the Birds of Borneo, Sumatra, Java, and Bali. Oxford Univ. Press, Oxford.

Payne, J., C.M. Francis, and K. Phillipps. 1985. A Field Guide to the Mammals of Borneo. The Sabah Society, Kota Kinabalu.

Showler, D.A. 1992. Birdwatching areas: Danum Valley Conservation Area, Sabah, Malaysia. Oriental Bird Club Bull. 16:26-31.

Steubing, R.B., and R.F. Inger. 1999. A Field Guide to the Snakes of Borneo. Natural Hist. Publ. (Borneo) Sdn. Bhd., Kota Kinabalu.

Wheatley, N. 1996. Where to Watch Birds in Asia. Princeton Univ. Press, Princeton, N.J.
TOP

GO TO TRIP REPORT PORTAL

Page created 26 Aug-1 Sep 2003