TRIP REPORTS: BIRDING THE WORLD
BORNEO July-August 2003: sites & daily log

Below are some impressions on the sites that Rita and I visited in Malaysian Borneo during a 25-day birding trip in July-August 2003; see the companion trip report for an introduction, and the companion trip list for annotated species lists. Under each site heading is also a brief daily log. All but the first and last locales are on the standard birding routes in Sabah. We also chose to visit Gunung Mulu Nat'l Park in Sarawak because (a) our friend Vladimir Dinets had reported a Hose's Broadbill there in Nov 2002 and (b) to be a bit adventurous and allowing us to visit Sarawak as well as Sabah. There are several islets on which megapodes can be found, including Pulau Manukan, Pulau Tiga, and Sipidan. We chose Pulau Tiga since (a) the megapodes were said to be common there; (b) I really wanted to see a sea snake and they come ashore daily on adjacent Pulau Ular; and (c) there is a nice resort there.
As we reside in central California, it took 'forever' to get to Borneo. We finally arrived 3 days later:
Day 1-2: Fly Monterey to San Francisco to Tokyo to Singapore; arrive in Singapore at midnight nearly two days later (but lost a day over international dateline). Fortunately we had a free flight through United's "Mileage Plus" program.
Day 3: mid-day flight on Malaysian Air from Singapore to Kota Kinabalu (via Kuching); arrive at dusk. Our overnights in Kota Kinabalu were at the Hyatt. This is on the waterfront downtown but it did have an adjacent shopping center with an excellent nature book store. As it turned out, we never had a free morning or afternoon here so we were unable to "pad" our Borneo list by visiting nearby Likas Bay for waterbirds or migrants waders.
MULU NATIONAL PARK, SARAWAK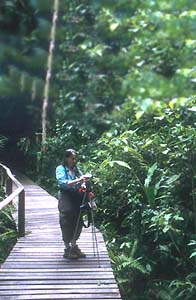 Gunung Mulu National Park is quite impressive. ["Gunung" means mountain; although Gunung Mulu dominates the landscape here it is much less overwhelming than G. Kinabalu.] The park attracts many visitors because of its accessible caves: these are some of the largest and longest caves in the world. Extensive boardwalks link the riverside headquarters area to various caves, and all traverse good lowland forest, including extensive peat swamp forest. Some of the boardwalks are several miles in length, and most are well maintained. Guides are required for tourest who wish to enter caves, but we chose not to do this. [We've visited many other impressive caves in the U.S.] Rather, we spent almost all our time birding from the boardwalks or along the river. The boardwalks make it easy for Rita to set up video on a tripod (photo right or above).
There are a few spots where cemented steps or walkways replace the boardwalk, but in either case, leeches are no problem at all! There really are only 3 major trails: Deer Cave trail; Clearwater Cave trail; and the Summit trail. The latter has a boardwalk for only the first couple kilometers and was thereafter a rough and muddy trail during our visit. We didn't get very far along it. We never really did the Clearwater Cave trail because we took a boat to Clearwater Cave instead.
It is not easy to reach Mulu Nat'l Park directly. We had to fly from Kota Kinabalu to Miri and then on to Mulu. The flights into and out of Mulu are via a small prop plane (the Mulu runway is short, although there are plans to extend it) but there were numerous scheduled flights each day, and they were on time.
In some ways it was unfortunate that this was our first stop. We had very little information on this site so this was a learning experience in sorting out the common lowland species. This often meant hunting down calling birds — sometimes using tape playback — to learn the common species. As it took 3 days to get any feeling for the regular stuff, we were not ready at this point to look for anything rare. We did visit all the spots where Hose's Broadbill had ever been reported (to our knowledge) and used the one tape we had, but without any success on that mega-tick. In addition, for people from coastal central California where the temperature never varies more than a few degrees from 60°F at any season, Mulu was oppressively hot and humid. I found it very hard to bird because my eye-glasses constantly fogged up! This is a spot where disposable contacts should have been a requirement.
Mulu is outside the main birding 'circuit' in Malaysian Borneo. An experienced Borneo birder might add something of interest here on a short visit, and perhaps we could have as well had this been our final stop rather than our first stop, but we didn't find anything amazing. Species that we found no where else during our trip included Black-thighed Falconet (Rita only), Gray-breasted Babbler, and seeing Red-throated Barbet.
We stayed at Royal Mulu Resort. This seemed to be the only option if you didn't wish to stay at the hostel at park headquarters. Royal Mulu Resort is very upscale and incredibly fancy. Huge private bungalows are linked with beautiful boardwalks. Each room has a huge bathroom, a refrigerator, and air-conditioning that gets so cold you can stay frigid if you want. There are fancy meals, entertainment at night, a big swimming pool, and then lots of activities: you can sign up for a boat ride, or rock climbing, or canoeing, etc. From a birders' standpoint, the boardwalks throughout the huge facility were great for birding; some passed under fruiting trees full of barbets, leafbirds, and bulbuls. But a problem was arranging for transport to the national park, about 3 km away. You could rent bicycles but we had lots of camera and video gear, not to mention the heat and limited time. There is regular van transport but sometimes the timing is not convenient. We could never get to the park at dawn and the first van of the morning was at 7:45, well after dawn. It was hard to determine when or if a van would arrive at a specified time, although there were regular pick-ups at noon and dusk.
Day 4: essentially a travel day to get to Mulu Nat'l Park, with flights from Kota Kinabalu to Miri, a long layover at Miri, and then a small plane to Mulu. At the tiny Mulu airport a van from Royal Mulu Resort picked us up and took us to the resort. During our layover at Miri on the Sarawak coast we walked over to some scrubby thickets and a neighborhood with small gardens to see some common open-country birds, including some (e.g., Scarlet-backed Flowerpecker) that we would not see elsewhere on the trip.
We finally arrived in Mulu about 2 pm and, after lunch, got a ride over to the park. We walked out to Deer Cave (3 km) and birded around there and the nearby helipad until dusk (~5:45 pm) when we watched the bat flight (right) from the "bat observatory" outside Deer Cave. Walking back in the gloom on a stretch of cemented trail near Deer Cave, I almost stepped on an Oriental Coral Snake! The snake was as surprised as I was, and we both backed off rapidly... After the very hot, muggy day, a shower and a Margarita were very refreshing.

Day 5: all day birding along the boardwalk to and from Deer Cave, and around heliport (but no Hose's Broadbill; did tape in Black-and-yellow Broadbill for first views of the trip). Mostly we sorted out common rainforest birds, sometimes with tape playback. Ran into some botanists who also knew insects, and thus got to see several species of walking-stick phasmid insects plus a very rare pitcher plant (Nepethes campanulata) through bins — they exist only on very steep cliffs and until very recently were thought to be extinct! Both were impressive [below left is a vid-cap of one phasmid by Rita Carratello].

Day 6: We had booked a private boat to take us to Clearwater Cave in hopes of seeing river edge birds, but it was very expensive ($40 for the morning). The boat ride was pleasant but not very birdy; finally managed one Black-and-red Broadbill and one Stork-billed Kingfisher. Clearwater Cave and picnic grounds were still in the shadows and not very birdy [this is the other spot where Hose's Broadbill has been seen, or so we read]. Not very exciting for birds, but there was a spot where many Rajah Birdwing butterflies gathered [below right in the vid-cap by Rita Carratello].

Day 7: Caught the earliest van available to the park and birded the summit trail boardwalk (just about 1 km) and then a portion of the muddy trail beyond. Spent a lot of time trying to see hornbills up in the canopy of a fruiting tree (eventually proved to be Wreathed) and worked some flocks. Had Gray-breasted Babbler and Orange-backed Woodpecker as highlights.
Left at 2 pm for the airport for 3 pm flight in tiny plane to Miri, and then 6 pm flight on to Kota Kinabalu. We were met by a van there and driven 2 hours to Mt. Kinabalu, arriving at 9:30 pm.

MT. KINABALU (Gunung Kinabalu), SABAH

above: morning view of Mt. Kinabalu from our cabin at Gunung Kinabalu Nat'l Park
After the heat of the lowlands, Mt. Kinabalu National Park is very refreshing. Headquarters is right off a major highway and extends up a ridge on the flank of the mountain at 5300-5500' elevation. There is a wide variety of lodging available. We were booked into one of the twin-bedded cabins; I think they were about $50/night but it was pretty basic after the luxury at Mulu. Each cabin has private bath, hot water, and a heating system (necessary; it gets quite cold at night). [Back in 1988 when I was alone, I stayed at the hostel which was only $5/night. But one shares a room with a half-dozen other tourists and it was only with some difficulty that I got them not to smoke in the room. Malaysia is full of smokers. There is a shared bath & shower down the hall. This is okay for young single guys but not recommended for couples!] The Liwagu Restaurant was a short (but steep!) walk from our cabin; we found the food to be good and quite reasonably priced, and we were able to charge all meals to credit cards. There is also a shop here with touristy items and snacks, and a small museum upstairs.
Most tourists come here to hike to the 14,000' summit; this requires a guide, a very long uphill hike on a trail with 10,000 steps, and an overnight stay at 9000' elevation. We did none of that although dozens and dozens of hikers passed us on the one Friday we were birding along the summit trail. The sheer number of hikers and guides made it very hard to bird along this trail; it was difficult to find a quiet spot between groups. All the hikers and tourists generally are very noisy.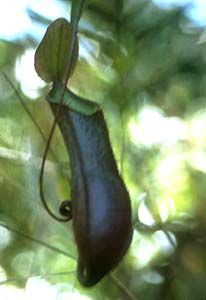 Fortunately for birders, almost no one walks the well maintained trails through the fantastic cloud forest around headquarters. Oh, it is very busy around the hostel and restaurants (one of which has an Internet room), but when you get into the forest it is peaceful. Like most forests in Borneo, you can go for a long time with no birds at all but suddenly you hit a flock with a good variety of species. The Silau-Silau trail is reputed to be very good for birds; we walked it numerous times but rarely had anything. Yet, our only Whitehead's Trogon suddenly appeared along that trail. We also did the lower sections of the Liwagu trail, the Kiau View trail, the Bukat Ular trail (from the power station down), the Pandamus trail, and various others. The clouds come in and often cover the headquarters area at any time after about 11 am; they were often thick by 2 pm. We found almost nothing on the trails or roads when the clouds were covering the forest.
Thus birding must be concentrated in the morning. A private ride via shuttle van up the summit road to the power station and adjacent Timpohan Gate (where the road ends) can be arranged at any time you wish by telephoning headquarters or by booking a ride the previous day. These rides cost about US$3/day. You can get a cheaper ride by using the regular bus but it does not usually leave before 7:30 am. We found the best strategy for us was to take the private van up at 7 am to the gate and then walk back down the summit road or down the Bukit Ular trail (it ends on the summit road about halfway down). From there one can continue up or down the summit road or take one of the side trails. Timpohan Gate is at about 6300' elevation so one gets a nice cross-section of forest from there down to headquarters. On days we didn't book a ride up to the Gate we walked up the road a bit and then down various trails (e.g., Kiau View or Silau-Silau; the upper end of each is across from the other).
We stayed 5 nights on Mt. Kinabalu and thus had 4.5 days of birding. This was just enough time to do reasonably well with difficult endemics but not enough time to really 'clean up.' We missed some specialties but got the two most important legs of the Whitehead's triad. To have a shot at Kinabalu Friendly Warbler and other higher elevations species (e.g., Mountain Blackeye is much more common higher up; Pygmy Blue-Flycatcher), one must hike up to at least 7000' elevation on the summit trail. Rita and I did it early one morning and reached the 3 and 3.5 km mark (respectively). We heard and glimpsed the "unfriendly" warbler but would never even have glimpsed it without a tape. The hike is difficult for middle-aged folks who are not in good shape; the trail is thousands of steep steps. But the forest is lovely and there are pitcher plants [above right isNepenthes tentaculata], ground squirrels, waterfalls, views, and other excitement beyond birds. Rita and I had seen Island Thrush in New Guinea, and thus were not concerned about it. If you want this highland specialty, one must get up to near 9000' elevation around Laban Ratu. There are overnight accommodations here but they must be booked in advance. It is astonishing that there is a motel and restaurant way up the mountain; everything used there has to be physically carried in by porters. You see these porters — both men and women — bearing huge sacks up the mountain using their foreheads to hold them on!
Day 8: As we had arrived so late the night before, we got up late (6:30am) and didn't get into the field until 8am (slow breakfast at Liwagu restaurant just across from our cabin). Then, with high hopes, we headed up the adjacent Silau-Silau trail, and saw exactly zero birds. This is how birding is on Mt. Kinabalu: long stretches of nothingness in beautiful cloud forest and, then, when least expected, a flock materializes. In our case, we reached the top end of the trail and were crossing the summit road when we heard Red-breasted Partridges calling in the woods directly across the paved road. I found an access point for Rita and me to enter, and we crept through the forest to the edge of a small ravine. Suddenly we were in a mixed flock of laughingthrushes (including an adult and fledgling Bare-headed, the only ones we would see on the trip), and Sunda and Short-tailed Magpies. The partridges were still calling nearby so I worked on them with my tape... and got a male to walk right up to us! What a treat! We then did a long loop via the Kiau View & Pandamus trails and didn't hit another flock for almost two hours. But then we were suddenly amongst Gray-throated Babblers, Indigo Flycatchers, White-browed Shrike-Babblers, a Velvet-fronted Nuthatches and more. This is the way it would go each day: dramatic peaks of highs and lows, and the dull low parts often lasting for hours. It just really takes time to bird the forest here.
Each afternoon the clouds would roll in — some days much earlier than others, and sometimes with rain — so we didn't bird much in the afternoon. We'd walk the roads around headquarters area, sometimes with umbrellas, and did run into Black-sided Flowerpecker and Temminck's Sunbird that way, but one most really focus attention to the mornings here. This day was different because the afternoon was pretty good, and we did the lower parts of the Liwagu trail and back up Silau-Silau; highlight was a pair of White-crowned Forktail, a much-wanted bird for Rita, and the male sat and sang at us.

Day 9: Since yesterday's weather was good and today is Friday, we chose this is our day to hike the summit trail. We hoped to avoid the weekend tourists and take advantage of a nice day. We arranged a ride up to Timpohan Gate for 7am and arrived just as the gate-man arrived. I explained we were only going up a few kilometers, so he let us in early at a reduced fee. [Some trip reports talk of getting up the mountain before dawn; I have no idea how they manage this with a locked gate and barbed wire meant to prevent this sort of thing]. First bird was a baby Sunda Whistling-Thrush perched next to Carson Falls (video moment for the Ritz).
It's 10,000 steep steps to Laban Ratu at 9000' elevation; I went half-way to about 7300' elev (km post 3.5; Rita turned around at km post 3.0). We did have some nice flocks of Chestnut-crested Yuhinas, Gray-chinned Minivets, and then, above 6500' elevation, lots of Mountain Blackeyes. As the morning wore on, more and more groups of tourists, with their guides, passed us on their way to the top of mountain (or actually to Laban Ratu, where they stay the night). It got really busy by late morning when it was hard to find any quiet stretch of trail to play tapes. We heard two singing Kinabalu Friendly Warblers, one of which responded to the tape and flew across the trail, but the look was pretty poor. Disappointing.... When we split up, however, Rita got nice video of Sunda Bush-Warbler (very common up here) and Snowy-browed Flycatcher while I found a lifer Pygmy Blue-Flycatcher.
We were very exhausted by the end of the hike and basically collapsed for the rest of the afternoon. This was okay because the clouds crowded in and obscured all viewing with light mist and rain.

Day 10: Up early and walked up the summit road to the top of Memping trail and down through the forest to breakfast (9:30 am; it's nice that the restaurant is open all day). Not much on the morning walk except an Eye-browed Jungle-Flycatcher with a flock along the road, but after breakfast, on the Silau-Silau trail, we came upon a startlingly beautiful male Whitehead's Trogon. This got things rolling! Rita set up for video (and got a little); I rushed back to the room for my camera and tripod, but by the time of my return, the trogon was in deep shade and then disappeared. By mid-day the clouds really rolled in and there was heavy rain all afternoon.

Day 11: We'd had such a nice time early in the morning at the entrance gate on Friday that we arranged for a ride up to Timpohan Gate first thing. We were the only ones in the van, which meant we could stop it when a party of Red-breasted Partridge crossed the road! The male stopped and performed his full vocal repertoire for Rita's video! It was very birdy up top and Gold-naped Barbets were particularly conspicuous (a real treat; Asian barbets are notoriously hard to see) and Rita took some killer video. We also had nice birds (e.g, juv. White-browed Shortwing) around the little garbage dump near the top of the summit road, and a neat mammal (Lesser Gymnure). Then we hiked down the Bukit Ular trail. It starts at the power station, skirts some cliffs, and then plunges into really prime cloud forest, thick with undergrowth. Here we found that Bornean Stubtail was rather common (its Golden-crowned Kinglet-like calls betray its presence to the sharp ear) and got very close looks at one. The trail ends on the summit road at about the 3km post. One trip report from over 2 years ago had mentioned Whitehead's Broadbill at the 3.5 mark, so despite sore legs we hiked up to that point and tried a tape. A Broadbill responded! With short, judicious tape-playing, we eventually got crippling views of this sumptuous bird as it called and bowed. Just incredible... the most exciting moment of the trip! Alas, I had not carried my camera this day, and Rita's video was on its tripod up the road a piece. Damn... no photos! Sigh. Rain in the afternoon, but I went out anyway and had a Mountain Wren-Babbler on the Silau-Silau trail downstream of the restaurant.

Day 12 (morning): This was our final morning so we tried to repeat yesterday's successes, but this time with full camera gear and tripods for each of us. We got an early ride to the Gate and slowly walked down the summit road. The barbets were still impressive but Rita's tape from yesterday is better. No partridges, no broadbills, no lifers at all.... We tried various trails at the last minute but no more luck. Left at mid-day for Poring Hot Springs.
PORING HOT SPRINGS, SABAH
From a birder's perspective, Poring Hot Springs is famous because Blue-banded Pitta is said to inhabit the bamboo groves up by Langanan Falls, and Hose's Broadbill and Bornean Barbet has occasionally been seen here. It is at about 1500' elevation in the foothills on the east side of Mt. Kinabalu and within the National Park; it is about a 45 minute drive from GK headquarters. [Transport can be arranged at Mt. Kinabalu headquarters although all this was handled for us in advance by Kingfisher Tours]. I had always wanted to go there.

Now that I've been there, I can recommend that you skip it. Rita called it "Boring Hot Springs" because she saw little around the garden and headquarters area; I could call it "Pouring Sweat Springs" because the hike to Langanan Falls is a killer. It is only about 4 km but almost all of it is unrelentingly up and up and up. This hot humid forest was truly exhausting. My eye-glasses were constantly fogging up and I essentially could do no birding at all during the 4 hours it took to get to the falls. Langanan Falls themselves are quite impressive and said to be the highest falls in Sabah. No one was around so I went skinny-dipping there to cool down. But I didn't see many birds. No pittas calling despite more than an hour in the bamboo playing tapes. Then it rained and the trail became very slick and difficult. Did have a nice close encounter with Rufous-collared Kingfisher above the interesting "bat caves" [rocky outcrops with fissures; bats seen flying through the deep gorges down in those fissures], and did see Bornean Blue-Flycatcher (and others have had Bornean Spiderhunter here) but a lot of very exhausting work for comparatively slim results.

The hot springs themselves were built by the Japanese when they occupied Borneo during WWII. There are individual public cement tubs and pools that can be filled with natural hot water, and expensive private cabanas for more secluded tubbing. Although Rita loves hot tubs (and we use one daily at home) the "scene" here was not that inviting. Plus there is the canopy walkway for which each person pays $5 to visit. It is a very steep climb up the hill behind the tubs to the walkway, but this does not deter hordes of Japanese tourists screaming and shouting during their visit. The canopy walkway is a couple ropes and some rickety boards; not at all like the nice one at Borneo Rainforest Lodge. We saw zero (0) birds during our afternoon visit. It was a major disappointment. Our lodging here was a ramshackle house with private bath and kitchen. There was no hot water and the shower was directly over the toilet. There were fans but no air conditioning. It was definitely the "pit" of any place we stayed on this trip. There are camping sites (but who would camp in this heat?) and hostels that are even more basic. We really didn't think much of this site. On the other hand, it does have a long list of birds from visitors over the years. They are surely better men than I, Gunga Din.....

Day 12 (afternoon): Mid-day drive to Poring Hot Springs; hike up to canopy walkway after lunch. That proved to be a complete waste of time.

Day 13: For me this was the all-day hike to Langanan Falls and return; described above. I returned absolutely drenched with sweat and exhausted, and collapsed for the rest of the day.

Day 14: Brief birding around headquarters and the camping area before leaving for our flight to Sandakan.
SEPILOK, SABAH
Day 14 (mid-day): Our tour company had arranged for us to be picked up by van at Poring Hot Springs in the morning, driven 2.5 hours back to Kota Kinabalu for mid-day flight to Sandakan, and then picked up by another driver to go to nearby Sepilok. This may have been unduly circuitous (not to mention the cost of the flight) because it is just a 4 hour drive directly from Poring to Sandakan. But our arrangements worked out fine and we arrived at Sepilok Orang-utan Rehabilitation Reserve just in time for the afternoon feeding.
Day 14 (late afternoon): Or almost in time... we stopped to rescue a turtle that was crossing a busy road, and released it at the Reserve. So we were 10 minutes late and the unhelpful staff tried to discourage us, saying the orangs could have already come and gone. We decided to go in anyway. This is an expensive proposition. The Reserve is now set up to handle huge numbers of tourists, each of whom pays a $10 entrance fee plus $10 or more for each camera (can be up to $50 for "professionals"). It would have been double the cost to take my telephoto lens so I took only my little camera. There is a nice loop boardwalk with the feeding station half-way around, but the entire atmosphere is one of "rip off city." They are making money hand over fist here and treat all the tourists like cattle. We inquired about arriving early next morning to go birding and were told this was "impossible" as they did not open until 10:30 am. Fortunately, we had contrary info and left it to our new driver/guide (John Bakar) to sort out the details.
Although we were late getting to the feeding platform, four Orang-utans were present when we arrived, including a cute baby Orang-utan (right) that was "showing off" by hanging upside down or doing other gymnastics. There were plenty of tourists taking photos but lots of space at different elevations to have good views and get photos. The orangs did leave after about another 10 minutes, using stretched ropes to brachiate back into the forest. Then the Pig-tailed Macaques came in. It was interesting watching the hierarchy among them as they picked through the green bananas left on the platform.
Other birders here had been able to arrange for a member of the Reserve staff to meet them at 6 am and act as a "guide" into the reserve. While we were watching the monkeys, John arranged this for us. We were told it would costs each of us $10/hour for this "guide," even though we knew where we wanted to go [we had good site maps from prior trip reports]. Plus we would have to pay the $10/person entrance fee. But whatever... it was 'take it or leave it.' Surely sounded ridiculously expensive for a few hours in the forest! Prior trip reports indicated that in some cases the guides left after an hour, reducing the cost.
We stayed at the very upscale Sepilok Rainforest Lodge, which is one of three lodges right next to the Reserve and within easy walking distance. Had a few birds on the lodge grounds but not many.

Day 15: We were at the gate at 6 am but no guide was there. Our arrival woke up the guard who was sleeping in the gatehouse hut. He didn't speak English but we tried to explain we were meeting a guide, so he let us through the gate. We hung around the main parking lot for a half-hour and decided to wait no longer. We had maps and found our way through the boardwalk maze and through various unlocked gates and into the forest. It is hilly swampy lowland dipterocarp forest that looks good for birds. Enroute we stumbled upon an Orang-utan in a tree along the trail. The trails are sign-posted, so we went to the birdwatching tower to hope for Bristlehead. We spent two hours here, playing tapes, but heard only a couple distant Bristlehead. Very few birds actually passed by the tower, so it was mostly wasted time. We left at 11 am, just as all the tourists were present and some were leaving, and got out without further problem. So we managed to get through this morning without outlandish costs, but were left quite disappointed with the results.
After lunch at our lodge we left with John for the drive to Sukau. This proved to be a 2.5 hour drive, about half on good paved roads through mile after mile of the monoculture oil palms that have replaced much of the lowland forest in north Sabah. Sepilok Reserve is now an isolated 'island' of forest surrounded by huge tracts of oil palms. The last half of the ride was on a bone-jarring rutted dirt road through more oil palms. This road is heavily used by big trucks full of palm fruits and looks well nigh impassable in wet weather. It was very mucky in places as it was. Apparently one can reach the Sukau resorts via boat from Sandakan, but taking the road is necessary if one wishes to visit the Gomantong Caves. We had arranged to visit them enroute to Sukau. The conclusion of this day is in the next section.
SUKAU (Kinabatangan River) & vicinity, SABAH
Gomantong Cave
Day 15 (late afternoon): The Gomantong Caves are about a half-hour by dirt road from the boat launch dock on the Kinabatangan River at Sukau. Trips there can be arranged via one's river lodge or, as we did, on the drive to or from Sukau. There is an entrance fee of about $10/person. We arrived about 3 pm. There is some nice forest along the entrance road which was very birdy in the late afternoon (after we visited the caves), and we wished we had more time there, but we wanted to get to our Sukau lodge before dark.
Visitors reach the caves via a nice, new boardwalk so all is very easy. The lower cave (the only one visitors see) is absolutely huge. There is a loop boardwalk through the cave but flashlights are not necessary to walk it. However, a spotlight helps a lot in seeing the swiftlet nests and other creatures. The slippery boardwalk is built above the cave floor, which is thick with guano and constantly "moving" with red centipedes and cockroaches as big a Buicks. The stench is powerful. But the whole experience is interesting and worthwhile. We saw all three species of swiftlet we wanted: the rather scarce Edible-nest (their main colonies are elsewhere in the caves), the abundant Black-nest, and the scattered Mossy-nest swiftlets. And many roosting bats. All of it seems like a surreal Disneyland adventure.
Swiftlet nests have been collected here for 700 years and a colony of workers lives right outside. You can see the precarious rope ladders used to reach nests. We were not there on a collecting day; which may have been lucky. There may be times when access is limited or closed.
Sukau, Kinabatangan River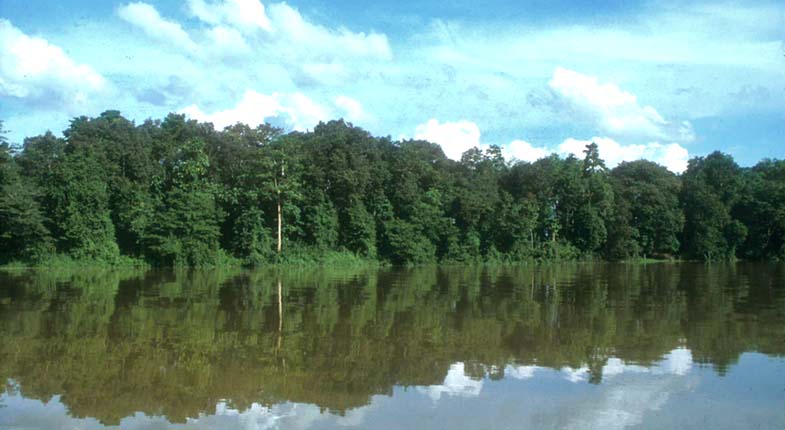 above: lovely morning on the Kinabatangan River
The Kinabatangan River is the longest river in Sabah. Near the coast it becomes a very wide river carrying much commerce, but it passes through some beautiful lowland forest. Like varzea forest in South America, some of this forest floods during the rainy season and therefore there is a distinctive flora and fauna. Visitors here depend heavily on boats, and the various eco-tourism lodges near the little town of Sukau use boats heavily. There are a half-dozen lodges now; one no longer is limited to Uncle Tan's lodge, which is said to be quite run down. Instead, there are some fine upscale lodges right near the boat ramp at Sukau. One (used by the Birdquest group) does not require boats to reach at all, but all the others arrange boat rides to take you and your luggage to the resort. We stayed at the highly recommended Sukau Rainforest Lodge — the only one of the north bank of the river — and it was wonderful. Good food, good boats, good guides, nice rooms. The larger-than-life Joseph welcomes you and explains that you will wear sarongs for dinner; no one argues. There is a fine Borneo wildlife library to use, and they were building a really impressive loop boardwalk behind the resort during our visit. It goes through some good terra firma forest and was quite birdy during our short stay; it can only get better. We had the option to join other tourists on the 'usual' boat rides, but given our short stay (just one full day), we chose to charter our own boat and driver (Jamil) to go out with our guide (John). This was expensive (~$80 for one day, and $30 for the next morning) but well worth it since we got to chose our own route and could stop for photos or video as often as we wished.
Day 16: With our chartered boat & driver, we did three separate boat trips: Tenangan tributary, a quiet side stream (6-9:30 am); the main Kinabatangan River downstream to Resang tributary (11 am-1 pm); and the main river upstream with a short visit to Managu tributary. The morning ride was very good for White-chested Babbler and kingfishers; the main channel was good for Proboscis Monkey, hornbills, a White-fronted Falconet, raptors, Blue-throated Bee-eater, and swifts; and on the two other side channels we had huge monitor lizards and a great experience with a huge White-bellied Rat Snake. No Storm's Storks, though, although five (count 'em, 5) separate Lesser Adjutants flew over.

Day 17: One last morning on the river, and again the weather was lovely (photo above). We chose to go up the main river as far as we could (5 km & return in our 3 hours; 6-9am) in hopes of Storm's Stork, but struck out. We did have good looks at new hornbills (Rhinoceros [photo right], Wrinkled) and a party of Brown Barbets.

After breakfast, we took the 2 hour bumpy ride to Lahad Datu, arriving at noon and checked in with the Borneo Rainforest Lodge offices. After a Chinese lunch downtown, another long and difficult ride on dirt logging roads took us to Borneo Rainforest Lodge itself. It's a 2.5 hour drive; we arrived about 4 pm. One passes huge logging trucks every 10 minutes or so. It was very depressing to see the huge tree trunks leaving the glorious forest.

DANUM VALLEY (esp. Borneo Rainforest Lodge), SABAH
Among all the great tropical lowland forests of the world, Danum Valley is among the best. "Everything" is still there; nothing has yet been lost. There are still elephants and rhinos (even if only a dozen incredible elusive beasts) and Orang-utans. There are large pheasants that can be seen. In most tropical lowlands, large mammals and large pheasants are the first to be lost with encroaching 'civilization.' But this forest was never inhabited or hunted. In this sense it joins such 'lost worlds' as Rio Cristalino (Brazil) as a remnant slice of a complete fauna.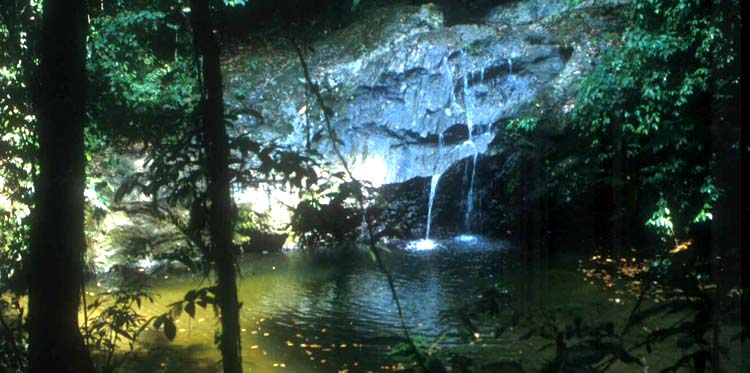 above: Pool and waterfall in forest near Borneo Rainforest Lodge, known as the "jacuzzi" pool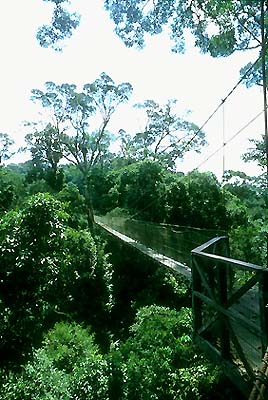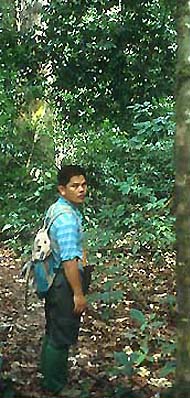 I had visited here briefly (5 nights, 4 full days) in 1988 and stayed at Danum Valley Field Centre. Although now, in retrospect, I didn't do all that well by myself, at the time I thought it the most fabulous jungle experience I'd ever had. In the 15 years since then I'd forgotten the heat and humidity and the grid trails that went straight up hill and straight through creek gullies; grid trails are great for research but hard on birders! For this trip, I determined that I wanted to stay no less than a full week, and therefore we did 8 nights/7 full days, but this time using Borneo Rainforest Lodge as our headquarters. We visited Danum Valley Field Centre on a day's field trip, though, just for old times' sake.
As mentioned on the intro page, Borneo Rainforest Lodge (BRL) is pricey but worth every ringget. I consider the birding here to be better than Danum Valley Field Centre (DVFC), in part because the trails are contoured and much easier to use, and, in part, because the Field Centre has been worked so heavily for a quarter-decade that most of the best birds now occur quite some distance from the lodging. At the rather new BRL (not yet 10 years old), birds appear to be less pressured and therefore even the best species, like Giant Pitta or Great Argus or Helmeted Hornbill, all can still be found rather near the Lodge itself. As also mentioned before, the Lodge has a fine canopy walkway (far right); daily night drives as part of the price package; and your own assigned guide. We were assigned Wangkong Intal (near right) because we were birders, and he was a superb local guide. Had I known this ahead of time, I would have requested him well in advance. His ability to imitate and whistle in specialties was unsurpassed.
But whether one stays at BRL or DVFC, Danum Valley is a key to a complete Borneo bird trip. Both of my visits have been in the "dry" season but it still rains on some afternoons. Leeches can be a problem. Birding can be very slow at times. It is not unusual to walk for an hour in the forest and not see much of anything. But everything is there with enough time and effort. One needs to ensure sufficient time to bird this rich area.

Day 18: At dawn, Rita & I walked out to canopy walkway but (for the only time during the week) didn't stay long as too many other tourists also had the same idea. We did see a family group of wild Orang-utan along the access road. We got back to Lodge in time for breakfast (8:15; breakfast runs from 7—8:30) and then went back up the access road to the canopy walkway again. No one was here now but birdwise it was dead. We also did the Nature trail. After lunch, we did some birding along the Jacuzzi trail with Wangkong and spent over an hour trying to see a Giant Pitta that was calling very close in thick undergrowth, but without success. Also did the Sapa Babandril trail and back to the canopy boardwalk for late afternoon. Night drive with 2 species of flying-squirrel.

Day 19: We had Wangkong this morning only. The walk out the access road was more productive (e.g., Red-naped Trogon, Black Magpies, heard Bristlehead); he also took us to a male Great Argus on his courting ground. Heavy rain 11:30 am-2 pm (and Wangkong left to drive tourists into town). By myself in afternoon on Sapa Babandril trail, I was able to tape in a fabulous male Blue-headed Pitta for great looks. An extended night drive (free of charge) yielded Colugo, three civets — including the rare Otter-Civet, Buffy Fish-Owl, and Lesser Mouse-Deer.

Day 20: After the long night drive, bit of a lie-in until 7am breakfast, and then Rita & I went out to canopy walkway and spent significant time there, but without much luck. Spent some time photographing Great Argus and took Hornbill trail which had a wild, young Orang-utan. Wangkong returned from town after lunch and took me on a loop hike via Segama & Tenaka trails to the access road out beyond the canopy walkway. This was very productive with Thick-billed Spiderhunter and Large-billed Blue Flycatcher in forest, and out on access road, taped in Green Broadbill for good views. Then Wangkong whistled up Black-throated Wren-Babbler and a female Giant Pitta! Celebrated with a Bacardi cocktail after dark; rain washed out the night drive.

Day 21: all-day field trip to Danum Valley Field Centre. It's a long, bumpy, dusty hour drive each way. At DVFC we did the main grid out to W10 and then to W10N5 (where others had seen Giant Pitta two weeks ago; none was here now) and back for a late lunch. Wangkong called in a Red-bearded Bee-eater (our only views of the trip) and a Striped Wren-Babbler (Rita's lifer but Don managed to miss it anyway); also several Scarlet-rumped Trogons. On the drives we had a pair of White-fronted Falconet. Spent last hour of daylight back at BRL on canopy walkway... but still no bristlehead. Night drive at BRL had a fine, perched Brown Wood Owl.

Day 22: Wangkong had arranged for a drive at dawn to the entrance gate some 3 km away, and we walked back to the Lodge slowly from there [he'd also arranged for us to have a 5:30am breakfast]. This was a spectacular walk with good views of vocalizing Helmeted Hornbill, another Green Broadbill (as Rita had missed the first one), and finally, at 9:30am, a party of three Bornean Bristlehead! In the afternoon we did forest walks on Segama & Sapa Babandril trails but only Rufous-chested Flycatcher was of much interest. Night drive added views of a flying-squirrel gliding from the high tree, and a sleeping Black-and-crimson Pitta right next to the road, just a few feet from all of us! It did not awaken, despite all our noise, although it seemed to glow in the spotlight beam.

Day 23: Yesterday's strategy had been so successful that we prevailed on Wangkong to arrange another ride to the gate at dawn. This was again successful: five Great Slaty Woodpeckers flew over, one after the other; Wangkong heard a Banded Pitta and we treaded softly into the undergrowth and sat down where it eventually circled us for nice views; and we spent a long time sitting in the forest in hopes of seeing a Blue-banded Pitta that was calling some distance away. It never came in but we did have good comparison of its prolonged note to that of Black-and-crimson Pitta (which did come in to Wangkong's imitation). In the afternoon I did some photography in the garden and also tried some in the forest with flash. Night drive had distant Small-toothed Palm Civet and good looks at Lesser Mouse-Deer.

Day 24: Today we spent working trails inside the forest: Jacuzzi & Sapa Babandril trails especially. In the morning Wangkong whistled in another pair of Striped Wren-Babbler that again Rita saw and I missed. In the afternoon, Rita and I went out separately with our cameras. Rita got video of Chestnut-naped Forktail and a young Orangutan. I snapped Diard's Trogon and a Comb-crested Agamid. No night drive tonight.

Day 25: Mostly a travel day but we did get a final morning in the forest with Wangkong. He spotted a perched Buffy Fish-Owl and Oriental Dwarf Kingfisher (out by the "police bridge") and on the our final return found a huge male Orang-utan feeding high in a forest tree. Huge round cheeks and impressive vocalizations, and big as a male gorilla!
We left at 1:30 pm for the 5:30 flight from Lahad Datu, enduring the awful road again, and this time behind huge logging trucks kicking up clouds of dust. The flight to Kota Kinabalu was late and we didn't get in until 7pm. For the only time on the trip, we were forced to pay "overweight" fees for our luggage (which includes the camera case, heavy spot light, all our books, etc.); that came to an extra 48RM (=~US$13). Overnight at the Hyatt in Kota Kinabalu where we had pizza.
PULAU TIGA, SABAH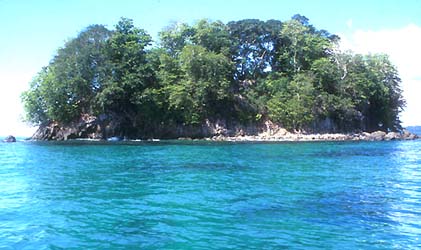 I had become interested in this offshore islet because my friend Vladimir Dinets had visited there to see Yellow-lipped Sea Kraits, the only semi-aquatic sea snakes on earth. These very poisonous but gentle snakes can be found on adjacent Pular Ular, known as "Snake Island," a tiny rocky islet that also supports a White-breasted Sea-Eagle nest and small islet pigeons (photo of Pulau Ular, right). The sea snakes feed on eels (hence the poison) but do not bite people.

Pulau Tiga also has a good population of Tabon Scrubfowl, a megapode I wanted to see, so we arranged this overnight visit. We were advised that the scrubfowl was easier to see here than the hit-or-miss ones on P. Manukan. The latter islet is easier to reach — it is just off Kota Kinabalu — but P. Tiga had the advantage of a nice resort in which to stay. To reach P. Tiga, our tour arranger had set up a driver for us from Kota Kinabalu to Kuala Penyu, a seaside resort village about 2 hours south by paved roads and a very slow ferry over the final channel, and then a fast boat ride (half-hour) out to the island. We returned to KK the same way the next day. This gave us an afternoon, overnight, and the next morning on P. Tiga, which was plenty of time to hike around half the island, see megapodes, do two snorkels, visit P. Ular and the sea snakes, and try our hand at karaoke at night!

As it turned out, Pulau Tiga is the site on which the original "Survivor" T.V. show was filmed. So beaches are named for the "tribes" involved in that "reality" competition (which was apparently won, we're told, by "by the naked fat gay guy"). Neither Rita nor I had watched the show, but we'd heard lots about it from others. As it turned out, not only was the U.S. show done here, but also a Dutch and a British version (with Dutch and British participants). During our short one-night stay, one of the British participants arrived to visit the island again as a tourist. So we got to hear some "inside" stories about the production (none of the participants in the reality show had any idea there was a resort on the other side of the island!) and see snippets of the British version via videotape.
Day 26: Left KK at 8am for 2 hr drive to Kuala Penyu, then half-hour boat out to the island. Very fancy resort with family-style buffet meals. Nice grounds; enjoyed a hammock and then some snorkeling during the mid-day. At 3:30pm Rita and I headed inland to the center of the island to see the "mud volcanoes" and some birds (e.g., Mangrove Blue-Flycatcher was common) 1.1 km away. The mud bubbles out of the ground here from volcanic sources, but it is cool, not hot as we had expected. The map in the brochure made in look like we could loop back to the resort around the shore without adding too much length to the journey. It wasn't until we had made it down to Pagang-Pagang beach and saw a sign there that we discovered we were actually 4.4km away, and it was already 5:15pm! We had no flashlights with us but decided to try to make the 4.4km before dark (which is at about 6:30) rather than climb back over the trail through the center of the island (it was not well maintained from the mud volcanoes to Pagang-Pagang). And so began our very own "Survivor" adventure — march, march, march through the swamps and mosquitoes and threatening macaques, scaring up several Tabon Megapodes along the way. We arrived drenched with sweat and exhausted just at 6:30. Fortunately the trails got better the closer one got to the resort, and the last several kilometers were marked every 100m so we knew just where we were.
Most of the tourists in residence had left that afternoon, leaving just Rita and me, and one other couple who retired early. So the two of us got to use the pool-room and its karaoke machine by ourselves, except for a helpful guide that wandered in for a bit. We'd never tried such silliness before... [and probably won't again].

Day 27: We'd arranged for a private boat trip out of Pulau Ular for the sea-snakes, and then for some snorkeling on a reef near a sandbar used by roosting terns. It took some doing to find the sea-snakes at high tide; all were curled up deep under rocks. It is said that they are much easier to see at low tide when scattered about the shallows. The guide and I also hiked to the top of the tiny islet in hopes of Nicobar Pigeon but all we found were Pied Imperial Pigeons and flushed a White-breasted Sea-Eagle off its nest.
After a pleasant snorkel in very warm water (i.e., 90 degrees F, just like the air temp!) we packed up and left for the return to Kota Kinabalu. Our driver at Kuala Penyu was somewhat late, so we helped load supplies for the next group of tourists out on the island.
We had a final dinner at the Hyatt and shopped the adjacent mall for trinkets and books. We would leave early the next morning for the flight to Singapore and, after a belated wedding gift of a night at Raffles Hotel, back home to California.
Borneo was a great trip. I can say the same for recent trips to India with a UAE extension; to the Brazilian Pantanal and Rio Cristalino; to Uganda and the Tanzanian game reserves.... it is too bad life is so short and there are so many places to see. It would be great to immerse in Borneo again someday but we suspect this was our final visit......

PHOTOS: All photos on this page are © 2003 Don Roberson except as otherwise noted; all rights reserved.

Literature cited:
Bransbury, J. 1993. A Birdwatcher's Guide to Malaysia. Waymark Publ., Adelaide, Australia.

Chantler, P. 2000. Swifts: A Guide to the Swifts and Treeswifts of the World. 2d ed. Yale Univ. Press, New Haven, CT.

Colenutt, S. 2002. Little-known Oriental bird: Bornean Bristlehead. Oriental Bird Club Bull. 35:75-77.

Dutson, G., R. Wilkinson, and B. Sheldon. 1991. Hook-billed Bulbul Setornis criniger and Grey-breasted Babbler Malacopteron albogulare at Barita Ulu, Kalimantan. Forktail 6:78-82.

Francis, C.M., ed. 1984. Pocket Guide to the Birds of Borneo, from plates in B.E. Smythies, Birds of Borneo, 3d ed. The Sabah Society, Kota Kinabalu.

Harrap, S. 1994. Little-known Oriental bird: Kinabalu Friendly Warbler. Oriental Bird Club Bull. 20:24-27.

Inger, R.F., and T.F. Lian. 1996. The Natural History of Amphibians and Reptiles in Sabah. Natural Hist. Publ. (Borneo) Sdn. Bhd., Kota Kinabalu.

Kurata, S. 1976. Nepenthes of Mount Kinabalu. Sabah National Parks publ. 2, Kota Kinabalu.

Lambert, F., and M. Woodcock. 1996. Pittas, Broadbills, and Asities. Pica Press, East Sussex, U.K.

MacKinnon, J. 1974. In Search of the Red Ape. Holt, Rinehart & Winston, New York.

MacKinnon, J., and K. Phillipps. 1993. A Field Guide to the Birds of Borneo, Sumatra, Java, and Bali. Oxford Univ. Press, Oxford.

Payne, J., C.M. Francis, and K. Phillipps. 1985. A Field Guide to the Mammals of Borneo. The Sabah Society, Kota Kinabalu.

Showler, D.A. 1992. Birdwatching areas: Danum Valley Conservation Area, Sabah, Malaysia. Oriental Bird Club Bull. 16:26-31.

Steubing, R.B., and R.F. Inger. 1999. A Field Guide to the Snakes of Borneo. Natural Hist. Publ. (Borneo) Sdn. Bhd., Kota Kinabalu.

Wheatley, N. 1996. Where to Watch Birds in Asia. Princeton Univ. Press, Princeton, N.J.
TOP

GO TO BORNEO TRIP 2003 SUMMARY

Page created 6-19 Sep 2003