1965
includes autumn 1964

In the early 1960s, Guy McCaskie and Rich Stallcup had begun to discover a few vagrant traps in coastal California. Guy had already discovered the value of the Tijuana River Valley in San Diego Co., and Rich had already visited outer Pt. Reyes in Marin Co. It was in fall 1964, however, that soon-to-be famous inland locations like Deep Springs (above; the tiny patch of green trees in otherwise desolate Deep Spring Valley, Inyo Co.) and Furnace Creek Ranch (in Death Valley Nat'l Monument, Inyo Co.) began to enter the literature. But the bird highlight of autumn 1964 was coastal: Guy McCaskie's discovery of a flock of Red-throated Pipits in the Tijuana River Valley (TRV) on 12 Oct; Guy collected two specimens as confirming evidence. Guy also had a Blue-winged Warbler (2d state record), Gray Catbird (2d state record), Blackburnian Warbler (2nd state record) in the TRV. By winter 1964-1965, Guy was working the south end of the Salton Sea, finding 2 McCown's Longspurs 30-31 Jan 1965.

The major event in 1965 was the founding of Point Reyes Bird Observatory (PRBO) on 1 March. It was the state's first full-time banding program.

It was spring 1965 when Rich Stallcup discovered that spring vagrants used the same cypresses on outer Pt. Reyes as they did in fall; on 6 June he had the first Pt. Reyes spring fallout: 2 Parulas, 2 American Redstarts, a Northern Waterthrush, and Tennessee, Black-and-white, and Magnolia Warblers. This revolutionized thinking about spring.

Autumn 1965 brought more surprises. PRBO caught & banded its initial first state record (Black-billed Cuckoo on 22 Sep); they would contribute many more first state records over time. They also sent their first team of biologists to S.E. Farallon Island that fall. Fall highlights in southern California included:
Guy McCaskie found first California record of Philadelphia Vireo (9 Oct in TRV) and collected it
Guy discovered the first state record of Thick-billed Kingbird (19 Oct in TRV)
Gene Cardiff found a Rustic Bunting near Upland, Riverside Co., on 18 Nov; this would have been a state first but under the conservative approach of the times, it was let go as "one that got away" since it was not collected; details were not taken as, given these circumstances, they were not then thought to matter
Guy McCaskie became the sole Regional Editor for "Southern Pacific Coast Region" [=southern California] with the summer issue of Audubon Field Notes. Prior to that he had been co-editor with Eleanor A. Pugh.
1966
The bird event of the year may have been an invasion of Snowy Owls into northern California, beginning in December; the first records for the state since 1916-1917. There was also a movement of pelicaniformes to the Salton Sea during the summer, including 5 Blue-footed Boobies, a Brown Booby, and a Magnificent Frigatebird (all by Guy McCaskie). Guy also found a Buller's Shearwater at the Salton Sea on 6 August.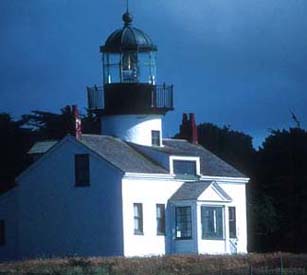 Cypress trees around the Pt. Pinos lighthouse (right), and around adjacent Crespi Pond on the Monterey Peninsula, were discovered to be a prime vagrant trap in fall. Local birders, including Alan Baldridge, Bill Reese, Ron Branson & Vern Yadon, and visitors like Dave DeSante, found several rarities there this autumn. Elsewhere in California, other noteworthy species in 1966 included:
first Broad-winged Hawk in California; found & collected by Guy McCaskie in the Tijuana River Valley 11 Dec
first Pine Warbler in California, found by Guy McCaskie in the TRV 22 Oct
first Grace's Warbler in California, found by Guy McCaskie in the TRV 29 Oct
first northern California record of Painted Bunting, a first-year male singing near Santa Rosa and collected by Gordon Bolander 24 June
first northern California record of Roseate Spoonbill since 1850, found by Alan Baldridge & Bill Reese at Mendota NWR, Fresno Co.
2nd & 3rd state records of Thick-billed Kingbird, the second found by Alan Craig at Pt. Loma 3 Dec, and the third found by Craig & Art Wang at Bonita, San Diego Co., on 26 Dec
third state record of Prothonotary Warbler, found by Bruce Broadbooks & Eleanor Pugh at Morro Bay SP, San Luis Obispo Co., 2 Oct.
1967

The discovery that the Farallon Islands (above), 23 miles west of San Francisco, were a major landbird vagrant trap highlighted this year. Yes, Townsend had shot a Gray Catbird there in Sep 1884, and Dawson had collected a Black-throated Green Warbler in May 1911, but its vast potential had lain untapped for over half a century. The first spring visit by PRBO biologists was during 7-14 June, but that fall, between 20-25 Sep, Rich Stallcup, C.J. Ralph & Henry Robert encountered "the most spectacular land bird migration 'wave' ever recorded in the Region." They recorded 118 species, including California's first Great Crested Flycatcher (two on 25 Sep).

Meanwhile, on the mainland, Alan & Jean Craig banded over 2000 migrants in their Pt. Loma yard, and Guy McCaskie's coverage of the Salton Sea produced the 2nd & 3rd state records of Semipalmated Sandpiper during the spring. During the summer he found a Black-legged Kittiwake, and Gene Cardiff collected the first inland records of Heermann's Gull there.

The "bird of the year" was a Wandering Albatross that landed on a flat bluff at Sea Ranch, Sonoma Co., 11 July (Rex Hardy). This was the first record for the north Pacific but was not a 'chaseable' vagrant. Like several extraordinary seabirds years later, this adult female was likely searching for suitable nesting sites an ocean away from the species' usual haunts. Another seabird of note was a live Horned Puffin seen on Monterey Bay 6 June (Alan Baldridge), the first live one to be seen by birders.

Fall 1967 brought several highlights:
first state record of Wood Thrush, found in the Tijuana River Valley 18 Nov by Guy McCaskie, while birding there with Cliff Lyons, Alan Craig, and Pierre Devillers
second California record of Cerulean Warbler, found by McCaskie on Pt. Loma 26 Oct
first northern California record of Philadelphia Vireo, found by Rich Stallcup at Fairhaven, Humboldt Co., 16 Sep
third state record of Yellow-green Vireo, found by McCaskie in the TRV 23 Sep
fourth state record of both Scarlet Tanager & Canada Warbler in the TRV
1968
In 1968, PRBO initiated full spring and fall coverage on S.E. Farallon I., a long-term commitment that continues today. McCaskie was now birding the Salton Sea regularly, sometimes joined by Gene Cardiff, where there were Blue-footed Boobies and a Magnificent Frigatebird again. He also surveyed various Death Valley spots regularly, and had a Mississippi Kite at Furnace Creek on 2 June. A highlight of the spring was Lee Jones's discovery of Whip-poor-will singing in the San Jacinto Mts. 2 May, a first for California. In northern California, Rich Stallcup found a Black-headed Gull in Larkspur, Marin Co., 26 Apr (a second state record), but it was not publicized until years later. Later, on 8 June, Alan Craig banded the State's first Kentucky Warbler in his backyard on Pt. Loma, San Diego.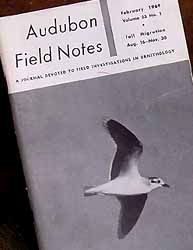 It was another good fall on the Farallones; an Upland Sandpiper there 22-24 Aug (Henry Robert) was the first in the state since 1896, and northern California's first Red-throated Pipit was there 3 Nov. Guy McCaskie spent a week there and found a Bay-breasted Warbler, just the 2nd for northern California. Down in southern California, Alan Craig banded a Grace's Warbler in his backyard on Pt. Loma, the State's second record.

The overall fall highlight was a Little Gull found by Gene Cardiff at Mecca, Riverside Co., on 14 Nov. It represented a first state record, proved to be a chaseable vagrant, and Arnold Small's photo of the bird made the cover of Audubon Field Notes (right).

Nationally, a bird club was founded by Jim Tucker in Austin, Texas, which would in time evolve into the American Birding Association (ABA). The first newsletter is a mimeographed 5-page bulletin called "The Birdwatcher's Digest." The subscription rate is $3 per year. The top California lists reported were by Joe Greenberg (426), Richard Russell (268), and Wayne Tillay (260) but it was apparent that the actual leaders have not yet joined the club.
1969
What in retrospect were the "birds of the year" were not chaseable vagrants, but grounded seabirds picked up by happenstance ashore: Wedge-rumped Storm-Petrel in a Carmel backyard 21 Jan, and Kittlitz's Murrelet on a Pt. Loma beach 16 Aug. Both were passed on to museums and became important specimens.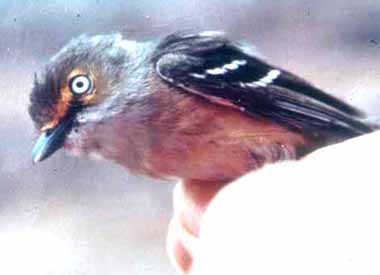 At the Salton Sea, Guy McCaskie collected the state's first inland Mew Gull there 9 April. During the summer and fall, birders at the Salton Sea tallied 30 Blue-footed and 8 Brown Boobies but, better yet was the state's first White-rumped Sandpiper found by McCaskie & Cliff Lyons at the north end 6 June (collected). On the Farallones, banders during the summer recorded the first state records of White-eyed Vireo (4 June; photo left by Henry Robert), Yellow-throated Warbler (12 July), and Field Sparrow (17 June) plus northern California's first Yellow-throated Vireo (12 June). The fall was just as impressive there, with first state records of Cassin's Sparrow (23 Sep) and Baird's Sparrow (28 Sep). Never before, and never since, have five new California records been found at the same spot within the span of four months.

In late fall Gene Cardiff collected southern California's first Northern Shrike at Deep Spring 15 Nov, and Alan Craig banded the first southern California Yellow-throated Warbler — a bird of the nominate race — at Pt. Loma 15 Oct. A Yellow-throated Vireo, found by Gene Cardiff in Riverside 5 Dec, wintered locally until March; the first of the species to winter in the state.

The bird club started by Jim Tucker the year before now became the American Birding Association (ABA) and their newsletter was renamed Birding magazine. It was reported that California had the top Christmas Bird Count with 217 species in San Diego. Many more Californians were now involved, and Birding Vol. 1, No. 1 reports the state list at 510 species. The top five California state listers were Guy McCaskie (467; 91% of the total), Arnold Small (428), Joe Greenberg (426), Bruce Broadbooks (398), and Herb Clarke (393). Percentage-wise, Californians took the top 4 slots among all states. The editor opined: "It is obvious that the birders in California mean business. Guy McCaskie has thrown out the challenge that to know the birds of a state, one should have observed at least 80% of the state's total possibilities within that state. He and his fellow birders are a living example that it can be done — and with style."