1970
With the turn of the decade, new light is shed on the hosts of unexpected "eastern" vagrants now turning up along or off the California coast, and at desert oases. Dave DeSante's work on the Farallones suggests that the vagrants are not "lost and disoriented" but are actually well-oriented migrants — they are just oriented in the wrong direction. In time this will theory will lead to his graduate thesis on mirror-image misorientation. Southeast Farallon Island has more first state records this year: two Gray-cheeked Thrush on 3 Oct, and a LeConte's Sparrow 13 Oct.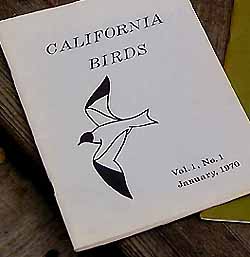 On the mainland, two young upstarts found amazing hawks: Richard Webster had a Mississippi Kite at Santa Barbara 3 June (3rd state record, although this one proved 'unreviewable' years later during the CBRC's 'old record review') and Kimball Garrett saw a Zone-tailed Hawk at Morongo Valley 9 May (5th record; first since 1932). Guy McCaskie and the Devillers added the State's first Red-faced Warbler at Brock Ranch, Imperial Co., on 30 May. Alan Baldridge had a Red-billed Tropicbird from a Monterey Bay boat on 17 July (second for northern California). A Great Crested Flycatcher at Pt. Fermin, L.A., 26 Sep was the first for southern California (Shirley Wells). Oasis in Mono County appeared in the literature for the first time with McCaskie's visit there during the fall, and at Scotty's Castle on 14 Nov, Guy found the first southern California record of Snow Bunting.
The most important event of 1970 was the founding of California Field Ornithologists and the first publication of their journal California Birds in January (Vol. 1, No. 1; right). Much of the organizational work occurred in 1969, but the CFO (which would eventually become Western Field Ornithologists) and the journal (which would become Western Birds in 1973) became public in 1970. Concurrent with the founding of CFO was the establishment of the California Bird Records Committee (CBRC), patterned after the rarities committee in Britain. Those appointed to the first CBRC as the "ten rare men" were: Laurence C. Binford, Gene Cardiff, Ted Chandik, Alan Craig, Dave DeSante, Pierre Devillers, Cliff Lyons, Guy McCaskie, Shum Suffel, and Jon Winter (secretary).
California Birds Vol. 1, No. 1, published the first California checklist since Grinnell & Miller's classic volume in 1944. This checklist (McCaskie et al. 1970) had 501 species under the then-applicable A.O.U. checklist taxonomy.
1971

1971 was another impressive year for the Farallones; it was a major Blue-footed Booby invasion year to the Salton Sea (above) and then to the coast; and 4 more species were added to the state list.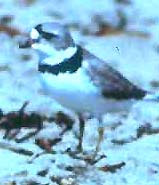 The first new California species to be discovered in 1971 was a Pyrrhuloxia at Heise Springs, Imperial Co., on 24 Feb (Jim Fairchild); it would winter and then return for two more consecutive winters. The next State first was a Neotropic Cormorant (then called "Olivaceous Cormorant") on 13 Apr at West Pond, near Imperical Dam on the Colorado River (Lee Jones); the bird would return briefly over the next two years. Yet another California first was a Piping Plover at Goleta, Santa Barbara Co., 14-24 Apr (Richard Webster), although it was not conclusively confirmed until it reappeared 16 Dec and wintered (photo right from Apr 1972; Brad Schram). It would return two more winters after that. There would be another Piping Plover in Malibu, L.A., in winter 1973-74 and a third in Morro Bay in fall 1980 and then no more as this species declined severely across the continent. In retrospect, Piping Plover has become what the Brits called "a blocker" — unless you were birding 25 years ago, the empty spot beside this species' name on your personal checklist "blocks" you from ticking off all the plovers in California, no matter how diligent you have been.
On 14 May, Gary Page found a White Ibis on Bolinas Lagoon, Marin Co. (photo by Ed O'Connor, below left). It was the first to be reported in California since a specimen was taken at Pt. Loma back in 1935. It reappeared at San Rafael later in the summer and remained to mid-September, and sparked the first of a series of hot debates over the origin of specific rare vagrants.
On a late spring visit to the now-famous oases in the desert, Ron LeValley & Russ Greenberg had a Yellow-throated Warbler at Scotty's Castle (4th CA record) but the Farallones exceeded expectations with a Northern Wheatear on 11 June (first state record). At the Salton Sea, Guy McCaskie had a Sooty Shearwater 14 Aug (first inland record for state), but it was an impressive invasion of Blue-footed Boobies that captured most attention. Over 70 were around the Salton Sea in late summer, and by autumn some had pushed to the coast and northward. Four were off Lovers Pt., Pacific Grove, Monterey Co. on 16 Oct (first for northern California; Gerald & Laurette Maisel). At the Salton Sea, a few boobies lingered to November (photo above taken 6 Nov; D. Roberson).
In fall, Rich Stallcup had a Scarlet Tanager on Pt. Reyes 26 Sep (2nd northern CA record) but jaws dropped everywhere on news that a young male Golden-cheeked Warbler had been on the Farallones 9 Sep (collected; specimen now at Calif. Acad. Sciences in San Francisco; photo below right). To have this rather short-distance migrant — a rare species that nests in central Texas and migrates to Mexico — turn up 23 miles off the San Francisco coast reset the concepts on what might occur here. There has never been one since: this remains one of the most astonishing species to reach California.
1972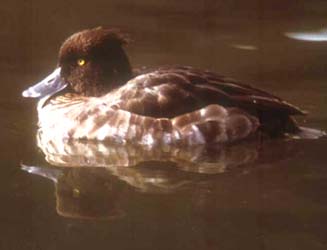 The year began very nicely for many after Ron LeValley found a female Tufted Duck wintering on a small lake in San Francisco's Golden Gate Park 15 Feb (photo left by J. Van Remsen). This was a 4th California record but the first to be widely publicized. Its location in an urban area meant that hundreds of interested birdwatchers could go view it. The first Tufted Duck for southern California would appear on Lake Sherwood, Los Angeles Co., that winter.

The best spring migrant was a Black Vulture that flew over Tim Manolis near Chico, Butte Co., on 13 Apr and continued north with a flight of hawks. Although Tim produced a fine field sketch and written details, it was many years before this was finally accepted as California's first record. Like the White Ibis before it, there was a debate as to the bird's wild origin (some proposed that Hollywood film makers kept vultures to release for Western movies!?!), and further debate about whether a single observer's sight record could ever qualify for a first state record. All these debates continue today, with partisans on both sides. This Black Vulture record was not formally accepted by the CBRC until 1997, some 25 years after the occurrence. At least one can say that, in the end, they got it right [something that cannot yet be said about the Bolinas White Ibis....].

Summer in northern California produced a Chimney Swift (first northern CA record at Asilomar, Monterey Co.; Rich Stallcup) and a Black-headed Gull (3rd state record; 16 July at Arcata, Humboldt Co., Jon Dunn & Richard Webster). The fall landbird showing did not match prior years but a Curlew Sandpiper at Pescadero, San Mateo Co., 16 Sep was a second state record (Ted Chandik, Dave DeSante & Peter Metropulos). A White Wagtail at the Santa Clara R. estuary, Ventura Co., 18-20 Oct was photographed but not reported except locally. It was a first state record but when this taxa was later split, the photo could not be elevated beyond the "White/Black-backed Wagtail" category.

The major event of the fall was Laurie Binford's discovery that Pt. Diablo in the Marin headlands concentrated migrating hawks before they headed south over the Golden Gate. His regular surveys there this fall showed that the movement of hawks was as impressive in terms of hawks per hour as the famed Hawk Mountain in Pennsylvania. Among them he recorded 18 Broad-winged Hawks, including several dark morphs, and proved that what had once been considered a vagrant to California was a regular migrant in small numbers.
1973

We can book-end 1973 with fine white birds. The first significant bird of the year was a Trumpeter Swan on 13 Jan, found by Brad Schram in the Carrizo Plain of San Luis Obispo Co. (above, with Tundra Swan; photo © Brad Schram). This was just the 3rd acceptable California record and the first in the south. The year would conclude with the largest flight of Snowy Owls on record, or at least since 1896-97 when "flocks" were in the state. In winter 1973-74 at least 43 Snowy Owls were found in California, most in the northwest but a few wandered down the coast to Pt. Reyes (photo below taken 6 Jan 1974 on Pt. Reyes; J. Van Remsen), San Francisco, Berkeley, and even as far as Salinas R. mouth, Monterey Co. (one found shot).

Interesting birds of the spring were a Golden-winged Warbler at Deep Springs 20 May (5th CA record; Van Remsen, David Gaines, John Luther) and a Kentucky Warbler on Santa Barbara Island 1 June (4th CA record; Kimball Garrett). In summer a movement of Roseate Spoonbill brightened the Salton Sea (64 scattered about the Salton Basin) and several reached the coast. Summer surprises in the north included a mid-summer Yellow-billed Loon at Princeton harbor, San Mateo Co. (L.C. Binford & Van Remsen) and an unseasonal Prairie Warbler at Pt. Pinos 19 July (Rich Stallcup). In the south was a Red-faced Warbler in the San Gabriel Mts. 14 June (2nd state record; Kimball Garrett, Jon Dunn, Lee Jones, Shum Suffel) and a Curve-billed Thrasher in s. Imperial Co. (6th CA record, first since 1925; Rich Stallcup). Richard Webster found the State's first Hudsonian Godwit on 9 Aug at Arcata, Humboldt Co.

Fall highlights were California's first Veery on S.E. Farallon I. 20 Oct (Rich Stallcup) and the State's second Bar-tailed Godwit at Bolinas 26 Oct (Lynne Stenzel). The godwit lingered and was successfully chased by numerous interested birders. Kenn Kaufman, a Kansas birder who would become famous after moving to Arizona, found California's first Rufous-backed Robin at Imperial Dam on the Colorado River 17 Dec; the bird would remain into April. The robin was the capper at the end of Kenn's 1973 Big Year in North America, the story of which is so well told in Kaufman's 1997 book Kingbird Highway. As Kenn describes it: "An elderly couple, strolling across the park, put the birds to flight. The robin flushed up into a palm tree. And I could not help myself — I had to go take a closer look at that bird. .. We were only ten miles north of Mexico, and only a quarter of mile west of Arizona. But because of that coincidence of artificial boundaries, the phones were going to ring and the birders were going to converge on this spot. The bird peering down at me from among the palm fronds was the first Rufous-backed Robin ever for the state of California." Arizona expert Janet Witzemen told him "Now you can die happy."

1974
If I had to choose any single year as the "greatest year" in California birding history, it would probably be 1974. Looking backwards, 1967 or 1969 might have been better but there were too few observers then to be sure. After 1974 there were some good years (e.g., 1977, 1988) but 1974 had it all. There was an excellent spring migration, two new breeding species proven for the state during the summer, and then a fabulous fall. And in 1974 everything was still fresh to most of us; wide-eyed with excitement we were astonished at what was found.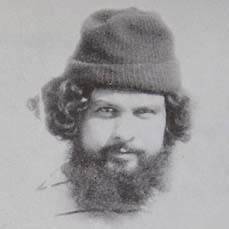 In addition, Rich Stallcup (left; photo by Van Remsen) undertook the first serious California year list. Guy McCaskie had regularly tracked his "year birds" annually, but Rich's effort was the first organized try for a record-setting number. The story of that effort was published in Birding 7:172-178 and this quote is from that article:
1974 brought California the most spectacular birding year in history — and enabled Rich Stallcup to break all annual state list records: a fantastic total of 450 species, 85% of California's 529 recorded birds. More species were seen in California in 1974 than in any previous year, a total of 483 (91%), and 6 birds were added to the state list. The incredible fall produced waves of exciting vagrant warblers, which could not be attributed to more observer hours: something unusual did occur to bring so many eastern birds west. The state also received accidentals from the north and southwest, an unbeatable combination. Perhaps most illustrative of the phenomenon is the fact that eight California birders broke the elusive 400 mark.
The year opened as described in the Birding article, "Rich made an auspicious beginning, picking up where Kenn Kaufman's Big Year had ended: with the Rufous-backed Robin at Imperial Dam. By the end of January he had seen 3 Snowy Owls in the invasion that saw at least 43 birds shatter all previous records combined for that species." The first spring Curlew Sandpiper (3rd overall) appeared at Salton City 27 Apr (Guy McCaskie) and the state's second spring Yellow-throated Warbler was in San Diego 23 Apr (Jon Dunn). Rich missed both of those.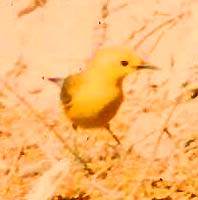 But the "warbler hat trick" was turned by birders over the Memorial Day weekend in Death Valley (Inyo Co.) and Oasis (Mono Co.). That story is detailed in the Birding article:

That Memorial Day weekend (May 24-27) will live in the memory of the scores of birders who converged on the desert as one of the most exciting ever... On Saturday morning a beautiful male Prothonotary Warbler (Ron LeValley; 11th state record) was found at Furnace Creek and by evening everyone had seen it [see photo right; Mike Wihler]. That night a wild celebration was held around the Death Valley swimming pool (it had been well over 100° all day): about 50 birders were there, including many of the state's top 20. Most were up at dawn to bird the desert again. Near evening Rich found a female Golden-winged Warbler (8th record) at Oasis, a ranch with a row of cottonwoods in the high desert. Rich was there the next morning, but having seen the Golden-winged well the day before, he wandered down the row of cottonwoods away from the group. Presently he spotted an interesting warbler with wingbars and an unstreaked back flitting in the treetops and yelled for the group: "Pine Warbler or better!" All ran to the spot but the warbler was very uncooperative, disappearing after brief views. Finally Dave DeSante (who formulated the 'mirror image' theory of migration that explains to some extent the presence of eastern vagrants) suggested "Cerulean Warbler" and, as the bird was seen better, his identification became clearly correct: a female that established the 3rd state record. To vagrant warbler hunters the Cerulean Warbler is nearly the epitome of the sport: none had been seen for 7 years and it had remained one of the hardest birds to add to one's state list. All present exulted over the incredible warbler weekend, yet it was but a prelude to the fall.

[DR personal note: I was not there that weekend, and jealousy for these three made me green for years; I did every Memorial Weekend in Death Valley for the next 8 years.]

On 1 June, Rich was on the Farallones and observed a Kentucky Warbler (5th state record). On 18 June, Paul Springer discovered a breeding plumaged Red-necked Stint at Crescent City (first state record). In the Laguna Mts., San Diego Co., Painted Redstarts bred for the first time in California history (Phil Unitt) and on 7 August the first nest of Marbled Murrelet was discovered in the Santa Cruz Mts., solving a long-standing ornithological mystery. There were also three Pyrrhuloxias that summer in Imperial Co. (CA records 3, 4, and 5), including one found by Stallcup 23 May (Brock Ranch) and one found by a new upstart, Don Roberson (18 July near Westmorland).

On 7 Sep, a PRBO census turned up a Curlew Sandpiper: "the next morning much of northern California gathered at the lagoon for leisurely views, and for Rich it was No. 400 for the year." That was quickly overshadowed by California's first Eurasian Dotterel on S.E. Farallon I. 12-20 Sep (Dave DeSante). Stallcup visits the Farallones later in September and "he picked up such tough California finds as Horned Puffin, Great Crested Flycatcher, Least Flycatcher, and Gray-cheeked Thrush — all found and identified before they were netted and banded." The Farallones would also host 9 Connecticut and 5 Mourning Warblers that fall. Meanwhile, in southern California, Hank Brodkin found the state's first Sulphur-bellied Flycatcher at Pt. Mugu, Ventura Co., 22 Sep, the same day that Don Roberson discovered the state's first interior Connecticut Warbler at Stovepipe Wells, Death Valley.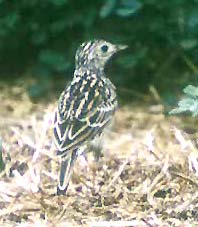 October was a great month. The Farallones had a White Wagtail on 10 Oct. Hank Brodkin struck again with a Veery at Pt. Mugu on 12 Oct; it was just the second for the state, first in the south and the first "chaseable" one (it stayed 5 days). On 19 Oct, Guy McCaskie found the state's first Sprague's Pipit (photo right by John Luther). Years later, Jon Dunn described the discovery: "Guy was famous for his visual not auditory skills, his hearing impairment the result of a youthful ear infection. Yet I shall never forget that it was Guy, not I, that recognized solely by call California's first Sprague's Pipit in October 1974, in the Tijuana River Valley" (Am. Birds 46:210). That same day there was a LeConte's Sparrow at Crespi Pond in Monterey County (Greg Butcher, Ron Branson, Bob & Carol Yutzy); only the 2nd for California. McCaskie would find the state's 3rd LeConte's in Death Valley on 27 Oct. That same day, the north's first Thick-billed Kingbird appeared in McLaren Park, San Francisco (and would remain for two months; S. Davies).
In November, the state's first Groove-billed Ani appeared at Lakeview, Riverside Co. (Burris Price). During the entire fall, northern California birders would find 652 vagrant warblers of 26 species, over two-and-half times the previous high.
1975

This year started off right away with a Trumpeter Swan in Los Angeles, the southernmost for the state (Shum Suffel +). It drew birders from far and near, as did the state's first Bewick's Swan on Hog Lake near Red Bluff, Shasta Co., after its discovery on 13 Jan (S.A. Laymon). This was before Bewick's was lumped with Tundra Swan; I still remember driving all night from the Bay Area in a VW van with a broken heater, huddling together with a dozen others, to see this swan awake in the freezing dawn. Meanwhile that winter, hunters shot two Baikal Teal in the Central Valley; no birders were there to enjoy either of them.

There was a huge invasion of Horned Puffins offshore in May. Observers on a research vessel had 160 from Pt. Sur south into Baja. A boatful of birders to Santa Barbara I. recorded 25 puffins on the way out. Meanwhile, California's 2nd Hudsonian Godwit was photographed at Daggett, San Bernardino Co. (Guy Sawyer) and a group of adventurers hiking up Clark Mt. in the dark were rewarded with a singing Red-faced Warbler at dawn on 17 May (Dunn, Luther, McCaskie, Remsen, Roberson +). Everyone's highlight for this year was the Common Grackle calmly strolling across the grass at the entrance to Furnace Creek Ranch on 21 May (R.A. Erickson; photo above by Dave Rudholm). At the time it was thought to be another first state record (an earlier 1969 specimen from El Cajon, San Diego Co., was later discovered in an obscure research collection), and it was Guy McCaskie's 500th state bird. This lofty plateau had never been reached by any birder in any state, and warranted a full article in Birding magazine (Vol. 7: 237-238). The article concluded with this note: "Several weeks before Number 500, Guy was asked what the next state bird would be. He answered that the most likely was the Common Grackle." After seeing the grackle, the same question was asked again and Guy said: "I'm not going to predict that sort of thing again," but added that "the Short-billed Marsh Wren is long overdue." [The name of Short-billed Marsh Wren was later changed to Sedge Wren by the A.O.U.; California's first would come 5 years later in 1980.]

During the summer, Chimney Swifts nested in northern California for the first time — at Davis and near Ft. Bragg — and the state's 4th Grace's Warbler was singing at Arrastre Creek, San Bernardino Co., on 15 June (K.L. Garrett). That same day the state's first Eastern Wood-Pewee was caught and banded on the Farallones. The fall was not spectacular, especially compared to the previous autumn, but two different Red-footed Boobies visited S.E. Farallon I. (in Aug & Oct; first state records); a Streaked Shearwater was collected on Monterey Bay on 3 Oct (1st state record; Victor Morejohn); and a Dusky-capped Flycatcher was found at Furnace Creek Ranch on Thanksgiving weekend (2nd state record; Shum Suffel, Bruce Broadbooks).
1976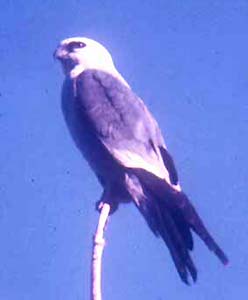 The first four Mottled Petrels for California were found as tide-line corpses in 1976 (2 in Feb, 1 in Mar, 1 in Aug). But a live procelarid inland startled birders driving Interstate 10 near Desert Hot Springs, Riverside Co., on 5 May: Jon Dunn & Phil Unitt watched a Laysan Albatross flying across the desert, presumably enroute from the Salton Sea to the coast! Shortly thereafter, a displaying Cassin's Sparrow in a rural El Cajon backyard 8-11 May provided a first for southern California.

The deserts were again good in May. An Upland Sandpiper was at Furnace Creek Ranch 15 May (8th state record; R. Stallcup, J.S. Luther) and a Mississippi Kite was found there 25 May (5th record; Don Roberson, photo right 26 May by Van Remsen). Steve Bailey had a Zone-tailed Hawk at Ft. Piute on 22 May. There were two major summer highlights from the Salton Sea: California's 2d White-rumped Sandpiper at the south end 16 June (J. Dunn, P. Lehman, R.E. Webster) and southern California's 2nd White Ibis appeared at both ends in July & August (G. McCaskie +). The latter was featured in Kimball Garrett's parody song Birders' California, featuring desperate birders "wading through the slime 'til the ibis was found.... " The parody, sung to the melody of the Eagles' Hotel California, would become a campfire classic: "Welcome to the birders' California, such a crazy place, such a frantic pace; Plenty of room in the birders' California, any time of day, you can list away..."

The state's first Violet-crowned Hummingbird appeared at a feeder in Santa Paula, Ventura Co., on 6 July and would remain into Sep. Ventura County also had the state's first successful Chimney Swift nest that summer. In early Sep, Hurricane Kathleen picked up speed and headed north through the Gulf of California. By noon on 10 Sep she was downgraded to a tropical storm but was centered over the Salton Sea. On the 11th, a Red-billed Tropicbird was caught by a dog in Morongo Valley. On the 12th, Ted Parker saw hundreds of Least Storm-Petrels on the Salton Sea. A dark-rumped Leach's was seen there on the 15th (G. McCaskie, J. Dunn). That same day, a Blue-footed Booby was discovered on New Hogan Reservoir in the Sierran foothills of Calaveras County, surely one of the most unexpected appearances anywhere. It was seen by hundreds of birders until found dead on 18 Oct.

Along the northern California coast, the north's first Cerulean Warbler was at Fairhaven, Humboldt Co., 2 Sep (Billy Clow, R.A. Erickson, Stan Harris) and the state's first Yellow-bellied Flycatcher was banded on S.E. Farallon I. on 16 Sep. David Gaines found the state's first inland Yellow-billed Loon at Grant Lake, Mono Co., on 8 Dec, and, astonishingly, an inland Pelagic Cormorant on nearby Silver Lake that same day.
1977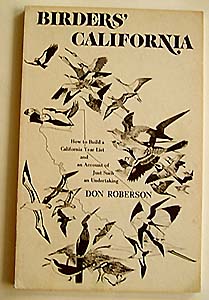 1977 was "the Big Year." Under the 'new' AOU taxonomy, Rich Stallcup's 450 in 1974 had been revised downward to 434 with the lumping of the flickers, orioles, juncos and more. Now, 400 species in California in one year was even a more difficult challenge. Yet more than a half-dozen birders undertook serious Big Year efforts, and 17 birders reached the magic "400 birds in a year" mark.

Guy McCaskie set an all-time high Big Year record of 446 species in the then-current taxonomy [this total would be slightly higher now with recent splits]. This record would stand for 20 years [the record would be eclipsed in 1996 during an era when there were many Rare Bird Alerts to inform of rarities, and many more pelagic trips available, two important assets that were not in existence in 1977]. In addition, two women — Elizabeth Copper and Donna Dittmann — had superb Big Years of 441 species each. This capped what was a watershed year in California, with top-notch women gaining full and unequivocal acceptance into the upper realm of a world that had heretofore been dominated by men. In 1978, the American Birding Association (ABA) published Roberson's book on the 1977 California year, with its title shamelessly stolen from Garrett's parody song: Birders' California. The cover (left) featured Dittmann's compelling sketch of 35 of that year's specialties.

The first major rarity of the year was a female Anhinga at Sweetwater Reservoir, San Diego Co., discovered by Bill Everett on 4 Feb and seen by all the top state listers. It would stay nearly 2 years and provide the first easily acceptable record for California. Prior records from 1913 (Colorado River) and 1939 (San Francisco) had been controversial. In April, the south's 3rd Little Gull appeared at Goleta (P. Lehman, B. Schram) and was also seen by "everyone."

In Birders' California, Roberson writes how "the first half of May was wasted taking law-school finals .. but I made up for it by spending 12 days in late May in the desert" with "nine others [who] endured this marathon." Paul Lehman's photo (below) shows some of the crowd at Deep Springs: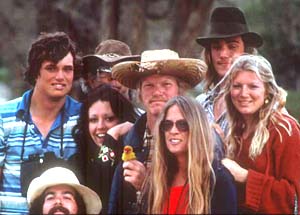 front row L to R: Don Roberson (kneeling, head only), Jolee Delew, Phil Unitt (holding a moribund Western Tanager), Elizabeth Copper, Donna Dittmann; back row: Ian McGregor, Guy McCaskie (mostly hidden), Louis Bevier

Among the May highlights in the deserts that spring were a singing Grace's Warbler on Clark Mt. and a Golden-winged Warbler at Oasis, both found by Van Remsen, and the state's first spring LeConte's Sparrow at Furnace Creek 21 May (G. McCaskie). Even more exciting was a singing White-eyed Vireo on Pt. Reyes 7-8 June (Don Roberson), a 2nd California record and a State Bird for everyone who chased it (the first had been netted on the Farallones). Later, a Wilson's Plover was at McGrath S.B. from 27-29 June 1977 (Larry Ballard); it was the 3rd State record — no one alive remembered the first two back in 1894 and 1918. In an odd sense of timing, the plover flew just as several hardcore birders were arriving from the desert after a long chase, and it was never seen again. Quellehorror! In northern California, Northern Parulas nested in Marin Co., the first such extralimital nest since 1954. They fledged two young.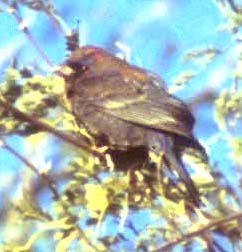 The summer gave way to an astonishing fall. Roseate Spoonbills had invaded again, with 18 around the Salton Sea/Imperial sink, and then 4 or 5 reaching the coast, including a chaseable youngster at Goleta, Santa Barbara Co. On 14 Aug the first inland American Oystercatchers were found when 3 turned up at the Salton Sea (Fred Heath, Jon Dunn). California's first Manx Shearwater was well seen on a Monterey Bay boat trip 27 Aug (G. McCaskie, J. Morlan, D. Roberson, J. Dunn, m.ob.), but it would be endlessly debated in years to follow. At the time, Manx was lumped with Black-vented Shearwater and it was not until the species were split in the 1980s that the issue picked up steam. It was not until the Manx invasion of the 1990s that its importance, in retrospect, could be recognized. Various rarity committees could never agree and to this day the well-documented observation remains controversial. Fortunately, two other fabulous seabirds on Monterey Bay eclipsed it: a Wedge-rumped Storm-Petrel in the massive storm-petrel rafts from 24 Sep-9 Oct (3rd State record; R. Stallcup, G. McCaskie, m.ob.) and a photographed Streaked Shearwater on 9 Oct (2nd CA record; J. Morlan, A. Small, D. Roberson, m.ob.).

Death Valley still had treasures to be found: a Streak-backed Oriole at Furnace Creek 6 Nov-11 Dec (6th CA record but first inland; J. Dunn). Year-listers chased that vagrant from far and wide. On one such attempt, after an all-night drive from the Bay Area, Donna Dittmann discovered a male Varied Bunting at Mesquite Springs on 18 Nov. Don Roberson came running to her startled yips of joy, grabbing a camera enroute. The bunting remained 4 days for all the year-listers to chase; Paul Lehman took this shot (right or above). There had been two California specimens in 1914, but this was a State bird for everyone who chased it. [As of this writing in 2005, there has not been another since.] Another unexpected vagrant was a Snow Bunting inland at Monticello Dam, on the Napa-Yolo-Solano counties border, from 19 Nov-3 Dec (Rich Stallcup).

a
1978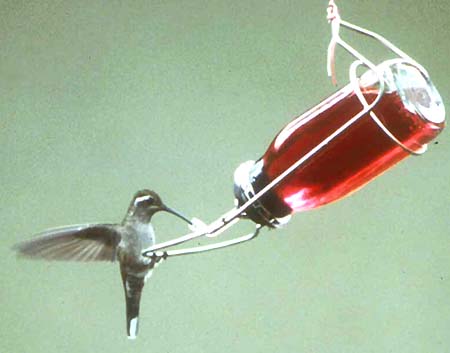 After the year-listing excitement of '77, 1978 was comparatively quiet, at least from the standpoint of active chasers. Three of the five birds that would constitute first State records were 'one-day-wonders' never to be seen again. A major exception was a female Blue-throated Hummingbird (right; photo by Frank Baldridge) that frequented a feeder in the unlikely locale of Three Rivers, Tulare Co., in the Sierran foothills. She actually appeared on 27 Dec 1977 (none of the year-listers learned of it, though, until too late) and lingered to at least 27 May 1978. She was courted by a male Anna's with excessive expectations, and in due course she built a nest, laid 3 eggs, and fledged the young. When studied in-hand, the babies appeared to be Anna's X Blue-throated hybrids. To date, this remains a unique State record.

Early winter 1978 included several other unexpected species. Two Roseate Spoonbills remained in southern California (the first ever in winter) but these left-overs from the fall were eclipsed by a spoonbill at Moss Landing, Monterey Co., discovered on 1 Jan (Phil Gordon), which remained six weeks for the first northern California record. Another first wintering record was set by a female Hooded Warbler in San Diego. Then came the first of the 'one-day' wonders: an adult Lesser Black-backed Gull at Roberts Lake, Monterey County (L.C. Binford, Mike & Jon Parmeter, Ron Branson; Branson's photo is below). Tim Manolis, writing later in American Birds, summarized eloquently: "Many of California's leading field ornithologists were in the Monterey area that weekend for boat trips, but the bird could not be found the next day or subsequently despite intensive searching. Having wandered an ocean and a continent to surface as a first State record, it quickly resubmerged into the anonymity of a gull's world."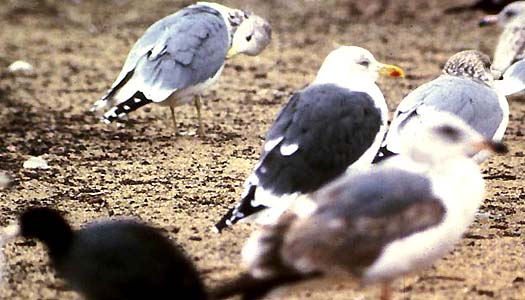 [Incidentally, that tiny patch of sand shown in the photo, used daily by roosting gulls, has been checked literally thousands of times since by those hoping that lightning might strike the same place twice. So far — no lightning.]
On 29 Apr, Jon Dunn, Kimball Garrett, Van Remsen and Richard Webster ran a serious "Big Day" from the San Diego mountains (at night) and then a daylight sprint from the Salton Sea to the coast. They identified 231 species during the 24 hours, a record that stands to this day (2005) for a California Big Day that did not use an airplane for transport.

California's first spring record of Wilson's Storm-Petrel was seen from a Monterey Bay boat 1 May (D. Roberson). Another White-eyed Vireo was at Pt. Reyes 18-21 May (3rd CA record; Al & Wilma Ghiorso). The State's 3rd and 4th records of White-rumped Sandpiper appeared at Carmel R. mouth 2-7 June (Jeri M. Langham) and Pt. Reyes 11 June (Ron LeValley).
Heavy winter rains produced a heavy vegetation crop inland, with grasslands sprouting where there usually is desert. It was under these conditions that California's first breeding Lark Buntings were discovered in remote Lanfair Valley in eastern San Bernardino County. The photo (below) shows Donna Dittmann and Paul Lehman in Lanfair Valley on 26 May where, along with photographer Don Roberson, they found a female carrying food to hidden young. The nest itself was found the next day by Eugene and Steve Cardiff.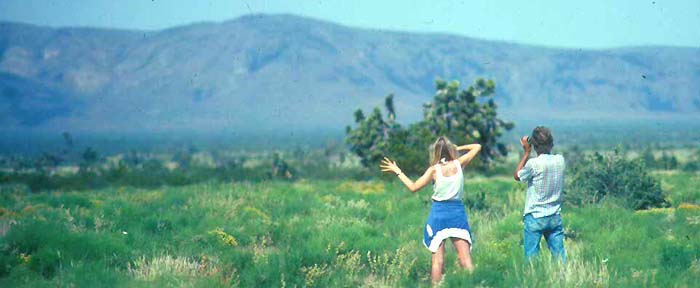 Autumn 1978 was another good fall. It started off with 24 Buff-breasted Sandpipers along the coast, truly unprecedented numbers at the time. On 1 Sep was another 'one-day-wonder' first State record: a flock of 12 White-winged Crossbills at Mosquito Lake, deep in the heart of the Trinity Wilderness (Phil Gordon). Then another 'one-day-wonder' on 17 Sep: the State's first Yellow Wagtail at Abbotts Lagoon, Pt. Reyes (Pete Myers). Northern California got its first Yellow-green Vireo at Lake Merced 22-25 Oct (David Edwards) plus two Cerulean Warblers: Pt. Reyes 15-17 Oct (A. Follis, chased by many) and Carmel R. mouth 27-29 Oct (S.F. Bailey). Southern California hosted second State records of Groove-billed Ani (at Anaheim 13-17 Sep; Doug Willick, Brian Daniels) and of Sulphur-bellied Flycatcher (at Goleta 6-9 Oct; Louis Bevier), plus the State's 3rd Veery at Kelso 5 Oct (Steve Cardiff). Concurrent with the Goleta flycatcher was a White Wagtail just a quarter-mile away on Dvereux Slough (Louis Bevier).
The year closed with a farce that, when fully played out, would push State observers to the next level of competence. On the Pt. Reyes CBC on 16 Dec, Dick Erickson found a very odd bird in an open cow pasture on outer Pt. Reyes. Its identity was initially proposed as a potential Smith's Longspur, a species that just about everyone at the time thought was the "most likely" bird to next appear in California. It was 'confirmed' as a Smith's Longspur by just about every top expert in the State until 20 Dec, when Laurence C. Binford made this startling statement to the birders crowded around scopes at the site: "I have an announcement to make. It's not a Smith's Longspur. It's not a longspur at all. It is a lark. I don't know which one — you can figure that out — but it is a lark." It was soon obvious that Binford was right, and that the bird was California's first Eurasian Skylark! The full story is on a separate page but the oral history of this case of "mass hysteria" has been passed down (and not often accurately!) to later generations.
1979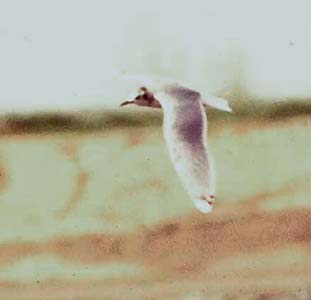 Winter 1978-79 was remarkable not only for the Skylark, but for the discovery of other species that had never before wintered in California: a Philadelphia Vireo (Linda Hale), two different Least Flycatchers (Richard Webster, Jon Dunn), two different Black-throated Green Warblers (Guy McCaskie, Paul Lehman) and a Prothonotary Warbler (P. Lehman) all wintered in the south. Birding was changing from simply finding new State birds to discovering new seasonal occurrences.

On 20 Mar at the Stockton wastewater ponds, two birds were discovered that would become perhaps the most-seen vagrants in State history. In the morning Dick Erickson found an adult Little Gull (9th CA record) that spawned a run of up to four different Little Gulls here over the next nine years, with birds appearing as early as October and usually lingering to April or May. In the afternoon Don Roberson found an adult Black-headed Gull (7th CA record) that returned for eight consecutive winters. Given easy access, hundreds of birders viewed these gulls each year throughout the 1980s. [This Little Gull , right, is the original 20 Mar 1979 bird; ph D. Roberson.]

A day later, 21 Mar, a male Garganey was discovered at Lake Elsinore, Riverside County (Raphael Payne). It stayed to 4 Apr, becoming the first chasable Garganey in California, but actually the 4th State record after prior discounted records and two specimens were considered.

A Red-tailed Tropicbird seen from S.E. Farallon Island 3 July was a first State record, as was a Crested Auklet in Marin Co. in mid-July, found dead on the beach the next day. Another seabird making headlines was Magnificent Frigatebird. During summer and early fall at least 45 were observed along the California coast, and up to 22 seen together at the Salton Sea, unprecedented numbers that have not been repeated. California would add two other new nesting species in 1979: Little Blue Heron at the Salton Sea (fledged 2 young) and Zone-tailed Hawk on Santa Rosa Mt., Riverside Co. (nest found 8 July; S. Cardiff).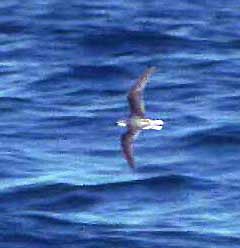 The landbird of the year was California's first Black-backed Wagtail, a female that stopped to molt at the waste treatment plant near Watsonville, on the Santa Cruz/Monterey county border, from 7 Aug-22 Sep (Carolyn Fredericksen, Steve Allison). A few other interesting landbirds filled out the fall, most notably a Sprague's Pipit on the Farallones 1 Oct, a Sulphur-bellied Flycatcher on Pt. Loma 7 Oct (Chris Carpenter), and a Cerulean Warbler at Carmel R. mouth 25 Oct (D. Roberson), but the real excitement was offshore. A research cruise in October had reported a half-dozen Cookilaria petrels and several Red-tailed Tropicbirds (Gary Freidrichsen, Bob Pitman). So birders found themselves on a series of boat trips to waters well offshore Pt. Buchon, San Luis Obispo Co. and Pt. Sur, Monterey Co., and particularly over a deep trench south of the Davidson Seamount. The seas got progressively rougher each trip (17 Nov, 24 Nov, 1 Dec) but each had at least one and sometimes several Cook's Petrels — the first to be seen by active State birders (photo, left, is a Cook's on 17 Nov; D. Roberson) — and the 17 Nov trip also had California's first Stejneger's Petrel (although there was an old specimen a couple hundred miles farther offshore, beyond the 200 nmi limit).
When the Seventies had begun, no one in California thought of, let alone could pronounce, Stejneger's Petrel. By the end of the decade, birders were researching identification of far distant Cookilaria petrels. It was a time of vast societal change but a time of even more rapid accumulation of competence by State birders. By the turn of this decade, extremely keen observers — male and female — were scouring California's vagrant traps and pushing pelagic trips farther offshore. The future looked very bright.