1980
Record of unexpected wintering species continued to accumulate: in winter 1979-1980 the State had its first wintering Sharp-tailed Sandpiper (Jan-Mar at Pt. Mugu; Richard E. Webster), Willow Flycatcher (Nov-Mar at Arcadia, L.A.; Barbara Cohen), and two Grace's Warblers (Dec-Mar in Santa Barbara; Louis Bevier, Paul Lehman). These were the first to winter anywhere in the U.S. In late winter, Guy McCaskie found a Black Rosy-Finch among 1500 rosy-finches in Mono County, the first northern California record in almost a century.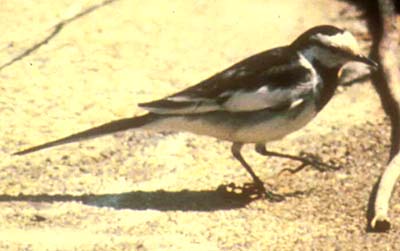 Notable waders in spring migration were northern California's first spring Buff-breasted Sandpiper (3-4 May at Arcata; Ron LeValley) and the State's third (and first chasable) Hudsonian Godwit at Edwards AFB, L.A. (9-19 May; Jon Dunn). A Sandwich Tern — a first State record; indeed, the first for the western U.S. — appeared in the Elegant Tern colony on San Diego Bay 11-15 May (Fred Schaeffner). At Tiburon in Marin County, a breeding-plumaged male Black-backed Wagtail made a one-day visit 22 May (photo left, © Phil Schaeffer). This was before the AOU split the White Wagtail complex; it was the 2nd State record for lugens. The State's first had been the previous August, and that bird (a female) returned to Watsonville on the SCZ/MTY border from 20 July-21 Sep. Other interesting summer birds included a Heermann's Gull nesting attempt on Alcatraz I. in San Francisco Bay (the first attempt ever in the U.S.; L.C. Binford) and breeding success for Little Blue Heron at Alviso in south San Francisco Bay.
Three new State birds headlined the autumn migration, two of them from Siberia: a Mongolian Plover [Lesser Sandplover] at Moss Landing, Monterey Co., 13-19 Sep (Carol Deuel, Donna Dittmann), a Dusky Warbler — California's first Phylloscopus warbler — captured on SE Farallon I. 27 Sep (like a Dusky Warbler netted over 20 years later, it arrived with no fat and was so weak it died in the hand), and a Sedge Wren (then called "Short-billed Marsh Wren") at Bolinas 4-8 Nov (Dave DeSante). Other notables of the fall were the first 'chasable' Black-billed Cuckoo at Pt. Reyes 8-14 Sep (John Luther; 4th Calif. record), and the return of the famous (or infamous) Skylark at Pt. Reyes on 25 Oct (see the 1979 account). At Morro Bay, Gary Page found California's third Piping Plover 1 Oct. It would linger to 15 Dec; there has not been another one since then.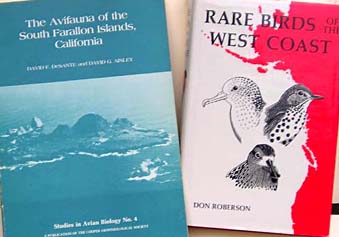 Two useful and influential books appeared in 1980 (photo right). The Avifauna of the South Farallon Islands (1980) by David F. DeSante and David G. Ainley summarized all that had been learned to date from those magic rocks. Seabirds and the influence of the marine environment were detailed, as were all the wayward vagrants to date and a summary of DeSante's misorientation work. The book was scholarly and professional. Somewhat different was Rare Birds of the West Coast (1980) by Don Roberson. A compendium of records, maps, graphs and photos of west coast rarities from Alaska to California, plus much distilled identification material, it captured some of the enthusiasm for vagrant birds that had been at the heart of the previous decade. But it was very much homemade with hand-drawn graphs, hand-placed dots, and some inscrutable photographs. Paul Buckley & Will Russell, writing of the "American scene" for a British audience in British Birds (Vol. 75: 555; 1982), summarized: "The painted plates range from not-at-all-bad ... to better-left-undone . . . The text is shot through with black-and-white photos, often of tiny size, some that were too poor for printing, and with a few where we truly could not discern, let alone identify, the bird. Notwithstanding, it is a useful book, a splendid introduction to rarities along the west coast of North America, many of which are likely in Britain and Ireland."
1981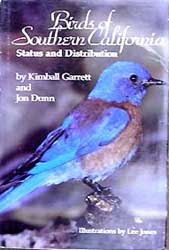 1981 was the first of three years during the '80s when shorebirds dominated birders' conversations. These would come in summer and fall, however. The first half of the year was rather quiet. In one of those Twilight Zone-like episodes, Dick Erickson & Steve Summers had a Blue-footed Booby fly past them on 16 Jan as they scoped for Pt. St. George, the northernmost scoping point in California. And the booby was heading south . . . At the very end of the year (30 Dec), Richard Webster had a similarly unexpected encounter: a Mottled Petrel flew by Pt. Mugu, Ventura Co., as he scoped. It was the first live one ever seen in the State, all others having washed up dead on beaches. Until the waders arrived, about the only other major highlights were a singing White-eyed Vireo in Whitewater Canyon, Riverside Co. (9 May for 5th CA record; Lee Jones) and a LeConte's Sparrow at Furnace Creek Ranch 24-25 May (5th s. CA record but 4th one at this spot).

In summer, Guy McCaskie wrote that "The most significant event [of the season] was the appearance of the long-awaited Birds of Southern California (right) by Kimball Garrett and Jon Dunn . . . which gives us a summary of the status and distribution of all 500+ species occurring in [southern California] through 1980." Garrett & Dunn (1981) would remain the standard text on the birds of southern California for years to come. Another important publication in 1981 was Joe Morlan's "Status and identification of forms of White Wagtail in western North America," which appeared in the short-lived journal Continental Birdlife [vol. 2: 37-50]. It was the first serious attempt to work out the i.d. of the wagtails that reach California, and the translation of a Russian text, undertaken for this paper, was instrumental in the eventual A.O.U. decision to split Black-backed from White Wagtail.

Two first State records appeared in summer 1981. A Least Auklet was found barely alive on a San Mateo County beach 16 June, and it expired at the local SPCA. This remains the only California record (to 2005). Then Jon Dunn discovered a breeding plumaged Gray-tailed Tattler (called "Polynesian Tattler" back then) near Lancaster, L.A. Co., 23 July; a one-day wonder that was photographed. This would prove to be a very fine year for Siberian shorebirds. The State's first chasable Rufous-necked Stint was an adult at the Santa Clara R. mouth (McGrath S.B.), Ventura Co., 12-17 July (Ed Navajosky, Dave Koeppel; 3rd CA rec; photo © D. Roberson below left). Then Guy McCaskie found the first of four (!) different Curlew Sandpipers this autumn migration: at San Elijo Lagoon, San Diego County, 4 July (photo below right; © Herb Clarke).

The others would appear in northern California: molting adult 1 Aug at Año Nuevo, San Mateo Co. (Don Schmoldt), juv 28-29 Sep at Ft. Dick, Del Norte Co. (Dick Erickson, Ron LeValley, Gary Lester), and molting adult 31 Oct-1 Nov at Fernbridge, Humboldt Co. (J. Kelly).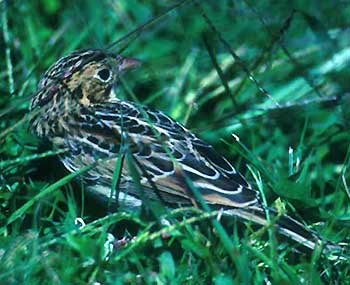 The fall also had a number of landbird highlights. An Olivaceous Cormorant was found at Imperial Dam on the Colorado River 7 Sep (Mark Kasprzyk) for just the 2nd State record; it stayed a month to be enjoyed by all the hardcore State listers. Kimball Garrett had a Cerulean Warbler in Yosemite Valley on 12 Oct, surely among the places it would have been least expected! Another on S.E. Farallon I. made better sense. A Wood Thrush at Pt. Loma, San Diego, 24 Oct-5 Nov (Brian Daniels) was the State's fifth, but the absolute high point was McCaskie's discovery of a Baird's Sparrow at Pt. Loma on 5 Oct (photo left © D. Roberson). This was only the second for California (the first having been on the Farallones) and the bird itself so tame and bewildered that it actually stepped on the shoes of curious birders!
A number of species would winter in California in 1981-82 for the first time: Pectoral Sandpiper at Salton Sea (20 Feb-6 Mar 1982, G. McCaskie, E. Cardiff), Bay-breasted Warbler and Mourning Warbler at Long Beach, Los Angeles Co. (Brian Daniels, found in January & December, respectively), and Worm-eating Warbler wintered for the 2nd time (also Long Beach 6 Nov-21 Mar; K.L. Garrett). And the year ended with a Siberian surprise: Barry Sauppe found a male Smew at Foster City on the Crystal Springs Christmas Count 19 Dec; it was a first State record and would linger to mid-February, and then return for two more winters.
1982

Birders at Gyrfalcon, 23 Jan 1982 (photo © D. Roberson); among those shown (L to R) are Arnold Small, Mike Parmeter (both in red caps), Dan Singer, Bruce LaBar (at scope), Steve Bailey (hidden behind scope), Guy McCaskie (making a point), Bruce Broadbooks (white cap), and John Luther (blue vest)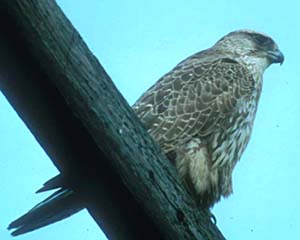 After "everyone" had chased the Smew in December, another chase congregated the multitudes in January 1982. A falconer exercising his Goshawk near Davis, Yolo County, was startled when a wild Gyrfalcon dived at his hawk on 17 Jan; it took several days for the bird to be confirmed and word to spread, but California's first chasable Gyr remained to 8 Feb (the one previous record was a specimen from 1948). The fine photo (left) is by Peter LaTourrette.

A new California species in March was a Barred Owl in Redwood N.P. near Crescent City, Del Norte Co. (12 Mar; Dick Erickson). The second State record was in Trinity County in August and the invasion was launched. At this writing (2005), Barred Owl has spread south to Marin County. Among unexpected birds in spring were a Sharp-tailed Sandpiper near Lancaster, L.A. Co. (5-9 May, Jon Dunn; 1st spring rec for CA) and an adult male Scarlet Tanager on Pt. Reyes 20 June (Joe Morlan; 10th regional rec but only 2nd adult male), but in the stratosphere of the unexpected was a White-collared Swift foraging over Pt. St. George, Del Norte Co., 21 May, for another State first (Dick Erickson, Gary Lester et al.). Summer was rather uneventful, save reappearances by last year's Red-necked Stint (McGrath S.B., Ventura Co.) and the elusive Sandwich Tern in San Diego, until the State's 2nd Lesser Sandplover (Mongolian Plover) was found at McGrath from 7-13 Aug (Andy Starrett).

California's fourth Streaked Shearwater was on Monterey Bay 26 Sep (Alan Baldridge, Joe Morlan). The next day (27 Sep), as the remnants of Hurricane Olivia made landfall at San Diego, Richard Webster saw a subadult Sooty Tern pass by the San Diego R. mouth. This was a first California record and the first to be accepted from a single observer's description (without photos); several other Sooty Terns have occurred since then. The rest of the fall was comparatively quiet, although wintering warblers continued to make news: a Prothonotary wintered in the Loleta Bottoms, Humboldt Co. (John Sterling et al.) and two Prairie Warblers wintered on the central California coast: in Pacific Grove, Monterey Co. (Alan Baldridge) and Half Moon Bay, San Mateo Co. (Peter J. Metropolus). When a Yellow-throated Warbler was found freshly dead in Santa Monica, L.A. Co., in early January 1984, it would constitute the 35th warbler to be found in winter in the Golden State.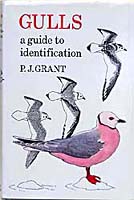 A major El Niño event began this winter in the eastern tropical Pacific, but its impacts would not be felt in California for months. In the end, it would have worldwide impact, causing flood and famine and, in the Pacific, intense disruption of seabird breeding and distribution. In the end, it would be the greatest El Niño of the century, upsetting the entire Pacific Basin ecology and spinning tropical vagrants northward. But that was in the future. Strangely enough, winter 1982-83 would see a movement of cold-water eiders south along the California coast, five of them King Eiders for the first major incursion in years, including the first adult male south of Alaska at Imperial Beach & Coronado, San Diego Co., 4 Dec-25 Jan (Mary Beth Stowe).
Also to have worldwide impacts was the publication in Britain of Peter J. Grant's Gulls: a Guide to Identification (right), the first major identification publication on gulls since Jonathan Dwight's tome for museum-based ornithologists back in 1925. It covered the gulls of Europe, the Middle East, and eastern North America which, from a California viewpoint, meant it covered nearly all our vagrant species. It was the first identification book aimed at field observers that emphasized ageing as the first key to identification. The second edition, published in 1986, expanded coverage to all North American and Eurasian species. While today (2005) we can quibble with details of molt schedules and age terminology, it is my opinion that the publication of Grant's two editions on Gulls, and the papers showcasing Lars Jonsson's stint paintings (see 1984), were the most important and influential publications on bird identification since Roger Tory Peterson invented the field guide back in 1934.
1983
A Rufous-backed Robin was found 1 Jan in Costa Mesa, Orange Co. (Mark C. Miller; photo, below left, © Don Hoechlin); it would be joined by another on 1 Feb and both wintered, with one lingering to 11 Apr. These were just the 3rd & 4th State records, and the first on the coast; chasable for many. Yet another would be found in fall at Furnace Creek Ranch in Death Valley (5 Nov; Richard Webster). At the other end of the State, 803 miles away by car from Orange County's robins (an estimated 13 hour drive), California's first Steller's Eider appeared in Crescent City harbor on 16 Jan, and would remain through May (found independently by Jim Rooney & Dick Erickson; photo, below right, © Jim Rooney). Last year's Smew also returned, so there were plenty of nice birds scattered about.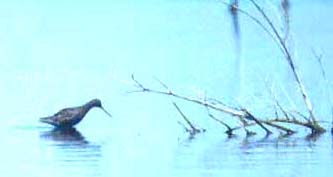 An alternate-plumaged Spotted Redshank at the north end of the Salton Sea (photo left © D. Roberson) was the talk of the spring (30 Apr-6 May; Dale Delaney, Arnold Small); it was another first State record. Last year's Lesser Sandplover returned to McGrath S.B. in July, but more exciting was a singing Eastern Wood-Pewee at Manteca, San Joaquin Co., 18 Aug-7 Sep (David Yee). This was the first Eastern Wood-Pewee to be non-controversial in the State (sonograms were published from recordings made by Jeri M. Langham). California's 5th Yellow Wagtail was in coastal Santa Cruz Co. 4-6 Sep (Carolyn Fredricksen, Bruce LaBar, Dan Singer), nicely within the narrow early September timeframe established by prior records, but this was chasable and seen by most of the State's active birders. A good many also saw the State's first Little Stint at Bolinas 14-22 Sep (David H. Edwards). Identification of this juvenal-plumaged bird was controversial until photos were vetted by European experts Lars Jonsson and Peter Grant. Northern California had its first Brown Booby (on the Farallones 24-28 Sep) and a Wedge-rumped Storm-Petrel was in the Monterey Bay storm-petrel rafts 2-9 Oct (Rich Stallcup, Jeri M. Langham). A female Anhinga at Lee Lake, Riverside Co., in late November would linger for months, constituting a 3rd California record. Joe Morlan found a Wood Thrush in Golden Gate Park, San Francisco, on 21 Dec that would remain until 23 Mar 1984, the first Wood Thrush to winter in California. And wintering warblers continued to pile up; this time they were Kentucky Warblers, wintering in Orange and Santa Barbara counties (Robb Hamilton, Curtis Marantz).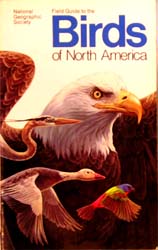 For many birdwatchers across the continent, the year's biggest event was the publication of the National Geographic's Field Guide to the Birds of North America (right). Until it appeared in late 1983, the primary field guides were Roger Tory Peterson's Western Birds field guide (last updated 1961) or Chandler Robbins et al's' Birds of North America, illustrated by Arthur Singer, that appeared in 1966. Both were aimed at beginning birdwatchers. The new National Geographic guide was targeted at intermediate birders — including the ever-growing contingent of those who chased rarities throughout the ABA area (=continental U.S. and Canada) — and this audience loved the new guide. It was a major step forward in field guides, largely attributable to California's own Jon Dunn, one of the "chief consultants," and input from eastern experts like Claudia Wilds. Thirteen artists contributed plates, so the art was inevitably uneven between groups of birds, but included some nice work by Doug Pratt, Cindy House, and John P. O'Neill.
Despite a new edition of Peterson's Western Birds guide (1990), the National Geographic field guide would become the standard guide carried by most active birders for the next 17 years. It, too, went through several new editions — some substantive and others mostly cosmetic — until its popularity was supplanted by the publication of The Sibley Guide to Birds by David A. Sibley in 2000.
Also published in 1983 was Peter Harrison's Seabirds: an Identification Guide. While based on much original research at sea and ambitious in its coverage of all the world's seabirds, it was so ridden with errors, large and small, as to create almost as many problems as it solved. The information on seabirds that occur in California was often weak or simply wrong, and it had many problems with difficult groups like 'Cookilaria' petrels, boobies, and frigatebirds. The pages on gulls were light-years behind Grant's book. Yet it remains popular — and especially so the photo guide, published in 1987, that corrected some errors — simply because it was the only serious effort to deal with all the world's seabirds in a single book.
One other event in 1983 deserves mention. Texas had garnered notoriety the preceding year when a crack team of experts, plus the legendary Roger Tory Peterson, used a Lear jet to set a national Big Day record in Texas: 235 species in a single calendar day. In 1983, a Texas team was to attempt to enlarge on this record but the National Audubon Society decided to sponsor a competing team of California birders, and use the event as a major fundraiser. This time R.T. Peterson joined the California team. This engendered a lot of press interest. The L. A. Times, Sports Illustrated, and Discover magazine all hired small planes to follow the California team in its Cessna from Yuma (the Big Day was on the California side of the river) to Mecca (north end of Salton Sea) to Yucca Valley (near Morongo Valley) to Big Bear (mountain birding) to Monterey. National Public Radio joined with a reporter for the last leg around Monterey. This year the California and Texas teams tied with 236 species each.

This photo (above), published in Discover magazine (July 1983 issue) shows the Big Day team at Pt. Pinos (L to R): Jeri Lagham, Mike Parmeter, John Parmeter, John Parmeter (on scope), NPR reporter, R.T. Peterson, Laurie Binford (on scope), magazine reporter, and team organizer Don Roberson.
1984
Three Siberian vagrants, each a new State first, heralded the New Year during a winter that came to be called "the Siberian Express" on a continental scale. Alas, the first two were maddeningly elusive: an adult Whooper Swan near Grimes, Colusa Co., 17-19 Jan (K. Zekiker) — many spent a day in cold ground-fog missing this one — and a Rustic Bunting near Stone Lagoon, Humboldt Co., 7-8 Jan (Gary Strachan). But finally something stuck: Dick Erickson went to a backyard feeder in Crescent City to check the "Black-headed Grosbeak" that was wintering, and was shocked to find the State's first Brambling! It remained 5 Feb-24 Mar, and every serious State lister made the trek north to that feeder.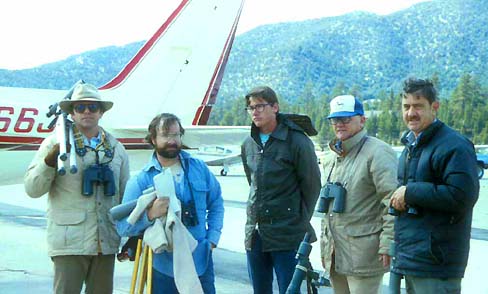 On 28 Apr 1984, the California Big Day team that had tied the Texas record the previous year undertook another Big Day using an airplane. They followed the same route as before but without the press and without R.T. Peterson. This time they set the unquestioned single-state Big Day record with 243 species. Shown in front of the plane at the Big Bear airport are (L to R) Jeri Langham, Don Roberson, John Parmeter, Mike Parmeter, and Laurie Binford.

Also that spring, although no active birder would learn of it for months, California's first Ruby-throated Hummingbird was netted and collected at U.C. Davis's Sagehen Creek field station, Nevada Co., 15 May.
A major step forward in bird identification was the publication of Lars Jonsson's art and Peter Grant's text on small Calidris sandpipers ("stints") in the July 1984 issue of British Birds (below; BB 77: 293-315).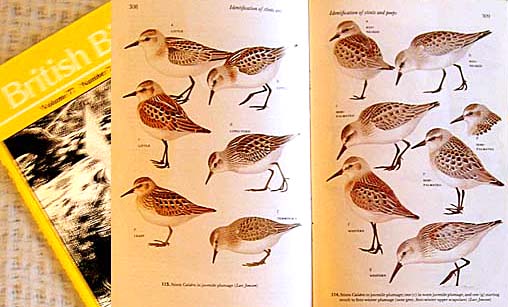 By now, numerous American birders were taking this journal. Although many of the ageing and i.d. principles published had been known to top observers for several years, this paper was a watershed event for the broader public. These same plates, but with Dick Veit's text, were also published in the Oct 1984 issue American Birds (AB 38: 853-876). Where Peter Grant had taught that ageing gulls was the key to identification, Jonsson and colleagues explained that the same was true for waders. [An earlier European book —Prater, Marchant & Vuorinen's Guide to the identification and ageing of Holarctic Waders (1977) — had been very influential on both sides of the Atlantic in developing these principles.] Now we learned that, if a bird were properly placed in an age-class or plumage state, details of specific feathers — tertials, greater coverts, scapulars — might separate even the rarest vagrant from its nearest congeners. This was eye-opening stuff!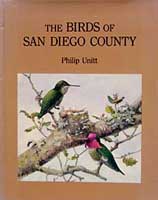 Another important publication in 1984 was Phil Unitt's The Birds of San Diego County, published as a formal memoir of the San Diego Natural History Museum (right). It was the first major avifaunal review for any of the State's 58 counties, and was rich in detail of specimen-backed locality records throughout this large and impressive county. Unitt is interested in subspecific variation, and this work contains original research and a broad scope of review on this topic.

Birders at the Salton Sea contributed some unbelievable finds this summer — seabirds inland! Curtis Marantz had a Sooty Shearwater and an Ancient Murrelet at the north end 16 June, both second records inland. Guy McCaskie had a Leach's Storm-Petrel there 30 June, and the highlight was a Cook's Petrel at the north end off and on from 24-29 July (Steve Cardiff, Donna Dittmann). It was previously known only far offshore or as a coast-cast specimen. These finds would eventually be repeated but, at the time, were astonishing.

Paul DeBenedictis, writing for the national journal American Birds, had suggested that "a revelation of the real size of a Palearctic component in the avifauna of the Americas will be a significant contribution to ornithology by birders during this decade." We have already seen some evidence for this in the early years of the 1980s. Autumn 1984 would add much more: two new California records, another considered the "first unambiguous," and a first mainland record of eastern Palearctic migrants. In northern California, a Brown Shrike banded 20 Sep on S.E. Farallon I. (1st CA rec; photo below left © Phil Henderson) was good news (but unattainable to birders), but a chasable Dusky Warbler (2nd CA rec, first for the mainland) was better news. Discovered by John Luther at Hayward Regional Shoreline 28 Sep, it was still through the next day for dozens of observers (photo below right © Al Ghiorso).

In southern California, an adult White Wagtail of the race ocularis was near Pt. Piedras Blancas, San Luis Obispo Co., 5-8 Oct (Greg P. Smith). It was also chasable and was considered a first unambiguous State record of ocularis at the time, although, in retrospect, it appears that one or more of the juvenal wagtails that were recorded in the 1970s were also of this race (still split from M. lugens by the A.O.U.).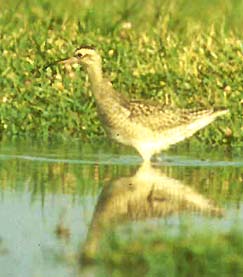 These were all impressive, but they paled compared to the Little Curlew found by Paul Lehman in the Santa Maria valley of northern Santa Barbara County on 16 Sep (photo, right, 22 Sep © Alan Hopkins). At the time Paul was chasing a Curlew Sandpiper found earlier in the day (Louis Bevier), so the curlew is an example of the famed 'Patagonia Rest Stop' phenomena. Not only was this a California first, but a new bird for the entire Western Hemisphere — a species with a long migration route but a small world population, a species not found in any North American guide of any type. It proved to be in juvenal plumage, and thus, like most other fall vagrants, had made a navigational error during its first flight south. It wandered throughout the flooded fields of the river valley for a month, remaining to 14 Oct. During the latter half of its stay it favored a field owned by local ranchers, the Mahoneys, who permitted access to hundreds of birders. Paul Lehman & Jon Dunn wrote up the scientific paper ("A little-known species reaches North America." Amer. Birds 39: 247-250, 1985) but Brad Schram's account of the event, entitled "Mahoney's Curlew," remains entertaining reading (Birding 17:15-18, 1985).

Yet two other birds representing first State records occurred that autumn, although it would take years to sort out that fact. A Ruddy Ground-Dove at China Ranch, Inyo Co., from 31 Aug-29 Sep 84 (Jan Tarble) and another at Iron Mt. Pump Station, San Bernardino Co., 11 Oct-3 Nov (Bill Wagner) would prove to be the first of an invasion of this species to California that would lead to nesting pairs in the 21st century. And a poorly seen but interesting adult gull on 30 Dec (Kurt F. Campbell), studied over the first three weeks of 1985 (Campbell, R. Stallcup, D. DeSante et al.) at Bodega Bay, would turn out to be the State's first acceptable Iceland Gull., L. g. kumlieni. This taxa would remain controversial for taxonomic reasons (Is it a hybrid swarm with Thayer's Gull? If so, how recently evolved? Is hybridization still occurring? If so, where and how do we know? Is it a stable taxa?) and California reports would be subjected to hyper-critical review for years, despite evidence that birds originating within the breeding range of kumlieni were regularly occurring in tiny numbers each winter, but that's another story for a different place. Meanwhile, the State's 2nd Lesser Black-backed Gull lounged at the south end of the Salton Sea from 18 Dec-5 Jan (Jon Dunn).

To close out the memorable year, a Mottled Petrel was watched close to the kelp line at Pt. Pinos, Monterey Co., on 12 Dec, as it battled 40 mph winds and made its way west against the gale (Don Roberson).
1985
After the gulls of winter, the first real excitement for 1985 did not occur until 13 Apr, when a birding group that included Brian Daniels and Loren Hays found a a spring overshoot Common Black-Hawk circling over Thousand Palms Oasis, Riverside Co., another California first. A Black-backed Wagtail from Ron LeValley's back yard overlooking the Mad R. estuary, Humboldt Co., was a remarkable 'yard bird' 13 May. Northern California got its first Spotted Redshank the next day at Crescent City (Dick Erickson), refound 15 May at Lake Earl, Del Norte Co. (it was in full alternate plumage; given its exceptional rarity in California — one prior record in '84 — and the fact it was in adult plumage, it is possible this was the same bird as at the Salton Sea last spring). A Red-footed Booby flew around Morro Rock, San Luis Obispo Co., 27 May (John Schmitt; 1st for southern Calif., 3rd for State).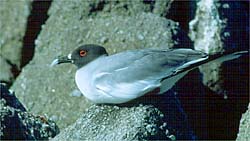 In Monterey Bay, millions of pelagic red crabs were washing up on local beaches, providing a feast for local gulls. The red crabs had invaded Monterey Bay with the 'once-in-a-century' El Niño of '83-84, and now, with the waters cooling, they were all dying. The long arm of El Niño was never more apparent than in early June 1985 in Monterey Bay. On 6 June, Alan Baldridge was walking to his office at Hopkins Marine Station, on the shore of Monterey Bay, and did a double-take. Sitting among the nesting Western Gulls in a small colony just offshore was an adult Swallow-tailed Gull, an endemic to the Galapagos Islands (photo right © Peter LaTourrette). The regional editors for Amer. Birds wrote: "This fantastic bird roosted on the rocks by day, became more active late in the day, and presumably flew out to sea at night to feed, returning about 7:30 a.m. on June 7. It was rediscovered at Moss Landing June 8. The origin of this gull was predictably controversial. Theories ranged from a delayed result of El Niño to ship-assisted passage."
The Swallow-tailed Gull may have been the most controversial bird in State history, with opinion split between those who thought it a wild vagrant — and just about the best bird to reach California — and those who preferred to await a "pattern of occurrence." That pattern was established when another adult Swallow-tailed Gull was seen 15 miles off the Farallones on 3 Mar 1996, during a warm-water decade that led to another major El Niño in '97-98. With the appearance of the 2nd record, the 1985 bird was finally unanimously accepted by the CBRC. Even in an ordinary year, Swallow-tailed Gulls migrate as far south (36 degrees) as Monterey Bay is to the north, and a vagrant could reach us. However, to date, the two California birds were associated with major El Niño phenomena in the eastern tropical Pacific when much of the world's population is dispersed from their normal routes when their food supply in the Peru Current collapses. A specialized night-feeder gull whose breeding biology resembles that of terns, there is no evidence that this species has been in captivity or even could be a ship-assisted captive.
Jon Dunn found a Louisiana Waterthrush at Deep Springs, Inyo Co., 7 Aug (2nd CA rec). John Mariani, using the new information on stint i.d. (see 1984), found a juvenal Little Stint at Moonglow Dairy, Moss Landing, Monterey Co., on 10 Sep. It was chased by locals, missed, rediscovered days later, and finally become a crowd favorite through 21 Sep at this private working dairy (below; photos © D. Roberson), which graciously permitted birder access.
Both the Swallow-tailed Gull and the Little Stint just made it into press for the late 1985 publication of Monterey Birds by Don Roberson, the second serious avifaunal review of an interesting California county.

On 25 Oct, the State's third Spotted Redshank, this one in juvenal plumage, was found in the Santa Maria valley (Louis Bevier). It was successfully chased by locals that afternoon, so many birders headed that direction to try the next day. Then tragedy struck. A car carrying birders was broadsided by a truck at an intersection in the bottoms, and long-time Santa Cruz observer Carolyn Fredricksen was killed. In all the miles, over all the long chases throughout the era, this was the only fatality linked to a bird chase. It devastated the bird world.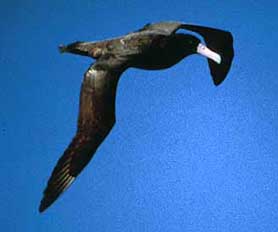 Rich Stallcup was leading a boat trip to the Cordell Bank, off Marin Co., on 3 Nov when a huge dark albatross with a bubble-gum pink bill glided in behind the boat. "Short-tailed Albatross!," cried Rich. It was indeed, just the 2nd modern record after the species nearly went extinct during World War II. Some photos showed it wore a band from Torishima I., Japan, the only remaining nesting colony. A hastily arranged chase trip went out from Bodega Bay in rough weather on 5 Nov, carrying many of the State's top listers. After almost everyone was sea-sick, the near-mythical young Short-tailed Albatross appeared (right; photo © Don Roberson). It was "truly awe inspiring," read my notes; we note in passing that an unprecedented 45 (!) Wilson's Storm-Petrels were also recorded that trip.

In the last week of the year, a few Common Redpoll were appearing in extreme northeastern California. Over the next 3 weeks, over 20 were found between Tule Lake and Lower Klamath NWRs. Jon Dunn photographed this one (below left) at Tule Lake on 31 Dec. This was the first redpoll incursion in a century, so State birders began the long, cold trek north. Among them were Arnold Small and Herb & Olga Clarke, who flew to Klamath Falls, Oregon, and rented a car. They were up before dawn, driving the icy roads to get to the site early. In the bitter cold they hit a patch of "black ice" and flipped the car, rolling it over completely and landing back upright. Shaken but undeterred — after all this was the first chasable Common Redpoll in the State! — they continued on. Just a few of us were there when they arrived in a badly banged up rental (below right). But this story had a happy ending — everyone got the redpoll.
1986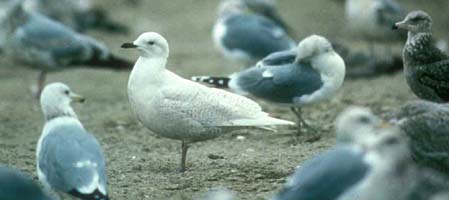 While debate would rage over the prior Bodega Bay gull, and every other claim of Iceland Gull in California, this extreme pale-end glaucoides-like juvenal gull at the Otay Dump, San Diego Co., 17-26 Jan 1986 (Dale Delaney; photo right © Arnold Small) seemed to satisfy even the toughest critic.

In April, several research cruises off the California coast reported dark Pterodroma petrels, variously identified as Solander's or Murphy's Petrels. A boat trip to the Cordell Banks 1 June had 7 more such birds, again with various labels. It took years, and much further experience, before it became evident that all had been Murphy's Petrels — new to the State list — and that this little-known species is actually of regular occurrence far offshore in spring and early summer.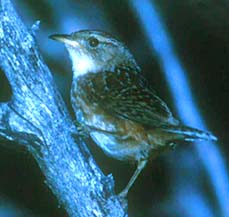 Summer 1986 produced several unexpected birds. First was a Whip-poor-will on Pt. Reyes 6 June (Gjon Hazard, Rich Stallcup), a first to coastal northern California. Then Ray Ekstrom found a singing Sedge Wren on territory in the Little Shasta Valley, Siskiyou Co., during a breeding bird survey for a 2nd State record. It would remain almost a month (photo left © Herb Clarke). On 9 June, a most unexpected Red-headed Woodpecker made a brief visit to Pt. St. George in the extreme northwest corner of California (Jeff Kingery).

On 31 Aug, Rich Stallcup added another species to the State list when he (and a boatload of birders) photographed a light-morph Wedge-tailed Shearwater several miles off Pt. Pinos in Monterey Bay. This would be the first of several records of this, and other, warm-water procelarids that would reach central California during the warm-water decades of the '80s and '90s.

In early Sep, the long-anticipated Eurasian Dotterel was found in short-grass fields on Pt. Reyes (David Holway, Durrell Kapan). The youngster would be ogled by many from 6-9 Sep (photo below 7 Sep © Don Roberson). It represented a 2nd State record (the first had been on the Farallones in Sep 1974).

In southern California, good birds of the fall included a Gray-cheeked Thrush at Pt. Loma on 1 Oct (1st southern CA rec; Richard Webster); a Groove-billed Ani on 25 Oct at Seeley, Imperial Co. (3rd CA rec; Phil Unitt); and at year's end, a visiting birder described a male Xantus's Hummingbird from Yaqui Wells, San Diego Co., which, when accepted, was another State first (Richard Klauke). This hummer is a Baja California endemic, and would make much bigger news in 1988.
In northern California, the State's 1st Chuck-will's-widow was picked up injured at Half Moon Bay, San Mateo Co., 16 Oct (and became a specimen at the California Academy of Sciences). Then the State's 2nd (and first chasable) Purple Gallinule was present 17-26 Oct at a park in Fremont, Alameda County (Alice Hoch). The next month, visiting Oregon birder Mike Denney would find a shrike at Whitehouse Pool, Pt. Reyes, on 28 Nov that puzzled him; he thought it might be a Brown Shrike but the word was not circulated locally. It was found independently on the Pt. Reyes CBC and reported as a Northern Shrike. It wasn't until three weeks after the initial sighting that Kevin Hintsa would look for this shrike and discover that it actually was a Brown Shrike (photo left © Rich Stallcup) — a Siberian vagrant that represented the 2nd State record and the first for the mainland (the first having been banded on the Farallones in 1984). It would remain to 26 Apr to be seen by all who wished.

Farther north in Humboldt County, an Oriental Greenfinch of a northeast Siberian race foraged with a flock of House Finches at the Arcata wastewater ponds facility on 5 Dec (John Sterling); it would remain to 3 Apr. Although the evidence seemed quite favorable to it being a wild vagrant, some expressed concern about the chances it was an escapee from captivity (birds of the Japanese race are regularly kept cage birds). This dispute was never settled; eventually the CBRC relegated it to the limbo of a "supplemental" list. Given the other Siberian species that reached California this fall, however, some still consider this a perfectly fine addition to the State list.

Finally, yet another species was added to California's wintering warblers when a Blackburnian discovered in Pacific Grove, Monterey Co., 29 Dec remained until 22 Mar (Don Roberson).
1987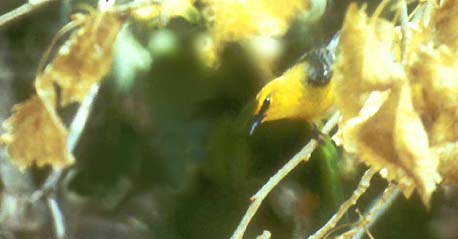 After a rather quiet winter, spring 1987 had some nice warblers. By now, of course, even superb finds like Golden-winged or Blue-winged Warbler would not be bold-faced in American Birds; after all, by late May 1987 the State had accumulated 32 records of the former, and six of the latter. But never before or since have both species been in the same tree in California. Over 29-30 May a male Golden-winged (John Wilson) and a female Blue-winged (Jon Dunn) spent a fair bit of time in the same cottonwood at Butterbredt Springs, Kern Co. (photo right of the Blue-winged © John Wilson). The other major spring highlight was the State's 2nd Violet-crowned Hummingbird near Saugus, L.A., 25-29 May (Laura Vance).
A major step forward in bird identification occurred with the publication of the Identification Guide to North American Passerines by Peter Pyle, Steve Howell, Robert Yunick, and Dave DeSante (left). Although aimed primarily at bird-banders, its detailed analysis of age, sex, and i.d. criteria for American landbirds was a major achievement, matched only by the Svensson guide in Europe.

In fall, Rich Stallcup found a wild behaving Crested Caracara feeding on a lamb carcass in the Mono Basin, Mono Co., 13 Sep. It was chased successfully by some but more often missed by others through 16 Oct. Again there was a major debate about its origin: wild or escaped captive? The CBRC eventually placed it in a "supplemental list" limbo, pending other records [the species was not officially added to the "main" list until 2005]. Researchers on the Farallones banded another Dusky Warbler (California's 3rd) on 14 Oct. Guy McCaskie found southern California's 2nd Gray-cheeked Thrush at Pt. Loma on 2 Oct; this time this representative of a very skittish species remained 'chasable' for a week.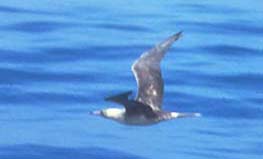 The most significant bird event of the autumn was a most unexpected influx of Red-footed Boobies to coastal California. A half-dozen or so occurred between October and early December (not everyone agreed on the i.d. of every booby), but the Red-foots ranged from light morphs (e.g., one 3 mi off Santa Barbara I. on 11 Oct, photo right © K.L. Garrett) to dark morph birds. One in San Francisco Bay was eventually entangled in fishing line and taken to a local SPCA. Nothing like this had occurred before, and it was presumably related to the major increases in sea surface temperatures off California during the '80s and '90s, book-ended by the great El Niños of '82-83 and '97-98.
1988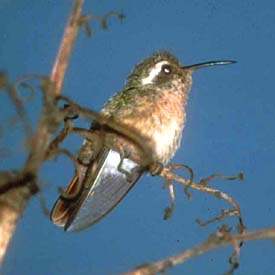 The year began with a famed vagrant from the tip of Baja California. A Broad-billed Hummingbird (a very good vagrant) had been frequenting Virgil Ketner's yard in Oxnard, Ventura Co., since Nov. Kem Hainebach went to look for it and discovered California's first chasable Xantus's Hummingbird (photo left © Arnold Small). It was actually a second State record (see 1986) but hundreds of birders got to see this one. The female built a nest but eventually abandoned it (and the yard) by 27 Mar.

Little else made news until summer, when a dark-morph Wedge-tailed Shearwater was studied at the north end of the Salton Sea, of all places, on 31 July (2nd State rec.; Richard Webster, Guy McCaskie).

In autumn, the State's only Little Curlew — now an adult — made a brief appearance in the Santa Maria bottoms 23-24 Sep (Mike Lippsmeyer). But over the course of the last three months of 1988 a stream of vagrants that breed in northeast Asia made appearances throughout California in an unprecedented fallout that surpassed even the "Siberian Express" of 1983-1984. Here are the highlights (photos of first State records follow the list):
Terek Sandpiper at Carmel SB, Monterey Co., 28 Aug-23 Sep (1st State rec; Erika Wilson, Bette Harriman). Photo below left 29 Aug © Peter LaTourrette
Long-toed Stint at Salinas wtp, Monterey Co., 29 Sep-2 Sep (1st State rec; Brian Daniels, Michael Patten). Photo below center 29 Aug © Peter LaTourrette
Hudsonian Godwit at Carmel 28 Aug & Salinas R. mouth 4 Sep-3 Oct (Shawneen Finnegan; this Arctic breeder is not a Siberian bird)
Bar-tailed Godwit at Salinas R. mouth 11 Sep (S.F. Bailey)
Gray Wagtail at Salinas R. mouth 9-10 Oct (1st State rec; David Sibley). Photo below right 10 Oct © Stephen F. Bailey
Northern Wheatear near Kirkland, Tehama Co., 13-15 Oct (3rd State record, first 'chasable;" Steve Laymon)
Spotted Redshank in the San Joaquin Co. delta 19-20 Nov (4th State rec; Mike Lippsmeyer, Tim Manolis, Jeri M. Langham)
Little Stint collected at Harper Dry Lake, San Bernardino Co., 21 Nov (3rd State rec; Eugene Cardiff)
Rustic Bunting at Half Moon Bay, San Mateo Co., 25-27 Nov (2nd State rec; Ron Thorn)
Whooper Swan at Venice I., San Joaquin Co., 16 Dec (2nd State rec; Mike Lippsmeyer)
Yet these were not the only rarities in the State. Coming from the other direction, northern California had three different Yellow-green Vireos. Flying from somewhere to the east, a Red-headed Woodpecker (4th State rec; Karen Bridgers) made a very unexpected visit to Goleta, Santa Barbara Co., 14 Sep (photo above left © Don Roberson). The woodpecker remained until April 1989; Karen Bridgers' entertaining account on "The joy of finding the bird" appeared in Birding 21: 269-270. And from somewhere down Mexico way, a Least Grebe visited the Warm Water Fish Hatchery at the south end of the Salton Sea 19 Nov-24 Dec (John Menge; photo above right © Arnold Small). This was a 2nd California record and the first for everyone who went to look at it. The State's first and previously only record was a family group collected on the Colorado River back in 1946.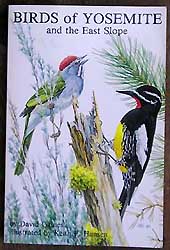 1988 also saw the publication of David Gaines' Sierran and Great Basin avifauna Birds of Yosemite and the East Slope. This was a major update and upgrade from his Birds of the Yosemite Sierra (1977). Now enlivened with art by Keith Hansen, this summary of status and distribution was lyrically written in memorable prose. Sadly, David Gaines did not live to see its publication. He was tragically killed in an automobile accident in January 1988, not far from his beloved Mono Lake. His work, and that of the Mono Lake Committee that he founded, would eventually save Mono Lake from becoming a dead sea due to the incessant water diversions by the City of Los Angeles, which owned water rights. It was not until 1994 — a full 20 years after Gaines first became interested in Mono Lake — that Mono Lake would be saved by State orders restricting diversions and setting minimum stream flows and lake levels. "Save Mono Lake" read the bumper sticker on many a birder's car in the 1980s. The fulfillment of that dream was one of the great environmental victories of the late 20th century.
1989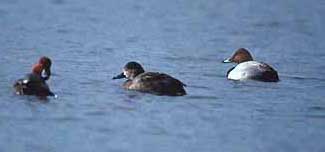 After the excitement of the previous year, 1989 passed relatively quietly. The male Common Pochard that frequented Silver Lakes, San Bernardino Co., 11-17 Feb (first State record, Robert Potvliege; photo left © D. Roberson, with two Redheads) might be considered the final passenger on the Express. But unrelated to that phenomena was a road-killed Chuck-will's-widow at Loleta, Humboldt Co., 4 Jan (2nd State rec).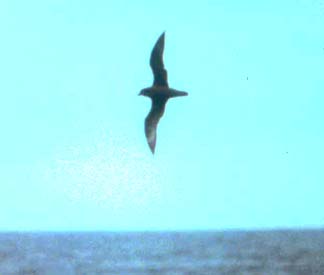 Richard Spight offered his private yacht for a major ornithological expedition in late April, to be led by Steve Bailey, Peter Pyle, and David Yee. Decent weather permitted a cruise a hundred miles offshore from Marin to Mendocino counties, and the results were impressive: 98 Murphy's Petrels (one of them collected to satisfy even the museum ornithologists; another photo'd, right, © S.F. Bailey), 113 Cook's Petrels, and 136 Horned Puffins. This decade, like the last, would end with major pelagic findings.

Back on the mainland, the State added a new breeding species when several nests of Franklin's Gull were found at Lower Klamath NWR in July (S.F. Bailey).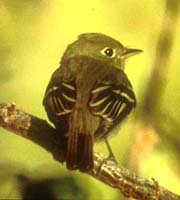 Autumn 1989 did not nearly have the diversity of the previous year, but it was not without highlights. Jon Dunn found a Yellow-bellied Flycatcher at Galileo Hill, Kern Co., that vocalized and was well documented (e.g., photo left © Matt Heindel). It was a 6th State record, but only the second for the mainland, and as it lingered 27 Sep-1 Oct, it became the first really 'chasable' one [although some, like your humble narrator, were out-of-State and missed it anyway]. More dramatic and unexpected was yet another Siberian landbird captured on S.E. Farallon I. on 1 Nov: a Red-flanked Bluetail (Dave Beadle), another California first from this magic rock. The year — and the decade — would end with another interesting landbird: a Field Sparrow at Irvine, Orange Co. 25 Nov-6 Jan 1990 (John O'Brien, Becky Boyd). It was a 2nd State record, the first having been — yes, you guessed it — on the Farallones back in 1969.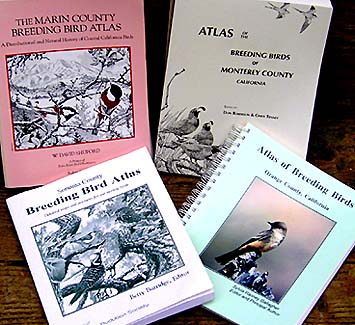 Throughout the decade of the '80s, significant progress was made on a series of grid-based Breeding Bird Atlas projects at the county level. Combined, these volunteer efforts would add a wealth of knowledge about the breeding birds of California. Marin County was the first to undertake a Breeding Bird Atlas, under the leadership of Dave Shuford. Data were collected from 1976-1982, and the Marin County Breeding Bird Atlas was published a decade later. Field work for other atlases began in the 1980s in Orange (1985), Sonoma (1986), San Bernardino (1987), Santa Cruz (1987), Monterey (1988), Santa Clara (1988), Sacramento (1988), Napa (1989), and San Luis Obispo (1989) counties. Field work would finish for all these projects in the early 1990s, and other counties would start their atlases then. The photo (right) shows the four atlases from the 1970s and 1980s that were published in the '90s: Marin (Shuford 1993), Monterey (Roberson & Tenney 1993), Sonoma (Burrdige 1995), and Orange (Gallagher 1997). Napa published their atlas in 2003 and several others are currently (2005) heading toward publication.