A GALLERY OF ELKHORN SLOUGH & MOSS LANDING VAGRANTS
All photos © 2000 to the photographer credited; copyright of all photos remains with them, all rights reserved.
May not be reproduced in any form (including other websites) without permission of the photographer.
There is a wonderful gull flock that congregates daily in Moss Landing harbor. In June 1985 California's first Swallow-tailed Gull, which had initially appeared at Hopkins Marine Station in Pacific Grove for two days, made its final local stop here where Ed Harper documented the occurrence (top; among Western Gulls 8 June 1985 © W. Ed Harper). I got Ed's call and was able to round out the last-remaining birders waiting at Hopkins; we all dashed to Moss Landing and got a few moments of fine views before the gull took wing and headed seaward once and for all.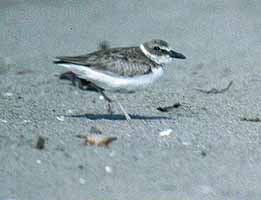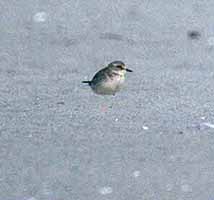 Among the Snowy Plover flock on Moss Landing State Beach in September 1992 were two incredible vagrants which had arrived from opposite directions: Wilson's Plover (far left; photo 15 Sep 1992) and Mongolian Plover (near left; photo 16 Sep 1992; both © Don Roberson). Both these rarities were found by Snowy Plover researchers who regularly count and note the color bands in the Snowy Plover flock. Birders have these intrepid researchers to thank for these great birds; the Wilson's actually remained for the next three months.
In Moss Landing harbor itself a wide variety of waterbirds have occurred but few have been more appreciated than this Craveris' Murrelet in the Moss Landing marina (below left; photo 7 Oct 1978; © 2000 Don Roberson) and an Emperor Goose that wintered next to the Hwy 1 bridge over Elkhorn Slough (below right: photo Apr 1978 © Ronald L. Branson).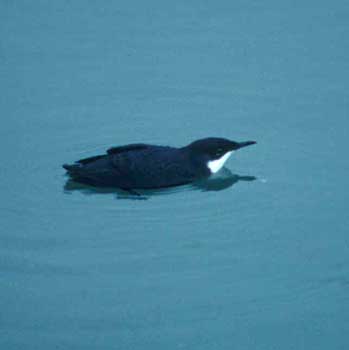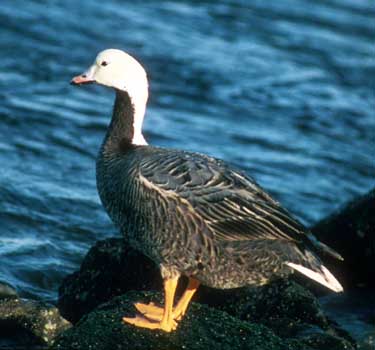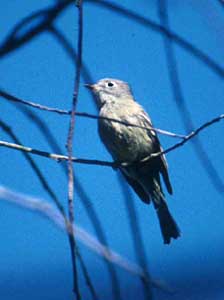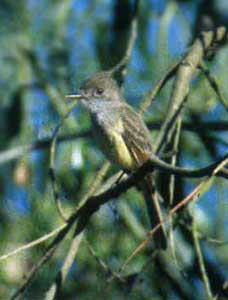 The eucalyptus grove at MoonGlow Dairy has been surprisingly good for vagrant landbirds. One of the rarest was this Dusky-capped Flycatcher (near right; photo 13 Feb 1996) while less spectacular, but still a rare bird along the coast, was this Hammond's Flycatcher (far right; photo 14 Oct 1997; both © Don Roberson).
MoonGlow Dairy has had some of the rarest birds in all of California. There is a separate MoonGlow Dairy page on this web site that has photos of a first, a second, and a third state record, plus details on how to bird this privately-owned location.
Here are two more good vagrants from MoonGlow: a juv. Bar-tailed Godwit (below left; photo 4 Sep 1994) and a juv. Sharp-tailed Sandpiper (below right; photo 22 Sep 1986; both © D. Roberson). The godwit was just the second Monterey County record, but MoonGlow Dairy has a series of records of Sharp-tailed Sandpiper, usually among groups of Pectoral Sandpipers.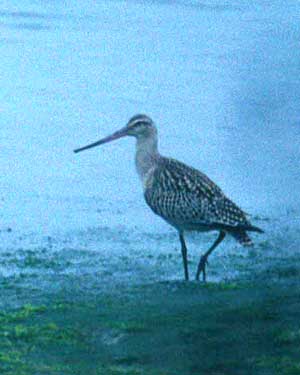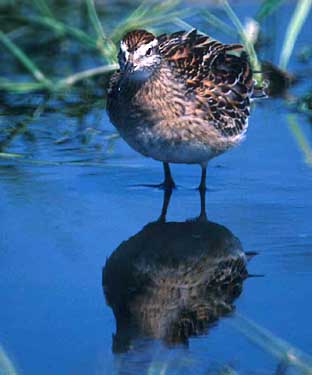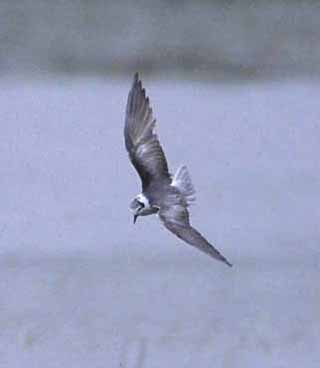 More recently, California's second White-winged Tern appeared in August 1999 and remained for six weeks, completing a molt from 1st summer to 2nd basic plumage. It ranged widely along Elkhorn Slough but visited pond #3 adjacent to MoonGlow Dairy most days, remaining there from minutes to hours. Ronald L. Branson took this shot in Sep 1999 (© 2000 R.L. Branson).

GO TO MONTEREY COUNTY PAGE

Page created 21-22 Sep 2000