MONTEREY COUNTY HIGHLIGHTS: 1998
Text by Don Roberson. Photos on this page are copyrighted by the photographers to whom they are attributed, and may not be reproduced in any form (including other web sites) without the express consent of the photographer.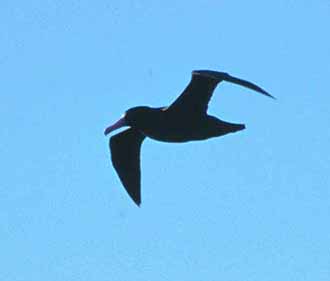 21 Dec 1998
Short-tailed Albatross Diomedea albatrus on the Monterey Bay Christmas Bird Count
Photo 21 Dec 1998 © Richard Ternullo
A hundred years ago, the Short-tailed Albatross was considered the easiest albatross to see from shore in Monterey County. Then the species was almost extirpated by plume hunters on its volcanic nesting island of Torishima, off Japan. It has been estimated that 5 million albatross were killed here from 1887-1902; a volcano in 1902 wiped out the village of the plume hunters (some suggest that was poetic justice...). Others arrived, however, and continued to kill thousands of albatross a year until another volcanic eruption in 1939 wiped out the village again. By the end of World War II, it was estimated that only 30-50 birds were left, and only of few of these were breeding age (it takes the Short-tailed about 12 years to reach full maturity). Slowly, though, the long-lived birds at sea have matured and returned to their natal island. The most recent estimate is apparently about 500 adults and perhaps 1000 birds in all.
This juvenal-plumaged bird, found by Steve Howell on a Shearwater Journeys boat engaged in the Monterey Bay pelagic Christmas Bird Count just 3 miles off Pt. Pinos, was the third young Short-tailed to be seen from boats off northern California in the last six months. These sightings, along with word of many recent observations in the Aleutians (details on line ) and a growing world population, give rise to hopes that this majestic sea-bird will regain its former regularity here in Monterey Bay.
Remarkably, yet another Short-tailed Albatross was seen from shore in spring 1999! The team of Craig Hohenberger, Jim Teitz, Bill Hill, and Dave Haupt saw one from Bird Rock, Pebble Beach, on the BSOL birdathon on 1 May. The views were quite distant as it and Black-footed Albatrosses were attracted to a trawler, but the huge pink bill and all-dark plumage was seen by some of them. A week later, on 9 May from Pt. Pinos, Tom Lowe had better views during near gale-force winds that sent several Black-foots and a young Short-tailed within 300 yards of shore (inside the red buoy off the point). The next day, 10 May, winds were still strong (but not gale-force) and Rita Carratello & I (Don Roberson) saw the Short-tailed off Pt. Pinos in the evening. The views were distant and backlit off to the west, but among then ten albatross seen, the Black-foots could be easily i.d.'d by their thin-winged shape and "bill-less" look at half-mile distance. The Short-tailed was a bit closer, had a very different shape (thicker-winged, stout-bodied, and big-tailed) and flight, and the huge bill was obvious (even if the color could not be determined in the silhouetted views). A full discussion of this identification problem is HERE.
Another exception sea-bird appeared on Monterey Bay on 13 Feb 1999: a juvenal-plumaged Masked/Nazca Booby just north of the dividing line in Santa Cruz County. Photos and an identification discussion on that bird are HERE.

11 Dec 1998-4 Jan 1999
Tundra Swans Cygnus columbianus on Crespi Pond, Pt. Pinos
Photo 24 Dec 1998 © Don Roberson
Crespi Pond may be the most famous tiny golfcourse pond in North America. It is a natural vernal pool at the tip of Pt. Pinos which was been converted by the Pacific Grove golf course into a permanent water hazard separating the 17th tee from the short par-3 hole. Some of us have been urging the City of Pacific Grove to manage the pond as an important natural habitat for birds, and there has been some progress towards that goal (the City stopped shooting coots, for example!), but the powers-that-be still think of this as a "golf course first" proposition.
Nonetheless, an incredible collection of birds have appeared on or adjacent to Crespi over the past 30 years. The pond is not large enough to hold most ducks for very long, and a swan on the pond seems to be in a bathtub! In December 1998, though, two immature Tundra Swans took up winter residence, feeding in the pond and sleeping on the shore, oblivious to the thousands of golf balls soaring just overhead (or plopping in the water nearby...).
There were just three previous records of swans on Crespi, all of single individuals: late Nov-8 Dec 1960, 4 Nov 1981, and 28 Nov 1983.
Page updated 10 May 1999