These highlights chronicle the year 2018. Created incrementally as new photos were available, the year runs generally "backwards" on this page. Unlike earlier years, many highlights have been limited to the exceptional rarities. The abbreviation "MTY" means "Monterey County" in the text below. Text by Don Roberson. Photos on this page are copyrighted by the photographers to whom they are attributed, and may not be reproduced in any form (including other web sites) without the express consent of the photographer.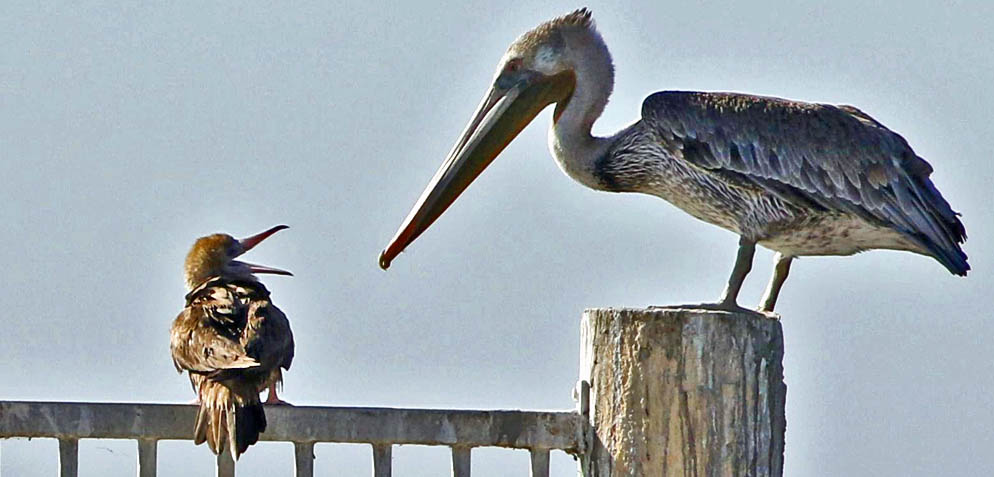 More tropical boobies! The highlight pages for summer 2018 were filled with news of tropical seabirds, particularly boobies. Nazca and Red-footed were the key species then. Now, in autumn 2018, another Red-footed Booby and a Masked Booby are front-page news. The Red-footed Booby is a feisty subadult in Santa Cruz County, using a regular roosting location at the tip of Seacliff SB pier (above, contesting the preferred roosting spot with a dominate Brown Pelican (photo above 9 Oct © Don Roberson). Quite possibly the same individual as seen from a Monterey Bay pelagic trip in the SCZ portion of the Bay on 21 Oct, it was first reported at the Seacliff pier on 1 Nov by Laura Paulson. It leaves to forage out to sea daily, possibly among a pod of Humpbacks often seen at a distance. See the summer highlights for more details of Red-footed Booby in MTY and northern California.
The other unexpected autumn booby was a near-adult Masked Booby roosting at the tip of Pt. Pinos off-and-on during 17-19 Oct. Found near dusk on 17 Oct by Blake Matheson, it also left daily to forage out to sea, and then returned for a nightly roosting spot over the succeeding two days. Comparison of photos taken on a pelagic trip in the SCZ portion of Monterey Bay on 13 Oct showed it to be that same individual, so it moved nearly 20 miles in choosing this roost (photos below taken at different times on 18 Oct, below left © David Tomb; photo below right © Fred Hochstaedter). The all-yellow bill and all-black tail are key features separating adult or near-adult Masked Booby from Nazca Booby (see Roberson 1998 and other seabird texts). This was just the second MTY record of Masked Booby. The first was an adult that roosting on a sandspit at the Salinas River mouth on 18, 20, and 22 June 1992, and was photographed. [A potential additional record, cited in Roberson 2002, is not documented by photos, and is not CBRC accepted.]

The return of the Masked Booby to its roost on 18 Oct coincided with "day 1" of the 4th annual 2018 Monterey Audubon "Pt. Pinos seawatch, "featuring the return of Karl Bardon (from MN) for his second year as the professional seawatcher. Here Karl, near left, scopes the booby next to (L to R) Fred Hochstaedter, Mark Kudrav, Todd Wills, and Michael Rieser (photo © D. Roberson). This year's seawatch runs from 18 Oct–15 Dec, which is two weeks longer than the preceding three efforts over the period 1 Nov-15 Dec.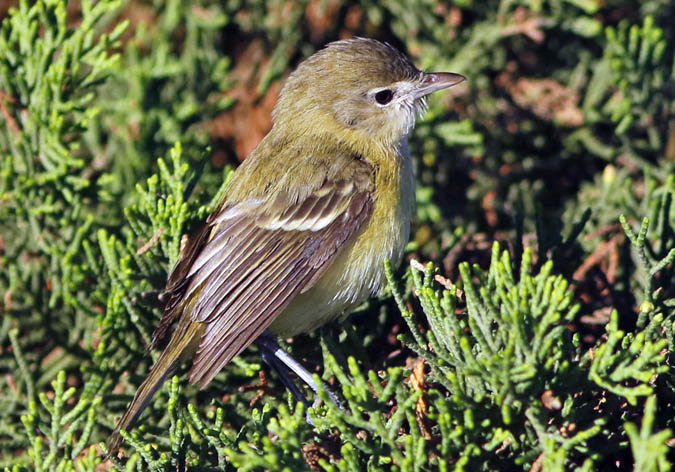 Incredible eastern vagrants! The fall of 2018 also sparkled as orchestrating one of the most dazzling displays of colorful eastern North American vagrants in recent history, particularly vireos and warblers. Probably the most unexpected was the least pretentious: this Bell's Vireo, from one of the eastern populations (i.e., subspecies bellii or medius), at Pt. Pinos from 14-17 Oct (photo right 16 Oct © D. Roberson). Found by visiting bird John Mendoza of San Luis Obispo County, the very active small passerine focused on coastal dune scrub and an occasional adjacent cypresses during it stay, often at off-limits areas of the Pacific Grove golf course at the Point.
California is host to the pusillus subspecies of Bell's Vireo, a very gray bird often known as "Least Bell's Vireo," which is an endangered species. It used to breed in southern MTY but the last recorded breeding evidence on the Salinas River near Bradley was back in 1993. The subspecies arizonae — gray with yellowish flanks — is common in Arizona and breeds sparsely on the California side of the Colorado River. But "eastern Bell's Vireo" is strictly a very rare vagrants in California.
From what I can glean from eBird and selected literature, there are only about a dozen prior records of "eastern Bell's Vireo" in all of California. Most (8-9) are from fall migration (Sep-Nov), one spring vagrant at Pt. Reyes, and three rather recent wintering individuals in southern California. Vagrants have reached San Clemente I. and the Farallones, but only San Diego Co. has multiple records (about four). This Pt. Pinos bird is a first for MTY.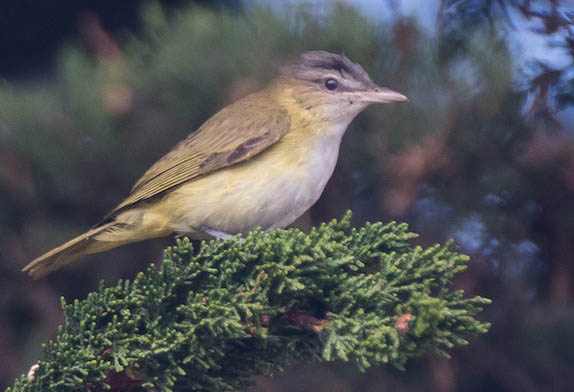 On 11-12 Oct there was a hatch-year Yellow-green Vireo at Laguna Grande Park, found by Paul Fenwick. Note the dark eye and crisp plumage (photo left © Blake T. Matheson). A red-eyed adult was in Pacific Grove earlier this fall; see photo on prior highlight page.
Philadelphia Vireo (below) is a very rare eastern vagrant in MTY. There were previously 13 records, including two last fall (fall 2017 highlights). Almost unbelievably, there were seven "Philly" Vireos this fall:
• 6 Sep at Laguna Grande (B.L. Sullivan)
• 14-19 Sep at Frog Pond (Hugo Ceja, Rita Carratello)
• 29 Sep in Pacific Grove (D. Roberson)
• 30 Sep at Carmel R. mouth (Michael Rieser)
• 2 Oct at Big Sur R. mouth (Michael Rieser)
• 12-14 Oct nr Carmel Highlands (M. Rieser)
• 20 Oct at Carmel R. mouth (Hugo Ceja)

This brings MTY's total to 20. Note that Michael Rieser found 3 of these, Hugo Ceja was involved in finding two.


Of the seven Philadelphia Vireos, a remarkable five were photographed. Here's a couple of those shots: 2 Oct at Big Sur R. mouth (near right © Michael Rieser) and 20 Oct at Carmel River mouth (far right © Hugo Ceja).

To round out the rare vireos for 2018, the first 'chaseable' Blue-headed Vireo since the formal split of the "Solitary Vireos" in 1998 was at the Carmel River mouth this fall. It was photographed by Michael Rieser on 30 Sep but left uncertain until found and photographed again on 8 Oct (photo right © Carole Rose). It was generally elusive in the canopy through 11 Oct. Note the dark blue-gray face, the very crisp demarcation between head color and the white throat, and the very extensive yellow on the sides of breast and down through flanks and vent. There were at least 12 records prior to this bird, most of them before the formal split, and most from fall migration.
Before turning to eastern warblers, let's mention a late October vagrant gull. Rare gulls generally turn up in winter but on 28 Oct a near-adult Lesser Black-backed Gull was discovered at the Carmel River lagoon by Brian Browne while participating in a weekend field trip to the Monterey area by members of the California Young Birders Club. Fred Hochstaedter and Catherine Webb just happened to be nearby, scoping for Harlequin Duck at the time, and Catherine obtain this flight shot (photo below © C. Webb). This gull has an all-white tail, suggesting it is at least 4 years old, but is still in primary molt and still has a messy bill pattern, suggesting it is perhaps just turning four-years-old. We might call it an adult or near-adult — the bright yellow eye is an important character in this species. This is just the 5th record for MTY.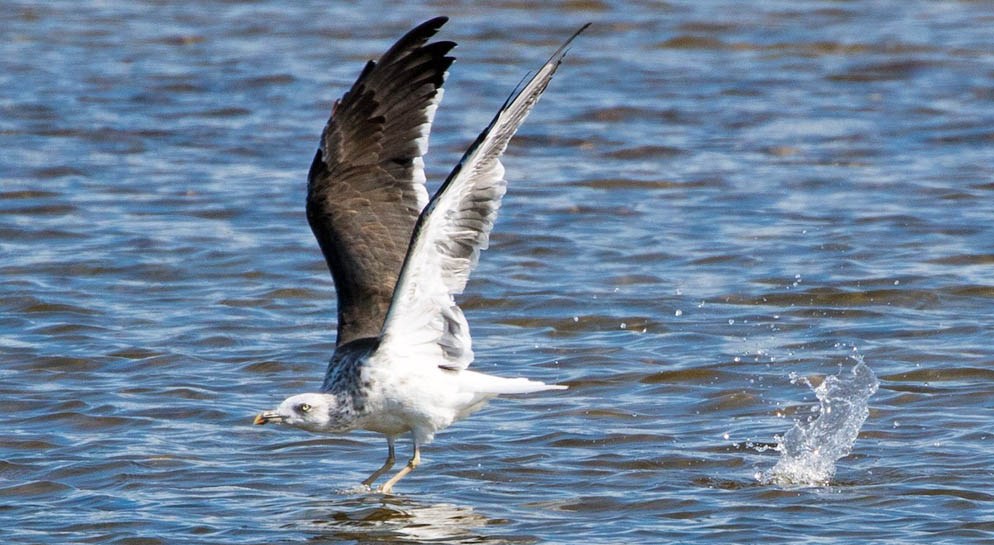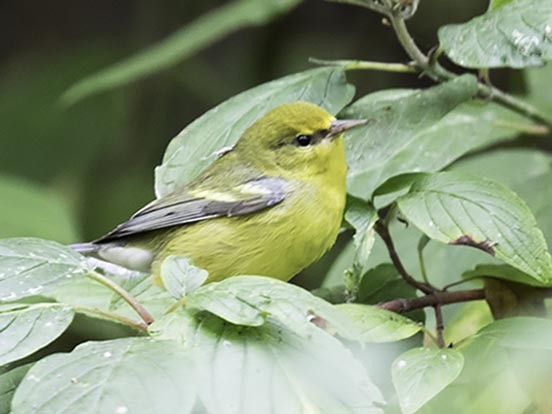 Eastern warblers made so many appearances in Sep–Oct that old timer's recalled the "good old days" from the 1970s-1980s. What was particularly interesting were comparative number among them. Usually routine vagrants such as Northern Waterthrush, American Redstart, or Blackpoll and Palm Warblers were found in average to below-average numbers while Tennessee and Chestnut-sided Warblers made strong showings. What we'll emphasize here are usually very rare warblers that delighted us by occurring in record numbers.
Our rarest warbler this fall was a very obliging hatch-year female Blue-winged Warbler, found by Tim Amaral and Marcos Rangel, that lingered in creek dogwood at the Carmel River mouth riparian from 8-10 Oct (photo left 9 Oct © Bill Hill). This was MTY's 7th record, and the 3rd from fall migration (there were singles in fall 1993 at Carmel R. mouth and Big Sur R. mouth). Another tried to winter in the 'Odello willows' at Carmel R. mouth in 2006-07. There are also 3 spring records, two of them singing males.
| | | |
| --- | --- | --- |
| There were three Canada Warblers this fall; two in Sep were featured on the prior "highlights" page. The third was found by Rita Carratello, with her adult education birdwatching class, at the Carmel R. mouth on 17 Oct. The imm female lingered to 24 Oct (a full week). This made it the most seen / photographed Canada Warbler ever in MTY (photos near right 19 Oct © Rita Carratello, far right 17 Oct © Cooper Scollan). | | |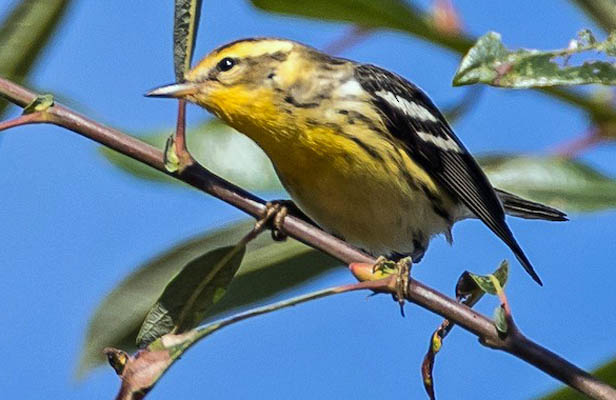 Blackburnian Warbler, always a rarity, has had "bad" years (when there are none) and "good" years (e.g., 3 in autumns of 1985 & 1999) but never before have there been as many as this fall, when six were located:
5-6 Sep at Pt. Pinos (Rick Fournier)
6 Sep at the Presidio of Monterey (Michael Rieser)
16 Sep at Moonglow Dairy (Paul Fenwick)
10 Oct in Hatton Canyon (Michael Rieser)
11-20 Oct at Carmel R. mouth (B.L. Sullivan, P. Fenwick)
24 Oct at Laguna Grande
All of these were photographed, which must set another record. The bright hatch-year male (right) was at Laguna Grande on 24 Oct (photo © B.T. Matheson).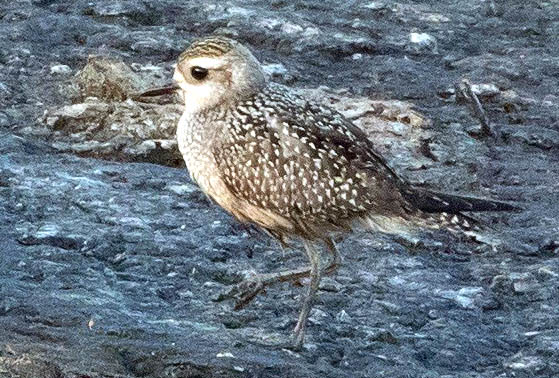 Two excellent fall vagrants got away without photos: a Least Flycatcher at Carmel R. mouth on 3 Oct (Brian L. Sullivan) and a Common Ground-Dove at Andrew Molera SP on 14 Oct (Blake T. Matheson).
While it was a fine migration for passerine rarities, notable shorebirds were few and far between. Now that the Salinas WTP are no longer managed for shorebird habitat, and other ponds were either dry or too full, habitat for waders has been much reduced in MTY. The only Solitary Sandpiper was on private land near Moss Landing 14 Aug (Rick Fournier). Moonglow Dairy was still a prime location, though, with two Semipalmated Sandpipers, a Ruff on 2 Oct (Rick Fournier +), and this big-eyed, juvenal-plumaged American Golden-Plover, found by Kent Van Vuren, from 30 Sep-3 Oct (photo left 2 Oct © Fred Hochstaedter).
But did we mention tropical boobies! See the top of this page.
Literature cited:
Roberson, D. 1998. Sulids Unmasked: which large booby reaches California? Field Notes 52: 276-287. [on-line]
Roberson, D. 2002. Monterey Birds. 2d ed. Monterey Audubon Society, Carmel, CA.