These highlights chronicle the year 2018. Created incrementally as new photos were available, the year runs generally "backwards" on this page. Unlike earlier years, many highlights have been limited to the exceptional rarities. The abbreviation "MTY" means "Monterey County" in the text below. Text by Don Roberson. Photos on this page are copyrighted by the photographers to whom they are attributed, and may not be reproduced in any form (including other web sites) without the express consent of the photographer.
Two final amazing birds concluded 2018. First, the Yellow-breasted Chat that wintered at Laguna Grande Park in Seaside the last two years returned on 12 Oct (Kent Johnson) and was still present through the end of the year, seeking to survive an unprecedented third winter in northern California (photo below 13 Dec © Blake T. Matheson). Second, a totally unexpected Sage Thrasher turned up eating toyon berries and sitting atop a wall at the In-n-Out Burger parking lot adjoining Laguna Grande Park on 9 Dec by David Yee. It, too, remained into the New Year, somehow surviving the drive-in traffic (photo below right 9 Dec © Bill Hill). Laguna Grande also hosted other wintering rarities to year's end, including two Nashville Warblers, a Swamp Sparrow, and single Yellow, Palm, Black-and-white, and Tennessee Warblers!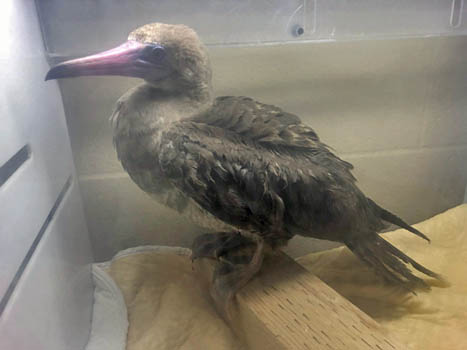 Since the last update of this page in mid-November, three more rare boobies were present locally during our most amazing booby year ever. On 29 Nov, Karl Bardon saw an adult Nazca Booby fly past Pt. Pinos as part of the Pt. Pinos seawatch. The next day, 30 Nov, Bardon and Brian Sullivan documented an adult Masked Booby flying past the Point (photo below © Brian L. Sullivan).
Also on 30 Nov, the Monterey harbor-master was given a sick booby (we don't know exactly when or where the booby was captured, but presumably in the Monterey harbor area). Our local SPCA was called and they retrieved this dark-morph Red-footed Booby (photo right 3 Dec © Ciera Duits-Cavanaugh for Monterey SPCA). It was initially thought that the booby would not last through the night, but it did and started to improve. On 13 Dec, SPCA transferred this booby to International Bird Rescue in the S.F. Bay Area, with hopes that it would fully recover and possibly be eventually released in Hawaii.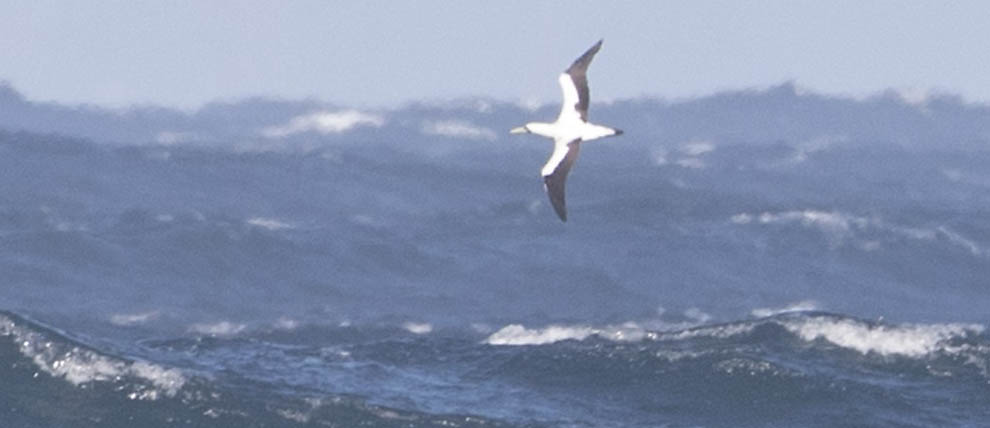 A NEW NON-NATIVE BIRD ARRIVING?
The spread of non-native birds is always problematic — at what point does a non-native species become "established" and thus become a "permanent" part of the local avifauna? From a State level, that is determined by the California Bird Records Committee (CBRC) based on their bylaws, which provide:
The Committee will also review records of breeding populations of introduced species not on the state list, but only if evidence is submitted that attempts to prove (a) the correct identification of the species and (b) the viability of the population. To be judged viable, a population must: (i) have bred in the state for fifteen (15) consecutive years, (ii) in general, be increasing or stabilized after an initial period of increase, (iii) be judged to have occupied all geographically contiguous suitable habitat to such a degree as to sustain the population and be thought unlikely to significantly diminish, and (iv) occupy an environment judged similar enough in ecological factors (e.g., climate, vegetation, food, shelter, competitors, predators) to the species' natural habitat, or to other successful introductions, that permanent establishment seems likely.
The history of non-native introductions has shown four basic chronologies:
Escaped or released birds do not survive long (for example, many tropical species don't survive our winters) but those that are common in the pet trade do escape or are released, and are seen "in the wild": examples include various flamingos, non-migratory waterfowl, macaws, Budgerigar, Zebra Finch, and many more.
Escaped or released birds mostly don't survive long, except in a small area, where they breed and survive for years, but they never spread far from that small area: examples included Northern Cardinal in the Los Angeles area or Rose-ringed Parakeet in Bakersfield. On a national level these have included Blue-gray Tanager in Florida, Black Francolin in Louisiana, and Crested Myna in Vancouver, B.C. vicinity. Despite breeding for years, all these local populations eventually failed. The same applied to Red-crowned Parrot in MTY, which bred sporadically on the Monterey Peninsula from about 1983-2003, and got up to 13 birds, but all are gone now.
A more broadscale boom and then a bust with the entire population eventually disappearing. Spotted Dove in California was very common and widespread for decades, but now has declined to tiny remnants; they may be out-competed by Eurasian Collard-Dove. European Goldfinch in the northeastern U.S. had that trajectory — so common in the 1950-1960s that they were in the standard field guide, but no breeding population exists now.
A broadscale boom and expansion, often reaching a widespread peak (and sometimes a decline to a "stability" point, and becoming permanently established. Under the State bylaws, the CBRC has accepted 11 non-native species as meeting the criteria and thus "permanent establishment seems likely": Wild Turkey, Ring-necked Pheasant, Chukar, White-tailed Ptarmigan, Rock Pigeon, Spotted Dove, Eurasian Collared-Dove, Red-crowned Parrot, European Starling, House Sparrow, and Scaly-breasted Munia. Obviously, each of these species are "established" within their appropriate habitat — the Ptarmigan are only at high elevations above treeline in the Sierra Nevada; the Chukar is confined to very arid, rocky habitat in the interior; the Red-crowned Parrot and Scaly-breasted Munia are primarily in coastal southern California.
It is often impossible to determine which pathway a particular introduction of a non-native bird will take without years of data. In Monterey County only five species are currently considered permanent residents. All are widespread throughout the county: Turkey, Rock Pigeon, Collared-Dove, Starling, and House Sparrow. The most recent of these is Eurasian Collared-Dove. A small colony in King City in 1999-2000 was traced to releases from a local aviary. The first on the Monterey Peninsula was in March 2000 and the first pair was seen in 2002. More and more appeared each year and pairs were breeding. A large increase from 2005-2007 spread doves widely. Today they are common in populated areas throughout MTY. It took at least 5 years from the first one in Carmel in 2000 to determine that Eurasian Collared-Dove was a part of the MTY avifauna. [For birders using standard listing rules, non-natives are not "countable" until determined to be "established."]
We may now be in the early stages of the possible establishment of Scaly-breasted Munia in MTY. There are the CBRC-accepted populations in southern California from San Luis Obispo County to San Diego County (estimated at 1,400 birds in 2011) that continue to grow and spread. To the north, Santa Clara County has had escapees since 1997, nesting since about 2000, and more recently a potential population growing at specific sites (more details on Kendric Smith's web site). Recent reports at Pinto Lake in Santa Cruz County might suggest a spread southwards from the Santa Clara population.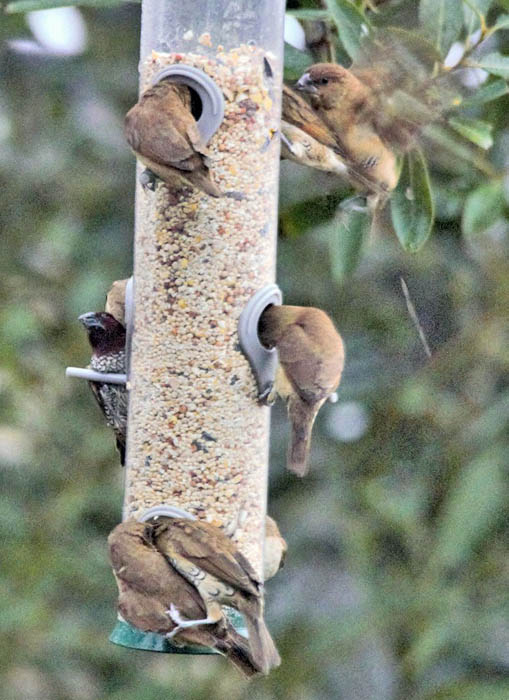 The first 3 records from MTY were reported Nov 2017-Jan 2018 but then there were none for months; it seems apparent that these first released or escaped birds did not survive. This fall, however, there are 4 records around the Peninsula involving multiple birds in small flocks of up to 6-8 individuals. Laguna Grande Park and the Frog Pond Preserve had small flocks in reedbeds. These might be birds from an expanding population elsewhere in the State, but these sites are also the most logical spots for people to release non-natives. Non-native turtles and fish are known commonly from Laguna Grande and Roberts Lake; I personally talked to someone releasing their large pet goldfish because they had to move and felt these ponds would be places their pet might survive. Munias breed easily in captivity, and often breed in our autumn, so it is a logical time for pet-owners to release the whole family. So far, none of these groups has been seen in any week following a report, which might suggest the birds are not surviving. We just don't know the true facts, and don't have enough data to determine their status.
However, the presence of up to 15 individuals in small flocks at a feeder near Salmon Creek, just 2 miles north of the Monterey-San Luis Obispo border does suggest that it may represent an incursion into MTY of "established population" birds from the Morro Bay area. The location is less than 20 miles from "known" populations. Dan Richards documented these on 9, 21, and 22 Nov 2018 (photo right © Dan Richards, shows 9 munias at his feeder). These were not present every day but it does show that these munias were surviving for several weeks.
Because the Salmon Creek vicinity munias seem likely to have originated from "established" populations in SLO, they might be the first of a larger incursion from the south into MTY. It is possible that Monterey Peninsula birds are local releases or escapees, or perhaps longer-distance incursions from farther away, or a mix of both. To permit anyone to trace these movements, we are now approving these records in eBird. It will take a longer time to determine when and if a population of munias become established in MTY. They may happen . . . or it could be that they won't take hold here locally. Only time will tell.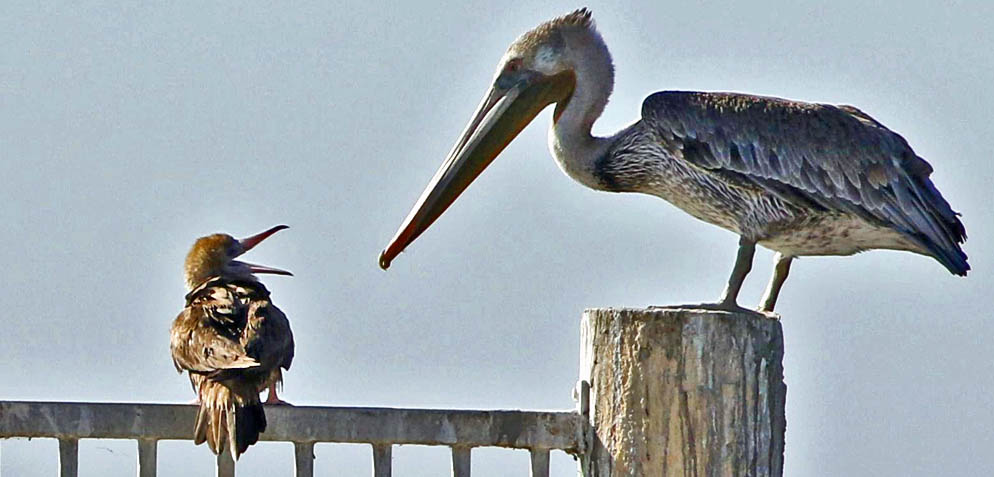 More tropical boobies! The highlight pages for summer 2018 were filled with news of tropical seabirds, particularly boobies. Nazca and Red-footed were the key species then. Now, in autumn 2018, another Red-footed Booby and a Masked Booby are front-page news. The Red-footed Booby is a feisty subadult in Santa Cruz County, using a regular roosting location at the tip of Seacliff SB pier (above, contesting the preferred roosting spot with a dominate Brown Pelican (photo above 8 Nov © Don Roberson). Quite possibly the same individual as seen from a Monterey Bay pelagic trip in the SCZ portion of the Bay on 21 Oct, it was first reported at the Seacliff pier on 1 Nov by Laura Paulson. It leaves to forage out to sea daily, possibly among a pod of Humpbacks often seen at a distance. See the summer highlights for more details of Red-footed Booby in MTY and northern California.
The other unexpected autumn booby was a near-adult Masked Booby roosting at the tip of Pt. Pinos off-and-on during 17-19 Oct. Found near dusk on 17 Oct by Blake Matheson, it also left daily to forage out to sea, and then returned for a nightly roosting spot over the succeeding two days. Comparison of photos taken on a pelagic trip in the SCZ portion of Monterey Bay on 13 Oct showed it to be that same individual, so it moved nearly 20 miles in choosing this roost (photos below taken at different times on 18 Oct, below left © David Tomb; photo below right © Fred Hochstaedter). The all-yellow bill and all-black tail are key features separating adult or near-adult Masked Booby from Nazca Booby (see Roberson 1998 and other seabird texts). This was just the second MTY record of Masked Booby. The first was an adult that roosting on a sandspit at the Salinas River mouth on 18, 20, and 22 June 1992, and was photographed. [A potential additional record, cited in Roberson 2002, is not documented by photos, and is not CBRC accepted.]

The return of the Masked Booby to its roost on 18 Oct coincided with "day 1" of the 4th annual 2018 Monterey Audubon "Pt. Pinos seawatch, "featuring the return of Karl Bardon (from MN) for his second year as the professional seawatcher. Here Karl, near left, scopes the booby next to (L to R) Fred Hochstaedter, Mark Kudrav, Todd Wills, and Michael Rieser (photo © D. Roberson). This year's seawatch runs from 18 Oct–15 Dec, which is two weeks longer than the preceding three efforts over the period 1 Nov-15 Dec.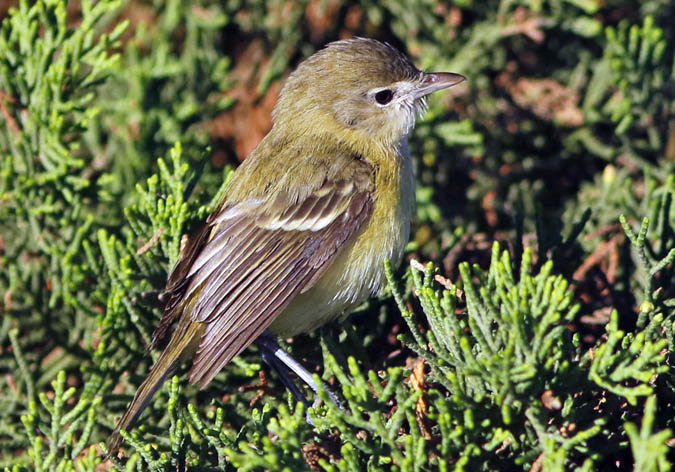 Incredible eastern vagrants! The fall of 2018 also sparkled as orchestrating one of the most dazzling displays of colorful eastern North American vagrants in recent history, particularly vireos and warblers. Probably the most unexpected was the least pretentious: this Bell's Vireo, from one of the eastern populations (i.e., subspecies bellii or medius), at Pt. Pinos from 14-17 Oct (photo right 16 Oct © D. Roberson). Found by visiting bird John Mendoza of San Luis Obispo County, the very active small passerine focused on coastal dune scrub and an occasional adjacent cypresses during it stay, often at off-limits areas of the Pacific Grove golf course at the Point.
California is host to the pusillus subspecies of Bell's Vireo, a very gray bird often known as "Least Bell's Vireo," which is an endangered species. It used to breed in southern MTY but the last recorded breeding evidence on the Salinas River near Bradley was back in 1993. The subspecies arizonae — gray with yellowish flanks — is common in Arizona and breeds sparsely on the California side of the Colorado River. But "eastern Bell's Vireo" is strictly a very rare vagrants in California.
From what I can glean from eBird and selected literature, there are only about a dozen prior records of "eastern Bell's Vireo" in all of California. Most (8-9) are from fall migration (Sep-Nov), one spring vagrant at Pt. Reyes, and three rather recent wintering individuals in southern California. Vagrants have reached San Clemente I. and the Farallones, but only San Diego Co. has multiple records (about four). This Pt. Pinos bird is a first for MTY.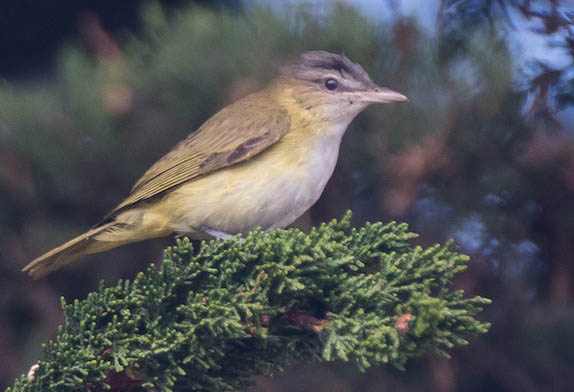 On 11-12 Oct there was a hatch-year Yellow-green Vireo at Laguna Grande Park, found by Paul Fenwick. Note the dark eye and crisp plumage (photo left © Blake T. Matheson). A red-eyed adult was in Pacific Grove earlier this fall; see photo on prior highlight page.
Philadelphia Vireo (below) is a very rare eastern vagrant in MTY. There were previously 13 records, including two last fall (fall 2017 highlights). Almost unbelievably, there were seven "Philly" Vireos this fall:
• 6 Sep at Laguna Grande (B.L. Sullivan)
• 14-19 Sep at Frog Pond (Hugo Ceja, Rita Carratello)
• 29 Sep in Pacific Grove (D. Roberson)
• 30 Sep at Carmel R. mouth (Michael Rieser)
• 2 Oct at Big Sur R. mouth (Michael Rieser)
• 12-14 Oct nr Carmel Highlands (M. Rieser)
• 20 Oct at Carmel R. mouth (Hugo Ceja)

This brings MTY's total to 20. Note that Michael Rieser found 3 of these, Hugo Ceja was involved in finding two.


Of the seven Philadelphia Vireos, a remarkable five were photographed. Here's a couple of those shots: 2 Oct at Big Sur R. mouth (near right © Michael Rieser) and 20 Oct at Carmel River mouth (far right © Hugo Ceja).

To round out the rare vireos for 2018, the first 'chaseable' Blue-headed Vireo since the formal split of the "Solitary Vireos" in 1998 was at the Carmel River mouth this fall. It was photographed by Michael Rieser on 30 Sep but left uncertain until found and photographed again on 8 Oct (photo right © Carole Rose). It was generally elusive in the canopy through 11 Oct. Note the dark blue-gray face, the very crisp demarcation between head color and the white throat, and the very extensive yellow on the sides of breast and down through flanks and vent. There were at least 12 records prior to this bird, most of them before the formal split, and most from fall migration.
Before turning to eastern warblers, let's mention a late October vagrant gull. Rare gulls generally turn up in winter but on 28 Oct a near-adult Lesser Black-backed Gull was discovered at the Carmel River lagoon by Brian Browne while participating in a weekend field trip to the Monterey area by members of the California Young Birders Club. Fred Hochstaedter and Catherine Webb just happened to be nearby, scoping for Harlequin Duck at the time, and Catherine obtain this flight shot (photo below © C. Webb). This gull has an all-white tail, suggesting it is at least 4 years old, but is still in primary molt and still has a messy bill pattern, suggesting it is perhaps just turning four-years-old. We might call it an adult or near-adult — the bright yellow eye is an important character in this species. This is just the 5th record for MTY.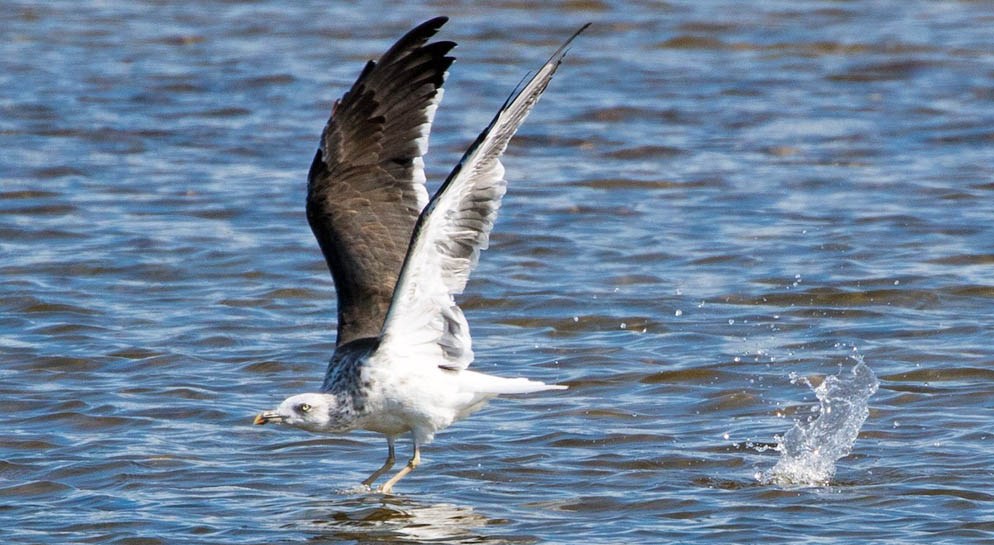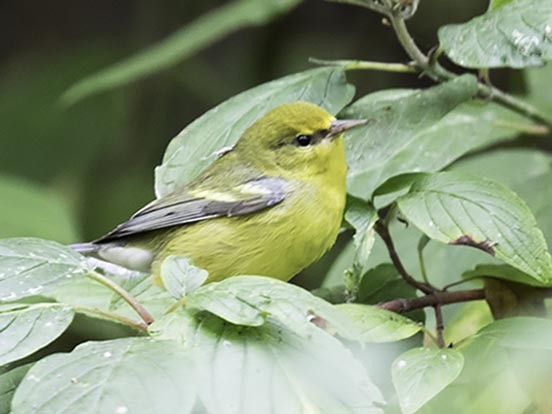 Eastern warblers made so many appearances in Sep–Oct that old timer's recalled the "good old days" from the 1970s-1980s. What was particularly interesting were comparative number among them. Usually routine vagrants such as Northern Waterthrush, American Redstart, or Blackpoll and Palm Warblers were found in average to below-average numbers while Tennessee and Chestnut-sided Warblers made strong showings. What we'll emphasize here are usually very rare warblers that delighted us by occurring in record numbers.
Our rarest warbler this fall was a very obliging hatch-year female Blue-winged Warbler, found by Tim Amaral and Marcos Rangel, that lingered in creek dogwood at the Carmel River mouth riparian from 8-10 Oct (photo left 9 Oct © Bill Hill). This was MTY's 7th record, and the 3rd from fall migration (there were singles in fall 1993 at Carmel R. mouth and Big Sur R. mouth). Another tried to winter in the 'Odello willows' at Carmel R. mouth in 2006-07. There are also 3 spring records, two of them singing males.
| | | |
| --- | --- | --- |
| There were three Canada Warblers this fall; two in Sep were featured on the prior "highlights" page. The third was found by Rita Carratello, with her adult education birdwatching class, at the Carmel R. mouth on 17 Oct. The imm female lingered to 24 Oct (a full week). This made it the most seen / photographed Canada Warbler ever in MTY (photos near right 19 Oct © Rita Carratello, far right 17 Oct © Cooper Scollan). | | |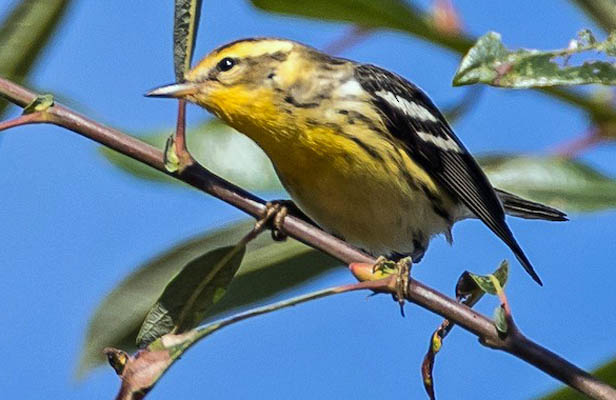 Blackburnian Warbler, always a rarity, has had "bad" years (when there are none) and "good" years (e.g., 3 in autumns of 1985 & 1999) but never before have there been as many as this fall, when six were located:
5-6 Sep at Pt. Pinos (Rick Fournier)
6 Sep at the Presidio of Monterey (Michael Rieser)
16 Sep at Moonglow Dairy (Paul Fenwick)
10 Oct in Hatton Canyon (Michael Rieser)
11-20 Oct at Carmel R. mouth (B.L. Sullivan, P. Fenwick)
24 Oct at Laguna Grande
All of these were photographed, which must set another record. The bright hatch-year male (right) was at Laguna Grande on 24 Oct (photo © B.T. Matheson).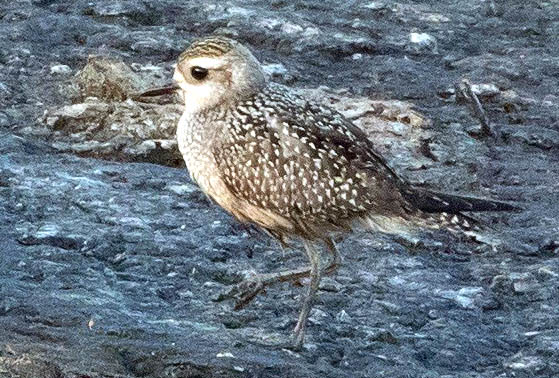 Two excellent fall vagrants got away without photos: a Least Flycatcher at Carmel R. mouth on 3 Oct (Brian L. Sullivan) and a Common Ground-Dove at Andrew Molera SP on 14 Oct (Blake T. Matheson).
While it was a fine migration for passerine rarities, notable shorebirds were few and far between. Now that the Salinas WTP are no longer managed for shorebird habitat, and other ponds were either dry or too full, habitat for waders has been much reduced in MTY. The only Solitary Sandpiper was on private land near Moss Landing 14 Aug (Rick Fournier). Moonglow Dairy was still a prime location, though, with two Semipalmated Sandpipers, a Ruff on 2 Oct (Rick Fournier +), and this big-eyed, juvenal-plumaged American Golden-Plover, found by Kent Van Vuren, from 30 Sep-3 Oct (photo left 2 Oct © Fred Hochstaedter).
But did we mention tropical boobies! See those highlights at the top of this page.
Literature cited:
Roberson, D. 1998. Sulids Unmasked: which large booby reaches California? Field Notes 52: 276-287. [on-line]
Roberson, D. 2002. Monterey Birds. 2d ed. Monterey Audubon Society, Carmel, CA.