These highlights chronicle the year 2019. The year runs generally "backwards" on this page. Unlike earlier years, this update includes fewer highlights over a longer period. The abbreviation "MTY" means "Monterey County" in the text below. Text by Don Roberson. Photos on this page are copyrighted by the photographers to whom they are attributed, and may not be reproduced in any form (including other web sites) without the express consent of the photographer.
In retrospect, the first half of 2019 was more remarkable for its weather than its birds. We had unprecedented rains through the winter, with cold and wet weather lingering through May. After a brief spell of very hot days in June, by mid-month we were settled into our usual summer fog. This selection of interesting birds during the first-half of 2019 is primarily composed of those documented by photos.
The best bird in June was this Vermilion Flycatcher discovered by Karen Kreiger and friends on 17 June at the old Rancho Cañada golf course in lower Carmel Valley. A part of the old golf course is now incorporated into Palo Corona Regional Park and open to the public. It was a lovely adult male at the western edge of the newly-acquired portion of the park, as illustrated nicely by this collection of photos: below left, 18 June © Bill Hill; below center, 18 June © Lawrence Kalinowski; and below right, 20 June © B.T. Matheson. We hope it lingers into the summer.
There are now a dozen records for MTY but most have been in fall or winter. Just three occurred in late spring or summer, and all three of those were adult males.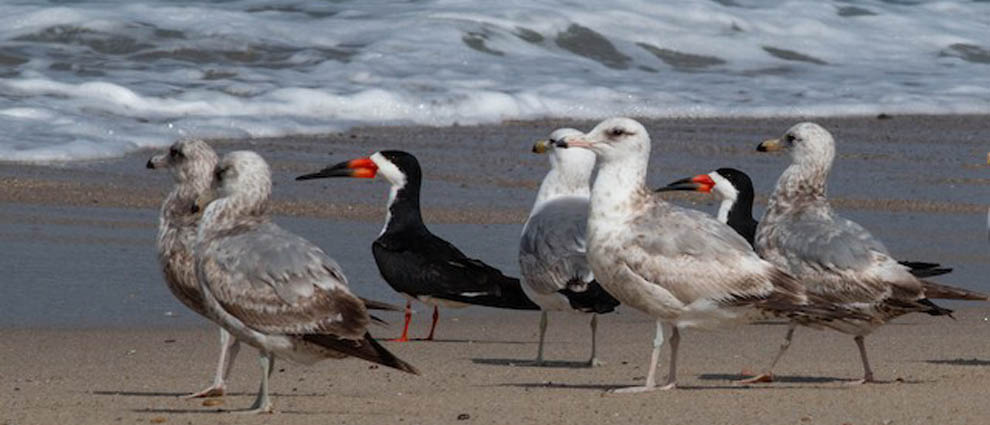 The best birds in May were on Monterey Bay or from the Monterey Peninsula. On 6 May, two Scripps's Murrelets were seen from a boat not far west of Moss Landing (photo below left, © Kent Van Vuren). There are only a small handful of MTY records from March to May for this alcid that doesn't usually reach Monterey Bay until June.
On 10 May, Paul Fenwick found two adult Black Skimmers on Carmel River SB (photo above © Paul Fenwick). A short time later, a jogger flushed the gull flock and the skimmers headed out over Carmel Bay, where they flew around coves at Pt. Lobos and then, eventually, returned to Carmel beach. While skimmers breed in south San Francisco Bay, and migrants to and from that colony are regularly seen in the Moss Landing area, there are very few records for the Monterey Peninsula.
A few days later on 16 May, Brian Sullivan scoped a Hawaiian Petrel from Pt. Pinos during high winds. This seabird is now semi-regular far offshore from the MTY coast, but is rarely seen from land or in Monterey Bay. This is the 3rd seen either from Pt. Pinos (two) or within sight of Pt. Pinos on a boat (photos of that one are in the 2014 highlights).
Among landbirds there was a mild scattering of Northern Parulas in April-May, a male Chestnut-sided Warbler in Washington Park, Pacific Grove, on 1 June (Bill Reese), and this male Rose-breasted Grosbeak that visited our Pacific Grove yard and vicinity on 14-15 May (photo below right, 14 May © Rita Carratello).
Several rare gulls were located in March. A young Laughing Gull initially seen in Pebble Beach 3 March (Adrian Hinkle) was relocated at Pt. Pinos on 28 Mar (above left, photo © Carole Rose) but in the interim made an appearance at Marina SB (above right, photo 15 March © C. Rose). Marina SB also had a 3d-cycle Slaty-backed Gull on 29 Jan that reappeared 14-15 Mar (left, photo 14 Mar © Blake T. Matheson). Blake had also found a 2d-cycle Slaty-backed at Pt. Pinos on 1 Jan 2019 — Blake has now been the finder of 5 of MTY's seven Slaty-backed Gulls! Blake also discovered this 3d-cycle Lesser Black-backed Gull at Pt. Pinos on 27 March (photo below © B.T. Matheson). It provided just the 6th MTY record.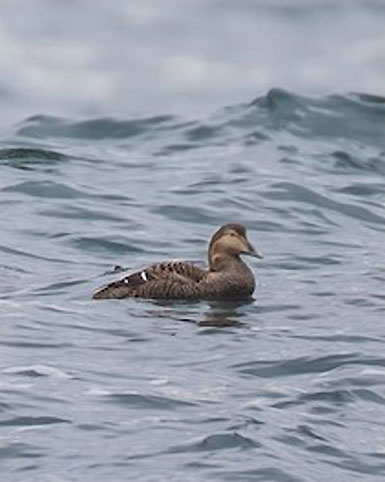 Undoubtedly the bird of the year was Monterey County's first Common Eider (photo left 12 Feb © Blake T. Matheson, photo below 16 Feb © D. Roberson). This exceptional rarity was discovered on 12 Feb by Rick Fournier while leading a bird tour at Bird Rock, Pebble Beach. Most commentators considered it to be an adult female of the Pacific race v-nigrum. It was just the 3d record for California, and by far the southernmost record. The California Bird Records Committee has accepted records of a male in Del Norte Co. in July 2004, and a female there in Nov 2011. This MTY eider survived heavy storms (like this one, photo taken at Bird Rock 13 Feb 2019) but some fortunate observers did see it in much nicer weather!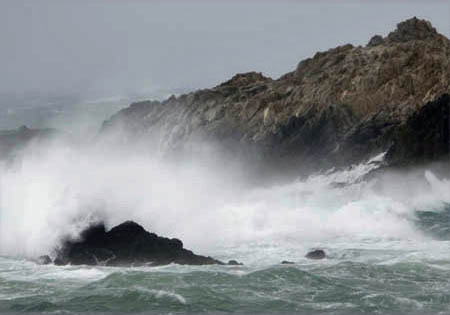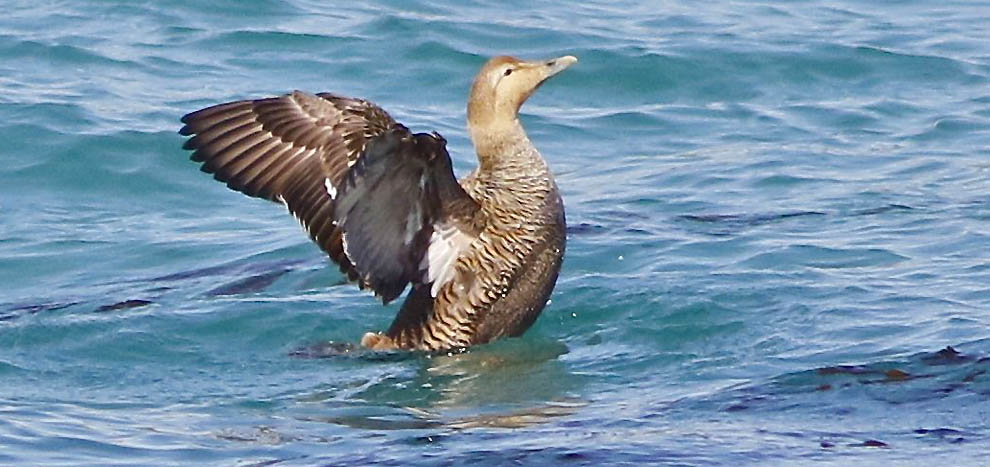 Three notable wintering birds, two of them featured in the last report for 2018, lingered quite late. The Yellow-breasted Chat that wintered at Laguna Grande Park in Seaside stayed until 3 April. The Sage Thrasher at the In-n-Out Burger parking lot adjoining Laguna Grande Park remained to 8 March. The adult male Summer Tanager in Pacific Grove completed its 6th winter, remaining to 29 March

The most unusual newly-found rarities of the New Year were:

below left, a Green-tailed Towhee at a private residence near Elkhorn Slough from 27 Jan-26 Feb 2019 (Dave Feliz, photo 31 Jan © D. Roberson), and
below right, a male Yellow-bellied Sapsucker in the vicinity of the Middlebury Institute of International Studies in downtown Monterey, found by Mark Kudrav on 19 Jan, and that lingered to 16 March (photo right, 19 Jan © Carole Rose).