These highlights chronicle the year 2022. The year runs generally "backwards" on these pages. In this particular year, this page covers the major bird highlights for July & August, but September is split by topics: this page covers only the non-passerine highlights in September 2022. A following page will feature landbird highlights for September before covering all highlights from October and thereafter.
In crediting records of vagrant or unusual birds, I try to credit the finder(s) but there will be times when the answer is "its complicated." At times one or more observers find the bird but others are the ones to identify it. There will be times when proper identification occurs days later after expert photo review. In other cases, a finder may not post the finding to local 'rare bird hotlines' or internet posting groups, and someone else will 'find' the same bird (without prior knowledge it was there). In those cases I'll prefer to give credit to those who share their rarity finds in a timely manner.
The abbreviation "MTY" means "Monterey County" in the text below. Text by Don Roberson. Photos on this page are copyrighted by the photographers to whom they are attributed, and may not be reproduced in any form (including other web sites) without the express consent of the photographer.
| | |
| --- | --- |
| Offshore in Monterey Bay, an adult Nazca Booby (above, 25 Sep © Mark Chappell) was seen from pelagic trips on lucky occasions in Aug-Sep; here it interacts with a Parasitic Jaeger. Presumably the same bird was seen flying past Pt. Pinos on 15 Sep (B.L. Sullivan). Meanwhile, a Red-footed Booby (below, 16 Sep © James Maughn) frequented fishing boats in Soquel Canyon, straddling the formal MTY-SCZ county line and sometimes landing on boats, throughout September. It was also scoped from shore while sitting on a weather buoy off Moss Landing on 17 Sep (Steve Tucker +). | Rounding out the sulid trifecta, this adult female Brown Booby (above, 26 Sep © Don Roberson) began using NOAA buoy "MY3" — located a half-mile off Ft. Ord SB — as a regular roosting location for much of September. It was also seen throughout Monterey Bay, and watched passing Pt. Pinos at various times over the fall. |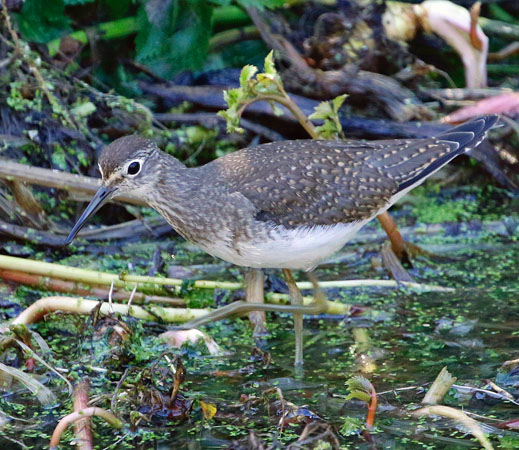 On 30 September, Brian Sullivan undertook a 4.5 hour hawk-watch from the very top of Fremont Peak, on the Monterey/San Benito county line, overlooking the lower Salinas Valley. He tallied 62 raptors (hawks & falcons) of 10 species, including single Broad-winged and Swainson's Hawks, both considered to be rare in MTY. He also encountered interesting landbirds in flight on migration, including 2 Lewis's Woodpecker, a Cassin's Finch, and a female Evening Grosbeak.
Brian has been prospecting throughout MTY for previously unknown sites that might be productive hawk-watching platforms. Fremont Peak appears to have potential; an overlook near the entrance gate to Jacks Peak Reg. Park has produced some good hawk-watch days in past autumns this century.
Wader migration peaked in August-September, but the long-running drought and access issues reduced the opportunities to view that passage this autumn. One very cooperative Solitary Sandpiper was viewed and photographed by many from the "Russian bridge" at the east end of Laguna Grande park on 22-23 Sep, juv found by Paul Fenwick [photo, right, 22 Sep © D. Roberson].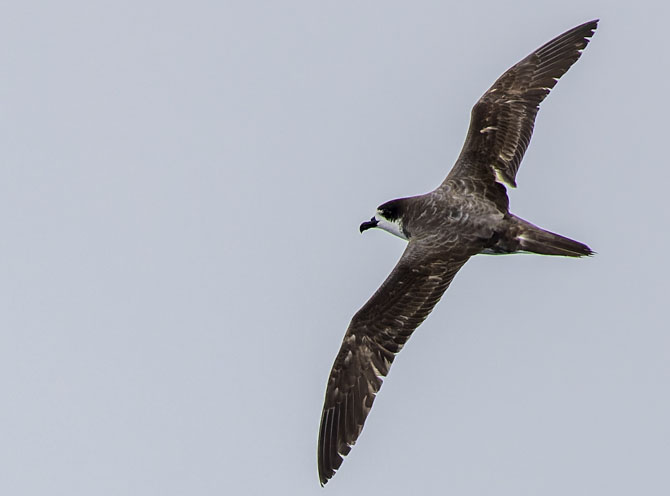 August 2022 was notable for some very hot weather – even along the coast — but did not produce many unusual birds until the "pelagic trip" season began on 19 August. An "Alvaro Adventures" boat trip on Monterey Bay encountered good numbers of both Ashy & Black Storm-petrels, and then documented both an adult Nazca Booby and the close passage of a Hawaiian Petrel (photo left 19 Aug, © Bradley Hacker).
Although Hawaiian Petrel has proved to be regular in small numbers far offshore from late April through September, it remains a "mega" on a standard Monterey Bay pelagic trip. Since 2005, I'm aware of only 5 records of this Hawaii-breeding petrel seen from a standard Monterey Bay trip — that just one every 3-4 years. Three more were seen by sea-watchers at Pt. Pinos with powerful optics. August and early September seem to be the peak for these observations.
On 26 Aug, another Alvaro Adventures boat recorded another rarity: a Wilson's Storm-Petrel.
In July two different Short-tailed Albatross news. For the first time in the memory of any birder alive, a MTY Short-tailed Albatross stayed on Monterey Bay long enough to molt into an older plumage. This one, called "Alpha" in the link to a larger web page below, first arrived on Monterey Bay on 15 Sep 2021 in all-dark second-stage plumage. Now, almost a year later, it is still here but now has an extensively white face (photo right, 9 July 2022 off Pt. Pinos © Morgan Quimby). it is now going into its 3rd year of life. It has an injured wing but is surviving just fine.

Go HERE for an analysis of 3-5 Short-tailed Albatross
on Monterey Bay from July 2021 to July 2022

In contrast, an all dark-plumaged Short-tailed, present since at least January 2022 and called "Cortes" in the discussion at the link above, had lost or injured its left foot. It was last seen 10 & 11 June 2022 off Pt. Pinos. On 10 June, the carcass of a dead all-dark Short-tailed was found. Later photos showed a missing its left foot (fide USF&W; more on link above). Although the carcass was not recovered, "Cortes" is presumed deceased.
Surely the highlight of summer 2022 was a chasable Little Gull in MTY. Many local birders took the opportunity to drive north in Santa Cruz Co. [SCZ] to see a first-summer Little Gull present along the Santa Cruz waterfront and adjacent San Lorenzo River from 22 May through June (last date 1 July). Only a few longtime MTY birders had been around long enough to see northern California's first Little Gull: on Zmudowski SB pond in mid-winter 1975. It stayed almost 6 weeks [19 Jan-1 Mar 1975]. An additional five others had appeared since, but two were on boat trips and the rest "one-day-wonders" or elusive "hit-or-miss" birds some years ago. This changed this summer.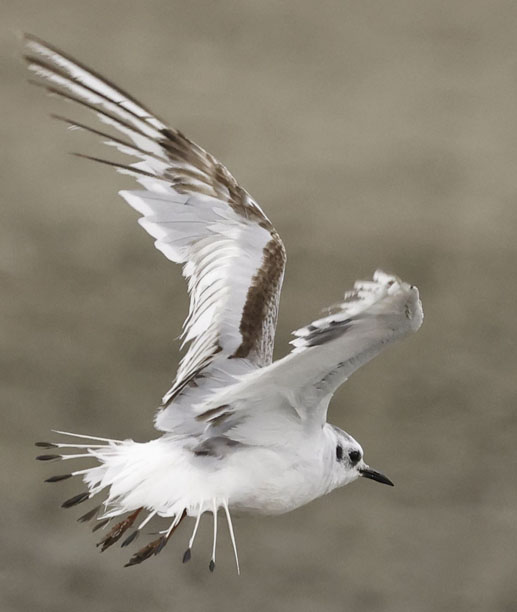 We believe that the long-staying SCZ bird moved south into MTY is search of a safe location to molt. By July this tiny gull's primaries and rectrices were excessively worn. Some of these feathers, especially the tail, had been shredded to ragged shafts by sun and wear; Greg Plowman's flight shot shows these features well (left, photo 23 July © Greg Plowman). You can also see the brand-new all-gray inner primaries were growing in (with fresh white tips) but flight in these conditions is difficult.
This one-year-old Little Gull was the 7th record for MTY. The bird spent most it time from 10 July-1 August roosting on the vegetated margins of a comparatively unused salt pond (photos below of it standing in front of a sleeping Bonaparte's Gulls, and of birders watching it, © D. Roberson). It generally avoided the busier salt ponds that were often full of terns, phalaropes, and gulls — and that were actively hunted by one or more Peregrines. Indeed, even at its rather quiet roosting area, an observer saw a Peregrine take a phalarope nearby. Flight seemed more difficult of this Little Gull as the days passed and no further molt appeared. It surely could not migrate in its condition. On 2 August there was no sign of it. We fear it may have been taken by a predator.
A curious feature about this rarity's occurrence was that it had been at its favored salt pond by 10 July (and was photographed there) but no one identified it or reported it at all. Steve Tucker was the first to made a tentative i.d. on a very quick view at Jetty Road on 19 July — 9 days into its known stay. It was not confirmed and widely reported until Carole Rose's photos on 20 July. Birders who saw it during the next two weeks were lucky it remained that much longer. This reminds me of the White-winged Tern at Moonglow back in fall 1999, first identified as "Black Tern" on 17 Aug, and not properly identified and posted to the public until 6 Sep — by a tour leader from Florida!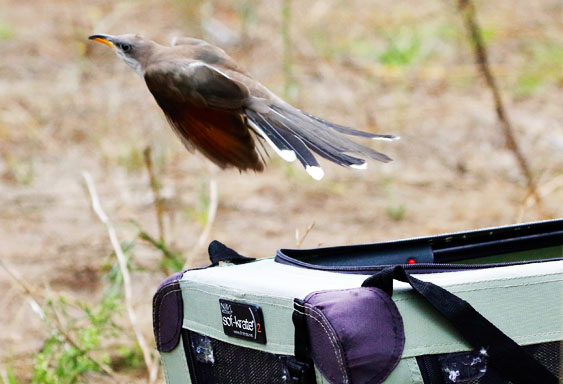 Although these web pages run chronologically from bottom to top, it seems appropriate to update here the story that was featured at the top of the prior summary: the saga of an injured Yellow-billed Cuckoo found on Paradise Road near Elkhorn Slough on 30 June by Rick Fournier. Rick took it to the Monterey SPCA wildlife rescue center, who then rehabilitated it for nearly two months while it molted in some new feathers.
On 28 August, the SPCA released the now-healthy Yellow-billed Cuckoo back into the wild at good riparian habitat along the Carmel River (photo right).
We wish it well in its new freedom. Congratulations of Rick and to the SPCA wildlife rescue center!
Literature cited:
Roberson, D. 2002. Monterey Birds, 2d ed. Monterey Audubon Soc., Carmel, CA.
Roberson, D., and C. Tenney, ed. 1993. Atlas of the Breeding Birds of Monterey County, California. Monterey Audubon Soc., Carmel, CA.
I thank Rita Carratello and Michael Rieser for editorial comments on an earlier draft of this page.

Page created 25 Aug 2022, revised 10 Nov 2022