THE MONTEREY COUNTY LIST
Annotated checklist and data resource
text © Don Roberson
photos copyrighted by photographer(s) credited
all photos taken in Monterey County, California
[except one illustrative photo so indicated]
Yellow-billed Loon
Gavia adamsii
This Holarctic loon — called "White-billed Diver" in the Old World — is a rare winter visitor to Monterey Bay. Our latitude (around 36°N) is at the extreme southern edge of this loon's wintering range in "cold water" regimes. As of Apr 2004, there were 31 records for MTY. A complete set of these records follows at the bottom of this page. You'll find that half of MTY's records were tallied in the "cold water" decades that preceded the great 1982-83 El Niño and, although coverage has increased in recent decades, fewer Yellow-billed Loons have occurred in the "warm water" regimes from 1982 through 1998. One individual, though, returned for six (6) consecutive winters between 1993-1999.
Most Yellow-billed Loons in MTY have been first-year birds in juvenal plumage, including these two birds that represented the first (right) and third (above) records for the county. Ironically, both of these birds were later found dead. The status of this species in California was well summarized by Remsen & Binford (1975) and has changed little since then, except for some individuals returning for multiple winters and undergoing molts. One of these is discussed farther down this page.

Right: © Ronald L. Branson, 30 Dec 1968 in Monterey harbor
Above: © Alan Baldridge, 13 Feb 1971 in Moss Landing harbor
Yellow-billed Loons in juvenal plumage are large, block-headed, bill-billed, brownish loons with prominent pale barring across the back. The bird below — bounded within purple bars — is not from MTY but is an excellent illustration of important characters. Look at these features on this juvenal bird and on the birds above:
The head and bill are large and hefty
The distal [=front] half of the culmen [=top ridge of the bill] is entirely yellow; this is a diagnostic character but see the discussion of variation in bill shape and color below
The head is flat-topped
The neck is very thick
The dark eye is surrounded by extensive white
Much of the face and neck is pale
Most birds have a prominent dark patch of brown on the auriculars (ear-patch)
The tone of the plumage is brown (not gray as in other loons)
Juvenal plumage is characterized by pale tips to the back and scapulars, forming a "barred" appearance at a distance on fresh birds
photo above © W. Ed Harper from Richmond, Alameda Co., California, in Feb 1980
First-year Yellow-billed Loons retain juvenal plumage through mid-winter, and retain their remiges [primaries and secondaries] until these are replaced almost simultaneously in the bird's first summer (Palmer 1962, Cramp & Simmons 1977). Late in the first winter, or in early spring, pre-alternate molt will produce fresh feathers on the body. These can be seen on this wonderful photo [below; © Stan Wulkowicz] of a mid-April bird on Elkhorn Slough [17 Apr 2004]. All the pale tips of fresh juvenal plumage have worn off leaving worn brownish back feathers, now interspersed with some new fresh Alternate I feathers on the back. These new first-alternate feathers are have thin pale tips and mid-feather pale notches rather than the broader pale tips of juvenal plumage (above). Note also that the head and neck are even more whiter now, with the auricular spot less visible [but see how differences in lighting or wetness of the feathers may affect perception of characters on two other photos of this same bird, taken 16 Apr 2004, elsewhere on this web site]. There is also a great shot of this loon on Bill Hill's web pages.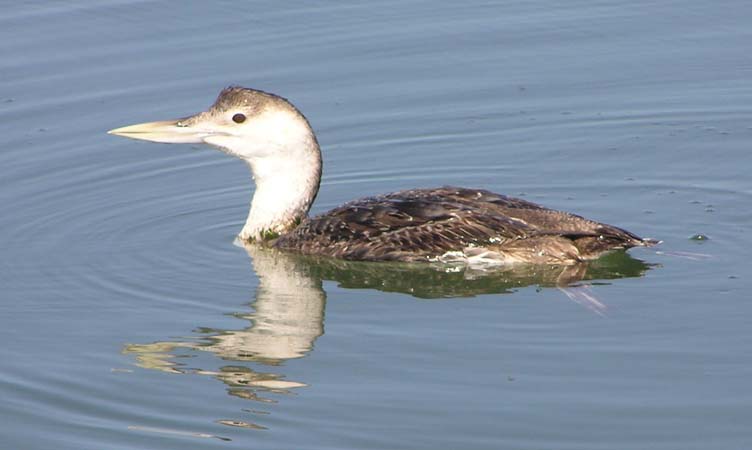 As to bill shape and color, caution is an important watchword. There can be circumstances when Common Loon — our other large-billed, big-bodied loon — can appear to have surprisingly pale bills. In winter, the bill of Common Loon is often ivory-colored and it becomes blackish only as spring approaches.
Note how pale the bill of this juvenal Common Loon (below) appears. But the distal half of the culmen [between the yellow arrowheads in the composite to the right] is dark in Common and cleanly pale yellow in Yellow-billed. There are a number of other bill shape differences in adult loons, detailed in Binford & Remsen (1974), but it takes much of the first year for the full bill shape to develop, so these are less helpful in first-year loons. However, most Yellow-billed Loons hold their bill above the horizontal — giving an "upturned" appearance — while Common Loons rarely hold their bill this way.

photo above © Don Roberson, 28 Jan 1989 Monterey harbor
Two adult Yellow-billed Loons in full alternate [=breeding] plumage have visited MTY. The first, nicely described by a visiting Swede on 10 Oct 1987, is by far the earliest fall record; presumably this bird kept moving to wintering grounds somewhere to the south. The second was a bird that first appeared off Otter Pt., Pacific Grove, in juvenal plumage in Dec 1993, and then reappeared at essentially this same spot for 4 of the next 5 winters. It was not found at this site in winter 1996-1997 but an adult was off Pt. Joe that winter and might have been the same bird just a couple miles away. In most years off Otter Pt., the loon was first discovered in full alternate plumage in November but soon began a molt into basic plumage. In 1997, it was found 30 Oct and was already molting into basic by 9 Nov. The bird spent the winter in basic plumage until it began pre-alternate molt in March. It was known to linger to the last week of March in several years, and was by then back in crisp breeding dress. The set of five photos that follow are of this bird in various plumages over various years:
Note that above, in alternate plumage, the bill looks entirely straw-yellow. On the wing flap, you may note that the bird is not yet in remige molt. Note also the pale shafts on the primaries, another feature separating Yellow-billed Loon from Common Loon but usually impossible to see in the field. Both photos © D. Roberson, 13 Nov 1995
Photo above © D. Roberson, 10 Feb 1996
Photos right © Richard Ternullo, Jan 2001
All these photos are from boats; the bird frequented a spot about a half-mile to 1.2 mile off Otter Pt. At this distance it was rarely seen from shore so almost all of the observations were from pelagic trips. Only a very few were able to scope it from shore under ideal conditions.

Note how dark the bill can appear when backlit — except at the tip where the yellow color shines through.

Also note that an adult in basic plumage has a darker head and neck than juvenal-plumaged birds. The adults showed a prominent white eye-ring rather than a mostly pale face. There was still a suggestion of an auricular patch but it was against a much darker background. There can be a hint of thin pale barring across the back in fresh basic plumage (above).
Below is an interesting photo of a Yellow-billed Loon trying to take off when pressed by a boat in Monterey Bay. This bird was a half-mile west of Pt. Pinos on 5 Feb 1996. It was reported as a first-year bird and certainly the face is consistent with that plumage. I'm having trouble stating for sure whether it is in wing molt or not. The near wing suggests it is (and, if so, it must be an adult) but the far wing does not look to be in molt (and, if so, strongly suggests first-cycle bird). Whatever degree of molt or not shown here, it does illustrate just how much labor a big loon must undertake to get airborne.... Photo © L.D. Osnes-Eire.

And now, a complete listing of all MTY records of Yellow-billed Loon:
MTY
rec.
no.

Known dates

Location

plumage, age or sex [unk = unknown]

Original finders

Location of specimen (#); if CBRC accepted so indicated with report no. in parenthesis
1
29 Dec 1968-1 Jan 1969
Monterey harbor
juv fem [sexed from specimen later]
Russ Greenberg & Russ Griswold; fnd dead 1 Jan
#PGMNH; CBRC accept (4)
2
22-25 Jan 1969
Pacific Grove (Pelagic Pt)
unk
Alan Baldridge
CBRC accept (11)
3
29 Dec 1969
half-mile off Pt. Joe
juv
boat trip incl. A. Baldridge & D. DeSante
CBRC accept (10)
4
23 Jan-6 Mar 1971
Moss Landing
juv fem [sexed from specimen]
Joe & Russ Greenberg
fnd dead 6 Mar; #MVZ; CBRC accept (6)
5
26 Jan 1971
Moss Landing
unk
R. Stallcup & D.A. Gaines
CBRC accept (14)
6
21 Jan-15 Mar 1972
Pacific Grove (Hopkins)
unk
A. Baldridge & R. Stallcup
CBRC accept (10)
7
26 Jan-4 May 1972
Monterey harbor
juv
G. Shum Suffel
CBRC accept(14)
8
10 Nov 1973
Monterey harbor
juv
L.C. Binford & J. Greenberg
CBRC accept(4)
9
9-10 Jan 1974
Monterey harbor
diff. juv than preceding
A. Baldridge
CBRC accept (4)
10
24 Jan-16 Feb 1975
Monterey harbor
unk
R.A. Erickson & G. McCaskie
CBRC accept (4)
11
3 Jan 1976
Monterey harbor
juv
Ted A. Chandik
CBRC accept (14)
12
28 Apr 1976
Monterey harbor
diff. juv than preceding
R. Stallcup
CBRCaccept (14)
13
12 Feb 1978
Monterey harbor
juv
S.F. Bailey & J. Van Remsen
CBRCaccept (5)
14
23 Jan 1982
Carmel Bay
unk
Keith Hansen
CBRC accept (11)
15
30 Jan 1982
Monterey harbor
unk
T.A. Chandik
CBRC accept (15)
16
13 Jan 1985
Pacific Grove (off Lovers Pt.)
juv
A. Baldridge
CBRCaccept (10)
17
30 Dec 1985-19 Jan 1986
off Moss Landing
unk
S.F. Bailey
CBRC accept (11)
18
28 Mar 1987
Monterey Bay (4 mi from Monterey)
prob. first-yr
Bjorn Anderson & David A. Quady & Max Perker
CBRC accept (12)
19
10 Oct 1987
Pacific Grove (off Otter Pt.)
adult in alt.pl.
Bengt Strigh
CBRC accept (13)
20
24 Dec 1987
Monterey
unk: rotting carcass
fnd dead fide A. Baldridge
skeleton #CAS; CBRC accept (13)
21
30 Dec 1990-13 Feb 1991
Moss Landiing
juv
Robert E. Maurer
CBRC accept (16)
22
7-28 Dec 1993
1 mi off Pacific Grove (Otter Pt.)
juv
R. Ternullo & S.F. Bailey
CBRC accept (22)
22 cont.
7 Nov 1994-26 Mar 1995
1 mi off Pacific Grove (Otter Pt.)
adult in alternate plumage molted into basic & back into alt. pl.; considered same bird as last year's juv because at same site
S.F. Bailey & R. Ternullo
CBRC accept (20)
22 cont.
10 Nov 1995-10 Feb 1996
<1 mi off Pacific Grove (OtterPt.)
same adult as last year appeared in alt.pl. & molted into basic
R.Ternullo & D. Roberson
CBRC accept (21)
22 cont.
winter 1996-97
not found
could be #27? if so it had moved it's location
see CBRC (23)
22 cont.
30 Oct 1997-19 Mar 1998
<1 mi off Pacific Grove (OtterPt.)
same adult returning for 5th yr. in alt. pl. & molted into basic pl.
R. Ternullo & D.L. Shearwater
CBRC accept (23)
22 cont.
24 Nov 1998-28 Mar 1999
<1 mi off Pacific Grove (OtterPt.)
same adult returning for 6th yr. in alt. pl. & molted into basic pl.
R. Ternullo
CBRC accept (24)
23
12 Dec 1994-19 Mar 1995
Monterey (Cannery Row)
juv
Jeff Bouton & S.F. Bailey
CBRC accept (20)
24
29 Dec 1994-19 Mar 1995
Monterey harbor vic.
juv
S.F. Bailey & D.L. Shearwater
CBRC accept (20)
25
29 Jan 1995
1 mi off Ft. Ord
adult in basic pl.
R. Ternullo & S.F. Bailey & D.L. Shearwater
not reviewed by CBRC
26
5 Feb 1996
half-mi W of Pt. Pinos
juv ?
R. Ternullo
CBRC accept (22)
27
11 Jan-1 Feb 1997
1-2 mi off Pebble Beach (Pt. Joe)
adult in basic pl.
R. Ternullo
CBRC accept (23)
28
27 Feb 2000
Monterey harbor
prob. juv
Brian Minshull
CBRC in circ?
29
18 Dec 2000-15 Jan 2001
~1 mi off Pacific Grove (Otter Pt.)
juv; photo appears HERE
Clay Kempf
CBRC in circ?
30
19 Jan-24 Mar 2002
<1 mi off Pacific Grove (Otter Pt.)
juv; photo appears HERE; one reported w/o details 27 Nov 2001 could have been this same bird, seen from shore (Evelyn Meyers)
Mike Danzenbaker
CBRC in circ?
31
15-21 Apr 2004
Elkhorn Slough (Kirby Park)
worn juv in pre-alternate molt
Shirley Murphy
CBRC in circ
Literature cited:
Binford, L. C., and J. V. Remsen, Jr. 1974. Identification of the Yellow-billed Loon (Gavia adamsii). West. Birds 5:111-126.
Cramp, S., and K. E. L. Simmons, eds. 1977. Birds of the Western Palearctic. Vol. 1. Oxford Univ. Press, Oxford, England.
Palmer, R.S., ed. 1962. Handbook of North American Birds. Vol. 1. Yale Univ. Press, New Haven, CT.
Remsen, J. V., Jr., and L. C. Binford. 1975. Status of the Yellow-billed Loon (Gavia adamsii) in the western United States and Mexico. West. Birds 6: 7-20.

Use the following links to other portions of the MTY checklist:
Part 1: Waterfowl through Grebes
Part 2: Albatrosses through Frigatebirds
Part 3: Herons through Cranes
Part 4: Plovers through Sandpipers
Part 5: Jaegers through Alcids
Part 6: Doves through Woodpeckers
Part 7: Flycatchers through Larks
Part 8: Swallows through Pipits
Part 9: Waxwings through Warblers
Part 10: Tanagers through Sparrows
Part 11: Grosbeaks through Finches
or just the plain Checklist (no annotations)

Readers may use this material for their own private enjoyment, study, or research but none of the photos or text herein may be used commercially nor may they be reposted on other web sites without written permission. All material is copyrighted. The posting of photos and text on this private web site is not a submission to review organizations.

TO HOME PAGE

TO MONTEREY COUNTY LIST PORTAL PAGE

Page created 17 Apr 2004, updated 23 Apr 2004