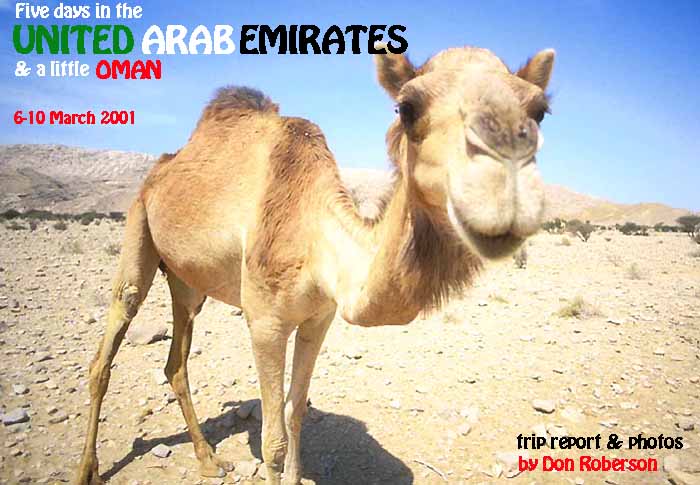 This is a summary of a five-day visit to the United Arab Emirates, including a very brief visit to adjacent Oman, from 6-10 March 2001. The United Arab Emirates is a popular vacation itinerary for European birders with its desert specialties and impressive migration of Asian breeders. Most will spend 1-2 weeks in the country. The UAE is just outside the borders of the "Western Palearctic" as defined by Cramp & Simmons (1977="BWP") but its exclusion is purely arbitrary. The 20°N line is used to define the southern boundary of that region across most of North Africa; if extended across the Arabian Peninsula all of the UAE would be included. Even using the Tropic of Cancer (nearly 24°N) would include most of the UAE. As it happens the rather random 28°N line was chosen a quarter-century ago for the Arabian Peninsula so Kuwait is covered by BWP but the UAE is not. I suspect there is a movement afoot to make revisions.
The importance of the UAE is rather different for American observers. There were four of us from California on this trip: my longtime companion (now fiancé) Rita Carratello, Dan Singer, Steve Bailey, and me. Our stop in the UAE was part of a larger trip to India. As we chose to go to India in March to maximize our chances for tigers, a stop in the UAE enroute seemed attractive since our dates coincided with the prime migration dates for Hypocolius there. I have been very interested in searching out new bird families and leaped at this chance for Hypocolius within the sphere of a wider vacation to India but we limited our time to five days.
The United Arab Emirates in 2001 was an attractive locale for visiting American birders. The UAE is perhaps the safest of all Middle Eastern countries; there is an impressive infrastructure of paved roads and modern cities, and there are recent published guides that make birding there quite easy. There is both good news and bad news in these facts. Colin Richardson & Simon Aspinall's 1998 Birdwatching Guide is full of detailed information to reach a wide variety of sites. That's the good news. But just a couple years later new construction, new roads, and changes in land management mean that some details are already out-of-date. That's the bad news. Current information is crucial. For example, on our first day we set off for Al Ghar Lake near the Al Wathba camel track. The book detailed numerous birds there and gave good directions. But there was a new freeway under construction making the dirt track hard to find and when we did find it and follow it into the sand dunes, it turned out that the Al Ghar wetlands are now surrounded by a barbed wire fence and cannot be reached! [We have since learned the site is closed to the public as a bird reserve and can only be accessed via special permit.]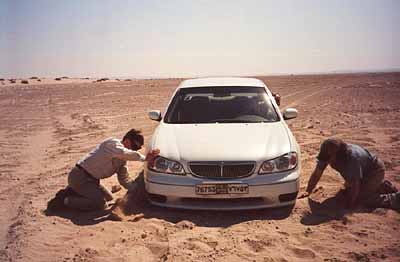 And another thing. Those of us driving the rental car in the UAE owned four-wheel drive vehicles back in the States. We are used to simply driving where we want to go. But small rental cars don't work this way. During our short visit we managed to drive the car into the sand and become hopelessly stuck not once, but twice (right)! Each time we dug and dug and put debris under the tires and couldn't get out. Each time we had to find help to pull us out. Fortunately there were Pakistani road crews working within a mile of the two spots we managed to get stuck.
The UAE is a very rich nation and the leading families of local sheiks in the seven emirates run everything. All the actual manual work is done by foreigners -- the road crews were Pakistani, the porters were from Sudan, the waitresses from the Philippines, and the entertainment at one bar were young female singers from Slovokia doing Beatles tunes. There are different rules in different emirates. Some emirates ban alcohol entirely (Sharjah) but Abu Dhabi and Dubai were much more liberal and Westernized. The roads are broad and paved as nicely as the best American freeway, and new freeways are spreading throughout the country (making maps quickly obsolete). There are usually plenty of signs in English but spelling is not standardized; what I list as Jebel Hafeet below was spelt "Jebel Hafit" half the time and Khor (meaning tidal lagoon or creek) could be spelled Khawr or something else. The sheiks in their flowing robes and dishdasses drive very fast. There are major traffic jams at rush hour and wherever one is forced to drive through older parts of cities. Yet it is a thoroughly Moslem country. Local women wear chadors and there are the calls to prayer from the mosques throughout the day and night.
The UAE requires a visa obtained in advance. We obtained ours through their Washington, D.C., embassy; it requires proof of a steady job at home and return flight tickets plus the booking of a hotel in advance in the UAE (I understand that the more international hotels can arrange visas and meet one at the airport but we did not use that route). We booked hotels by FAX from the U.S., choosing to use those recommended by Richardson & Aspinall (1998): the Al Ain Palace in Abu Dhabi and the Airport Hotel in Dubai. These were still quite expensive by American standards (~$80-100/day) but were very comfortable (although not luxurious like a Hilton or Sheraton). Each had a choice of restaurants in or adjacent to them. We had also booked a rental car through Avis in advance but could not reserve a four-wheel drive or even anything between a subcompact and a Mercedes. Thus when we arrived we checked other rental car companies at the airport booths and went with Euro-Dar who gave us a bit larger compact car (a Nissan Maxima). Except for our stupidity in driving into sand dunes, it got us everywhere we wanted to go. There are no travel controls between the emirates and one often doesn't know when you leave one and go into another. There is also an open border to a portion of Oman adjacent to the interior town of Al Ain (a very modern city which reminded me of Palm Springs in its layout and lines of palm trees along the roads) so we simply drove into Oman and on to a birding site called the "Hanging Gardens." We were told, however, that the car insurance would not cover incidents in Oman so one must be very cautious when driving there. We had no untoward incidents.
There are two key books for birding in the UAE: the Birdwatching Guide by Richardson & Aspinall (1998) with its detailed directions and useful maps and an annotated checklist (plus nice color photos of various sites), and Richardson (1990) The Birds of the United Arab Emirates which is a more detailed status/distribution book with line drawings of all species (a good quick learning tool), a nice set of color photos of rarities, and bar graphs and maps showing status and distribution. One could get by with just the more recent book but the 1990 effort is excellent and particularly good for studying what might be about during your visit. For a field guide we used Porter et al. (1996) which was quite good. I had also brought Hollom et al. (1988) but it was of almost no value. Its plates and text are not aimed at advanced level birding and only non-European species are illustrated or discussed making it very inconvenient to American users who don't know European birds intimately.
Our visit in early March was aimed primarily at Hypocolius but was also supposed to be within the span of landbird migration throughout the Arabian Peninsula. We did have a scattering of migrants but no fall-outs at all. Further, there had been nearly 3 years of drought in the UAE. Many ponds were dried up and interior streams weren't running. The interior was particularly dry and bleak.
Despite these drawbacks, we had a very successful five-day visit. Much of our success can be attributed to Colin Richardson, a British architect who now leads bird tours half the time and who has lived in the UAE for 23 years. He is the top birder in the country. Through email we had arranged to meet on our second day to try for Hypocolius at Ghantoot (the photo left is of Dan, Steve, Colin & Rita in front of Jebel Ali. We saw the Hypocolius in the adjacent orchard; more details below). He had but a single afternoon to bird with us since he was leading a tour the rest of the time. [We ran into his tour later in the trip and enjoyed meeting some of them and his co-leader Dick Forsman whom I had last seen at a rarities committee meeting in Hollard back in 1992. We could have used Forsman (1999) for raptors but it was just too heavy to carry!] Colin Richardson provided us many updates, maps to new locales, and news of stakeouts -- all of immense value during our trip. Colin had also suggested adjustments to our initial itinerary that had us splitting our time to be based 3 nights in Abu Dhabi and only 2 in Dubai. Colin suggested we take a day from Abu Dhabi and add it to Dubai. This was a very wise change. Colin also presented a copy of Vol. 19 of the Emirate Bird Report which had a very useful paper on the large gulls (Garner 1997) and an entertaining analysis of the lists of all local UAE birders.
As it turned out the four of us on the trip had somewhat different priorities. My priority was the Hypocolius and on our final day I chose to return to Ghantoot in hopes of better views. Rita and Dan joined me in that effort but Dan had never seen Crab Plover so we made sure we went to a high tide roost on our final day there (which meant much of the final day was spent driving but hey, petrol is very cheap in the UAE!). Steve also needed Crab Plover but was more interested in looking for additional species than in spending extra time on the Hypocolius. He chose to rent his own car on our final day, watch the Crab Plovers feed at low tide, and try for other birds elsewhere. Since we were located at the Airport Hotel next to the Dubai airport this was easy to arrange, and all of us were happy with our choices.
My personal total was 128 native species plus 4 established introductions; of these 22 were lifers for me (** on the annotated list). Another ten species were seen by others, bringing our group total (including IBs) to 142 species.
From the UAE we went on to India for almost a month. During our Indian trip we saw about half the species we had found in the UAE again. We visited Desert NP in western Rajasthan that had a lot of overlapping desert birds but, on the other hand, we found Black-crowned Sparrow-Lark there. It had been one of our bad misses in the UAE. Obviously, most of the waterfowl and waders were the same. I saw six of my UAE lifers again in India [Lesser Spotted Eagle, Temminck's Stint, White-tailed Plover, Southern Gray Shrike, Desert Whitethroat, and Tawny Pipit]. Thus the UAE "pre-trip extension" netted about 60 species not seen in India (and added a net of 16 lifers for me; I had previously been to Israel and Iran plus several times in Africa and Europe). This extension increased each of our overall costs by $1000-$1500 but was well worth it. Quality was high, the birding sites quite lovely, and it was an easy (although moderately expensive) country to visit on one's own.
Itinerary:
4-5 March: Left Monterey about 9 am on 4 March on the first of a series of flights (via S.F. and London) that brought us to the Abu Dhabi at 9 pm on 5 March. It took almost no time at all to clear immigration and obtain a rental car, and it proved remarkably easy to drive the freeways and well-marked Abu Dhabi streets to our hotel (the Al Ain Palace) on Abu Dhabi's waterfront before midnight.
6 March: Left early for the Al Wathba camel race track, easily following the directions in the Richardson/Aspinall guidebook. The orchard here had been a regular spot for Hypocolius in past years but we found none and only a few interesting landbird migrants among the abundant White-cheeked Bulbuls, Collared & Laughing Doves, and Gray Francolins. In late morning we tried to get to the Al Ghar lakes (we saw them from the busy paved road as we drove in) following the book but ended up getting stuck deep in a sand dune. When we were finally extricated by road workers we drove to the nearest fast food restaurant and borrowed a stranger's cell phone to call Colin Richardson. Fortunately he was answering his cell phone and we learned (a) the Al Ghar lakes are now closed to the public and inaccessible and (b) there have been no Hypocolius at Al Wathba for more than a year.
We firmed up plans to meet Colin the next afternoon and spent the afternoon back at Al Wathba camel track. Enroute we saw an overflow lake across from the Al Ghar reserve that had a paved access road; this is a new patch of water but it had a nice selection of shorebirds and flamingos. We then spent the rest of the day walking the fodder fields in the center of the race track and working the edge of the track when exercising camels and their riders were not racing by. This was a very birdy area with lots of pipits, larks, wheatears, shrikes, and raptors.
7 March: The early morning was spent checking the palms and bushes on Khalidiyah spit, a well-manicured suburban area that recalled Palm Springs. One has to stay away from the military base and a palace here but there was plenty of habitat to check. Alas, there were very few migrants in that habitat. We could see how it could be good on a fall-out day but this was not one. We did enjoy Pallid Swifts around the ADNOC headquarters building -- just as the guide stated -- and better yet the guidebook directed us to the little public park adjacent to the Hilton where we found an obliging Masked Shrike, just a great bird.
Checked out of our Abu Dhabi hotel and drove the two hours north of Dubai. It took us quite some time to locate our Dubai Hotel -- the Airport Hotel -- because we looked at the wrong side of the airport first (the Hotel is on the south side of the airport near that main terminal). By then we had to hustle to drive the hour back down the coast to Ghantoot where we met Colin Richardson at the Jebel Ali resort. He took us to the now-abandoned Jazira resort (a sumptuous hotel that is sinking into the sand!) and its adjacent plantation of mature Salvadora persius trees. This is a well-irrigated orchard with many doves, francolins, and munias but it also had surprisingly few migrants. We did have one Hypocolius fly over us and away for marginal views; Rita, Dan & Steve saw another three briefly in flight also. An important tic but not very satisfying. After dark we took Colin to the Jebel Ali bar for beers and to pump him for information that proved vital, or at least to the extent we could be heard over the Slovakian rock band.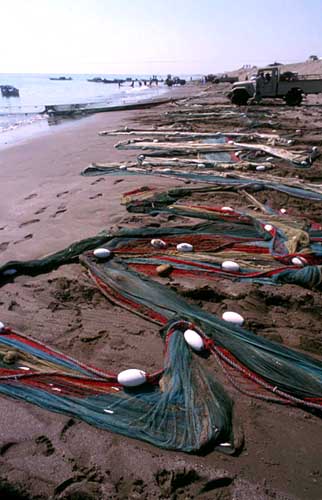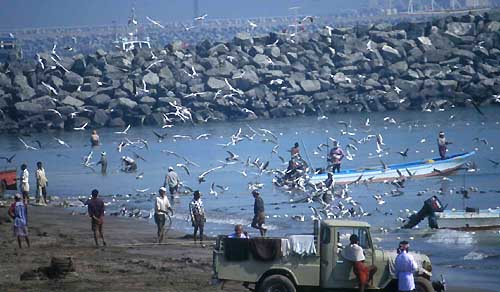 8 March: A long day to the east coast of the UAE. We arrived in time to watch the fishing fleet return at Fujairah attended by clouds of terns and gulls (above photo), and Socotra Cormorants in the distance. When the fish-unloading action slowed down and the nets stretched out to dry (left) we worked flocks of gulls and terns along the beaches south of Fujairah. These were fairly skittish but did allow study of large Larus gulls after one dodges the grazing camels to reach the beach.
At early afternoon low tide we visited Khor Kalba, a tidal creek lined with mangroves, for Sykes's and Clamorous Reed Warblers and the endemic race of White-collared Kingfisher. The drive back through the mountains was long and hot but we reached Mushrif Park at 4:30 and waited until well after dusk. The park was very popular with local visitors and so there were few birds in the thornscrub, and a loud "Caspar the Ghost" event after dark rather diminished our chances for Striated Scops-Owl. We dipped on the owl [The Richardson/Forsman tour group did see it briefly under equally poor conditions later in the week].
9 March: Early departure for Al Ain and the interior. Here we visited barren rocky outcrops and canyons and the Jebel Hafeet massif. There is a paved road that goes right to the top of this huge hump-backed rock mountain which has such specialties as Hume's and Hooded Wheaters. We had some trouble finding our way through Al Ain -- lots of new construction, new roads and detours. Colin had told us about a new resort at the base of Jebel Hafeet which was irrigating lots of lawn. Despite this prolifigate wastage of water there were few migrants here, either, but we did find Sand Partridge and Pale Rockfinch. There is a spectacular view of the Arabian desert from the summit (bottom photo on this page).
At mid-day we drove into Oman. The border is open between Al Ain and adjacent Buraimi, Oman. There are no formalities at all and barely a sign, but it does take an understanding of the roads (and Colin had warned us about this). Once you are on the right road it is easy to do but it is not easy to find the right road (the UAE signs don't direct you to Oman; there is still some dispute over ownership of the oil here -- indeed, Saudi Arabia claimed oil rights for some time). From Buraimi we followed the good directions in the Richardson/Aspinall guidebook to the canyon known as the "Hanging Gardens." This was a beautiful and remote spot and for a while we were the only people around. There are a few palms and thickets around a spring but the drought has been so severe that there was no flowing water and only a couple stagnant puddles left. Again, it was obvious this could be a great spot in a morning with lots of migrants. We were there at mid-day and it was hot and little was moving, but we did find Plain Leaf-Warbler, Yellow-vented Bulbul, and Red-tailed Wheatear among others. That was a fabulous colorful lizard that recalled a Chuckwalla also. That's me enjoying the locale (below).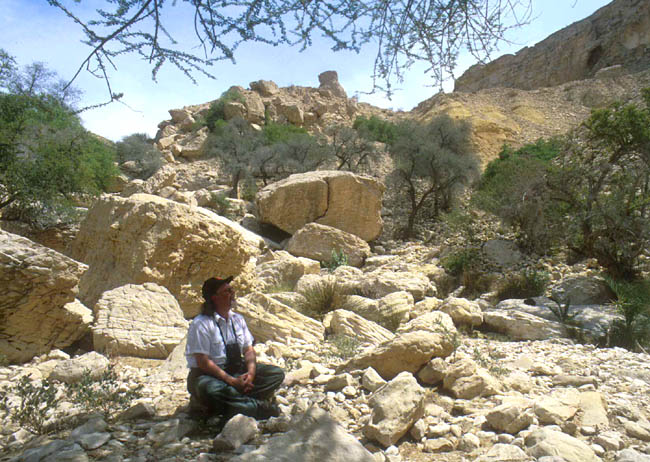 Colin had also told us about a new wetland area known as the "Wimpy Pits." It is not far east of Khor Dubai on the Hatta Road and is adjacent to the Dubai Wastewater Treatment Facility. These proved to be gravel pits full of varying amounts of water reached through some side dirt road. Some of the pits had reed beds and rails, others were deeper with ducks, and some were shallow with waders and flamingos. We planned to stay until dusk to look for a stake-out Egyptian Nightjar. Rita was wiped out and wished to go back to Dubai (just 20 minutes away in good traffic) so I agreed to drive her there and return alone. Alas these brave plans went wrong when I managed to (a) get the car stuck in deep soft sand by taking the wrong dirt road and (b) after finally being pulled out by a passing truck, I took a wrong exit in Dubai and ended up
stuck in a huge rush-hour traffic jam in the old city. About all we could do was retrace our route back to the Wimpy Pits. By that time it was dusk and so Rita came with us to the irrigated alfalfa fields where (once we gained access from a guard) we successfully spotlighted and then walked right up to a Egyptian Nightjar.
10 March: We split into two groups. Steve Bailey rented another car for the day and birded Dreamland beach and vicinity at low tide, and then worked various desert areas until he ended up at a stake-out Eurasian Eagle-Owl booming at dusk. Rita, Dan and I chose to spend the morning in search of another Hypocolius at Ghantoot in hopes of better and longer views, but we found none. We then drove north back through Dubai (taking time for lunch enroute) and Sharjah to Khor al Beidah where there is a high tide roost. Again the guidebook directions were perfect. There were a fine assortment of waders in the roost, including 27 Crab Plovers, and flamingos in the lagoon. It then took 2.5 hours to drive back down to Ghantoot for a final try for Hypocolius. This time Dan spotted a perched male in a fruiting tree and we had long and fabulous views, eventually walking away from the bird.
We got to the airport by 7 pm for our 10 pm flight to Delhi, having wrapped up a very successful trip with a superb finale.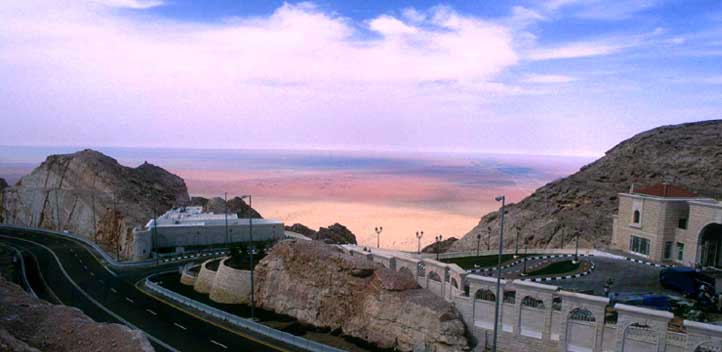 Literature cited:
Birdlife International. 2000. Threatened Birds of the World. Lynx Edicions, Barcelona.

Clements, J. 1991. Birds of the World: A Checklist. Ibis Publ., Vista, CA.

Cramp, S. L, and K.E.L. Simmons, ed. 1977. Handbook of the Birds of Europe, the Middle East, and North Africa. The Birds of the Western Palearctic. Vol. 1. Oxford Univ. Press, Oxford, U.K.

Forsman, D. 1999. The Raptors of Europe and the Middle East: A Handbook of Field Identification. T & A.D. Poyser, London.

Garner, M. 1997. Large white-headed gulls in the UAE -- a contribution to their field identification. Emirates Bird Report 19: 94-103.

Hollom, P.A.D., R. F. Porter, S. Christensen, and I. Willis. 1988. Birds of the Middle East and North Africa. Buteo Books, Vermillion, S.D.

Porter, R., S. Christensen, and P. Schiermacker-Hansen. 1996. Field Guide to the Birds of the Middle East. T. & A.D. Poyser, Calton, U.K.

Richardson, C. 1990. The Birds of the United Arab Emirates. Hobby Publications, Dubai.

Richardson, C., and S. Aspinall. 1998. The Shell Birdwatching Guide to the United Arab Emirates. Hobby Publications, Dubai.

Sibley, C. G., and B. L. Monroe, Jr. 1990. Distribution and Taxonomy of Birds of the World. Yale Univ. Press, New Haven, CT.
PHOTOS: All photos on this page are all © 2001 Don Roberson; all rights reserved.

GO TO INDIA 2001 TRIP REPORT

Page created 8-10 May 2001