The two rarest vagrants to occur within the Carmel River mouth area are both shorebirds that spent time feeding on Carmel beach: California's first Terek Sandpiper for a month in early fall 1988 (upper left; photo Sep 1988 © Peter LaTourrette) and then the state's second Little Curlew in September 1994 (upper right; photo 9 Sep 1994 © Don Roberson).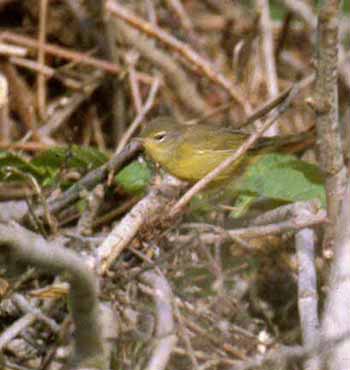 However, the Carmel R. mouth is primarily known for vagrant "eastern" warblers in fall migration. These are often found high in the canopy, or deep in the undergrowth, or moving quickly through the thickets with flocks of bushtits and chickadees. Photographing these warblers can be difficult, and most are content to enjoy them with binoculars. Thus a shot like this Mourning Warbler (right; photo 29 Aug 1981 © Don Roberson) is unusual. [Incidentally, the photo shows how the yellow throat of a fall female Mourning merges into the yellow breast, breaking through an olive breastband and limiting any gray to the sides of the head. The aspect recalls Orange-crowned Warbler as much as, or more than, MacGillivray's Warbler. Photos tend to over-emphasize eye-rings, but you can see these eye arcs are quite long and almost meet behind the eye (not short, broad, and distinct like MacGillivray's) and that they are washed with yellow. This Mourning Warbler was discovered by Joe Morlan and accepted by the CBRC years ago; W. Birds 16:41].

Some 37 species of warbler have occurred along the Carmel River between Hwy 1 and the river mouth lagoon; this total is higher than any other site in Monterey County (or almost anywhere within California for that matter). Yet another warbler -- Painted Redstart -- visited Mission Trails Park in late autumn 1996, just across the street from the Carmel Mission and thus just outside the "Carmel R. mouth area."

While warblers are often the highlights here, a wide variety of vagrants have occurred as illustrated in the samples below. Top row, left to right: Little Blue Heron on 19 June 1999 (photo © Bill Hill); Dickcissel in the reeds near the river mouth, 5 Sep 1990 (photo © Don Roberson); and Broad-billed Hummingbird at a flowering mallow at "Rio Park" below the Mission (photo 30 Sep 1984 © Bob Tintle). Bottom: Rusty Blackbird at a pool downstream from the "green pipe" on 1 Nov 1991 (photo © Don Roberson).