A BRIEF HISTORY OF PT. PINOS BIRDING
and
PT. PINOS AREA LISTERS
by Don Roberson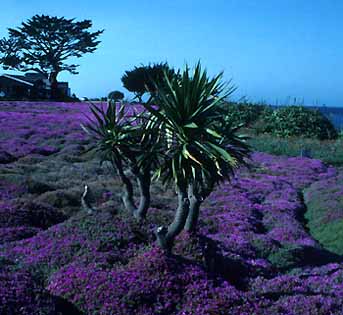 Pt. Pinos and environs have been known as a bird-attracting area since the first ornithological surveys here. The point is named for the many native Monterey Pines that grow to the shoreline edge among the old sand dunes at the point. The unique freshwater vernal pool is named for friar Juan Crespí who accompanied father Junípero Serra to found a mission on Monterey Bay in 1770. Of course, these environs are now much changed. The old sand dunes at the point are now a public golf course. Crespi Pond is now maintained year-round as a golf course pond by the City of Pacific Grove. Private homes (all now quite expensive) make up neighborhoods with ornamental plantings, and the pine forest is much reduced (although good numbers of pines still exist). Fortunately, long ago the City of Pacific Grove obtained the shoreline as public land, so there are wonderful views of the ocean. South of Pt. Pinos the views are west into the Pacific Ocean and the numerous pull-outs attract visitors each clear evening to watch the sunset. East of Pt. Pinos the views are into Monterey Bay, and this shoreline park is alive in color each spring with P.G.'s "purple carpet" of ornamentals (right; looking toward Otter Pt. from foot of Seapalm Ave. at extreme east edge of Pt. Pinos Area).
Frank Chapman tells about camping in Pacific Grove and birding at the Point in late May 1903 with Louis Fuertes (Camps & Cruises of an Ornithologist, 1908, D. Appleton & Co., New York). He says that by then Monterey was already "famous among students of Pacific Coast bird-life." Of the 40 species seen, one was a vagrant Clark's Nutcracker! The Pt. Pinos area was birded by Laidlaw Williams and local Monterey Peninsula Audubon Society members going back at least into the 1930s. Roger Tory Peterson & James Fisher told about birding along the shoreline here, with Laidlaw Williams, in June 1953 in their famed book Wild America (1955, Houghton Mifflin, Boston).
Pt. Pinos's potential as a vagrant trap appears to have been first tapped in the fall of 1965 when Ron Branson found Palm & Blackpoll Warblers here, and then it really took off in fall 1966 with discoveries of many first county records here by Branson, Bill Reese, and Vern Yadon, abetted by visitors like Dave DeSante. By fall 1969 the Point was regularly attracting birders from the San Francisco Bay Area, such as Laurence C. Binford and the Greenberg family. Rich Stallcup's presence here was felt most strongly from 1969-1972, and he lived in the vicinity during the autumns of 1971 & 1972. A substantial portion of today's data base of bird records comes from these pioneers.
I moved here in 1979 and chose an apartment as close to Pt. Pinos as I could get (3 blocks away); I birded the Point and vicinity heavily in the early 1980s. However, by the mid-1980s changes were apparent. Golf course usage became much heavier, and, although other Audubon members & I testified against it, a driving range was installed and then expanded. This driving range, adjacent to a row of Monterey Cypresses which had hosted an incredible number of rarities, essentially cut-off public access to this prime locale. The driving range also wiped out a naturally grassy field that had once attracted migrant sparrows. Crespi Pond itself was continually modified, dredged, and the subject of local committee reviews (on which I have served from time to time, as have other local birders like Rita Carratello, Steve Bailey, and Brian Weed). Efforts to manage the Pond primarily as bird habitat have taken second place to the income-producing golf course. By the 1990s, the City's maintenance yard, which had always been open to birders among those cypresses, was fenced and locked, providing only occasional access to locals with permission. For all these reasons, I have tended to bird elsewhere more often (e.g., Carmel R. mouth, Big Sur R. mouth, or the Moss Landing area) and de-emphasize the Point. The "Esplanade" (a public park) and its vicinity received good coverage in 1996 when Steve Rovell rented a home there for a time, and Jim Booker and he regularly searched the flowering bottlebrush. And, of course, the area is a prized one during the annual Christmas Bird Count. Today, however, the entire Pt. Pinos area seems to be as often-surveyed by out-of-town visitors as by local observers. I still visit regularly to sea-watch, and especially in very high winds when seabirds can be pushed inside the kelp line as they struggle out from Monterey Bay where they have been forced by the gales.
My choices for the five best birds ever seen within or from (sea-watching counts!) the Pt. Pinos area are:
Yellow Rail, 2-8 Oct 1970 Crespi Pond
Mottled Petrel, 12 Dec 1984 from "Petrel Pt.," 1/4 mi. east of Pt. Pinos
Blue-footed Booby, 16-17 Oct 1971 at Pt. Pinos
Yellow Wagtail, 19 Sep 1992 at beach opposite Crespi Pond
LeConte's Sparrow, 19 Oct 1974 Crespi Pond
Pt. Pinos Area Listers:
The total for the Pt. Pinos Area is 336 species (lists current to 1 Jan 2003); complete checklist HERE.
Don Roberson 285
Rich Stallcup ~245 (compiled by adding his records from North American Birds files to "easy" species)
Steve Rovell 226
Rob Fowler 185
I'd be happy to add your Pt. Pinos Area List ; submit totals HERE:

BACK TO MONTEREY COUNTY PAGE

Page created 11 Oct 1999, updated 1 Feb 2003