A GALLERY OF PT. PINOS VAGRANTS
Copyright of all photos remains with the photographer credited; all rights reserved.
May not be reproduced in any form (including other websites) without permission of photographer.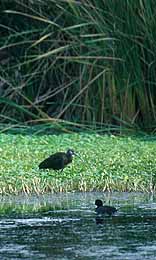 Crespi Pond, a freshwater pond on a coastal promontory and thus the centerpiece of the Pt. Pinos area, has hosted a wide variety of migrant waterbirds. Among the scarcer are Tundra Swan (upper left; photo 15 Dec 1998; one of two swans present © Don Roberson), with four records, and White-faced Ibis (upper right, with Am. Coot; photo 28 Sep 1992 © Don Roberson) with about 8 records. Rarer still is the Common Merganser, with but a single record (13-21 Jan 1995). In the wonderful John Sorensen photo below the female (left bird) can be directly compared with a female Red-breasted Merganser (right bird; photo Dec 1995 © John Sorensen). [Red-breasted Mergansers are regular on Crespi or the adjacent ocean.]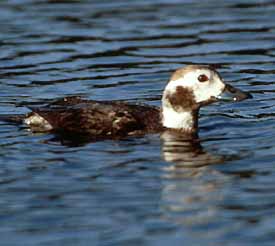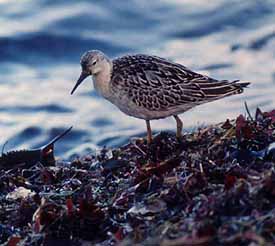 Another super-rarity on Crespi Pond is Oldsquaw (above left; photo in Apr 1994; © John Sorensen) although this ocean duck is more regularly seen offshore from Pt. Pinos where migrants can occasionally be picked out of flocks of scoters. For two consecutive winters in the late 1970s, a Ruff wintered on piles of rotting giant kelp (above right; photo Nov 1976 © Ronald L. Branson). Indeed, we now define the Pt. Pinos area as extending "from Ruff to Ruff" (e.g., encompassing the two beaches on which it wintered: near Otter Pt. and the next year at Rocky Shores). Landbird migrants and winterers are attracted to the P.G. golf course on the tip of the Peninsula (lower left), with its Monterey cypresses (below middle) or to blooming ornamentals (such as agave, below right). The birds shown are a Scissor-tailed Flycatcher, the only Pt. Pinos record (photo 8 May 1990 © Don Roberson); a fall immature Prairie Warbler (photo 30 Sep 1980 © Don Roberson); and a wintering male Orchard Oriole near Esplanade Park (photo 5 Jan 1988 © Don Roberson).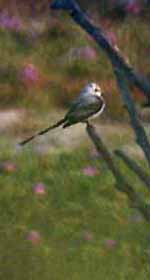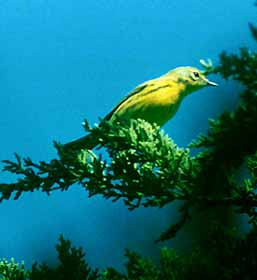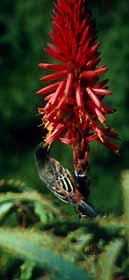 Page created 10-11 Oct 1999