WHO WAS WHO IN CALIFORNIA BIRDING
1965-1990
A HISTORY and CHRONOLOGY
OF YEARLY HIGHLIGHTS
OVER the QUARTER CENTURY 1965-1989
American Birds nee Audubon Field Notes
text by Don Roberson
photos by Don Roberson unless
otherwise indicated; all photos copyrighted
to the photographer indicated; all rights reserved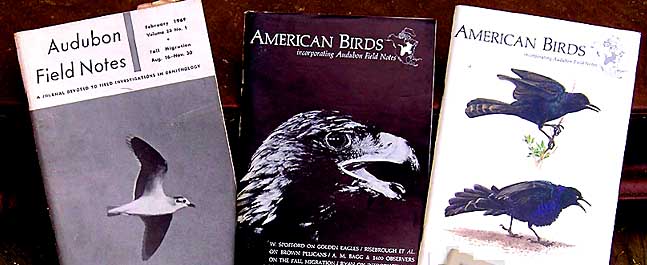 Since the late 1940s, the National Audubon Society had published a quarterly journal of significant bird observations throughout the United States and Canada. It also published additional issues covering the annual Christmas Bird Count and another publishing various breeding bird counts. Starting in the 1950s, this publication was known as Audubon Field Notes (above left; shown is the February 1969 issue). In 1971 the journal changed its name to American Birds (center) and in 1975 became to published color covers (above right). It increased its dimensions in 1979 and became a glossy, mostly color, magazine before sputtering and down-grading to Field Notes (in 1994). It was reborn as North American Birds in 1999) and is now published under the auspices of the American Birding Association. Throughout the years the journal, by whatever name, published quarterly seasonal summaries of birds of interest in California's two Regions, known as the Middle Pacific Coast Region and the Southern Pacific Coast Region.

These two Regions essentially split the State between Northern California (Middle Pacific Coast) and Southern California (Southern Pacific Coast). Today those Regions are defined by county lines. The Southern Pacific Coast is composed of eleven counties whose northern boundary runs across the top of San Luis Obispo and Kern counties, and then jogs northward to include Inyo County. The Middle Pacific Coast Region has the other 47 counties.

During the period under consideration here (1965-1989), the boundaries were slightly different and the Southern Pacific Coast Region included a small slice of southeastern Mono County. Earlier, out-of-state regions centered in Oregon and Arizona had covered bits of California's Great Basin in the extreme northeast, and the California side of the Colorado River, respectively.

It is an immense amount of volunteer work to compile the Regional reports that are published in this continent wide journal. It is also considered an honor, and the editors must be qualified to properly evaluate all the various claims of bird observations throughout each vast Region, and then distill the most important of them into a seasonal report which is both readable and has context.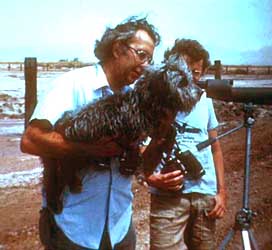 Guy McCaskie (left, holding his dog Pinto to a scope at the Salton Sea in Nov 1976; photo © Robert Copper) has compiled the seasonal report for the Southern Pacific Coast Region for every season throughout the entire 25 years under consideration in this project: 101 seasonal reports in all. In winter 1965-65 and spring 1965, he co-edited the report with Eleanor Pugh, but be served as the sole Regional editor in every issue since the summer 1965 report to the end of our era. Indeed, he is still an editor of the Southern Pacific Coast Region at this writing in 2005 (but how has a co-editor again; Kimball Garrett). Guy's longevity as the Regional editor for AFN/AB/FN/NAB is one of the most impressive of his many accomplishments.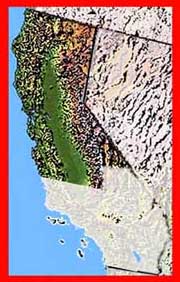 No comparable longevity is found among the editors of the Middle Pacific Coast Region (northern California). In part this stems from the larger and more diverse Region, with 47 counties and multiple habitats. In part it reflects the volunteer work load, with few individuals willing to put in the time and effort necessary, especially over a very long period. And, in part, this reflects the nature of the California birding population, with observers moving into or out of the Region regularly with changes in their work, family, or school priorities.

A total of 26 premier observers served as a Middle Pacific Coast Regional editor between 1965-1989. All seasonal reports were co-edited, from as few as two editors to as many as four per season. This is the list of those editors, ranked by number of seasonal reports in which they served as a co-editor:
Richard A. Erickson (25 seasons)
Stephen F. Bailey (21)
Ted Chandik (20)
Ron LeValley (20)
Dave DeSante (14)
Jon Winter (14)
Kurt F. Campbell (13)
Alan Baldridge (12)
Jules G. Evens (11)
Rich Stallcup (11)
Stephen A. Laymon (8)
David G. Yee (8)
Robert O. Paxton (7)
Theodore Chase, Jr. (7)
Alan D. Barron (7)
J. Van Remsen, Jr. (6)
W. David Shuford (6)
David A. Gaines (4)
Russell Greenberg (4)
Tim D. Manolis (4)
Joe Morlan (4)
Kenneth V. Rosenberg (3)
John C. Sterling (2)
Eleanor A. Pugh (1; she also co-edited 2 reports in southern California)
Art Wang (1)
Don Roberson (1)
| | | |
| --- | --- | --- |
| GO TO | | IN 1965-1989 |
All photos © to photographers identified on this page; all rights reserved.
All text © Don Roberson; all rights reserved.

TO WHO'S WHO PORTAL PAGE

Page created 12 Mar 2005