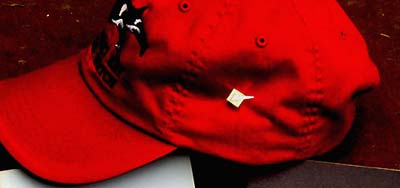 TICKY TOKENS
In the early 1980s, after the death of Bob Smart, an ebullient New Hampshire birder who was a founder of the American Birding Association, an anonymous group decided to honor Bob Smart by awarding "Ticky Tokens" for birding accomplishments. These were awarded nationally but without publicity of any kind. Rather, one day the receiver would simply find a gold pin, shaped like a check mark [in birding lingo, a "tick" on your checklist — on the red cap, right], in his or her mailbox, with a short note describing what it was and why it was awarded. As far as I know, those who made these awards were never revealed. Yet, in many ways, they did acknowledge certain achievements of value to the birding community. For example, in California, Joe Morlan received the award for writing his important identification paper on White/Black-backed Wagtails [Continental Birdlife 2: 37-50]. Awards were also made for bird listing: Don Roberson received for organizing the California team that set a new ABA record for a Big Day. A number of other Californians also received this anonymous award.

'OFFICIAL' BIRD NAMES
In the mid to late 1970s, hardore California birders imported a social custom that originated in Texas. The story may now be somewhat apocryphal, but it is said that Edger Kinkaid, an irascible older gentleman and a good observer who liked birds a lot more than he liked people, bestowed 'bird names' on the few local birders that he found worthy. Rose Ann Rowlett, for example, was given the monkier "Western Grebe" and has been known to friends as "The Grebe" to this day. Kinkaid called himself "The Cassowary," for the only bird known to kill people [i.e., legendary stories of cassowaries disembowling native hunters who tried to trap them]. Or so it was said.
John Luther had associations with Texas birders and was bestowed the name "Aplomado Falcon." In due course, an informal group of hardcore California birders determined they would set up an "official" committee to give worthy California birders an "official" bird name. To be "worthy," one had to be an active State birder who participated, at least to some extent, in the birding social scene, such as doing the "Death Valley loop" for days during Memorial Day weekend, or during the fall weekends. Several very important California birders never received names because they did not attend these social birding events (e.g., Alan Craig, Gene Cardiff, Alan Baldridge). One had to put in a certain number of years of this dedication and, after that, it was up to the whim of the committee to develop a name. Names were not necessarily limited to American species, and several California birders received Mexican bird names [and a couple received monikers that were not bird names at all.]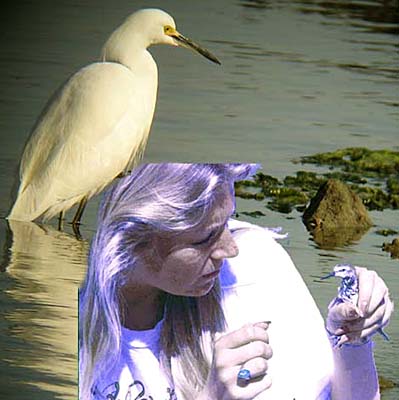 It was also of absolute importance that the receiver could not influence or have anything to do with the choice of their name. If one expressed a preference, that potential name was ruled out. Equally important, the bird name chosen had to "fit" the person who received it. While the receiver was never told the reason they were given a particular name, the ideal name was one that when folks heard what it was, they would say "ah, that makes sense. .. a perfect fit!" Many (but not all) were slightly sarcastic. It could be a name that suggested something about the receiver's physique, or personality, or birding habits, or status. Guy McCaskie was named the "Magnificant Frigatebird" and Rich Stallcup the "Great Curassow;" obviously recognizing status but also, in Rich's case, finding a good parallel between the curassow's crest and Rich's unruly and abundant hair. Laurie Binford often dressed in subdued gray, and often bemoaned that there were no good birds around; he became the "Grayish Mourner." Several other birders received somewhat similar names for (presumably) somewhat similar traits. In contrast, everyone thought Brad Schram would make a great game show host for his looks and voice, and he became "The Master of Ceremonies" [one of two 'non-bird' names bestowed]. There was, indeed, a ceremony involved in receiving a bird name, and in the late 1970s Brad would preside over these, usually at night around a desert campfire.
There were 'official' bird names and then nicknames for the bird names. Donna Dittmann was formally named the "Snowy Egret," but everyone called her the "Icy Egret," somewhat a play on words, given her bubbly personality. Even if you never met Donna, perhaps you can see some of the resemblance that the committee saw in the collage (left).
In any event, names were bestowed for about a five year period, and then the committee disbanded. More recent efforts have not succeeded, possibly because these efforts have violated the basic rule that one must first (a) be worthy of a bird name and then (b) have nothing to do with its choice. They were one way in which the short-lived birding culture of the 1970s honored their own. A few of those who received names also were given embroidered shirts with "their" bird, hand-woven by several of the women in the birding world at that time. And there was once a Halloween Party on the Furnace Creek golf course where birders were supposed to come customed as their bird name — and many did.