MONTEREY COUNTY HIGHLIGHTS: 2005
These highlights chronicle the year 2005. Created incrementally as new photos were available, the year runs generally "backwards" on this page. The abbreviation "MTY" means "Monterey County" in the text below. Text by Don Roberson. Photos on this page are copyrighted by the photographers to whom they are attributed, and may not be reproduced in any form (including other web sites) without the express consent of the photographer.
Walked in the door from work at 6:30 this evening, 7 June, and walked over to look at the feeder. Here is what I saw immediately (below left; taken through the window). The male Rose-breasted Grosbeak flew off before Rita got home, but later he reappeared briefly in a tree (below right) and sang briefly for her to enjoy as well. There have been several Rose-breasts at Big Sur R. mouth this spring, and another highlighted our local birdathon (see that account; link below).

—Don Roberson
Early June brought some unusual birds to the Big Sur R. mouth, as is often the case. A singing male Baltimore Oriole found 4 June by Ryan Terrill et al., just above the BSOL lab, was still present on 5 June (photos above: singing bird © Don Roberson; colorful flight shot © Steve Rovell). There are now about a dozen late May/early June records of this eastern oriole. There always is a small movement of Willow Flycatchers in early June (one photo'd 5 June, upper right © D. Roberson). Also at Big Sur R. mouth, at least three Northern Parula were singing on territory, and on 7 June a female joined one of them.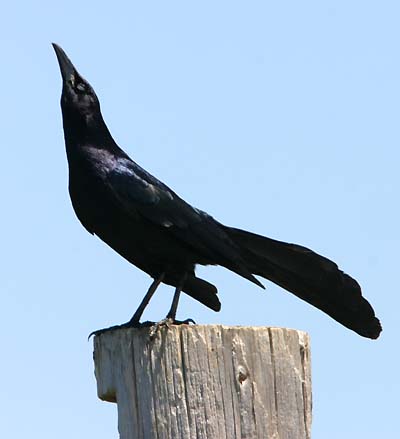 By late May, several birds were setting record seasonal late dates for spring. A first-cycle Glaucous Gull (above) at the Salinas R. mouth, first found 28 Apr (Matt Brady) and photographed extensively during the BSOL birdathon weekend, lingered to 15 May (Rick Fournier) and then to 21 May (D. Roberson; this DR photo is from 29 Apr but the bird had not changed much in the ensuing month). This well exceeds the previously late spring date of 2 May (Roberson 2002). Also setting a new late spring date was a Yellow-billed Loon off Lovers Pt., Pacific Grove (see below and on a separate May boat trip page) that continued to be seen from shore through at least 19 May (Jason Hoeksema), eclipsing the 17 May date of last year's Elkhorn Slough loon.

Great-tailed Grackles continued to expand their range. The sky-pointing male (right; © D. Roberson) was one of 3 displaying males at Zmudowski SB pond on 21 May; several after been reported from here since April. Others were scattered to new sites in Salinas and a vagrant made the Big Sur coast (see below). That same weekend (21 May), BSOL banders caught a Black-and-white Warbler and found a singing Chestnut-sided Warbler at the Big Sur R. mouth (Mike Tyner +).
In early May, birds from different ends of the taxonomic spectrum made news. Richard Ternullo had been seeing a Yellow-billed Loon off Lovers Pt. in Pacific Grove since 6 Feb. There is some question as to whether a bird found by David Vander Pluym in early May was the same bird. Now Bernardo Alps forwards this photo (below left; © B. Alps) taken on 29 April. It is certainly the same bird being seen from shore in May, and likely a worn juvenal bird. It has been seen on boat trips and scoped from Otter Pt. or Lovers Pt. in good conditions. On 14 May, Don Roberson reported this displaying male Great-tailed Grackle (below right; © D. Roberson) in the campground at Andrew Molera State Park; there is only one previous record from the Big Sur R. mouth (5 June 2001; also two records from nearby Pt. Sur naval housing). However, campers advised that the bird had been present the previous day (13 May).
| | |
| --- | --- |
| Monterey County's 12th annual BSOL birdathon and entry for America's Birdiest County event was quite successful. Birders scouring the entire county over the weekend of 29 Apr-1 May recorded 250 species. This is the winning entry. See a full report with details and many photos, including such rarities as Glaucous Gull, Black Tern, White-faced Ibis, Snow Goose, Cattle Egret, and a quite late Merlin. | Carole Rose designed the event logo (above) and she and husband Larry found the only Rose-breast on the count -- in their front yard! |
| | |
| --- | --- |
| | This Solitary Sandpiper (left; photo by D. Roberson) was discovered by Rick Fournier at a rain pond in a cattle pen at MoonGlow Dairy 10-11 April. Spring Solitaries are scarce in MTY, but we average 1-2 each spring. This one is in alternate plumage, but note the barred undertail coverts, a character not shown in any of the literature I have checked. However, comments from experts explained that all adults have barred undertail coverts to some degree; this particular bird has more than usual. |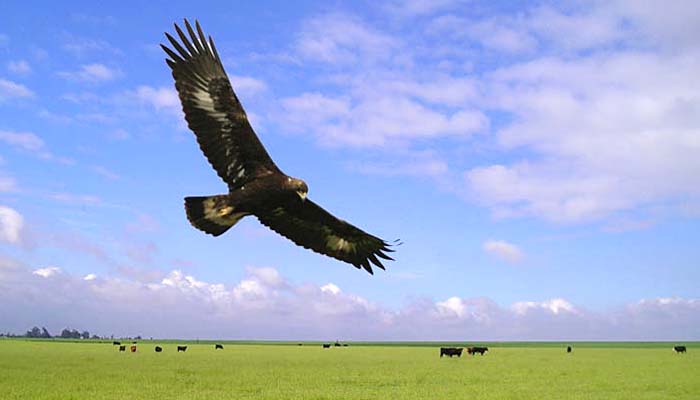 It was a spectacular day along Gloria-Camphora Road, east of Gonzales, on Lincoln's Birthday, 12 Feb, with a Golden Eagle (above) circling over the lark & longspur fields [okay, okay, although I actually did take both the scenic and the eagle just as described, I've combined the two photos together here with the magic of PhotoShop . . .]

Remarkably, three longspurs were with a dozen Horned Larks just east of Gloria-Camphora Rd., allowing these roadside photos. There were two Lapland and one Chestnut-collared Longspur: unfortunately, the Chestnut-collared is half-hidden in the photo just below behind a lark, with one of the Laplands off to the right. That Lap was playful, picking up and waving a stick (below left) but not impressing the more colorful bird (below right).

I linger with these longspurs because they are the first decent photos of these species in MTY. Jason Hoeksema was the first to photograph the Laplands on 10 Feb — the first shots of this species even in MTY — but these 12 Feb photos are crisper. My own digiscoped Chestnut-collared photos from last November were quite horrible (so bad, in fact, that some reviewers think they show a Lapland), but were the only ever of that species in MTY.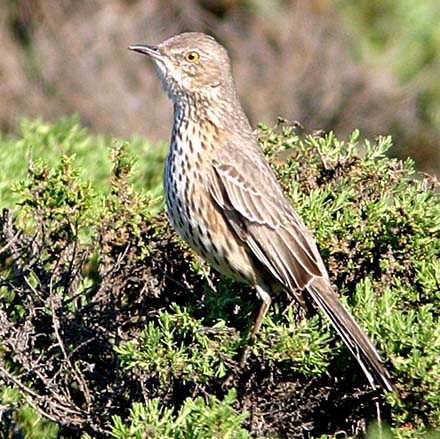 On 12 Feb, Matthew Dodder and his group from Palo Alto found a Sage Thrasher (right; photo © D. Roberson) in coastal sage scrub along Jetty Road, Moss Landing. There are 8 prior records of wintering Sage Thrashers in MTY, but this is the first at Moss Landing. The day before, Laura Rodriguez and Betty Cost saw the wintering Green-tailed Towhee at the parking lot for Zmudowski State Beach where it has been since 4 Dec 2004 (Blake Matheson). On 6 Feb, researchers from Moss Landing Marine Lab found a dead Horned Puffin (below) washing up on Marina State Beach. There have been perhaps a dozen tide-line corpses of this species this winter in northern California. The specimen was not salvageable but the characteristic bill is shown in this shot.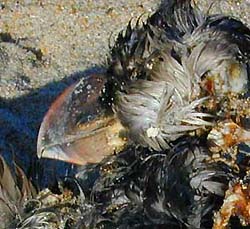 Of local interest, a male and a probable female of Eurasian Green-winged Teal ("Common Teal") Anas crecca crecca wintered with a flock of about 40 American Green-winged Teal A. c. carolinensis at the Odello Lagoon, Carmel R. mouth, from 10 Jan (Rick Fournier, Dan & Inga Lebeaune) into Feb (photo, below, 13 Feb; © D. Roberson). The entire flock was very skittish and was usually only present early in the morning; this shot is digiscoped from "Cross Hill." There are five prior records of Common Teal in MTY but this is the first for the entire Monterey Peninsula area. Common Teal is the Old World version of our Green-winged Teal, and numerous European authorities split it as a separate species from the New World bird. The A.O.U. may follow suit in the future. Male Common Teals lack the white shoulder bar of the New World bird but have a white "side-stripe" instead, and the dark green ear-coverts on the rusty head are outlined in buff. The Carmel male is obviously pair with a female that has a slightly different 'jizz' and seemed paler is presumably a female Common Teal, although I'm not sure we can prove that. This is also the first photo of this taxa from MTY. The photo shows both the Common Teal pair and a pair of our local Green-winged Teal.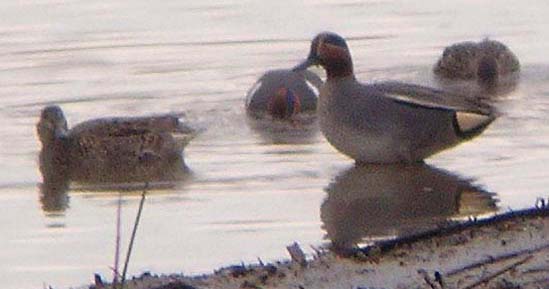 After the El Niño decades of the '80s and '90s, this first decade of the 21st century has returned to more 'normal' colder water conditions in Monterey Bay. While we may lose chances for boobies, tropicbirds, and other 'warm water' species with these changes, one positive benefit is an increase in scoter and other 'cold water' wintering species over recent years. This winter, White-winged Scoters are back in higher numbers than they had been seen recently (photo below left, male scratching his head off Seaside 16 Feb © D. Roberson). Likewise, a few more Black Scoters have been around this winter, such as this first-winter male in Moss Landing harbor 13 Feb (photo below right © Roger Wolfe). However, numbers have not rebounded to the levels present back in the 1960s-1970s.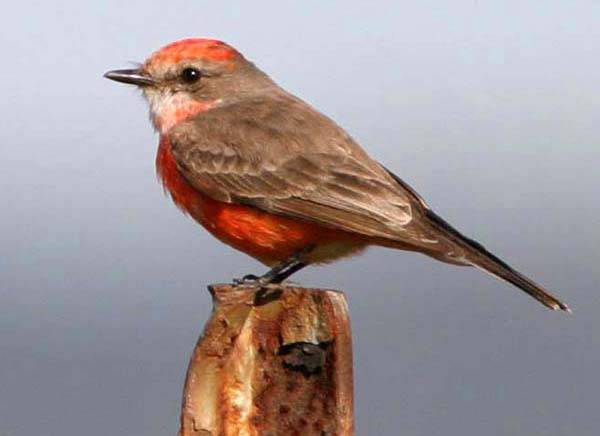 One of the great stories of autumn 2004 was the presence of Vermilion Flycatchers at Moonglow Dairy in Moss Landing. Michael Getty found the first bird, a young male, on 10 Oct 2004 but by 29 Oct a second young male was reported. Rarely, though, were they both seen together, and never were they both photographed on the same day. The was remedied on 30 Jan 2005: both birds have lingered well into winter! The most oft-seen male is in the little fenced wetlands to the left of the main road into the dairy, just past the power lines. The is the individual shown above and below left. The second young male is more often to the west, around the edge of the power plant; it is the bird shown below right. Note the small differences in the amount of red on the underparts. The first male has almost uniformly red sides and flanks now; the second male still looks more 'streaked-with-red' across the breast. There are also numerous small differences in the extent of red on the head and the pattern and wear on various wing coverts. All photos here © Don Roberson. While Don was photographing bird #2 near the power plant, Rita Carratello was watching him and watching bird #1 down in the wetlands swale! It is really incredible to document that both birds are still present. Photos of the Vermilion from Oct 2004 are here, here, and on Jeff Poklen's site. At least one of the birds remained to 28 Feb.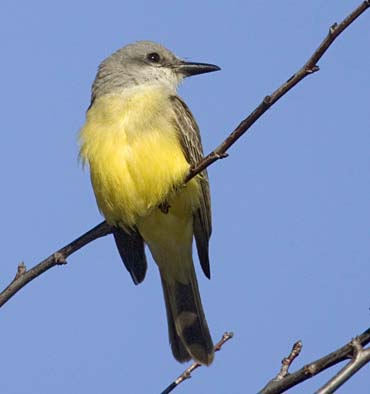 The first real rarity of the New Year was this Tropical Kingbird (left; a fine Bill Hill shot) found at El Estero Cemetery, Monterey, on 12 Jan by Brian Weed, and lingering to late in the month. Meanwhile, the Carmel River mouth hosted a female Canvasback that was first found on the Christmas Bird Count on 27 Dec 2004 (Craig Hohenberger). This was a first record for the Carmel River mouth Area List, long overdue.

With the Canvasback (photo above, from 19 Jan, by D. Roberson), the updated Carmel River mouth list goes to 345 species. It seems odd that Canvasback was a "new" species for this oft-birded locale, but we had no prior records with a specific date or observer.
| | |
| --- | --- |
| During the first weeks of 2005, MTY was battered by a series of very wet storms. During one such inclement day (8 Jan), David & Jane Styer found a Pomarine Jaeger feeding on a freshly killed Marbled Godwit along Jetty Rd., Moss Landing (right; digiscope © David Styer). Based on a review of Olsen & Larsson (1997) Skuas & Jaegers, this appears to be a second-cycle bird. It is quite rare to find Pomarine Jaegers ashore, but Pom is the expected jaeger offshore in winter. See Jeff Poklen's site for an offshore Pomarine taken 27 Dec 2004 on Monterey Bay. | |
More highlights will be posted as they arise and are documented with photos.

TO HIGHLIGHTS FROM SECOND HALF OF 2004

Page last updated 19 June 2005