A PHOTO DISCUSSION ON NUTTING'S FLYCATCHER IDENTIFICATION:
Part 2: STRUCTURE
text © 2003 Don Roberson
all photographs are copyrighted © 2003
by the photographers cited; used here with permission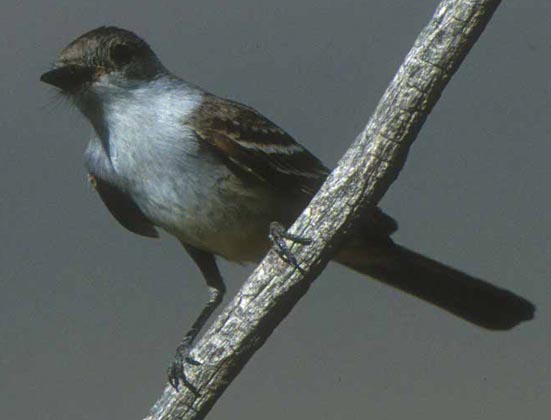 STRUCTURE: To my eye, Ash-throated Flycatcher — shown in the photo (right) © Greg W. Lasley from the Davis Mountains of west Texas, taken 1 June — has a long, rangy shape. Perhaps some of this is the longer wing (discussed previously under "primary projection"), perhaps some is its overall mid-range size (larger than small Myiarchus like Dusky-capped) and longish bill (bill size hard to see in this angle), and perhaps part of it is posture.

In contrast, Nutting's Flycatcher has a more compact shape, caused by a combination of shorter bill (averages something like 10% shorter; see measurements in Lanyon (1961); shorter wing, and comparative wing/tail lengths. On Nutting's the wing length and tail length are typically the same or the tail is less than 10% shorter than the wing (wing minus tail statistics in Lanyon 1961, Pyle 1997) while all Ash-throateds have the wing longer than the tail, and often by >10%. This is really a function of the longer wing of Ash-throated. Whether any of this is useful in the field is uncertain.

In any event, I wanted to compare the shape of the Santa Cruz bird to the two known Nutting's, and I do so below, trying to pick photos of similar posture from the selection that I have compiled from my own stuff and the work of others. The top row below compares the Arizona bird (left; photo © W. Ed Harper) to the Santa Cruz bird (right; © D. Roberson). In the second row, I use the same Santa Cruz shot to compare with the southern California bird (bottom right; © D. Roberson). However, in the top row, I have used the "saturation" adjustment in PhotoShop to compensate for a half-stop overexposed photo of the Santa Cruz bird. I think this portrays its more natural color, but you can view both shots for your own interpretation. This features does not change colors but just increases the saturation of the colors that are there, rather as high-end film will do. You can just for yourself whether the structure of the Santa Cruz bird is similar to that of the Arizona (top left) or Orange County (bottom right) birds.

Another thing I notice in this set of photos is apparent differences in leg length and heft. To me the Ash-throated has longer-looking legs and thicker legs than the known Nutting's. I can't find statistics or any discussion of this character.

BILL SHAPE: As already briefly mentioned above, Nutting's averages shorter-billed than Ash-throated. But there are other differences: (a) the bill base is broad and, when combined with the shorter bill length, looks proportionately broader than Ash-throated, and (b) the bill tends to be thicker at the base than Ash-throated. Look for these points the following set of photos. The top row is three different Ash-throateds (L to R, © J.V. Remsen, May; © D. Roberson, April; © D. Roberson, 4 May — all from California). The middle row is photos of the Santa Cruz bird (L to R, © K. McKereghan, next two © D. Roberson). The bottom row are Nutting's (L to R, © W.E. Harper, Arizona [this photo has been lightened while all others are unretouched for color], © D. Roberson, Orange Co., and © Larry Sansone, Orange Co.). However, I have taken the liberty of flipping the horizontal perspective to provide more effective comparisons on a few shots.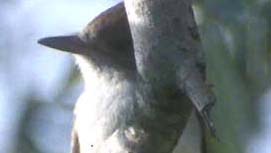 You may compare this set of photos to develop your opinion on bill shape. I have tried to show both length and depth (in profile shots) and width (in angled shots or photos from above or below). Of course, there are other photos on the web to use but do remember that your perspective of bill size and shape requires both a decent angle of view (without significant foreshortening) and a full view of the head (e.g., a bill sticking out from a head that is partially obscured by limbs will be wildly out-of-perspective, as illustrated by this shot of the Santa Cruz bird (right).
A final feature about the bills that you may notice is that the Nutting's in both Arizona and southern California had pink at the base of the bill, at the gape and along the cutting edge of the lower mandible. The Santa Cruz bird also shows these characters, as can be seen in the Kevin McKereghan photos and elsewhere on the web. This is not shown on the Ash-throated photographs I have, but that sample is very limited. There have been comments on chat lines that Ash-throated may show this, but I have yet to see it documented.
The other pages in this project are:
LITERATURE CITED:
Bowers, R.K., Jr., and J.B. Dunning, Jr. 1987. Nutting's Flycatcher (Myiarchus nuttingi) from Arizona. Amer. Birds 41:5-10.
Cardiff, S.W., and D.L. Dittmann. 2000. Brown-crested Flycatcher (Myiarchus tyrannulus) in The Birds of North America, No. 496 (A. Poole and F. Gill, eds.). The Birds of North America, Inc., Philadelphia, PA.
Cardiff, S.W., and D.L. Dittmann. 2002. Ash-throated Flycatcher (Myiarchus cinerascens) in The Birds of North America, No. 664 (A. Poole and F. Gill, eds.). The Birds of North America, Inc., Philadelphia, PA.
Devillers, P. 1971. The alleged occurrence of Nutting's Flycatcher in Baja California. Calif. Birds 2:140.
Dickerman, R.W., and A.R. Phillips. 1953. First United States record of Myiarchus nuttingi. Condor 55:101-102.
Dittmann, D.L., and S.W. Cardiff. 2000. Let's take another look: Myiarchus flycatchers. LOS News 193:3-10. Louisiana Ornithol. Society, Baton Rouge.
Howell, S.N.G., and S. Webb. 1994. Field identification of Myiarchus flycatchers in Mexico. Cotinga 2:20-25.
Howell, S.N.G., and S. Webb. 1995. A Guide to the Birds of Mexico and northern Central America. Oxford Univ. Press, New York.
Lanyon, W.E. 1961. Specific limits and distribution of Ash-throated and Nutting flycatchers. Condor 63:421-449.
Lanyon, W.E. 1997. Great Crested Flycatcher (Myiarchus crinitus) in The Birds of North America, No. 300 (A. Poole and F. Gill, eds.). The Birds of North America, Inc., Philadelphia, PA.
Murphy, W.L. 1982. The Ash-throated Flycatcher in the East: an overview. Amer. Birds 36:241-247.
National Geographic Society. 1999. Field Guide to the Birds of North America, 3rd ed. Nat. Geogr. Soc., Washington, D.C.
Phillips, A.R., and W.E. Lanyon. 1970. Additional notes on the flycatchers of eastern North America. Bird-Banding 41:190-197.
Pyle, P. 1997. Identification Guide to North American Birds, Part I: Columbidae to Ploceidae. Slate Creek Press, Bolinas, CA.
Zimmerman, D.A. 1978. A probable Nutting's Flycatcher in southwestern New Mexico. West. Birds 9:135-136.
GO TO MONTEREY COUNTY PAGE

Page created 26 Jan 2003